In this post, you will find amazing Rugby quotes and sayings.
Short Rugby Quotes and Sayings
"Rugby League is a war without the frills." —Unknown
"I think rugby is 80 percent mental." —Francois Hougaard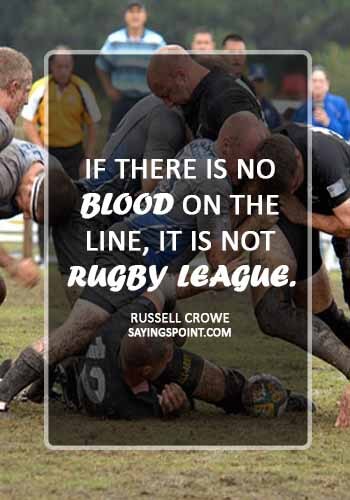 "If there is no blood on the line, it is not rugby league." —Russell Crowe
"Run at the spaces, not at the faces." —Unknown
"Winning isn't everything, it's the only thing." —Vince Lombardi
"The time for reminiscing is after rugby. Then you can sit down and get fat." —Josh Lewsy
"Rugby is a nonsense, but a very serious nonsense." —Cliff Morgan
"A game of rugby is a work of art!" —Danie Craven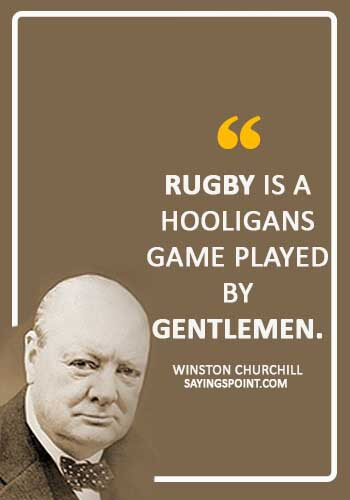 "Rugby is a hooligans game played by gentlemen." —Winston Churchill
"There's ego in all of us rugby players." —Brian O'Driscoll
"I think rugby is 80 percent mental." —Francois Hougaard
"A rugby ball is not passed by a teammate, is passed by a friend." —Unknown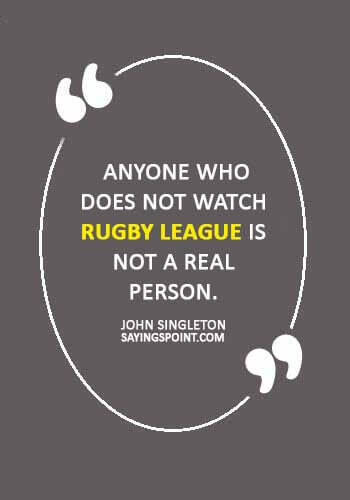 "Anyone who does not watch rugby league is not a real person." —John Singleton
"The pub is as much a part of rugby as is the playing field." —John Dickenson
"The heart is willing, the head is willing but the body's had enough." —Keith Wood
"Rugby is a game for men with no fear of brain injury." —Linda Smith
"It's not the size of the man, but the size of his heart that matters." —Evander Holyfield
"Beer and Rugby are more or less synonymous." —Chris Laidlaw
"Rugby is not just a sport, It's a way of life." —Unknown
"Rugby is played by men with odd shaped balls." —Unknown
"Your hands can't catch what your eyes can't see." —Martin Offiah
Rugby Quotes and Sayings
"Rugby is a game for barbarians played by gentlemen. Football is a game for gentlemen played by barbarians." —Oscar Wilde
"Wrestling and boxing is like Ping-Pong and rugby. There's no connection." —Mickey Rourke
"I didn't have to play rugby that well, and I didn't have to play cricket that well, because I had this voice." —Tom Jones
"I think you enjoy the game more if you don't know the rules. Anyway, you're on the same wavelength as the referees." —Jonathan Davies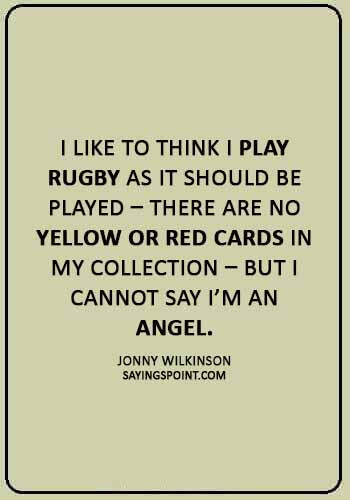 "I like to think I play rugby as it should be played – there are no yellow or red cards in my collection – but I cannot say I'm an angel." —Jonny Wilkinson
"I used to say that I spent half my life breaking bones on the rugby field, then the other half putting them back together in the operating theatre." —J.P.RWilliams
"The scrum and the tackle are the two really contentious areas of the game. If you get those two aspects right, most rugby matches will work in your favour." —Alan Lewis
"I may not have been very tall or very athletic, but the one thing I did have was the most effective backside in world rugby." —Jim Glennon
"Rugby is great. The players don't wear helmets or padding; they just beat the living daylights out of each other and then go for a beer. I love that." —Joe Theismann
"Rugby may have many problems, but the gravest is undoubtedly that of the persistence of summer." —Chris Laidlaw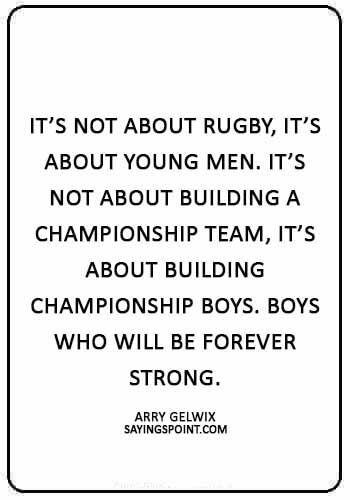 "It's not about rugby, it's about young men. It's not about building a championship team, it's about building championship boys. Boys who will be forever strong." —Larry Gelwix
"The whole point of rugby is that it is, first and foremost, a state of mind, a spirit." —Jean-Pierre Rives
"The only trophy we won this day, was the blood and sweat we left on the pitch…. and it was enough." —Unknown
"Rugby players are either piano shifters or piano movers. Fortunately, I am one of those who can play a tune." —Unknown
"I prefer rugby to soccer. I enjoy the violence in rugby, except when they start biting each other's ears off." —Elizabeth Taylor
Funny Rugby Quotes and Sayings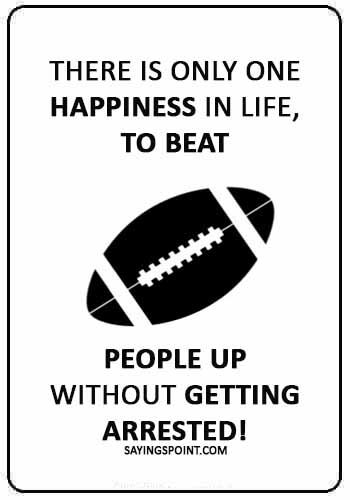 "There is only one happiness in life, to beat people up without getting arrested!" —Unknown
"I've always said that playing rugby in Spain is like being a bullfighter in Japan." —Javier Bardem
"Rugby players are like lava lamps: good to look at but not very bright." —Unknown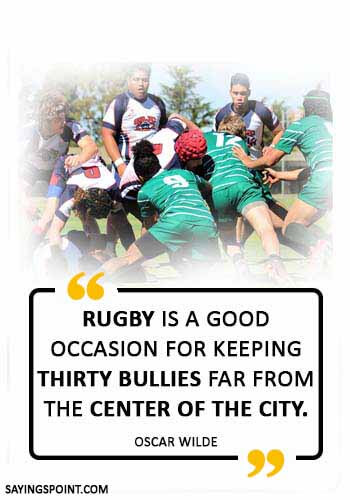 "Rugby is a good occasion for keeping thirty bullies far from the center of the city." —Oscar Wilde
"You've got to get your first tackle in early, even if it's late." —Ray Graved
"On female rugby teams – Everybody thinks we should have moustaches and hairy arses, but in fact you could put us all on the cover of Vogue." —Helen Kirk
"Nobody in Rugby should be called a genius. A genius is a guy like Norman Einstein." —Jono Gibbs
"If you can't take a punch, you should play table tennis." —Unknown
Top Ten Rugby Quotes and Sayings
Here you will find Top Ten Rugby Quotes and Sayings selected by our team.
"Rugby is a hooligans game played by gentlemen." —Winston Churchill
"It's not about rugby, it's about young men. It's not about building a championship team, it's about building championship boys. Boys who will be forever strong." —Larry Gelwix
"If there is no blood on the line, it is not rugby league." —Russell Crowe
"There is only one happiness in life, to beat people up without getting arrested!" —Unknown
"Rugby is great. The players don't wear helmets or padding; they just beat the living daylights out of each other and then go for a beer. I love that." —Joe Theismann
"Your hands can't catch what your eyes can't see." —Martin Offiah
"I used to say that I spent half my life breaking bones on the rugby field, then the other half putting them back together in the operating theatre." —J.P.RWilliams
"Anyone who does not watch rugby league is not a real person." —John Singleton
"I like to think I play rugby as it should be played – there are no yellow or red cards in my collection – but I cannot say I'm an angel." —Jonny Wilkinson
"Rugby is a good occasion for keeping thirty bullies far from the center of the city." —Oscar Wilde