In this post, you will find amazing November quotes and sayings.
Short November Quotes and Sayings
"Now in November nearer comes the sun down the abandoned heaven." —D. H. Lawrence
"November; Crows are approaching – Wounded leaves fall to the ground." —Kristian Goldmund
"A September to remember. An October full of splendor. A November to treasure." —Unknown
"Dull November brings the blast, Then the leaves are whirling fast." —Sara Coleridge
"The world is tired, the year is old,The faded leaves are glad to die." —Sara Teasdale
"Every leaf speaks bliss to me, fluttering from the autumn." —Emily Bronte
"Autumn is marching on: even the scarecrows are wearing dead leaves." —Otsuyu Nakagawa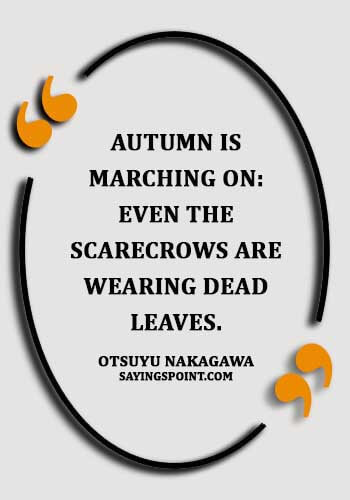 "Whenever it is a damp, drizzly November in my soul… I account it high time to get to sea." —Unknown
"November at its best – with a sort of delightful menace in the air." —Anne Bosworth Greene
"It is the first day of November and so, today, someone will die." —Maggie Stiefvater
"I know that I have died before—once in November." —Anne Sexton
"November… leads the months their wintry round." —Anne Hunter
"November is the most disagreeable month in the whole year." —Unknown
"How sad would be November if we had no knowledge of the spring!" —Edwin Way Teale
"How beautiful leaves grow old. How full of light and color are their last days." —John Burrough
"There's a fire in November sky." —Unknown
"The November figure is an aberration." —Abheek Barua
"The quiet of October is refreshingThe quiet of November, oppressing." —Terri Guillemets
"In November you begin to know how long the winter will be." —Martha Gellhorn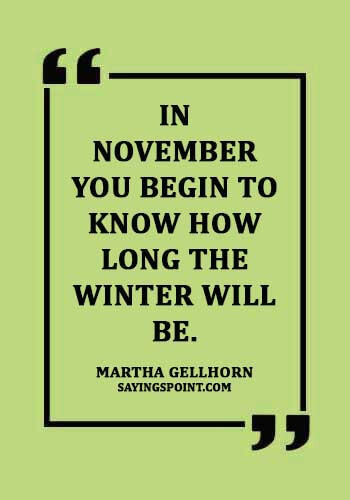 "Autumn arrives early in the morning but spring at the close of the day." —Elizabeth Bowen
"No shade, no shine, no butterflies, no bees, No fruits, no flowers, no leaves, no birds – November!" —Thomas Hood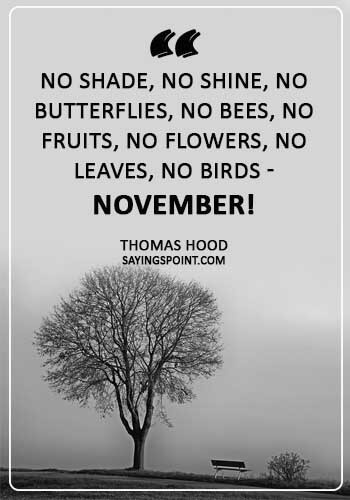 "Fallen leaves lying on the grass in the November sun bring more happiness than the daffodils." —Cyril Connolly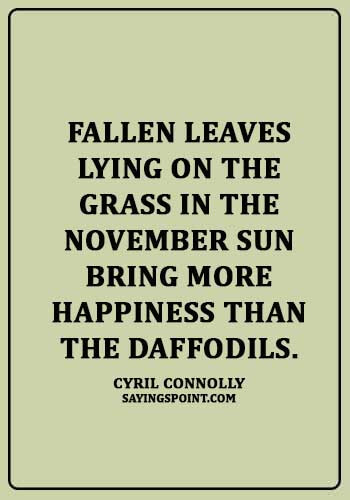 "There is October in every November and there is November in every December! All seasons melted in each other's life!" —Mehmet Murat ildan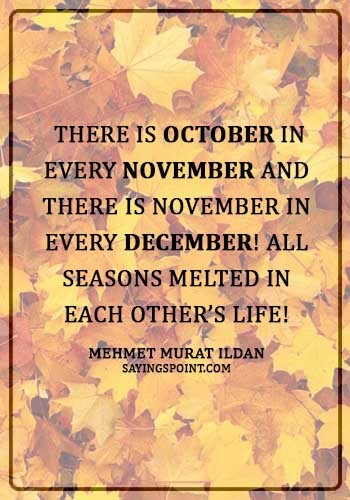 "The leaves fall, the wind blows, and the farm country slowly changes from the summer cottons into its winter wools." —Henry Beston
"November is the month to remind us to be thankful for the many positive things happening in our life." —Unknown
"November the last month of autumn. But the beginng of a new adventure; time to take risk and do the unexpected." —Unknown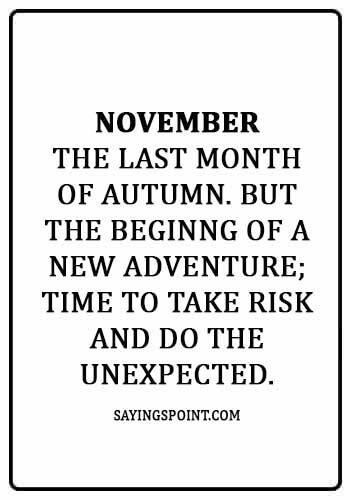 "Some of the days in November carry the whole memory of summer as a fire opal carries the color of moon rise." —Gladys Taber
"Even if something is left undone, everyone must take time to sit still and watch the leaves turn." —Elizabeth Lawrence
"Winter is an etching, spring a watercolor, summer an oil painting and autumn a mosaic of them all." —Stanley Horowitz
"Long cold nights mark November's return, grey rains fall, wind walks in the bronze oak leaves." —Gladys Taber
"New month, new day, new date, new chapter, new page, new wishes! Welcome November." —Unknown
"Leaves grow old gracefully, bring such joy in their last lingering days. How vibrant and bright is their final flurry of life." —Karen Gibbs
"The month of November makes me feel that life is passing more quickly. In an effort to slow it down, I try to fill the hours more meaningfully." —Henry Rollins
"The gloomy months of November, when the people of England hang and drown themselves." —Joseph Addison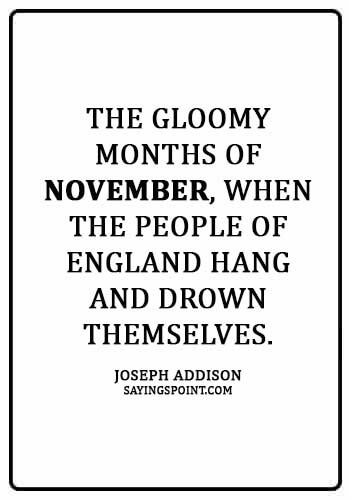 "If months were marked by colors, November in New England would be colored gray." —Madeleine M. Kunin
"In November, the trees are standing all sticks and bones. Without their leaves, how lovely they are, spreading their arms like dancers. They know it is time to be still." —Cynthia Rylant
"The unwelcome November rain had perversely stolen the day's last hour and pawned it with that ancient fence, the night." —F. Scott Fitzgerald
Top Ten November Quotes and Sayings
Here you will find top ten November Quotes and Sayings selected by our team.
"No shade, no shine, no butterflies, no bees, No fruits, no flowers, no leaves, no birds – November!" —Thomas Hood
"The gloomy months of November, when the people of England hang and drown themselves." —Joseph Addison
"The leaves fall, the wind blows, and the farm country slowly changes from the summer cottons into its winter wools." —Henry Beston
"In November you begin to know how long the winter will be." —Martha Gellhorn
"November at its best – with a sort of delightful menace in the air." —Anne Bosworth Greene
"November the last month of autumn. But the beginng of a new adventure; time to take risk and do the unexpected." —Unknown
"There is October in every November and there is November in every December! All seasons melted in each other's life!" —Mehmet Murat ildan
"Autumn is marching on: even the scarecrows are wearing dead leaves." —Otsuyu Nakagawa
"The month of November makes me feel that life is passing more quickly. In an effort to slow it down, I try to fill the hours more meaningfully." —Henry Rollins
"Fallen leaves lying on the grass in the November sun bring more happiness than the daffodils." —Cyril Connolly