In this post, you will find amazing gym sayings.
Short Gym Quotes and Sayings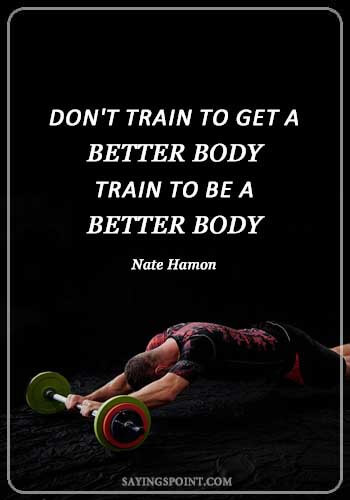 "Don't train to get a better body – train to be a better body." —Nate Hamon
"Math is like going to the gym for your brain. It sharpens your mind." —Danica McKellar
"To fell "fit as a fiddle" you must tone down your middle." —Unknown
"Gym should be illegal. It's humiliating." —Laurie Halse Anderson
"Do it over and over again until it becomes part of who you are." —Unknown
"The only disability in life is a bad attitude." —Scott Hamilton
"Motivation get you started.habits keep you going." —Unknown
"I have to exercise in the morning before my brain figures out what I'm doing." —Marsha Doble
"If your dog is fat, you're not getting enough exercise." —Unknown
"Excuses don't kill the fat, exercises do." —Amit Kalantri
"My only goal today is to be better than I was yesterday." —Unknown
"Push yourself because no one else is going to do it for you." —Unknown
"The earlier you invest in health, the more dividends it pays later." —Tarun Sharma
"Train insane or remain the same." —Jillian Michaels
"Work harder than you think you did yesterday." —Unknown
"Train Like an Athlete, Eat Like a Bodybuilder." —Elliott Hulse
"When the going gets tough, the tough reinvent." —RuPaul
"Any exercise is better than no exercise." —Unknown
"Fitness-If it came in a bottle, everybody would have a great body." —Cher
"Pain is temporary. Quitting lasts forever." —Lance Armstrong
"Some men's chests are more buttlike than some women's butts." —Mokokoma Mokhonoana
"You will never know your limits unless you push yourself to them." —Unknown
"Push yourself because no one else is going to do it for you." —Unknown
"Take the admission to the gym to avoid the admission to the hospital." —Amit Kalantri
Gym Quotes and Sayings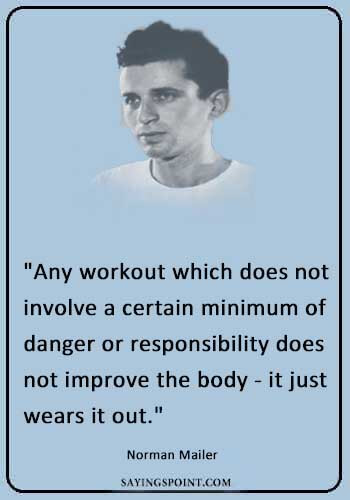 "Any workout which does not involve a certain minimum of danger or responsibility does not improve the body – it just wears it out." —Norman Mailer
"Problems in your life are like the weights in the gym. You can either get weighed down by them or turn them to your advantage and become stronger." —Unknown
"I've failed over and over and over again in my life and that is why I succeed." —Michael Jordan
"The resistance that you fight physically in the gym and the resistance that you fight in life can only build a strong character." —Arnold Schwarzenegger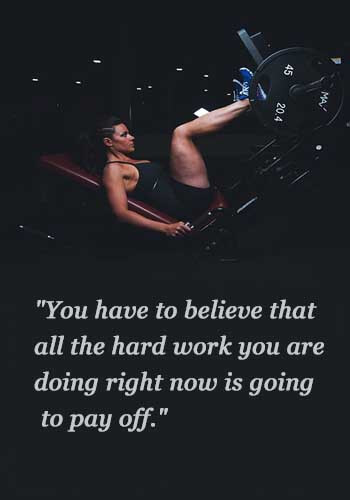 "You have to believe that all the hard work you are doing right now is going to pay off." —Anita Herbert
"To achieve something you've never had before, you must do something you've never done before." —Unknown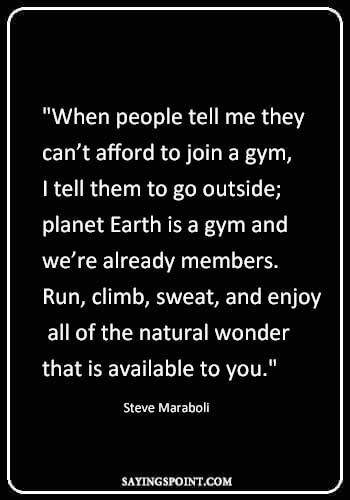 "When people tell me they can't afford to join a gym, I tell them to go outside; planet Earth is a gym and we're already members. Run, climb, sweat, and enjoy all of the natural wonder that is available to you." —Steve Maraboli
"The most satisfying feeling you can get in the gym is the pump." —Arnold Schwarzenegger
Read Also: Funniest Gym Sayings
"The longer I train, the less and less shit I do. The less shit I do, the stronger I get. The more I emphasize recovery, the stronger I get." —Paul Carter
"Those who think they have not time for bodily exercise will sooner or later have to find time for illness." —Edward Stanley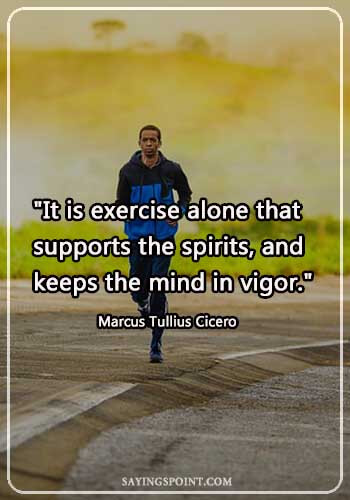 "It is exercise alone that supports the spirits, and keeps the mind in vigor." —Marcus Tullius Cicero
"Your body is the most complete and miraculous piece of gym equipment you'll ever need." —Toni Sorenson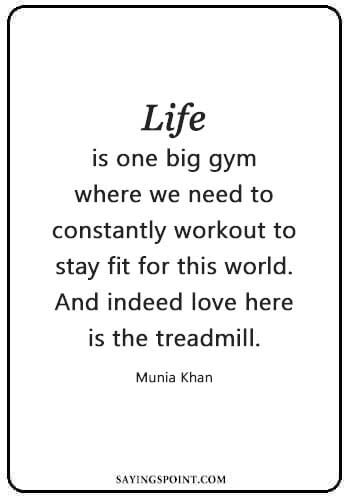 "Life is one big gym where we need to constantly workout to stay fit for this world. And indeed love here is the treadmill." —Munia Khan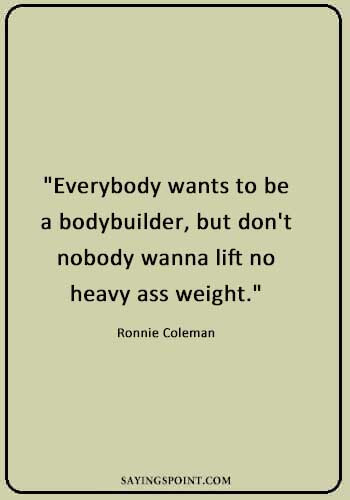 "Everybody wants to be a bodybuilder, but don't nobody wanna lift no heavy ass weight." —Ronnie Coleman
"Close your eyes and imagine the best version of you possible. That's who you really are, let go of any part of you that doesn't believe it." —C. Assaad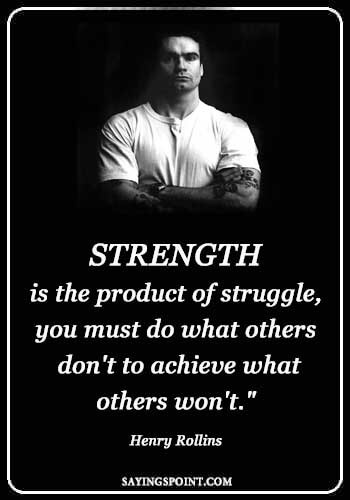 "Strength is the product of struggle, you must do what others don't to achieve what others won't." —Henry Rollins
"For me, fitness is not just about hitting the gym; it is also about an inner happiness and an overall well-being." —Rakul Preet Singh
"Life has dark moments & it is out of our darkness that we often find our greatest beauties and strengths." —William Bonac
"Gym is a sacred place which makes your life feel worth existing by putting effort of care into the home of your soul called body!" —Munia Khan
"You don't have to go the gym – just walk 10,000 steps a day and you are activating your good genes. But do practise yoga." —Deepak Chopra
"To lose weight, spend time at the gym. To appear like you've lost weight, spend time with people who are bigger than you." —Mokokoma Mokhonoana
"It took me 20 years of hard training to get the physique I have today. What you need is what I had – belief in yourself!" —Branch Warren
"Gold medals are made out of sweat, blood and tears and effort in the gym every day." —Gabby Douglas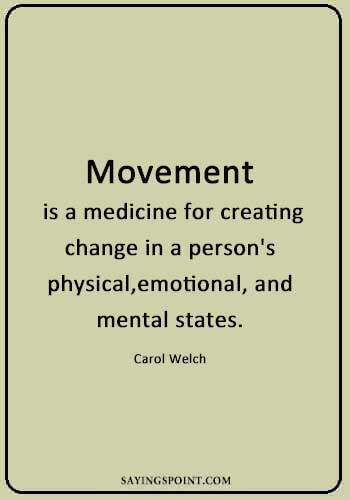 "Movement is a medicine for creating change in a person's physical, emotional, and mental states." —Carol Welch
"You have to believe in yourself when no one else does." —Serena Williams
"Not only a man without hand is handicapped but also a man without health." —Amit Kalantri
Top Ten Gym Quotes and Sayings
You will find here top ten gym sayings selected by our team.
"It is exercise alone that supports the spirits, and keeps the mind in vigor." —Marcus Tullius Cicero
"Life is one big gym where we need to constantly workout to stay fit for this world. And indeed love here is the treadmill." —Munia Khan
"Strength is the product of struggle, you must do what others don't to achieve what others won't." —Henry Rollins
"You have to believe that all the hard work you are doing right now is going to pay off." —Anita Herbert
"Don't train to get a better body – train to be a better body." —Nate Hamon
"My only goal today is to be better than I was yesterday." —Unknown
"Movement is a medicine for creating change in a person's physical, emotional, and mental states." —Carol Welch
"When people tell me they can't afford to join a gym, I tell them to go outside; planet Earth is a gym and we're already members. Run, climb, sweat, and enjoy all of the natural wonder that is available to you." —Steve Maraboli
"Any workout which does not involve a certain minimum of danger or responsibility does not improve the body – it just wears it out." —Norman Mailer
"Everybody wants to be a bodybuilder, but don't nobody wanna lift no heavy ass weight." —Ronnie Coleman