In this post, you will find funny alcohol sayings.
Short Funny Alcohol Sayings
"When I read about the evils of drinking, I gave up reading." —Henny Youngman
"I only drink on 2 occasions when I'm thirsty and when I'm not." —Unknown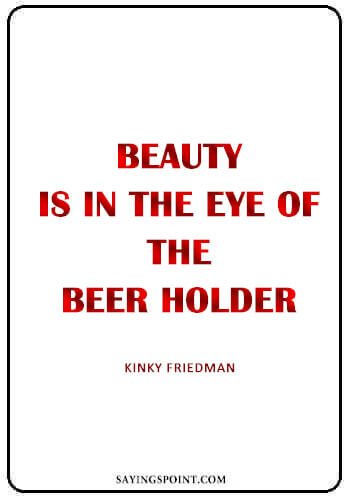 "Beauty is in the eye of the beer holder." —Kinky Friedman
"I cook with wine,Sometimes I even add it to the food." —W.C Fields
"If you drink to forget, please pay in  advance." —Unknown
"Alcohol doesn't make you fat; it makes you lean… against tables, chairs and walls." —Unknown
"Alcohol is a way of life, alcohol is my way of life, and I aim to keep it." —Homer Simpson
"Alcohol doesn't solve any problems, but then again, neither does milk." —Unknown
"It's true, alcohol kills people. But how many are born because of it?" —Unknown
"Alcohol is a misunderstood vitamin." —P. G. Wodehouse
"Let's have a beer together, you can open it and I will drink it." —Unknown
"Alcohol… because no great story starts with a salad." —Unknown
"The doctors found some blood in my alchohol stream." —Unknown
"Sometimes I drink water to surprise my liver." —Unknown
"Time is never wasted when you're wasted all the time." —Catherine Zandonella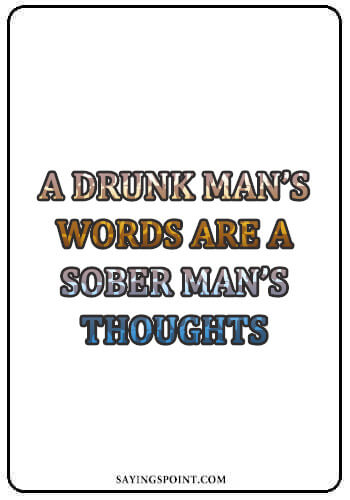 "A drunk man's words are a sober man's thoughts." —Unknown
"All is fair in love and beer." —Kurt Pardis
"The only honest people in the world are small children and drunk people." —Unknown
"Everyone needs to believe in something. I believe I'll have another beer." —Unknown
"Alcohol is not the answer but it makes you forget the question!" —Unknown
"My second marriage had a lot to do with alcohol." —Mercedes McCambridge
"Work is the curse of the drinking classes." —Oscar Wilde
"Here's to alcohol, the rose colored glasses of life." —F. Scott Fitzgerald
"Beer is now cheaper than gas, do drink, don't drive!" —Unknown
"You look like I need another drink." —Unknown
"Good people drink good beer." —Hunter S. Thompson
"Lips that touch liquor touch other lips quicker." —Unknown
"The best beer in the world, is the open bottle in your hand!" —Danny Jansen
"There are more old drunkards than old physicians." —Bernard Shaw
"I use to think drinking was bad, so I stop thinking." —Unknown
"I work until beer o'clock." —Stephen King
"Act single, see double, drink triple." —Unknown
Funny Alcohol Sayings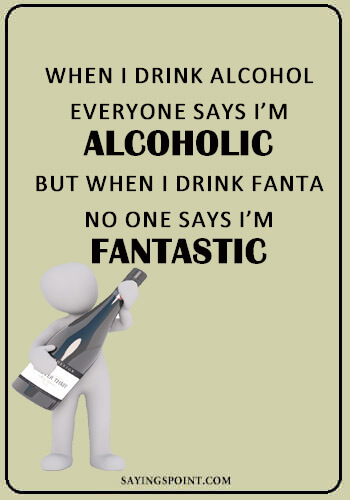 "When I drink alcohol…everyone says I'm alcoholic but when I drink Fanta…no one says I'm fantastic." —Unknown
"There is no bad whiskey. There are only some whiskeys that aren't as good as others." —Raymond Chandler
"The problem with some people is that when they aren't drunk, they're sober." —William Butler Yeats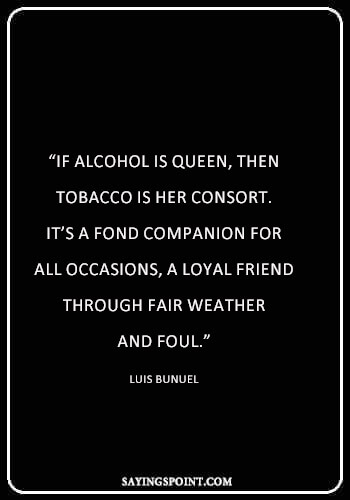 "If alcohol is queen, then tobacco is her consort. It's a fond companion for all occasions, a loyal friend through fair weather and foul." —Luis Bunuel
"99% of all problems can be solved by money – and for the other 1% there's alcohol." —Quentin R. Bufogle
"Give me a woman who loves beer and I will conquer the world." —Kaiser Wilhelm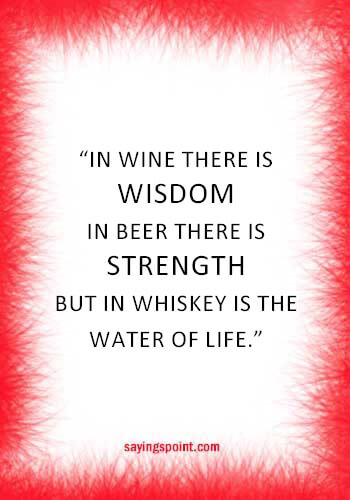 "In wine there is wisdom, in beer there is freedom, in water there is bacteria." —Benjamin Franklin
"I have made an important discovery… that alcohol, taken in sufficient quantities, produces all the effects of intoxication." —Oscar Wilde
"Alcohol is like love: the first kiss is magic, the second is intimate, the third is routine. After that you just take the girl's clothes off." —Raymond Chandler
"The problem with the world is that everyone is a few drinks behind." —Humphrey Bogart
"I drink too much. The last time I gave a urine sample it had an olive in it." —Rodney Dangerfield
"Good friends make the world go round, but good beer makes the room go round." —Unknown
"I try to convince myself that it's the alcohol talking. But alcohol can't talk. It just sits there. It can't even get itself out of the bottle." —David Levithan
"I spent half my money on gambling, alcohol and wild women. The other half i wasted." —Unknown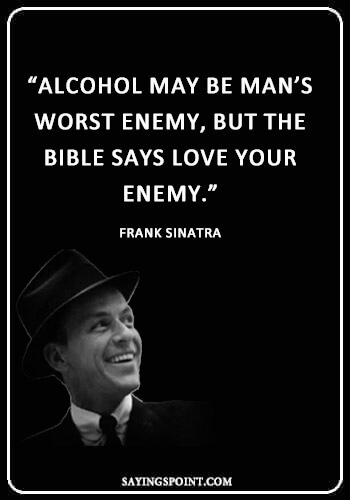 "Alcohol may be man's worst enemy, but the bible says love your enemy." —Frank Sinatra
Top Ten Funny Alcohol Sayings
You will find here top ten funny alcohol sayings selected by our team.
"Alcohol aint the answer but it makes you forget the question!
"Alcohol may be man's worst enemy, but the bible says love your enemy." —Frank Sinatra
"Beauty is in the eye of the beer holder." —Kinky Friedman
"When I drink alcohol…everyone says I'm alcoholic but when I drink Fanta…no one says I'm fantastic." —Unknown
"In wine there is wisdom, in beer there is strength but in whiskey is the water of life." —Unknown
"If alcohol is queen, then tobacco is her consort. It's a fond companion for all occasions, a loyal friend through fair weather and foul." —Luis Bunuel
"I try to convince myself that it's the alcohol talking. But alcohol can't talk. It just sits there. It can't even get itself out of the bottle." —David Levithan
"It's true, alcohol kills people. But how many are born because of it?" —Unknown
"A drunk man's words are a sober man's thoughts." —Unknown
"Sometimes I drink water to surprise my liver." —Unknown