In this post, you will find amazing dj quotes and sayings.
Short DJ Quotes and Sayings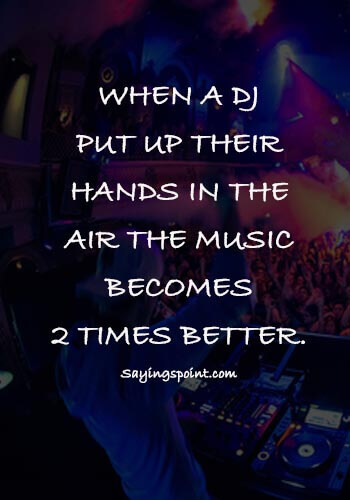 "When a dj put up their hands in the air the music becomes 2 times better." —Unknown
"I'm a DJ. I get the party started." —Unknown
"A real DJ makes you dance to songs you have never heard before…" —Unknown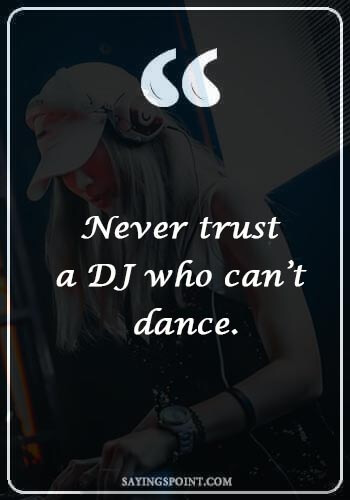 "Never trust a DJ who can't dance." —Unknown
"The job of feets is walking, but their hobby is dancing." —Amit Kalantri
"Last night a dj saved my life." —Unknown
"I'm a DJ who makes dance music who got to play with Sting." —Afrojack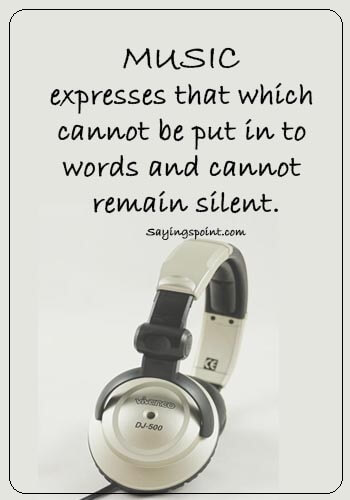 "Music expresses that which cannot be put in to words and cannot remain silent." —Unknown
"This should be played at high volumes, preferably in a residential area." —Tiesto
"The minute you think you're greater than the music, you're finished." —Frankie Knuckles
"They will try to close the door on you. Just open it." —DJ Khaled
"America is not ready for electronic music." —David Guetta
"In life everyone has a choice. The key is: make a right choice." —DJ Khaled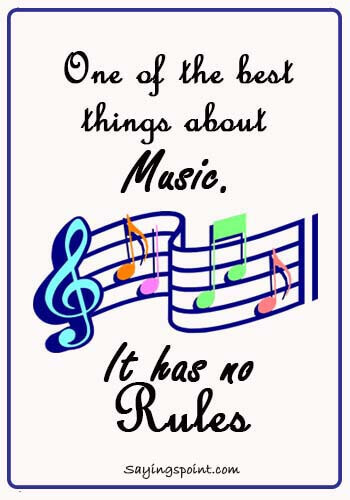 "One of the best things about music. It has no rules." —Unknown
"Don't pull that plug yet it's DJ Pullout in tha mix." —Unknown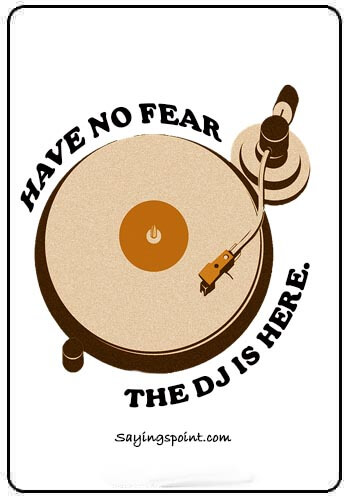 "Have no fear .The DJ is here." —Unknown
"Party all day, party all night." —Unknown
"When I don't like a piece of music.I make a point of listening to it so closely." —Unknown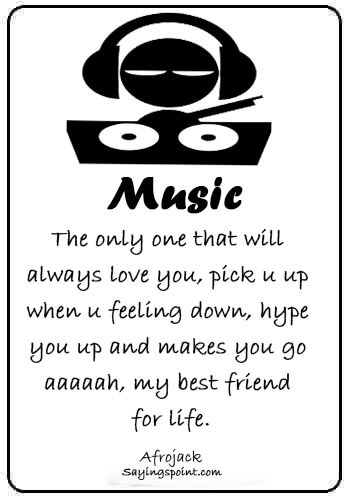 "Music; The only one that will always love you, pick u up when u feeling down, hype u up and makes you go aaaaah, my best friend for life." —Afrojack
"Listening to Techno without bass is like trying to get yourself off without using your hands." —Unknown
"When you DJ, you're just on your own, which is nice because there's no argument." —Peter Hook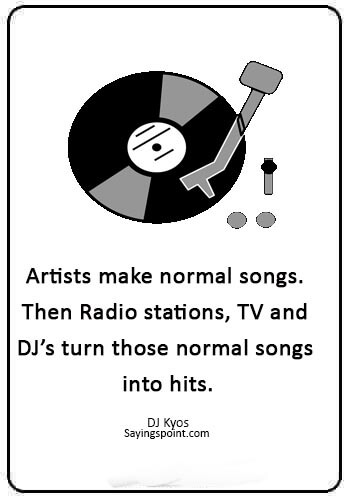 "Artists make normal songs. Then Radio stations, TV and DJ's turn those normal songs into hits." —DJ Kyos
"As a DJ, people expect a certain sound and a certain dance ability for the music. As a producer, I really like to let go of any rules that may exist." —Armin Van Buuren
"People keeps asking us why our stuff hits so hard, well, other producer's plug-ins goes to 10, ours goes to 11." —Dada Life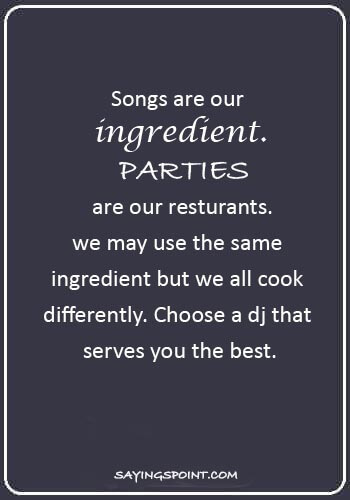 "Songs are our ingredient. Parties are our resturants.we may use the same ingredient but we all cook differently. Choose a dj that serves you the best." —Unknown
"The greatest DJ is one who can live within the formula and make it sound …. as if he producing and pulling the music all by himself." —Dick Biondi
"In human life no-one is inventing something. It's always the remix of the remix of the remix. I am the remix of my father." —Ricardo Villalobos
"Music gives a soul to the universe, wings to the mind, flight to the imagination and life to everything." —Unknown
"People like me, DJs and producers, have a bigger say and a bigger voice than we've ever had before." —Thomas Wesley Pentz
"Producers problems is in need of vocalist and Vocalist problems is in need of a Studio." —DJ Kyos
"I think rap music has made more money on dance music than dance music has made on dance music. Just a thought." —Kaskade
"I'm of the opinion that as a DJ you must always play what you love and ignore what's 'trendy' because true passion always eclipses what's fashionable. Quality is always fashionable." —Boy George
"There's a lot of creativity in the industry, but I don't necessarily think that the most creative DJs or producers are always the biggest ones." —Flume
Top Ten DJ Quotes and Sayings
Here you will find top ten Dj quotes and Sayings selected by our team.
"Artists make normal songs. Then Radio stations, TV and DJ's turn those normal songs into hits." —DJ Kyos
"The minute you think you're greater than the music, you're finished." —Frankie Knuckles
"Music gives a soul to the universe, wings to the mind, flight to the imagination and life to everything." —Unknown
"Music expresses that which cannot be put in to words and cannot remain silent." —Unknown
"Never trust a DJ who can't dance." —Unknown
"Songs are our ingredient. Parties are our resturants.we may use the same ingredient but we all cook differently. Choose a dj that serves you the best." —Unknown
"Music; The only one that will always love you, pick u up when u feeling down, hype u up and makes you go aaaaah, my best friend for life." —Afrojack
"When a dj put up their hands in the air the music becomes 2 times better." —Unknown
"I'm a DJ who makes dance music who got to play with Sting." —Afrojack
"One of the best things about music. It has no rules." —Unknown