In this post best sayings ever related to life, love, money etc.
Short Best Sayings Ever
"Don't let your loyalty become slavery." —Unknown
"Misfortunes make us wise." —Mary Norton
"Everything will be okay in the end. If it's not okay, it's not the end." —Unknown
"You know you are truly alive when you're living among lions." —Karen Blixen
"Start with big dreams and make life worth living." —Stephen Richards
"We were but stones,Your light made us stars  (teacher)." —Unknown
"Try to be a rainbow in someone's cloud." —Maya Angelou
"What happens i can't control. How i react to what happens i can control." —Unknown
"A bad grade is only one letter in the Essay of life." —Lee Drake
"Hardships make or break people." —Margaret Mitchell
"Wanting to be someone else is a waste of who you are." —Kurt Cobain
"Jobs fill your pockets, but adventures fill your soul." —Jaime Lyn
"He who does not tire, tires adversity." —Martin Farquhar Tupper
"Be careful with your words, they can only be forgiven not forgotten." —Unknown
"He taught me how to love, but he didn't teach me how to stop." —Unknown
"Character is much easier kept than recovered." —Thomas Paine
"You only live once, but if you do it right, once is only enough." —Mae West
"Being broke is a temporary situation. Being poor is a state of mind." —Mike Todd
"God gives every bird its food, but He does not throw it into its nest." —J.G. Holland
"If you need violence to enforce your ideas, your ideas are worthless." —Unknown
"The journey of a thousand miles begins with one step." —Lao Tzu
"Problems are not stop signs, they are guidelines." —Robert H. Schuller
"The first and the best victory is to conquer self." —Plato
"It's hard to beat a person who never gives up." —Babe Ruth
"Where there is love there is life." —Mahatma Gandhi
"The difference between try and triumph is just a little umph!" —Marvin Phillips
"Dreams don't work unless you do." —John C. Maxwell
"Be yourself; everyone else is already taken." —Oscar Wilde
"If you cannot do great things, do small things in a great way." —Napoleon Hill
"When you run late in life you miss some opportunity." —John De Lemme
"Cowards never start. The weak never finish. Winners never quit." —Unknown
"Knowing yourself is the beginning of all wisdom." —Aristotle
"Believe you can and you're halfway there." —Theodore Roosevelt
"You just can't beat the person who won't give up." —Babe Ruth
"If you keep going , you wont regret, if you give up, you will." —Unknown
"Pain is temporary. Quitting lasts forever." —Unknown
"Everything is going to be alright. Maybe not today, but eventually." —Unknown
"I never lose. I either win or learn." —Nelson Mandela
"Our eyes alone tell stories that words never could." —Babbar Sher
"A diplomat is a man who thinks twice before saying nothing." —Winston Churchill
"It is easier to rule a nation than raise four children." —Winston Churchill
"When the roots are deep there is no fear the wind." —Unknown
"Wear gratitude like a cloak and it will feed every corner of your life." —Rumi
"I am not what happened to me, I am what I choose to become." —Unknown
"If a turtle doesn't have a shell, is he homeless or naked?" —George Carlin
"Don't let others define you or they might pick the worst word in the dictionary." —Unknown
"That last page turned is a perfect excuse to write a whole new book." —Toni Sorenson
"Whoever is trying to bring you down is already below you." —Boona Mohammed
"We Russians have no proverbs. We have vodka and misery." —Pierre Bezukhov
"Everything has beauty, but not everyone sees it." —Confucius
Best Sayings Ever
"Empty pockets never held anyone back. Only empty heads and empty hearts can do that." —Norman Vincent Peale
"If anyone asks me "what is hell?" I would answer "Distance between two people who love each other." —Unknown
"If you want money, ask for advice; if you want advice, ask for money." —Peter Hero
"Change your thoughts and you change your world." —Norman Vincent Peale
"Love unconditionally, laugh intentionally, live strategically, and learn daily." —Hope D. Blackwell
"Sometimes i wish i were a nice person..But then i laugh and continue my day." —Unknown
"God gave us the gift of life; it is up to us to give ourselves the gift of living well." —Voltaire
"Wise men speak because they have something to say; Fools because they have to say something." —Plato
"The best and most beautiful things in the world cannot be seen or even touched – they must be felt with the heart." —Helen Keller
"Before you marry keep both eyes open; after marriage keep one eye shut." —Jamaican
"To handle yourself, use your head; to handle others, use your heart." —Eleanor Roosevelt
"The world is a book and those who do not travel read only one page." —St. Augustine
"The bad news is time flies. The good news is you're the pilot." —Michael Althsuler
"For every wound there is a scar. And every scar tells a story. A story that says: I survived." —Unknown
"They say long distance relationships will teach you to communicate well… We should be mind-readers by now." —Lisa McKay
"Abuse changes your life…Fight Back and change the life of your abusers by Breaking Your Silence on Abuse!" —Patty Rase Hopson
"Do not mind anything that anyone tells you about anyone else. Judge everyone and everything for yourself." —Henry James
"If you want something said, ask a man; if you want something done, ask a woman." —Margaret Thatcher
"You have the right to your own ideas and opinions, to make your own decisions, and to have things go your way at times." —Unknown
"When we are no longer able to change a situation – we are challenged to change ourselves." —Viktor E. Frankl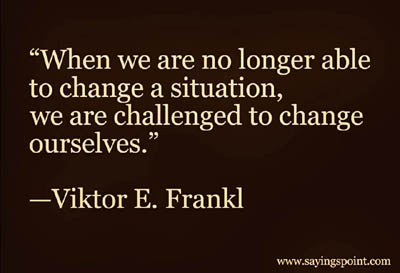 "You will never reach your destination if you stop and throw stones at every dog that barks." —Winston Churchill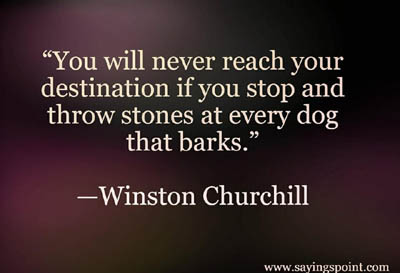 "When you go in search of honey, you must expect to be stung by bees." —Joseph Joubert
"If you can't fly then run, if you can't run then walk, if you can't walk then crawl, but whatever you do you have to keep moving forward." —Martin Luther King, Jr.
"My mother said to me, "If you are a soldier, you will become a general. If you are a monk, you will become the Pope." Instead, I was a painter, and became Picasso." —Pablo Picasso
"Failure is the key to success; each mistake teaches us something." —Morihei Ueshiba
"Never forget two people in your life…. The person who lost everything just to make you win (father). The person who was with you in every pain (mother)." —Unknown
"Coming together is a beginning; keeping together is progress; working together is success." —Henry Ford
"The day you give up on your dreams is the day you give up on yourself." —Unknown
"Seek patience and passion in equal amounts. Patience alone will not build the temple. Passion alone will destroy its walls." —Maya Angelou
"To truly laugh, you must be able to take your pain, and play with it." —Charlie Chaplin
"If there must be trouble, let it be in my day, that my child may have peace." —Thomas Paine
"Before you give up, think about why you held up on so long." —Hayley Williams
"I have not failed, I have just found 10,000 ways that won't work." —Thomas Edison
"Ever tried. Ever failed. No matter. Try Again. Fail again. Fail better." —Samuel Beckett
"Don't be discouraged. It's often the last key in the bunch that opens the lock." —Unknown
"Never give up. Today is hard, tomorrow will be worse, but the day after tomorrow will be sunshine." —Jack Ma
"Everyone says, destroy whats destroys you, right?well what if the thing destroying you is yourself." —Unknown
"But man is not made for defeat. A man can be destroyed but not defeated." —Ernest Hemingway
"Do not dwell in the past, do not dream of the future, concentrate the mind on the present moment." —Buddha
"Your hardest times often lead to the greatest moments of your life. Keep going. Tough situations build strong people in the end." —Roy Bennett
"The difference between a good and great officer is about ten seconds." —Admiral Arleigh Burke
"Pray like it all depends on God, but work like it all depends on you." —Dave Ramsey
"Justice?you get  justice in the next world.In this world you have the law." —William Gaddis
"All roads that lead to success have to pass through hard work boulevard at some point." —Eric Thomas
"Good judgment comes from experience, and a lot of that comes from bad judgment." —Will Rogers
"The difference between the impossible and the possible lies in a person's determination." —Tommy Lasorda
"My father said there were two kinds of people in the world: givers and takers. The takers may eat better, but the givers sleep better." —Marlo Thomas
"There are only two mistakes one can make along the road to truth: not going all the way, and not starting." —Buddha
"Your hardest times often lead to the greatest moments of your life. Keep going. Tough situations build strong people in the end." —Roy T. Bennett
"The woman who follows the crowd will usually go no further than the crowd. The woman who walks alone is likely to find herself in places no one has been before." —Albert Einstein
"Think in the morning. Act in the noon. Eat in the evening. Sleep in the night." —William Blake
"Yesterday I was clever, so I wanted to change the world. Today I am wise, so I am changing myself." —Rumi
"Things may come to those who wait, but only the things left by those who hustle." —Abraham Lincoln
"If you work hard enough and assert yourself, and use your mind and imagination, you can shape the world to your desires." —Malcolm Gladwell
"The only way to achieve the impossible is to believe it is possible." —Charles Kingsleigh
"Opportunities are usually disguised as hard work, so most people don't recognize them." —Ann Landers
"Your brain will give you reasons why you can't. Your heart will give you reasons why you can. Listen to your heart!" —Unknown
"The real man smiles in trouble, gathers strength from distress, and grows brave by reflection." —Thomas Paine
"Don't let someone who doesn't know your value tell you how much you're worth." —Unknown
"Your friends will believe in your potential, your enemies will make you live up to it." —Tim Fargo
Top 15 Best Sayings Ever
You will find here top 15 best sayings ever selected by our team.
"If anyone asks me "what is hell?" I would answer "Distance between two people who love each other." —Unknown
"Change your thoughts and you change your world." —Norman Vincent Peale
"When we are no longer able to change a situation – we are challenged to change ourselves." —Viktor E. Frankl
"The day you give up on your dreams is the day you give up on yourself." —Unknown
"Never give up. Today is hard, tomorrow will be worse, but the day after tomorrow will be sunshine." —Jack Ma
"Your hardest times often lead to the greatest moments of your life. Keep going. Tough situations build strong people in the end." —Roy Bennett
"Pray like it all depends on God, but work like it all depends on you." —Dave Ramsey
"Good judgment comes from experience, and a lot of that comes from bad judgment." —Will Rogers
"Think in the morning. Act in the noon. Eat in the evening. Sleep in the night." —William Blake
"Your friends will believe in your potential, your enemies will make you live up to it." —Tim Fargo
"Misfortunes make us wise." —Mary Norton
"The journey of a thousand miles begins with one step." —Lao Tzu
"Problems are not stop signs, they are guidelines." —Robert H. Schuller
"Everything is going to be alright. Maybe not today, but eventually." —Unknown
The journey of a thousand miles begins with one step." —Lao Tzu