In this post, you will find amazing anti bullying quotes and sayings.
Short Anti Bullying Quotes and Sayings
"Stop Bullying. No one deserves to feel worthless." —Rebecca Black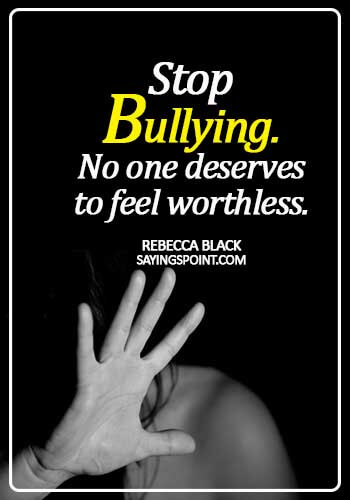 "If there are no hero to save you, then you be the hero." —Denpa Kyoshi
"Never be bullied into silence. Never allow yourself to be made a victim." —Tim Field
"I would rather be a little nobody, then to be a evil somebody." —Abraham Lincoln
"All that is required for evil to prevail is for good men to do nothing." —Edmund Burke
"Those who mind don't matter, and those who matter don't mind." —Bernard Baruch
"No one can make you feel inferior without your consent." —Eleanor Roosevelt
"If they don't like you for being yourself, be yourself even more." —Taylor Swift
"Bullies need to make others feel insecure because they are insecure." —Unknown
"We are only as strong as we are united, as weak as we are divided." —J. K. Rowling
"Bullying exists because of a lack of adult intervention." —Stuart Green
"They can't kill your dream, so they assassinate your character." —Unknown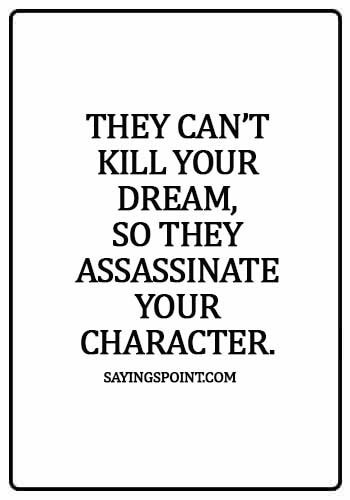 "A negative mind will never give you a positive mind." —Unknown
"Stop Bullying. No one deserves to feel worthless." —Rebecca Black
"Some people will resent you because you did not confine yourself to their limitations." —Unknown
"Courage is fire, and bullying is smoke." —Benjamin Disraeli
"Bullies are not accepted here, bullies are the one who should fear." —Unknown
"Blowing out someone's candle doesn't make yours shine any brighter." —Unknown
"We are only as strong as we are united, as weak as we are divided." —J. K. Rowling
"Bullying is cruel so don't act like a fool. Meanness is a sign of weakness." —Unknown
"A bully tries to put you down, because they are not up." —Unknown
"Don't listen if someone says you are not good enough." —Unknown
"Even the darkest night will end and the sun will rise." —Victor Hugo
Anti Bullying Quotes and Sayings
"They're not bullying you because of you,they're bullying you because of how they are." —Jessie J.
"The test of courage comes when we are in the minority. The test of tolerance comes when we are in the majority." —Unknown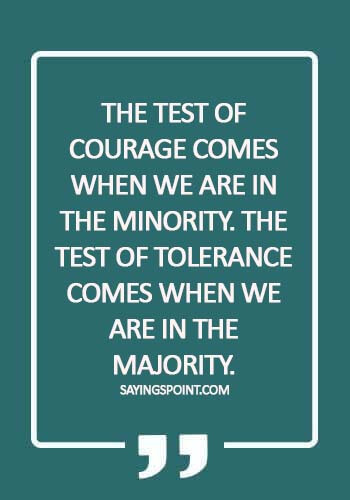 "Knowing what's right doesn't mean much unless you do what's right." —Theodore Roosevelt
"What if the kid you bullied at school, grew up, and turned out to be the only surgeon who could save your life?" —Lynette Mather
"If you ever see someone getting bullied, stand up for them. You never know what a few words can do, you could save a life.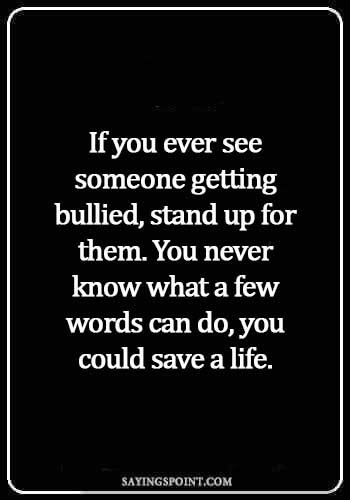 "Always be a first-rate version of yourself, instead of a second-rate version of somebody else." —Judy Garland
"One's dignity may be assaulted, vandalized and cruelly mocked, but it can never be taken away unless it is surrendered." —Michael J. Fox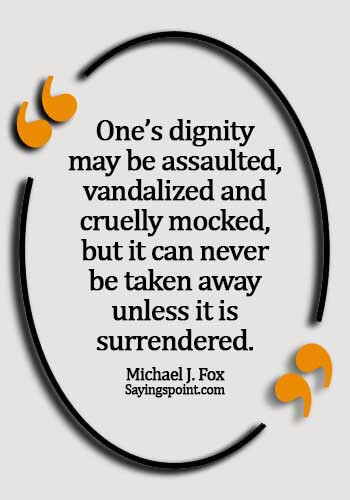 "You will never reach higher ground if you are always pushing others down." —Jeffrey Benjamin
"People who repeatedly attack your confidence and self-esteem are quite aware of your potential, even if you are not." —Unknown
"By being a bully you show everyone what an inferior coward you are." —Unknown
"Nobody has the right to define who you are. Be true to yourself, because your opinion is the only one that matters." —Unknown
"Be kind, for everyone you meet is fighting a battle you know nothing about." —Wendy Mass
"People who love themselves, don't hurt other people. The more we hate ourselves, the more we want others to suffer." —Dan Pearce
"Children should be able to live a life free from bullying and harassment and it is time that we all took a stand against this." —Katherine Jenkins
"Wrong is wrong even if everyone is doing it. Right is right even if no one is doing it." —St. Augustine
"Sticks and stones may break your bones but mean words can tear holes in your spirit." —Unknown
"Life is a fight, but not everyone's a fighter. Otherwise, bullies would be an endangered species." —Andrew Vachss
"Bullies don't like to fight, son. They like to win. Being afraid is normal. The only fight you really have to win is the one against the fear." —Kwame Alexander
"When people hurt you over and over, think of them like sand paper. They may scratch and hurt you a bit, but in the end, you end up polished and they end up useless." —Chris Colfer
"My pain may be the reason for somebody's laugh. But my laugh must never be the reason for somebody's pain." —Unknown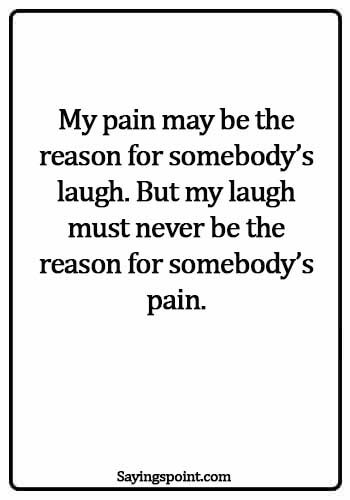 "If you turn and face the other way when someone is being bullied, you might as well be the bully too." —Unknown
"The bullying was hideous and relentless, and we turned it round by making ourselves celebrities." —Julian Clary
"You have power over your mind – not outside events. Realize this, and you will find strength." —Marcus Aurelius
"Bullying is a horrible thing. It sticks with you forever. It poisons you. But only if you let it." —Heather Brewer
"Each of us deserves the freedom to pursue our own version of happiness. No one deserves to be bullied." —Barack Obama
"Strong people stand up from themselves.  But the strongest people stand up for others." —Unknown
"Ignore the people who are always talking behind your back, that's where they belong, behind you." —Unknown
"Bullying builds character like nuclear waste creates superheroes. It's a rare occurrence and often does much more damage than endowment." —Zack W. Van
"Insecure people only eclipse your sun because they're jealous of your daylight and tired of their dark, starless nights." —Shannon L. Alder
"First they ignore you, then they laugh at you, then they fight you, then you win." —Mahatma Gandh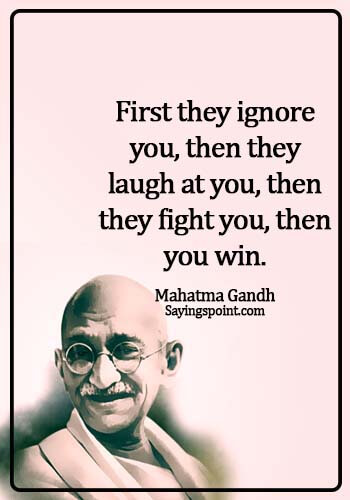 "Bullying is not gonna stop, but we can at least be confident enough to stand up to it." —Greyson Chance
"You can have no dominion greater or less than that over yourself." —Leonardo da Vinci
"Remember always that you not only have the right to be an individual, you have an obligation to be one." —Eleanor Roosevelt
"A bully hides his fears with fake bravado. That is the opposite of self-assertiveness." —Nathaniel Branden
Top Ten Anti Bullying Quotes and Sayings
Here you will find Top Ten anti bullying quotes and sayings selected by our team.
"Stop Bullying. No one deserves to feel worthless." —Rebecca Black
"A bully hides his fears with fake bravado. That is the opposite of self-assertiveness." —Nathaniel Branden
"They can't kill your dream, so they assassinate your character." —Unknown
"Sticks and stones may break your bones but mean words can tear holes in your spirit." —Unknown
"My pain may be the reason for somebody's laugh. But my laugh must never be the reason for somebody's pain." —Unknown
"If you ever see someone getting bullied, stand up for them. You never know what a few words can do, you could save a life." —Unknown
"One's dignity may be assaulted, vandalized and cruelly mocked, but it can never be taken away unless it is surrendered." —Michael J. Fox
"Each of us deserves the freedom to pursue our own version of happiness. No one deserves to be bullied." —Barack Obama
"First they ignore you, then they laugh at you, then they fight you, then you win." —Mahatma Gandh
"The test of courage comes when we are in the minority. The test of tolerance comes when we are in the majority." —Unknown