In this post, you will find amazing alcoholism quotes and sayings.
Short Alcoholism Quotes and Sayings
"Alcohol does not solve problems but becomes a problem in itself." —Amit Abraham
"Alcohol may be man's worst enemy, but the bible says love your enemy." —Frank Sinatra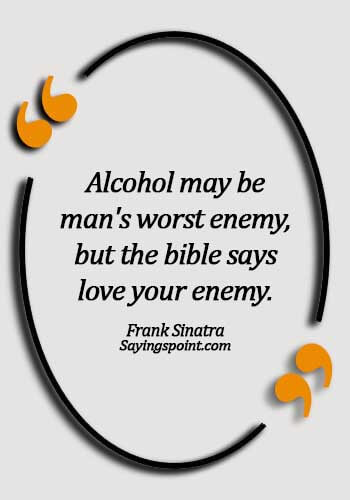 "Alcoholism is a choice… not a life sentence." —David Norman
"Herb is the healing of a nation, alcohol is the destruction." —Bob Marley
"I only drink on 2 occasions when I'm thirsty and when I'm not." —Unknown
"Alcoholism is an imperfect spiritual longing." —Tom Robbins
"Alcohol becomes a poison when you drink it with a heavy heart." —Lee Chang Hun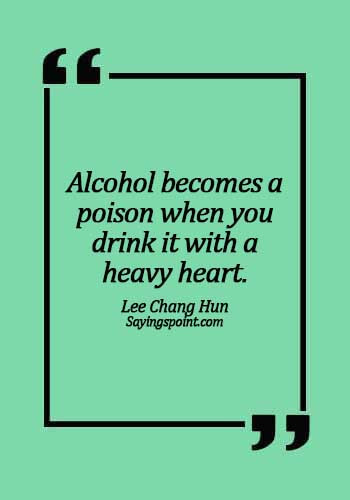 "Alcoholism is a disease of the whole person." —Maurice Gelinas
"You're not drunk if you can lie on the floor without holding on." —Dean Martin
"A man does not exist until he is drunk." —Ernest Hemingway
"Alcoholism is a thief of health, mental sanity and human dignity." —Dr T.P.Chia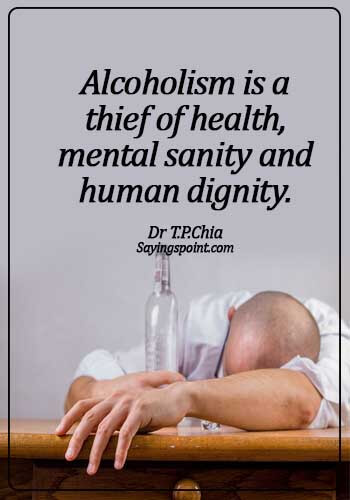 "Alcohol tells truth, but its truth is not normal." —Jack London
"When I read about the evils of drinking, I gave up reading." —Henny Youngman
"Alcohol, the cause of and solution to all of life's problems." —Homer Simpson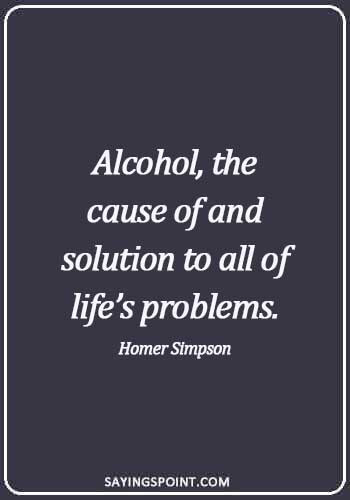 "A drunk man's words are a sober man's thoughts." —Unknown
"Alcoholism is what raises man above the utilitarians." —Eve Tushnet
"My second marriage had a lot to do with alcohol." —Mercedes McCambridge
"We drink not to be drunk but to socialize." —Unknown
"Alcohol gives you infinite patience for stupidity." —Sammy Davis, Jr.
Alcoholism Quotes and Sayings
"As an alcoholic, you will violate your standards quicker than you can lower them." —Robin Williams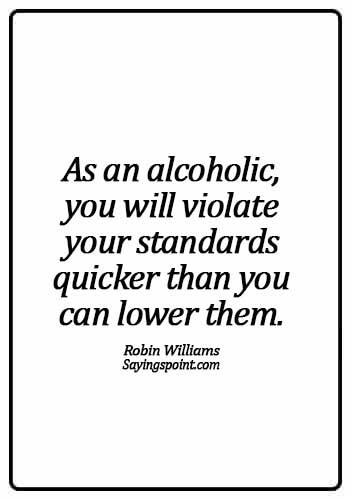 "The worst disease which can afflict executives in their work is not, as popularly supposed, alcoholism; it's egotism." —Robert Frost
"You know you're fucked up when alcohol and pills become your best friends." —Unknown
"Alcohol is barren. The words a man speaks in the night of drunkenness fade like the darkness itself at the coming of day." —Marguerite Duras
"Once, during Prohibition, I was forced to live for days on nothing but food and water." —W. C. Fields
"Physicians who are familiar with alcoholism agree there is no such thing as making a normal drinker out of an alcoholic." —Unknown
"Alcohol decimated the working class and so many people." —Martin Scorsese
"My father gave me everything he had. Everything I had I gave to alcohol." —Dmitry Dyatlov
"Good friends make the world go round, but good beer makes the room go round." —Unknown
"Alcoholism is a well documented pathological reaction to unresolved grief." —David Cook
"I have taken more good from alcohol than alcohol has taken from me." —Winston Churchill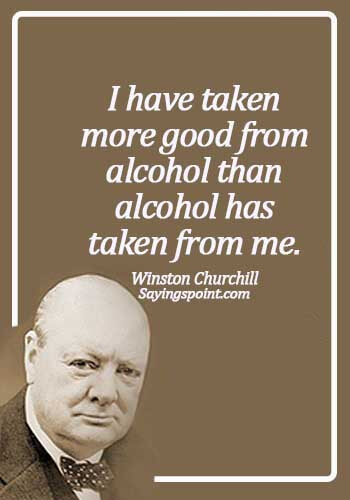 "Avoid using cigarettes, alcohol, and drugs as alternatives to being an interesting person." —Marilyn vos Savant
"When I drink alcohol…everyone says I'm alcoholic but When I drink Fanta…no one says I'm fantastic." —Unknown
"Alcoholism is the only disease that you can get yelled at for having." —Mitch Hedberg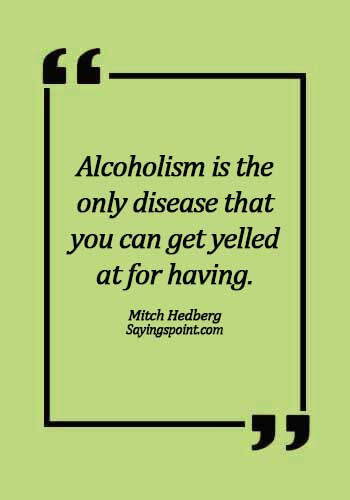 "When you are young your body cannot handle alcohol, and when you get old your mind cannot handle it. Either way, alcohol has its way." —Robert Black
"I became a very angry person and it was all due to alcoholism." —Christopher Atkins
"The person takes a drink, the drink takes a drink, and the drink takes the person." —Joseph Martin
"A drinker has a hole under his nose that all his money runs into." —Thomas Fuller
"Alcohol is one of the quickest vehicles with which we escape shyness, our problems, and self-consciousness, for a few hours." —Mokokoma Mokhonoana
"Alcoholism and drug addiction are killer of mental and physical health. Alcoholic and drug addicts are killing themselves slowly." —Dr T.P.Chia
Top Ten Alcoholism Quotes and Sayings
You will find here top ten alcoholism quotes and sayings selected by our team.
"Alcoholism is the only disease that you can get yelled at for having." —Mitch Hedberg
"As an alcoholic, you will violate your standards quicker than you can lower them." —Robin Williams
"The worst disease which can afflict executives in their work is not, as popularly supposed, alcoholism; it's egotism." —Robert Frost
"Alcohol becomes a poison when you drink it with a heavy heart." —Lee Chang Hun
"Alcohol, the cause of and solution to all of life's problems." —Homer Simpson
"Alcohol may be man's worst enemy, but the bible says love your enemy." —Frank Sinatra
"Alcoholism is a thief of health, mental sanity and human dignity." —Dr T.P.Chia
"I have taken more good from alcohol than alcohol has taken from me." —Winston Churchill
"You know you're fucked up when alcohol and pills become your best friends." —Unknown
"When you are young your body cannot handle alcohol, and when you get old your mind cannot handle it. Either way, alcohol has its way." —Robert Black