In this post, you will find amazing pain quotes and sayings.
Short Pain Quotes and Sayings
"The secret of joy is the mastery of pain." —Anaïs Nin
"Pain is weakness leaving the body." —Chesty Puller
"There are no gains without pains." —Benjamin Franklin
"The aim of the wise is not to secure pleasure, but to avoid pain." —Aristotle
"Pain is life — the sharper, the more evidence of life." —Charles Lamb
"Pain keeps you alive, and motivate you to move ahead in life." —Unknown
"Pain doesnt always heal, you just learn to live with it." —Kellen Masters
"Boys never realize how much one little thing can hurt a girl." —Unknown
"We do not learn from happiness, we can only learn through pain." —Unknown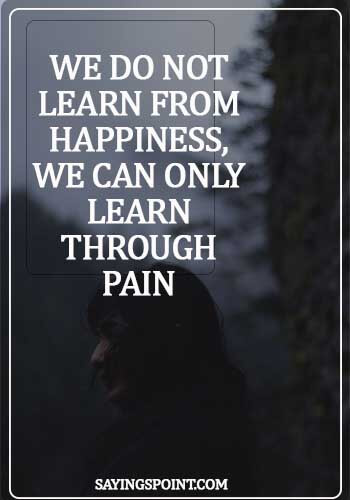 "Pain and pleasure, like light and darkness, succeed each other." —Laurence Sterne
"Today's pain helps us become a better version of ourselves tomorrow." —Unknown
"The pain I feel now is the happiness I had before. That's the deal." —C.S. Lewis
"All of us have ways in which we mask and cover our pain." —Iyanla Vanzant
"Face your life, its pain, its pleasure, leave no path untaken." —Neil Gaiman
"Pain is less subject than pleasure to careless expression." —Samuel Johnson
"Time doesn't heal anything; it just teaches us how to live with the pain." —Unknown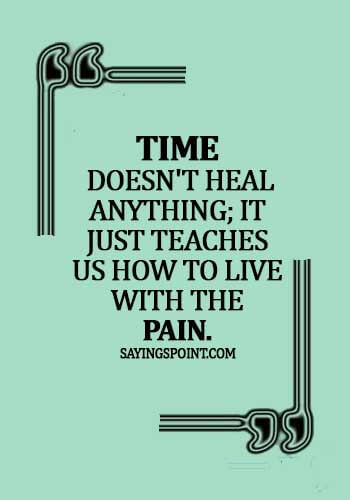 "We must embrace pain and burn it as fuel for our journey." —Kenji Miyazawa
"Pain is temporary pride is forever!" —Unknown
"The marks humans leave are too often scars." —John Green
"There is no coming to consciousness without pain." —Carl Jung
"The cure for pain is in the pain." —Rumi
"There are no gains without pains." —Benjamin Franklin
"You feel your strength in the experience of pain." —Jim Morrison
"Pain is inevitable. Suffering is optional." —Buddhist proverb
"The greatest evil is physical pain." —Saint Augustine
"The pride you gain, is worth the pain." —Unknown
"One pain is lessened by another's anguish." —William Shakespeare
"Behind every beautiful thing, there's some kind of pain." —Bob Dylan
"No one can escape life's pain. That's life." —Pierce Brosnan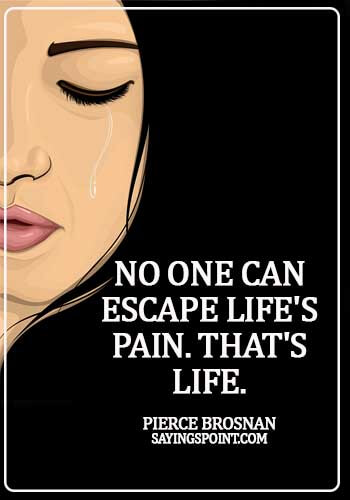 "Turn your wounds into wisdom." —Oprah Winfrey
"High heels are pleasure with pain." —Christian Louboutin
"I can bear any pain as long as it has meaning." —Haruki Murakami
"No one will ever know, the pain I feel inside." —Unknown
"That which is escaped now is pain to come." —Unknown
"To touch a sore is to renew one's grief." —Terence
"The marks humans leave are too often scars." —John Green
"Fear is pain arising from the anticipation of evil." — Aristotle
"Pain is only what you allow it to be." —Cassandra Clare
"One man's pain is another mans pleasure." —Unknown
"Pain pays the income of each precious thing." —William Shakespeare
"Cruelty is a mystery, and a waste of pain." —Annie Dillard
"Pain pays the income of each precious thing." —William Shakespeare
"Wisdom is nothing more than healed pain." —Robert Gary Lee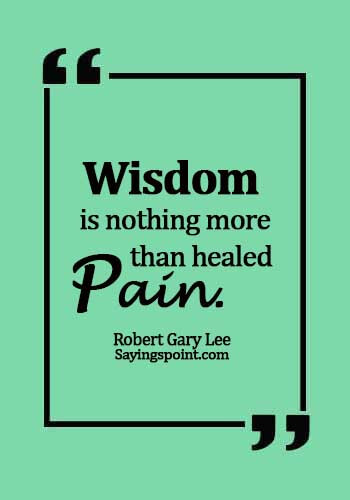 "It is always by way of pain one arrives at pleasure." —Marquis de Sade
"These pains you feel are messengers. Listen to them." —Rumi
"Pain is what forces us to grow." —Unknown
"Everything hurts.Michelangelo" —Unknown
"I'm a star that has fallen and burned out." —Unknown
"The pain of the mind is worse than the pain of the body." —Publilius Syrus
"Pain is never permanent." —Saint Teresa of Avila
"We don't even ask happiness, just a little less pain." —Charles Bukowski
"Joy came always after pain." —Guillaume Apollinaire
"To ease the pain, erase the anger." —Anthony Liccione
Pain Quotes and Sayings
"Find a place inside where there's joy, and the joy will burn out the pain." —Joseph Campbell
"One word Frees us of all the weight and pain of life: That word is love." —Sophocles
"A fake smile can change the expression of face but not the pain of the heart." —Unknown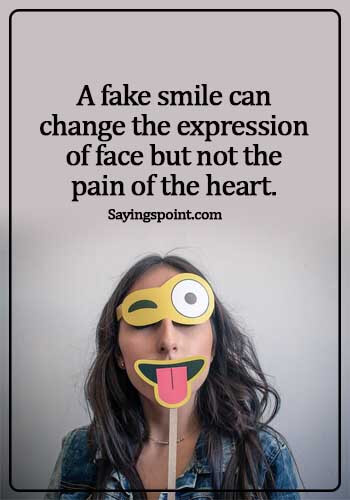 "Your pain is the breaking of the shell that encloses your understanding." —Khalil Gibran
"Life is pain, highness. Anyone who says differently is selling something." —William Goldman
"Nobody is hurt. Hurt is in the mind. If you can walk, you can run." —Vince Lombardi
"It is our wounds that create in us a desire to reach for miracles." —Jocelyn Soriano
"Don't turn away from what's painful. Examine it. Challenge it." —Steven Spielberg
"Pain is temporary. It may last a minute, or an hour, or a day, or a year, but eventually it will subside and something else will take its place. If I quit, however, it lasts forever." —Lance Armstrong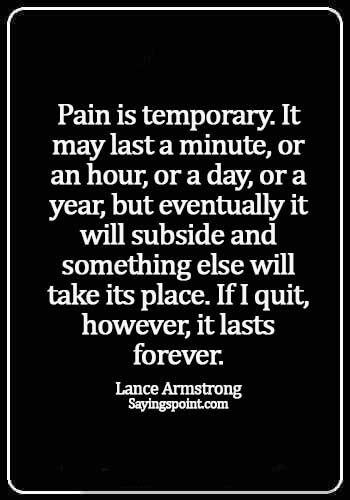 "There is a thin line that separates laughter and pain, comedy and tragedy, humor and hurt." —Erma Bombeck
"The worst part of holding the memories is not the pain. It's the loneliness of it. Memories need to be shared." —Lois Lowry
"Pain and death are a part of life. To reject them is to reject life itself." —Havelock Ellis
"We must all suffer from one of two pains: the pain of discipline or the pain of regret. The difference is discipline weighs ounces while regret weighs tons." —Jim Rohn
"One good thing about music, when it hits you, you feel no pain." —Bob Marley
"There are wounds that never show on the body that are deeper and more hurtful than anything that bleeds." —Laurell K. Hamilton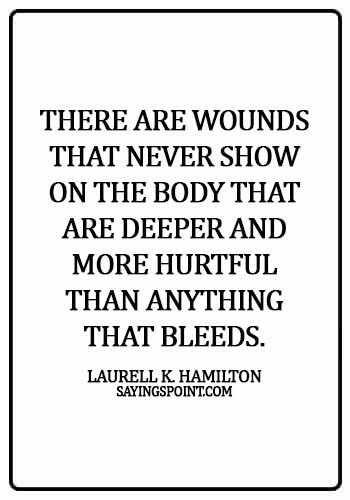 "He who makes a beast of himself gets rid of the pain of being a man." —Samuel Johnson
"If you aren't in the moment, you are either looking forward to uncertainty, or back to pain and regret." —Jim Carrey
"To truly laugh, you must be able to take your pain, and play with it!" —Charlie Chaplin
"Time doesn't heal emotional pain, you need to learn how to let go." —Roy T. Bennett
"A person can apologize and we can forgive them, but sometimes we just can't forget the pain that they put us through." —Unknown
"God gave us pain to remind us we are alive, so we will learn to value the joys and beauty of the world." —Tom Corr
"Most people want to avoid pain, and discipline is usually painful." —John C. Maxwell
"Listen to God with a broken heart. He is not only the doctor who mends it, but also the father who wipes away the tears." —Criss Jami
"Sweet is true love that is given in vain, and sweet is death that takes away pain." —Lord Alfred Tennyson
"Pain is such an uncomfortable feeling that even a tiny amount of it is enough to ruin every enjoyment." —Will Rogers
"Life is short. You have to be able to laugh at our pain or we never move on." —Jeff Ross
"The injuries we do and the injuries we suffer are seldom weighed on the same scales." —Aesop
"The real man smiles in trouble, gathers strength from distress, and grows brave by reflection." —Thomas Paine
"The real problem is not why some pious, humble, believing people suffer, but why some do not." —C. S. Lewis
"If you are silent about your pain, they'll kill you and say you enjoyed it." —Zora Neale Hurston
"Given the choice between the experience of pain and nothing, I would choose pain." —William Faulkner
"Remember that pain has this most excellent quality. If prolonged it cannot be severe, and if severe it cannot be prolonged." —Seneca
"Tears shed for another person are not a sign of weakness. They are a sign of a pure heart." —José N. Harris
"It is easier to find men who will volunteer to die, than to find those who are willing to endure pain with patience." —Julius Caesar
Top Ten Pain Quotes and Sayings
Here you will find top ten pain quotes and sayings selected by our team.
"There are no gains without pains." —Benjamin Franklin
"Find a place inside where there's joy, and the joy will burn out the pain." —Joseph Campbell
"Life is pain, highness. Anyone who says differently is selling something." —William Goldman
"No one can escape life's pain. That's life." —Pierce Brosnan
"There are wounds that never show on the body that are deeper and more hurtful than anything that bleeds." —Laurell K. Hamilton
"A fake smile can change the expression of face but not the pain of the heart." —Unknown
"Pain is temporary. It may last a minute, or an hour, or a day, or a year, but eventually it will subside and something else will take its place. If I quit, however, it lasts forever." —Lance Armstrong
"To truly laugh, you must be able to take your pain, and play with it!" —Charlie Chaplin
"Wisdom is nothing more than healed pain." —Robert Gary Lee
"One word Frees us of all the weight and pain of life:That word is love." —Sophocles