In this post, you will find amazing courage quotes and sayings.
 Short Courage Quotes and Sayings
"Courage is resistance to fear, mastery of fear, not absence of fear." —Mark Twain
"A great part of courage is having done the thing before." —Ralph Waldo Emerson
"Failure is unimportant. It takes courage to make a fool of yourself." —Charlie Chaplin
"The best lightning rod for your protection is your own spine." —Ralph Waldo Emerson
"Courage can't see around corners but goes around them anyway." —Mignon McLaughlin
"Courage only counts when you can count." —Suzanne Collins
"Real courage is displayed by those who are afraid to go, but go." —Unknown
"Faced with what is right, to leave it undone shows a lack of courage." —Confucius
"It takes courage to grow up and become who you really are." —E.E. Cummings
"Courage is one step ahead of fear." —Coleman Young
"Without courage, wisdom bears no fruit." —Baltasar Gracian
"Optimism is the foundation of courage." —Nicholas M. Butler
"The weak in courage is strong in cunning." —William Blake
"Life shrinks or expands in proportion to one's courage." —Anaïs Nin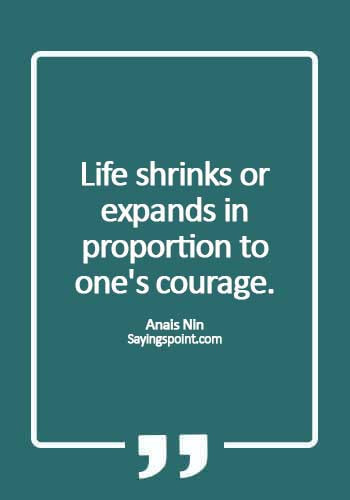 "It takes a lot of courage to show your dreams to someone else." —Erma Bombeck
"Courage is the ladder on which all the other virtues mount." —Clare Boothe Luce
"Courage is a kind of salvation." —Plato
"Courage is found in unlikely places." —J.R.R. Tolkien
"Courage is speaking up for what is right." —Catherine Pulsifer 
"Creativity takes courage." —Henri Matisse
"All happiness depends on courage and work." —Honoré de Balzac
"A man full of courage is also full of faith." —Cicero
"Courage to step away from the familiar." —Chris Riley White
"Courage of soul is necessary for the triumphs of genius." —Madame de Stael
"Courage is grace under pressure." —Ernest Hemingway
"Courage is being scared to death… and saddling up anyway." —John Wayne
"Pay no attention to the less courageous." —Sara Genn
"Fears to yourself is a form of courage." —Frank Tyger
"Courage is grace under pressure." —Ernest Hemingway
"Without fear there cannot be courage." —Christopher Paolini
"One man with courage makes a majority." —Andrew Jackson
"Courage is fear holding on a minute longer." —General George S. Patton
"Hardships make or break people." —Margaret Mitchel
"Courage is the complement of fear." —Lazarus Lon
"Creativity requires the courage to let go of certainties." —Erich Fromm
"Courage is being scared to death—but saddling up anyway." —John Wayne
"Have the courage of your convictions." —Unknown
"The most courageous act is still to think for yourself." —Unknown
Courage Quotes and Sayings
"Success is not final, failure is not fatal: it is the courage to continue that counts." —Winston Churchill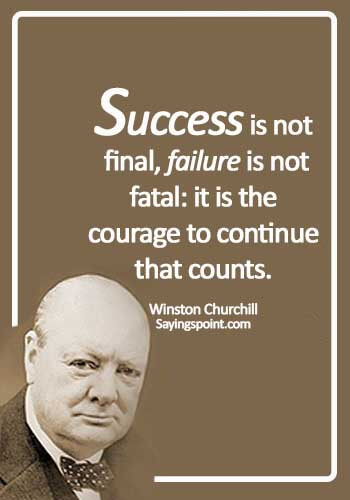 "Don't get discouraged; it is often the last key in the bunch that opens the lock." —Unknown
"All you need is the plan, the road map, and the courage to press on to your destination." —Earl Nightingale
"Take courage, man, be brave and drive ahead, start where you stand." —Berton Braley
"The greatest test of courage on the earth is to bear defeat without losing heart." —R. G. Ingersoll
"Mistakes are always forgivable, if one has the courage to admit them." —Bruce Lee
"Patience is the courage of the conqueror, the strength of man against destiny." —Edward G. Bulwer-Lytton
"Courage is rightly considered the foremost of the virtues, for upon it all others depend." —Winston Churchill 
"Have the courage to follow your dreams rather than accepting where you are today." —Catherine Pulsifer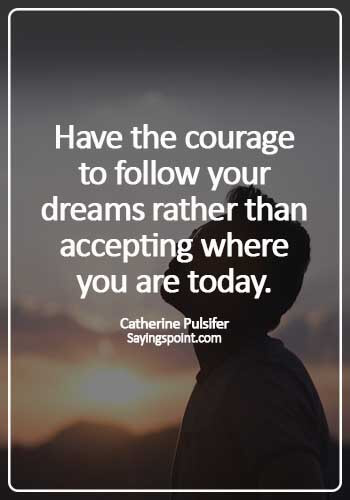 "All our dreams can come true, if we have the courage to pursue them." —Walt Disney
"Courage is what it takes to stand up and speak; courage is also what it takes to sit down and listen." —Winston Churchill
"Have enough courage to trust love one more time and always one more time." —Maya Angelou
"Every time you have the courage to face your fears, you become a stronger person." —Barbara It takes
"Courage isn't having the strength to go on – it is going on when you don't have strength." —Napoléon Bonaparte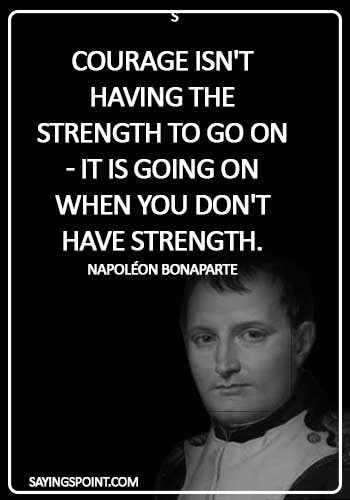 "He who is not courageous enough to take risks will accomplish nothing in life." —Muhammad Ali
"Keep your fears to yourself; share your courage with others." —Robert Louis Stevenson
"A man with outward courage dares to die; a man with inner courage dares to live." —Lao Tzu
"Courage is not giving up when you feel like everything is going against you." —Catherine Pulsifer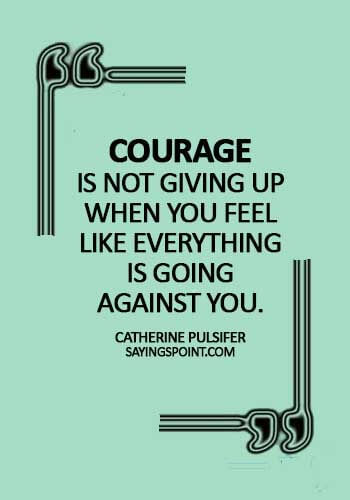 "Courage is the foundation of determination. Determination and courage are the cornerstones of success." —M. K. Soni
"Efforts and courage are not enough without purpose and direction." —John F. Kennedy
"Courage means going forward without doubt. If you believe you have courage, you have Keeping your." —Unknown
"The secret of happiness is freedom, the secret of freedom is courage." —Carrie Jones
"Courage is the discovery that you may not win, and trying when you know you can lose." —Tom Krause
"We must build dikes of courage to hold back the flood of fear." —Martin Luther King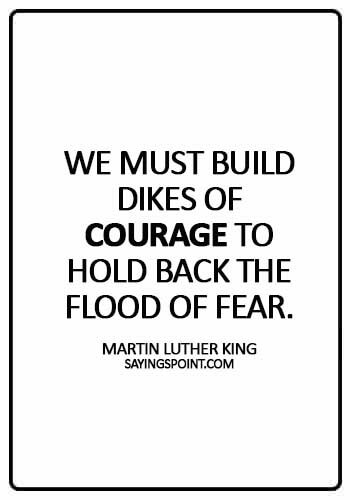 "Fight hard when you are down; die hard, determine at least to do—and you won't die at all." —James H. West
"You can choose courage, or you can choose comfort, but you cannot choose both." —Brené Brown
"Courage is not obtained from a single action but nurtured through a habit of courageous decisions over a lifetime." —M. McCall
"You will never do anything in this world without courage. It is the greatest quality of the mind next to honor." —Unknown
"Courage is contagious. When a brave man takes a stand, the spines of others are often stiffened." —Billy Graham
"Courage is not simply one of the virtues, but the form of every virtue at the testing point." —C. S. Lewis
"You cannot swim for new horizons until you have courage to lose sight of the shore." —William Faulkner
"Courage is going from failure to failure without losing enthusiasm." —Winston Churchil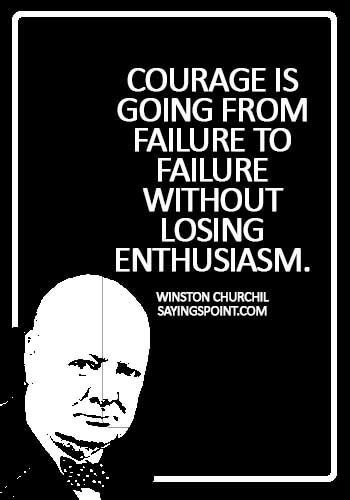 "Courage doesn't always roar. Sometimes courage is the quiet voice at the end of the day saying, I will try again tomorrow." —Mary Anne Radmacher
Top Ten Courage Quotes and Sayings
Here you will find top ten Courage quotes and sayings selected by our team.
"Success is not final, failure is not fatal: it is the courage to continue that counts." —Winston Churchill
"Life shrinks or expands in proportion to one's courage." —Anaïs Nin
"Have the courage to follow your dreams rather than accepting where you are today." —Catherine Pulsifer 
"Fight hard when you are down; die hard, determine at least to do—and you won't die at all." —James H. West
"Courage is not giving up when you feel like everything is going against you." —Catherine Pulsifer 
"It takes courage to grow up and become who you really are." —E.E. Cummings
"Courage is going from failure to failure without losing enthusiasm." —Winston Churchil
"Courage isn't having the strength to go on – it is going on when you don't have strength." —Napoléon Bonaparte
"Courage is the ladder on which all the other virtues mount." —Clare Boothe Luce
"We must build dikes of courage to hold back the flood of fear." —Martin Luther King