In this post, you will find amazing revenge quotes and sayings.
Short Revenge Quotes and Sayings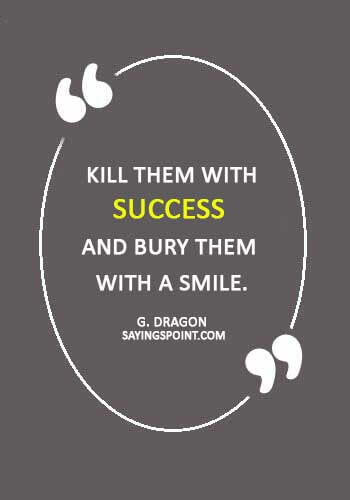 "Kill them with success and bury them with a smile." —G. Dragon
"Survival was my only hope, success my only revenge." —Patricia Cornwell
"Revenge proves its own executioner." —John Ford
"Which, if not victory, is yet revenge?" —John Milton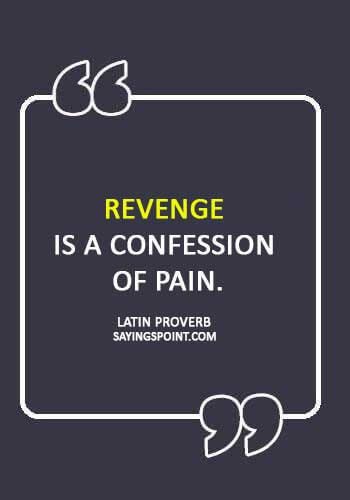 "Revenge is a confession of pain." —Latin Proverb
"Revenge is never the best driver for a battle, but a common one." —Janet Morris
"Two wrongs don't make a right, but they make a good excuse." —Thomas Szasz
"Men are more prone to revenge injuries than to requite kindness." —Thomas Fuller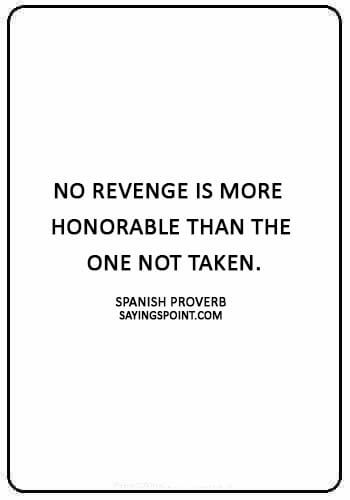 "No revenge is more honorable than the one not taken." —Spanish Proverb
"Best revenge? Smile, be happy, and never let them know it hurt." —Kara Goo Hara
"The revenge that is postponed is not forgotten." —Proverb
"There is no revenge so complete as forgiveness." —Josh Billings
"An eye for an eye will only make the whole world blind." —Mahatma Gandhi
"Always stay gracious; best revenge is your paper." —Beyonce
"He who plots to hurt others often hurts himself." —Aesop
"Revenge is a dish best served cold." —Juvenal
"Revenge, at first though sweet, bitter ere long back on itself recoils." —John Milton
"The best revenge in the world is success." —Suge Knight
"Revenge is not a noble sentiment, but it is a human one." —Rudy Giuliani
"To refrain from imitation is the best revenge." —Marcus Aurelius
"And where the offense is, let the great axe fall." —William Shakespeare
"Shameful deeds bring on revenge." —Norwegian Proverbs
"Revenge is a powerful motivator." —Marcus Luttrell
"An eye for an eye, and the whole world would be blind." —Kahlil Gibran
"The best revenge is massive success." —Frank Sinatra
"Choose old people for enemies. They die. You win." —Jacob M. Appel
"No more tears now; I will think about revenge." —Unknown
"The indulgence of revenge tends to make men more savage and cruel." —Henry Home
"Some may seek revenge, but this is not our policy." —Joe Slovo
"Revenge may be wicked, but it's natural." —William Makepeace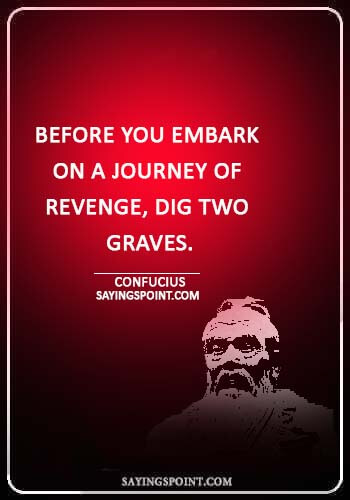 "Before you embark on a journey of revenge, dig two graves." —Confucius
"Revenge is the act of passion; vengeance is an act of justice." —Samuel Johnson
"You cannot go ahead while you are getting even." —Dick Armey
"Revenge, we find the abject pleasure of an abject mind." —Juvenal
"Women do most delight in revenge." —Thomas Browne
"One good act of vengeance deserves another." —John Jefferson
"The greatest revenge is compassion." —Unknown
"Revenge is not sweet; it is gloomy and a waste of time." —Anna Bayes
"Revenge is often like biting a dog because the dog bit you." —Austin O'Malley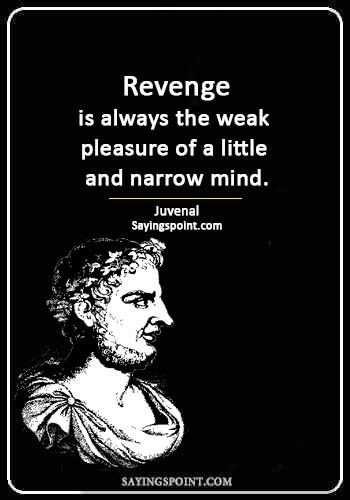 "Revenge is always the weak pleasure of a little and narrow mind." —Juvenal
"Show him what he's missing. Make him regret what he's left." —Unknown
"The best revenge is living well." —Jerry Seinfeld
"Nothing inspires forgiveness quite like revenge." —Scott Adams
"A man who contemplates revenge keeps his wounds green." —Francis Bacon
"Revenge is an inhuman word." —Seneca
"Sometimes the best revenge is to smile and move on." —Unknown
"It's important we understand our system seeks justice and not revenge." —Pete Gallego
"Revenge is never the answer." —Kasie West
"It is useless to meet revenge with revenge, it will heal nothing." —J.R.R Tolkien
"Revenge converts a little right into a great wrong." —German Proverb
"The best revenge is to improve yourself." —Ali ibn Abi Talib
"We're out for revenge and I fancy us to beat them." —Sam Torrance
"A fool will seek revenge, the wise man will allow God's karma." —Keshia Chante
Revenge Quotes and Sayings
"While you are meditating revenge, the devil is meditating a recruit." —Francois de Malherbe
"When you have the power to screw people over and you don't.Well, that's when you get to show who you really are." —Joseph Finder
"Revenge has no more quenching effect on emotions than salt water has on thirst." —Walter Weckler
"Not forgiving is like drinking rat poison and then waiting for the rat to die." —Anne Lamott
"In taking revenge, a man is but even with his enemy; but in passing it over, he is superior." —Francis Bacon
"When Anger and Revenge get married, their daughter is called Cruelty." —Russian Proverb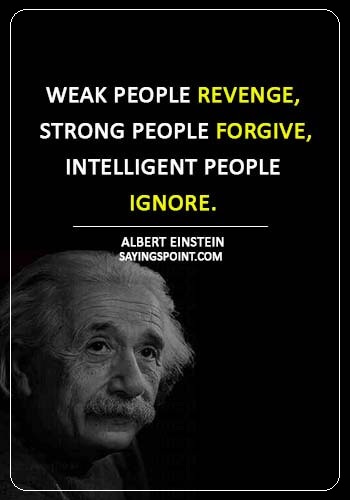 "Weak people revenge, strong people forgive, intelligent people ignore." —Albert Einstein
"When someone is mean to me, I just make them a victim in my next book." —Mary Higgins Clark
"When we take revenge against another, we lose some of our innocence." —Patricereed Vecchione
"In revenge, as in life, every action has an equal and opposite reaction. In the end, the guilty always fall." —Emily Thorne
"Tis more noble to forgive, and more manly to despise, than to revenge an Injury." —Benjamin Franklin
"If I can catch him once upon the hip, I will feed fat the ancient grudge I bear him." —William Shakespeare
"Widows comfort themselves when they remarry, widowers take revenge." —French Prover
"Ruining someone else's life for attention or revenge should also come with a price." —Tomi Lahren
"Revenge is a kind of wild justice, which the more a man's nature runs to, the more ought law to weed it out." —Francis Bacon
"We will never forget. If it takes us five or ten or twenty years, we will never rest until we get our revenge." —Konrad Adenauer
"When a man steals your wife, there is no better revenge than to let him keep her." —Sacha Guitry
"Heat not a furnace for your foe so hot that it do singe yourself." —William Shakespeare
"Those who plot the destruction of others often perish in the attempt." —Thomas Moore
"No trait is more justified than revenge in the right time and place." —Meir Kahane
"Since we cannot match it let us take our revenge by abusing it." —Michel de Montaigne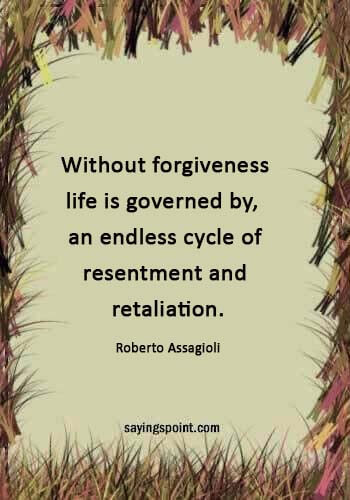 "Without forgiveness life is governed by, an endless cycle of resentment and retaliation." —Roberto Assagioli
"A punishment that penalizes without forestalling is indeed called revenge." —Albert Camus
"In taking revenge, a man is but even with his enemy; but in passing it over, he is superior." —Francis Bacon
"The best revenge is to show them that your life is much better after they're gone." —Unknown
Top Ten Revenge Quotes and Sayings
You will find here top ten revenge quotes and sayings selected by our team.
"Before you embark on a journey of revenge, dig two graves." —Confucius
"While you are meditating revenge, the devil is meditating a recruit." —Francois de Malherbe
"Kill them with success and bury them with a smile." —G. Dragon
"When Anger and Revenge get married, their daughter is called Cruelty." —Russian Proverb
"Revenge is a confession of pain." —Latin Proverb
"Weak people revenge, strong people forgive, intelligent people ignore." —Albert Einstein
"No revenge is more honorable than the one not taken." —Spanish Proverb
"Without forgiveness life is governed by,  an endless cycle of resentment and retaliation." —Roberto Assagioli
"The revenge that is postponed is not forgotten." —Proverb
"Without forgiveness life is governed by, an endless cycle of resentment and retaliation." —Roberto Assagioli