In this post, you will find amazing sad love quotes and sayings.
Short Sad Love Quotes and Sayings
"Life goes on, with or without you." —Faraaz Kazi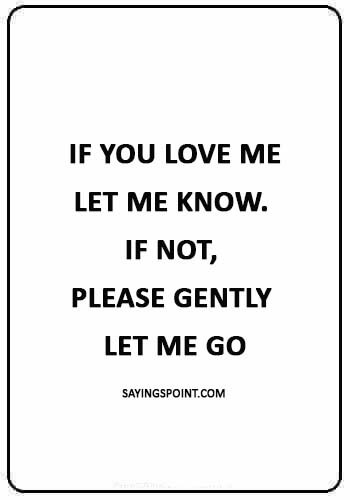 "If you love me, let me know. If not, please gently let me go." —Unknown
"Pleasure of love lasts but a moment, Pain of love lasts a lifetime." —Unknown
"The soul would have no rainbow had the eyes no tears." —John Vance Cheney
"The hottest love has the coldest end." —Unknown
"Never run back to whatever broke you." —Unknown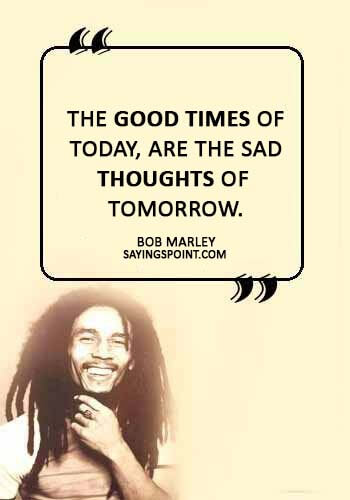 "The good times of today, are the sad thoughts of tomorrow." —Bob Marley
"Tears are words the heart can't express." —Unknown
"Life without love is a life without meaning." —Unknown
"Love is so short and forgetting so long." —Unknown
"Sometimes the memories are worth the pain." —Unknown
"A sad soul can kill quicker than a germ." —John Steinbeck
"Never let an old flame burn you twice." —Unknown
"I don't miss him, I miss who I thought he was." —Unknown
"Don't cry because it's over, smile because it happened." —Unknown
"Let your tears come. Let them water your soul." —Eileen Mayhew
"Tears come from the heart and not from the brain." —Leonardo da Vinci
"Hearts will never be practical until they are made unbreakable." —Wizard of Oz
"As soon as forever is through, I'll be over you." —Toto
"Nothing turns to hate so bitter as what once was love." —Unknown
"I bet you'll never remember what I will never forget." —Unknown
"The only person who can make me smile, made me cry." —Unknown
Sad Love Quotes and Sayings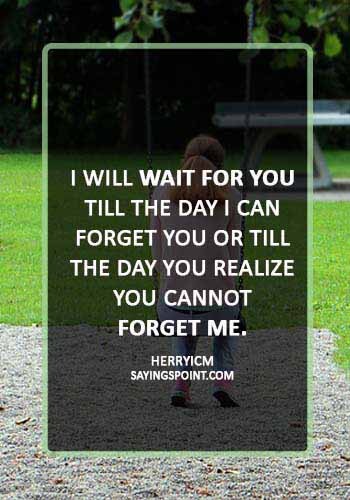 "I will wait for you till the day I can forget you or till the day you realize you cannot forget me." —Herryicm
"There is no disguise which can hide love for long where it exists, or simulate it where it does not." —La Rochefoucauld
"There is a time for departure even when there's no certain place to go." —Tennessee Williams
"When you are in love and you get hurt, it is like a cut… it will heal, but there will always be a scar." —Unknown
"Sometimes you have to forget what you feel and remember what you deserve." —Unknown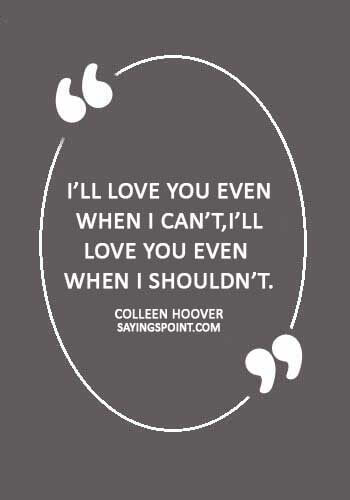 "I'll love you even when I can't,I'll love you even when I shouldn't." —Colleen Hoover
"Someone can walk into your life and it is not until after they walk out that you realize that they were even there." —Unknown
"Sometimes you don't know how much something means to you until it's taken away." —Unknown
"The wounds of love can only be healed by the one who made them." —Unknown
"In a real dark night of the soul, it is always three o'clock in the morning, day after day." —F. Scott Fitzgerald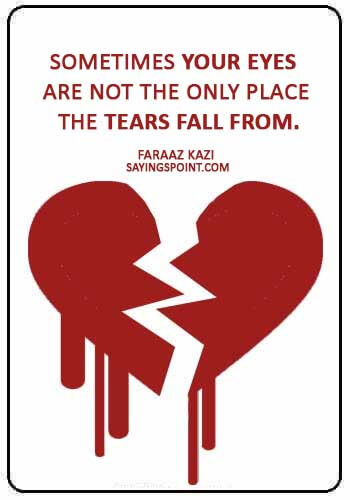 "Sometimes your eyes are not the only place the tears fall from." —Faraaz Kazi
"It's not real till you feel the pain, and nothing ever hurt like you." —James Morrison
"Sometimes I wish I were a little kid again, skinned knees are easier to fix than broken hearts." —Unknown
"Boys never realize how much one little thing can hurt a girl." —Unknown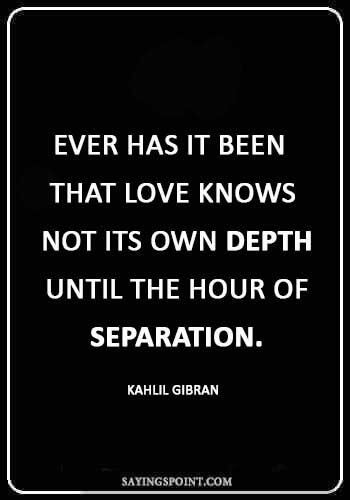 "Ever has it been that love knows not its own depth until the hour of separation." —Kahlil Gibran
"The hardest thing to do is watch the one you love, love someone else." —Unknown
"If I have more than one life, I would definitely dedicate this one entirely to you." —Nico J. Genes
"Sometimes you don't realize how much you care for someone until they stop caring for you." —Unknown
"Loving someone who doesn't love you back is like hugging a cactus; the tighter you hold on, the more it hurts." —Unknown
"I hate the stars because I look at the same ones as you do, without you." —Unknown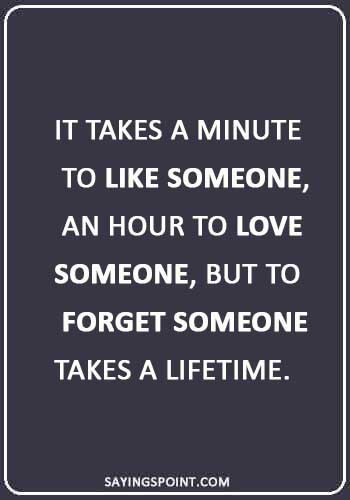 "It takes a minute to like someone, an hour to love someone, but to forget someone takes a lifetime." —Unknown
"When I tell you that I'll miss you, it doesn't mean I'll never get over you. It just means I wish I didn't have to." —Unknown
"You flew off with the wings of my heart and left me flightless." —Terri Guillemets
"The walls we build around us to keep sadness out also keeps out the joy." —Jim Rohn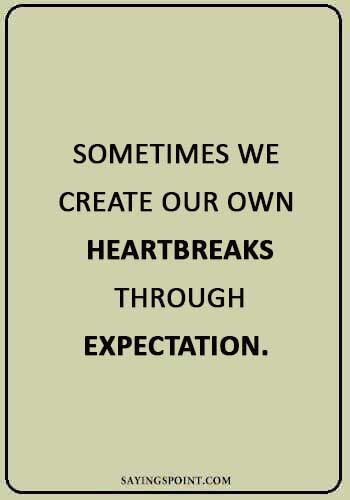 "Sometimes we create our own heartbreaks through expectation." —Unknown
"Sometimes you just need a good cry. Even if you don't know the reason why you're crying." —Unknown
"There is one pain, I often feel, which you will never know. It's caused by the absence of you." —Ashleigh Brilliant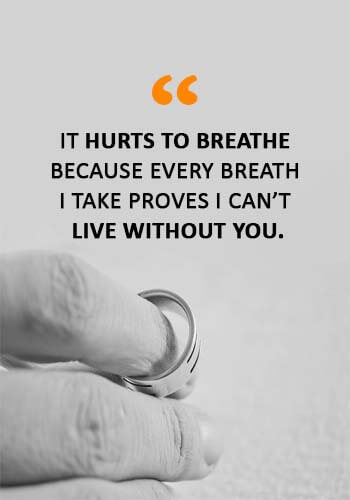 "It hurts to breathe because every breath I take proves I can't live without you." —Unknown
"They say that time heals all wounds but all it's done so far is give me more time to think about how much I miss you." —Unknown
"Our greatest joy and our greatest pain come in our relationships with others." —Stephen R. Covey
"A million words would not bring you back, I know because I tried, neither would a million tears, I know because I cried." —Unknown
"The longer you dance with the devil, the longer you stay in hell." —Unknown
"Some people are going to leave, but that's not the end of your story. That's the end of their part in your story." —Faraaz Kazi
"Relationships are like glass. Sometimes it's better to leave them broken than try to hurt yourself putting it back together." —Unknown
"Nothing thicker than a knife's blade separates happiness from melancholy." —Virginia Woolf
"A teardrop is insignificant in a pool of water, but it can touch the soul as it runs down someone's face." —Unknown
"One day you're going to wake up and realize that you should have tried." —Unknown
"It is better to have loved and lost than never to have lost at all." —Samuel Butler
"The saddest thing in the world, is loving someone who used to love you." —Unknown
"For all sad words of tongue and pen, the saddest are these, 'It might have been." —John Greenleaf Whittier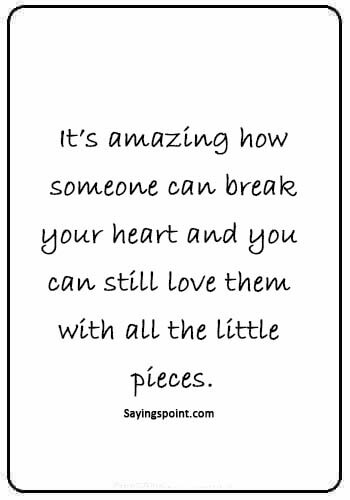 "It's amazing how someone can break your heart and you can still love them with all the little pieces." —Unknown
"Sometimes you have to let people go because they're toxic to you. Let them go because they take and take and leave you empty." —Unknown
Top Ten Sad Love Quotes and Sayings
Here you will find top ten sad love quote and sayings selected by our team.
"I will wait for you till the day I can forget you or till the day you realize you cannot forget me." —Herryicm
"If you love me, let me know. If not, please gently let me go." —Unknown
"The good times of today, are the sad thoughts of tomorrow." —Bob Marley
"It takes a minute to like someone, an hour to love someone, but to forget someone takes a lifetime." —Unknown
"I'll love you even when I can't,I'll love you even when I shouldn't." —Colleen Hoover
"Sometimes we create our own heartbreaks through expectation." —Unknown
"Ever has it been that love knows not its own depth until the hour of separation." —Kahlil Gibran
"Sometimes your eyes are not the only place the tears fall from." —Faraaz Kazi
"It hurts to breathe because every breath I take proves I can't live without you." —Unknown
"It's amazing how someone can break your heart and you can still love them with all the little pieces." —Unknown