In this post, you will find amazing Chess Quotes and Sayings.
Short Chess Quotes and Sayings
"The pawns are the soul of chess." —Philidor
"Chess is the struggle against error." —Johannes Zukertort
"Life is too short for chess." —Byron
"Chess is beautiful enough to waste your life for." —Hans Ree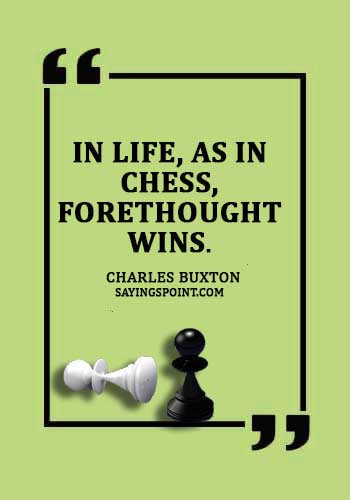 "In life, as in chess, forethought wins." —Charles Buxton
"Even a pawn can take down a queen." —Chanda Hahn
"Strategy requires thought, tactics require observation." —Max Euwe
"I prefer to lose a really good game than to win a bad one." —David Levy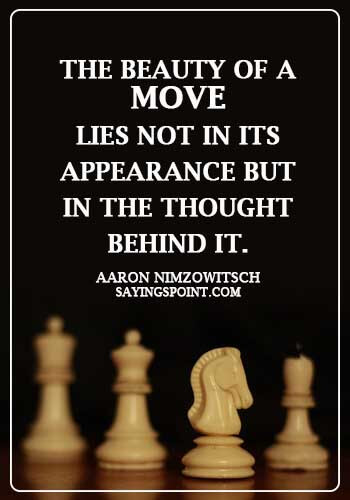 "Age brings wisdom to some men, and to others chess." —Evan Esar
"Chess doesn't drive people mad, it keeps mad people sane." —Bill Hartston
"Chess is ruthless: you've got to be prepared to kill people." —Nigel Short
"You cannot play at chess if you are kind-hearted." —French Proverb
"Openings teach you openings. Endgames teach you chess!" —Stephan Gerzadowicz
"Even a poor plan is better than no plan at all." —Mikhail Chigorin
"In chess, as in life, a man is his own most dangerous opponent." —Vasily Smyslov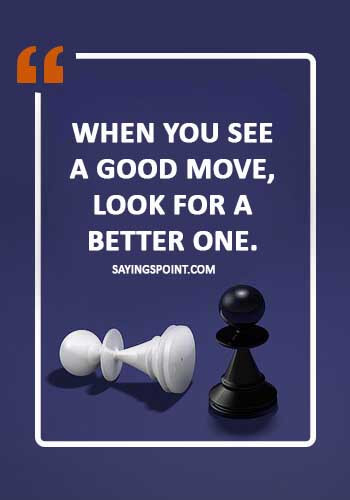 "When you see a good move, look for a better one." —Unknown
"Chess is life and every game is like a new life." —Eduard Gufeld
"Chess makes man wiser and clear-sighted." —Vladimir Putin
"Tactics flow from a superior position." —Bobby Fischer
"Chess is not for timid souls." —Wilhelm Steinitz
"Some sacrifices are sound; the rest are mine." —Mikhail Tal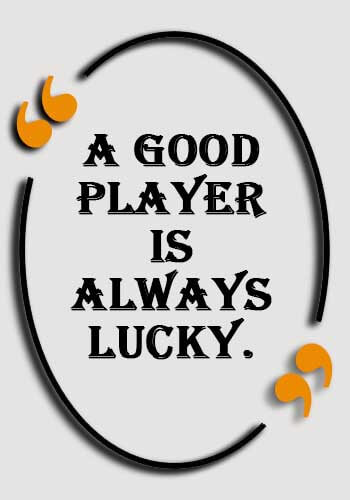 "A good player is always lucky." —Capablanca
"Chess is 99 percent tactics." —Unknown
"Never interrupt your enemy when he is making a mistake." —Napoleon Bonaparte
"Chess is the gymnasium of the mind." —Blaise Pascal
"There is no remorse like the remorse of chess." —H. G. Wells
"Life is more than just chess.Though king dies, life goes on." —Toba Beta
"The most powerful weapon in Chess is to have the next move." —David Bronstein
"Chess is a matter of daily training." —Vladimir Kramnik
"The hardest game to win is a won game." —Emanuel Lasker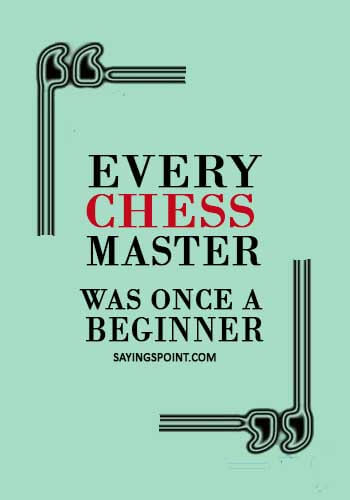 "Every chess master was once a beginner." —Chernev
"I don't believe in psychology. I believe in good moves." —Bobby Fischer
"Chess is my life, but my life is not chess." —Anatoly Karpov
"When you see a good move wait – look for a better one." —Emanuel Lasker
"On the chessboard, lies and hypocrisy do not survive long." —Emanuel Lasker
"In Chess, at least, the brave inherit the earth." —Edmar Mednis
Chess Quotes and Sayings
"That's what Chess is all about. One day you give your opponent a lesson, the next day he gives you one." —Bobby Fischer
"Chess is rarely a game of ideal moves. Almost always, a player faces a series of difficult consequences whichever move he makes." —David Shenk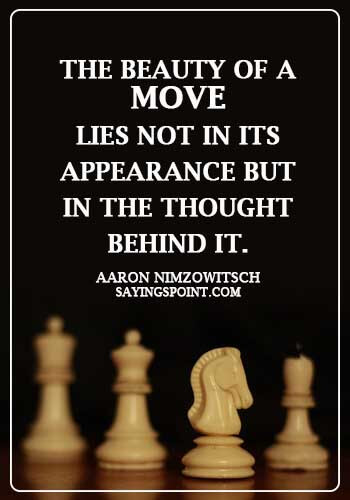 "The beauty of a move lies not in its appearance but in the thought behind it." —Aaron Nimzowitsch
"By playing at Chess then, we may learn.First Foresight, Second Circumspection, Third Caution." —Benjamin Franklin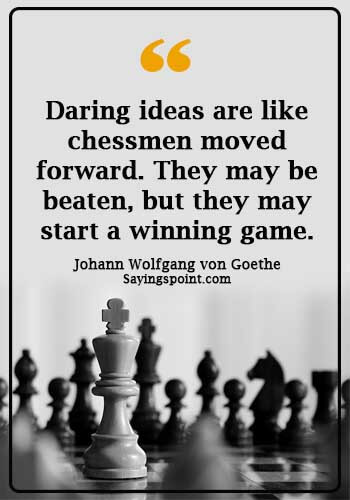 "Daring ideas are like chessmen moved forward. They may be beaten, but they may start a winning game." —Johann Wolfgang von Goethe
"Life is a kind of Chess, with struggle, competition, good and ill events." —Benjamin Franklin
"To play for a draw, at any rate with white, is to some degree a crime against chess." —Mikhail Tal
"In Chess, as it is played by masters, chance is practically eliminated." —Emanuel Lasker
"Chess holds its master in its own bonds, shackling the mind and brain so that the inner freedom of the very strongest must suffer." —Albert Einstein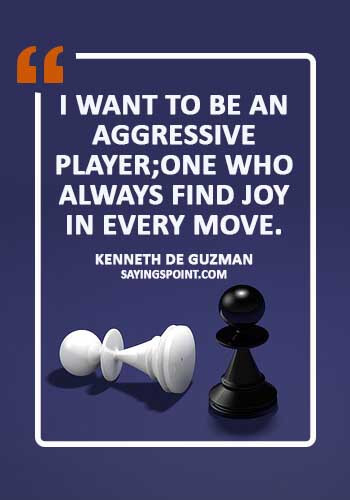 "I want to be an aggressive player;One who always find joy in every move." —Kenneth de Guzman
"Weak points or holes in the Opponent's position must be occupied by Pieces not Pawns." —Siegbert Tarrasch
"The highest art of the chessplayer lies in not allowing your opponent to show you what he can do." —Garry Kasparov
"The best indicator of a Chess Player's form is his ability to sense the Climax of the game." —Boris Spassky
"One of the greatest advantages of chess over other sports is that you can always resign." —Joe Gallagher
"When the chess game is over, the pawn and the king go back to the same box." —Irish Proverb
"Give me a difficult positional game, I will play it. But totally won positions, I cannot stand them." —Hein Donner
"The laws of chess do not permit a free choice: you have to move whether you like it or not." —Emanuel Lasker
"We cannot resist the fascination of sacrifice, since a passion for sacrifices is part of a Chess player's nature." —Rudolf Spielman
"You have to have the Fighting Spirit. You have to force moves and take chances." —Unknown
"They knock me for my draws, for my style, they knock me for everything I do." —Tigran Petrosian
"These young guys are playing checkers. I'm out there playing chess." —Kobe Bryant
"No chess grand master is normal; they only differ in the extent of their madness." —Viktor Korchnoi
"Chess can be described as the movement of pieces eating one another." —Marcel Duchamp
"If your opponent offers you a draw, try to work out why he thinks he's worse off." —Nigel Short
"There is nothing that disgusts a man like getting beaten at chess by a woman." —Charles Dudley Warner
"In boxing you create a strategy to beat each new opponent, it's just like chess." —Lennox Lewis
"The winner of the game is the player who makes the next-to-last mistake." —Savielly Tartakower
"It's just you and your opponent at the board and you're trying to prove something." —Bobby Fischer
"Avoid the crowd. Do your own thinking independently. Be the chess player, not the chess piece." —Ralph Charell
"Play the opening like a Book, the middle game like a Magician, and the endgame like a Machine." —Rudolf Spielmann
Top Ten Chess Quotes and Sayings
Here you will find top ten Chess Quotes and Sayings selected by our team.
"That's what Chess is all about. One day you give your opponent a lesson, the next day he gives you one." —Bobby Fischer
"I want to be an aggressive player;One who always find joy in every move." —Kenneth de Guzman
"Chess holds its master in its own bonds, shackling the mind and brain so that the inner freedom of the very strongest must suffer." —Albert Einstein
"In life, as in chess, forethought wins." —Charles Buxton
"Daring ideas are like chessmen moved forward. They may be beaten, but they may start a winning game." —Johann Wolfgang von Goethe
"The beauty of a move lies not in its appearance but in the thought behind it." —Aaron Nimzowitsch
"We cannot resist the fascination of sacrifice, since a passion for sacrifices is part of a Chessplayer's nature." —Rudolf Spielman
"To play for a draw, at any rate with white, is to some degree a crime against chess." —Mikhail Tal
"Age brings wisdom to some men, and to others chess." —Evan Esar
"Give me a difficult positional game, I will play it. But totally won positions, I cannot stand them." —Hein Donner