Loyalty is the base of every relation.In the absence of loyalty every relation is useless.loyalty makes relationships so beautiful.You will find here best loyalty quotes and sayings.
Short Loyalty Sayings
"The beauty of friendship is loyalty." —Debasish Mrdiha
"Men are only as loyal as their options." —Billmaher
"Faith is loyalty to some inspired teacher, some spiritual hero." —Thomas Carlyle
"Blood makes you related, loyalty makes you family." —Unknown
"Better to have one woman on your side than ten men." —Robert Jordan
"My whole thing is loyalty. Loyalty over royalty; word is bond." —Fetty Wap
"Loyalty expanded is not loyalty betrayed." —E. B. Farnum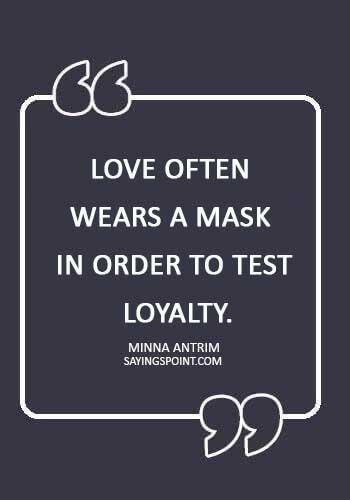 "Love often wears a mask in order to test loyalty." —Minna Antrim
"If you will not die for us, you cannot ask us to die for you." —Jacqueline Carey
"I'll take fifty percent efficiency to get one hundred percent loyalty." —Samuel Goldwyn
"A man with no loyalty will leave you once the road darkens." —Unknown
"Loyalty is a decision, a resolution of the soul." —Pascal Mercier
"A person who deserves my loyalty receives it" —Joyce Maynard
"Loyalty A will, a decision, a resolution of the soul." —Pascal Mercier
"Nothing is more noble, nothing more venerable, than loyalty." —Cicero
"One never knows how loyalty is born." —Robert Morse
"The essence of family lies in its unshakable faithfulness to each other." —Unknown
"Loyalty to an unjust cause is a perversion of honor." —Brian Herbert
"Where the battle rages, there the loyalty of the soldier is proved." —Martin Luther
"Don't be so loyal to your mind; the mind is not loyal to you." —Bert McCoy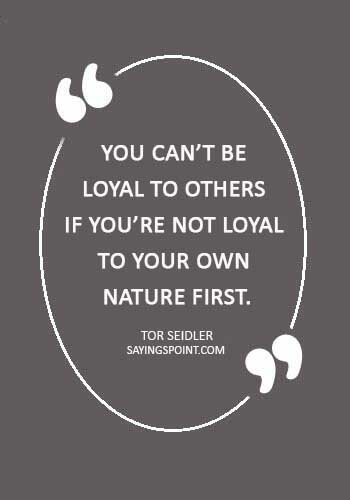 "You can't be loyal to others if you're not loyal to your own nature first." —Tor Seidler
"You don't earn loyalty in a day. You earn loyalty day-by-day." —Jeffrey Gitomer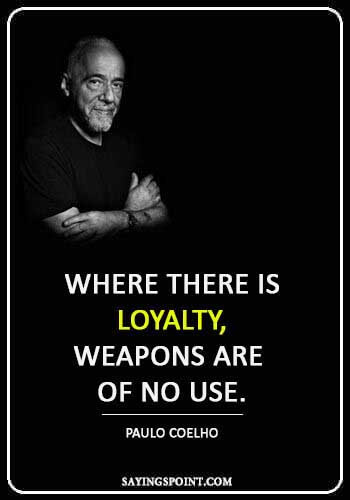 "Where there is loyalty, weapons are of no use." —Paulo Coelho
"Loyalty is a fine quality, but in excess it fills political graveyards." —Neil Kinnock
"Loyalty that is bought with money may be overcome by money." —Seneca
"If you aren't loyal to the few you won't be blessed with the many." —Orrin Woodward
"There is no meaning behind loyalty without self-sacrifice." —Unknown
"Loyalty publicly results in leverage privately." —Andy Stanley
"Loyalty is from above, betrayal is from below." —Bobsorge
"Those who show no loyalty give up the right to expect any." —Dan Groat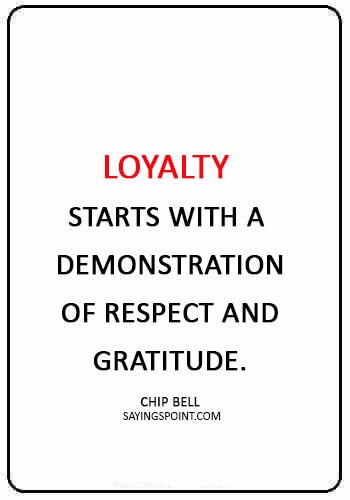 "Loyalty starts with a demonstration of respect and gratitude." —Chip Bell
"Money will never earn you true loyalty." —Unknown
Loyalty Sayings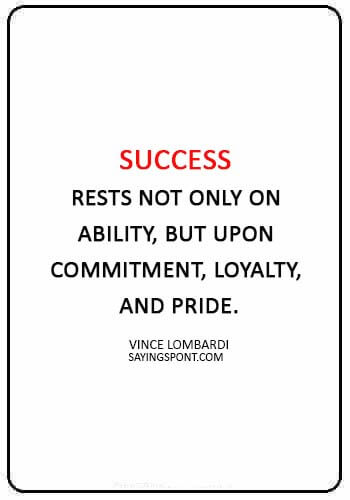 "Success rests not only on ability, but upon commitment, loyalty, and pride." —Vince Lombardi
"Success is the result of perfection, hard work, learning from failure, loyalty, and persistence." —Colin Powell
"Loyalty to the country always. Loyalty to the government when it deserves it." —Mark Twain
"Loyalty means nothing unless it has at its heart the absolute principle of self-sacrifice." —Woodrow T. Wilson
"Real family does not come from your blood. It is the people standing beside you when no one else is." —Unknown
"I don't care a damn about men who are loyal to the people who pay them." —Graham Greene
"All men are loyal, but their objects of allegiance are at best approximate." —John Barth
"Be faithful in small things because it is in them that your strength lies." —Mother Teresa
"The strength of brand loyalty begins with how your product makes people feel." —Jay Samit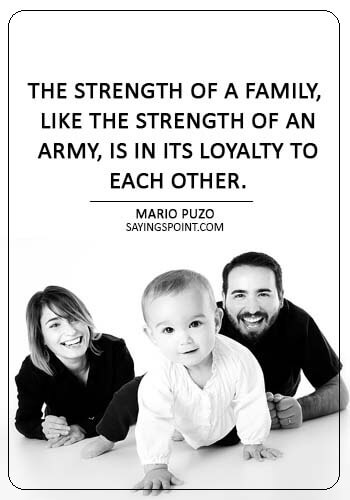 "The strength of a family, like the strength of an army, is in its loyalty to each other." —Mario Puzo
"If put to the pinch, an ounce of loyalty is worth a pound of cleverness." —Elbert Hubbard
"The whole point of loyalty was not to change: stick with those who stuck with you." —Larry Mcmurtry
"It isn't an easy thing to give your loyalty to someone you don't know." —Megan Turner
"Within the hearts of men, loyalty and consideration are esteemed greater than success." —Bryant H. McGill
"Staying with someone that doesn't appreciate you isn't loyalty, its stupidity." —Unknown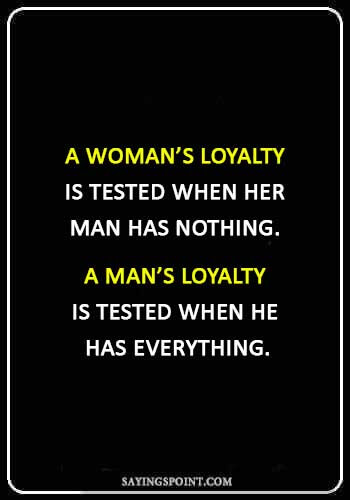 "A woman's loyalty is tested when her man has nothing. A man's loyalty is tested when he has everything." —Unknown
"Leadership is a two-way street, loyalty up and loyalty down." —Grace Murray Hopper
"Your friends will believe in your potential, your enemies will make you live up to it." —Tim Fargo
"Loyalty to petrified opinion never yet broke a chain or freed a human soul." —Mark Twain
"Loyalty is the strongest glue which makes a relationship last for a life time." —Unknown
"Within the hearts men, loyalty and consideration are esteemed greater than success." —Bryant H. McGill
"Loyalty isn't grey. It's black and white. You're either loyal completely, or not loyal at all." —Sharnay
"The only honest reaction and true loyalty that we get is from our animals." —Dick Van Patten
"Loyalty is a characteristic trait. Those who have it, give it free of charge." —Ellen J. Barrier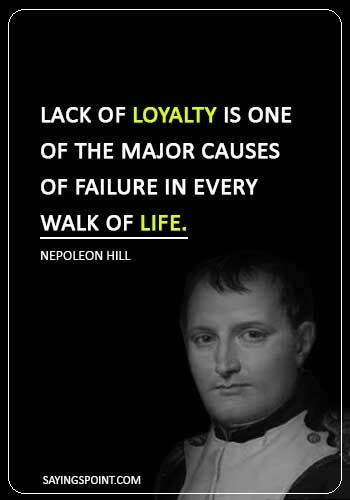 "Lack of loyalty is one of the major causes of failure in every walk of life." —Nepoleon Hill
"Without a doubt, I will entrust my faithfulness to those who truly deserve it." —Unknown
"Loyalty is such a rare quality; but my fans are the most loyal in the world." —Michael  Jackson
"The only people to which I owe my loyalty are those who never made me question theirs." —Unknown
"Loyalty will always be found in the things you regret because it mattered." —Shannon Alder
"Family. Friendship. Loyalty. These things have been my guiding stars, my light in these dark times." —John Gwynne
"A dog is the only thing on earth that loves you more than you love yourself." —Josh Billings
"Loyalty means giving me your honest opinion, whether you think I'll like it or not." —General Colin Powell
"A life in politics is for people who know themselves and know where their own line is between loyalty and honesty." —Nicolle Wallace
"You cannot buy loyalty; you cannot buy the devotion of hearts, minds, and souls. You have to earn these things." —Clarence Francis
"The ability to inspire rather than enforce loyalty is a critical quality of leadership." —Geoffrey Hindley
"It is enough for the evil people to succeed, for the good people to do nothing." —Jose Rizal
"Stand with anybody that stands right, stand with him while he is right and part with him when he goes wrong." —Abraham Lincoln
"Success is the result of perfection, hard work, learning from failure, loyalty, and persistence." —Colin Powell
Top Ten Loyalty Sayings
You will find here top ten loyality sayings selected by our team.
"Success rests not only on ability, but upon commitment, loyalty, and pride." —Vince Lombardi
"The beauty of friendship is loyalty." —Debasish Mrdiha
"Be faithful in small things because it is in them that your strength lies." —Mother Teresa
 "Love often wears a mask in order to test loyalty." —Minna Antrim
"The strength of a family, like the strength of an army, is in its loyalty to each other." —Mario Puzo
"You can't be loyal to others if you're not loyal to your own nature first." —Tor Seidler
"A woman's loyalty is tested when her man has nothing. A man's loyalty is tested when he has everything." —Unknown
"Where there is loyalty, weapons are of no use." —Paulo Coelho
"Lack of loyalty is one of the major causes of failure in every walk of life." —Nepoleon Hill
"Loyalty starts with a demonstration of respect and gratitude." —Chip Bell