In this post, you will find famous spiritual quotes and sayings.
Short Spiritual Quotes and Sayings
"If you are irritated by every rub, how will your mirror be polished?" —Rumi
"When you do things from your soul, you feel a river moving in you, a joy." —Rumi
"What you seek is seeking you." —Rumi
"Woman is the light of God." —Rumi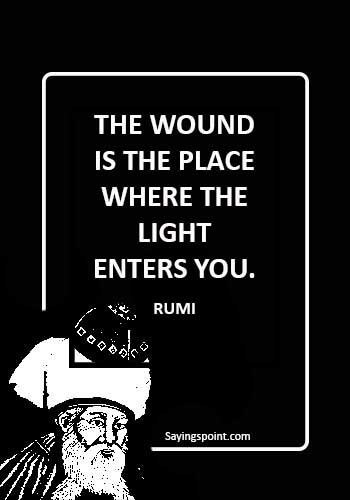 "The wound is the place where the Light enters you." —Rumi
"Quiet the mind and the soul will speak." —Ma Jaya Sati Bhagavati
 "Fate leads the willing and drags along the unwilling." —Lucius Annaeus Seneca
"The mind is everything. What you think you become." —Buddha
"For every sin but the killing of Time there is forgiveness." —Unknown
"When the child is ill, the mother will know how to pray." —Wasif Ali Wasif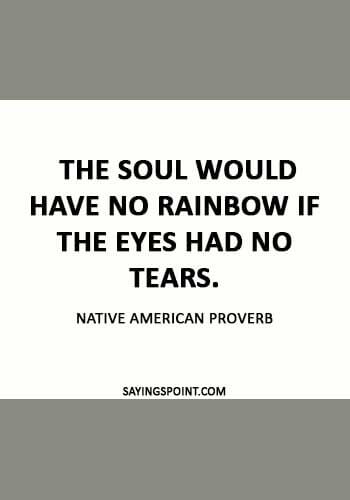 "The soul would have no rainbow if the eyes had no tears." —Native American proverb
"Friendship has always belonged to the core of my spiritual journey." —Henri Nouwen
"Work out your own salvation. Do not depend on others." —Buddha
"Pray for what you want, but work for the things you need." —Sufi Proverb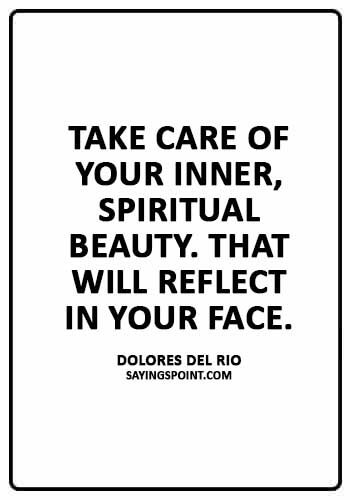 "Take care of your inner, spiritual beauty. That will reflect in your face." —Dolores del Rio
"When you do things from your soul, you feel a river moving in you, a joy." —Rumi
"Purity or impurity depends on oneself." —Buddha
"In all things of nature there is something marvelous." —Aristotle
"Only from the heart can you touch the sky." —Rumi
"It is not the answer that enlightens, but the question." —Decouvertes
"Gratitude is the heart's memory." —French Proverb
"Where there is ruin, there is hope for a treasure." —Rumi
"The spiritual is the parent of the practical. " —Thomas Carlyle
"To conquer oneself is a greater task than conquering others." —Buddha
"Spirituality is a boundless ability to respond and experience." —Sadhguru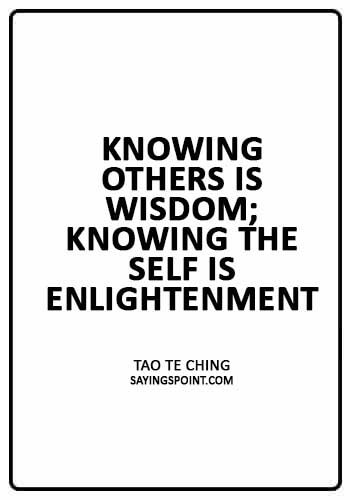 "Knowing others is wisdom; knowing the self is enlightenment." —Tao Te Ching
"Remember. The way you make love is the way God will be with you." —Rumi
"Wonder is the beginning of wisdom." —Greek Proverb
"Death is the protector of life and life is the process of death." —Wasif Ali Wasif
"The human spirit is stronger than anything that can happen to it." —C.C. Scott
"Prayer is the recovery of the souls breathing." —Gerald Heard
"We are born of love; Love is our mother." —Rumi
"What oxygen is to the lungs, such is hope to the meaning of life." —Emil Brunner
"The worst of our faults is our interest in other people's faults." —Hazrat Ali
"Prayer is a friendly conversation with the One we know loves us." —St Teresa
"If you judge people, you have no time to love them." —Mother Teresa
"Don't grieve. Anything you lose comes round in another form." —Rumi
"You've got to find yourself first. Everything else'll follow." —Charles De Lint
"It is human to think wisely and act in an absurd fashion." —Anatole France
"Spirit is an invisible force made visible in all life." —Maya Angelou
"As you live Deeper in the Heart, the Mirror gets clearer and cleaner." —Rumi
"Be like a tree and let the dead leaves drop." —Rumi
"When love is for the sake of ALLAH is never Dies." —Unknown
"Your perception is your reality." —Matthias Dunlo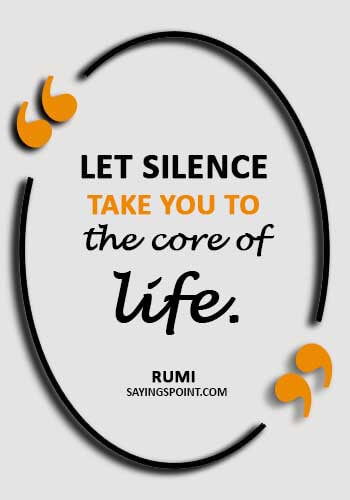 "Let silence take you to the core of life." —Rumi
"The remedy against want is to moderate your desires." —Sheikh Saadi
"We don't see things as they are. We see things as we are." —Anais Nin
"You are not a drop in the ocean. You are the entire ocean in a drop." —Rumi
"Peace comes from within. Do not seek it without." —Buddha
"Without the body, the wisdom of the larger self cannot be known." —John Conger
Spiritual Quotes and Sayings
"Faith may be defined briefly as an illogical belief in the occurrence of the improbable." —H.L. Mencken
"Spirituality lies in what you do and how you do it and not what result you get." —Kapil Dev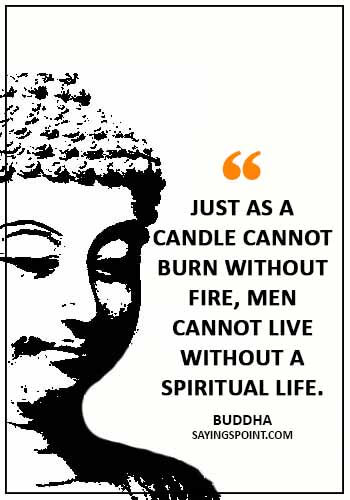 "Just as a candle cannot burn without fire, men cannot live without a spiritual life." —Buddha
"Nothing glows brighter than the heart awakened to the light of love that lives within it." —Guy Finley
"Faith is to believe what you do not yet see.  The reward for this faith is to see what you believe." —St. Augustine
"Your mind cannot possibly understand God.  Your heart already knows." —Emmanuel
"When you're out of ideas, that's when faith comes in. Let Allah show you the way." —Wael Abdelgawad
"I searched for God and found only myself. I searched for myself and found only God." —Sufi Proverb
"The desires of this world are like sea water. The more you drink of them, the more you thirst." —Ibn Arabi
"Do not judge yourself harshly.  Without mercy for ourselves we cannot love the world." —Buddha
"Trust Allah when things don't work out the way you wanted. Allah has something better planned for you." —Unknown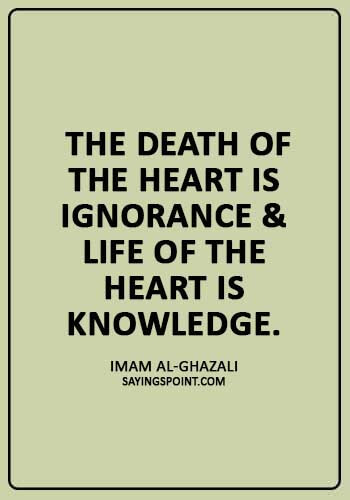 "The death of the heart is ignorance & life of the heart is knowledge." —Imam Al-Ghazali
"The outer conditions of a person's life will always be found to reflect their inner beliefs." —James Allen
"Be faithful in small things because it is in them that your strength lies." —Mother Theresa
"Every new breath that Allah allows you to take is not just a blessing but also a Responsibility." —Unknown
"The outer conditions of a person's life will always be found to reflect their inner beliefs." —James Allen
"If you do not change direction, you may end up where you are heading." —Lao-tzu
"Desires make slaves out of kings, and #patience makes kings out of slaves." —Imam Al-Ghazali
"Any spirituality can be enhanced with the practice or study of yoga." —Christy Turlington
"The thing we tell of can never be found be seeking, yet only seekers find it." —Bayazid Bastami
Top Ten Spiritual Quotes and Sayings
You will find here top ten Spiritual quotes and sayings selected by our team.
 "Take care of your inner, spiritual beauty. That will reflect in your face." —Dolores del Rio
"The wound is the place where the Light enters you." —Rumi
"Just as a candle cannot burn without fire, men cannot live without a spiritual life." —Buddha
"When you do things from your soul, you feel a river moving in you, a joy." —Rumi
"The soul would have no rainbow if the eyes had no tears." —Native American proverb
"I searched for God and found only myself. I searched for myself and found only God." —Sufi Proverb
"When the child is ill, the mother will know how to pray." —Wasif Ali Wasif
"The death of the heart is ignorance & life of the heart is knowledge." —Imam Al-Ghazali
"Knowing others is wisdom; knowing the self is enlightenment." —Tao Te Ching
"Let silence take you to the core of life." —Rumi