In this post, you will find amazing memories sayings.
Short Memories Sayings
"When all is lost, there is still a memory." —Dejan Stojanovic
"The liar needs a good memory." —Italian Proverb
"If we can't make memories, we can't heal." —Leonard Shelby
"Memory is the diary we all carry about with us." —Oscar Wilde
"I have memories – but only a fool stores his past in the future." —David Gerrold
"Whenever I think of the past, it brings back so many memories." —Steven Wright
"Don't count the years – count the memories." —Unknown
"Sweet is the memory of past troubles." —Cicero
"Memories are the key not to the past, but to the future." —Corrie ten Boom
"There were some memories, though, that never faded." —Cassandra Clare
"The many memories I will forever treasure." —K. Hooton
"Don't be too close to anyone, memory brings you tears." —Unknown
"Be careful about lending a friend money. It may damage her memory." —Unknown
"When our memories outweigh our dreams, we have grown old." —Bill Clinton
"Sometimes a perfect memory can be ruined if put to words." —Nova Ren Suma
"We do not remember days; we remember moments." —Cesare Pavese
"Take care of all your memories. For you cannot relive them." —Bob Dylan
"To observe attentively is to remember distinctly." —Edgar Allan Poe
"Take care of all your memories. For you cannot relive them." —Bob Dylan
"Memory is the sense of loss, and loss pulls us after it." —Marilynne Robinson
"You can close your eyes to reality but not to memories." —Stanislaw Jerzy Lec
"Memories are all we have wen we don't have anyone by our side." —Unknown
"Memory is the mother of all wisdom." —Aeschylus
"Memories are not just about the past. They determine our future." —Jeff Bridges
"Feelings are memories. Memories are also feelings." —Margaret Stohl
"No man has a good enough memory to be a successful liar." —Abraham Lincoln
"A clear conscience is the sure sign of a bad memory." —Mark Twain
"The true art of memory is the art of attention." —Samuel Johnson
Memories Sayings
"Life is a book, one page a day but only memories are making chapters." —Davan Yahya Khalil
Photos capture our memories in print, but our memories are always with us in our minds." —Catherine Pulsifer
"Memories warm you up from the inside. But they also tear you apart." —Haruki Murakami
"I believe that without memories there is no life, and that our memories should be of happy times." —Lee Radziwill
"Hands of time move us forward, never back. Only memories frozen in mind, can we re-enact." —Robert M. Hensel
"Sometimes you will never know the value of a moment until it becomes a memory." —Dr. Seuss
"The best memory is that which forgets nothing, but injuries. Write kindness in marble and write injuries in the dust." —Unknown
"Memories the one thing that can never be taken away from us. Make lots of them!" —Catherine Pulsifer
"Death leaves a heartache no one can heal, love leaves a memory no one can steal." —Richard Puz
"Everybody needs his memories. They keep the wolf of insignificance from the door." —Saul Bellow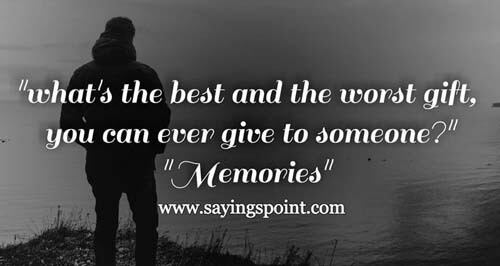 "What's the best and worst gift, you can ever give to someone? "memories"." —Unknown
"It's sad to know I'm done. But looking back, I've got a lot of great memories." —Bonnie Blair
"Will you start everyday with a new hope, leave bad memories behind and have faith for a better tomorrow?" —Melissa Eshleman
"You remember only what you want to remember. You know only what your heart allows you to know." —Amy Tan
"Memories are good, as long as we keep them in the rearview mirror and keep moving." —Unknown
"There is no greater sorrow than to recall in misery the time when we were happy." —Dante Alighieri
"No one can ever take your memories from you – each day is a new beginning, make good memories every day." —Catherine Pulsifer
"Memory is a way of holding on to the things you love, the things you are, the things you never want to lose." —Kevin Arnold
"The memory represents to us not what we choose but what it pleases." —Michel de Montaigne
"Memories are the treasures that we keep locked deep within the storehouse of our souls, to keep our hearts warm when we are lonely." —Becky Aligada
"There is no greater sorrow than to recall happiness in times of misery." —Dante Alighieri
"For some life lasts a short while, but the memories it holds last forever." —Laura Swenson
"That's the problem with memories: you can visit them, but you can't live in them." —Shaun David Hutchinson
"Your self is created by your memories, and your memories are created by your mental habits." —Rick Warren
"Time passes. Memories fade. Feelings change. People leave. But hearts never forget." —Unknown
"When someone you love becomes a memory, the memory becomes a treasure." —Unknown
"Some memories are realities, and are better than anything that can ever happen to one again." —Willa Cather
"Creating memories is a priceless gift. Memories will last a lifetime; things only a short-period of time." —Alyice Edrich
"The worst part of holding the memories is not the pain. It's the loneliness of it. Memories need to be shared." —Lois Lowry
"Life brings tears, smiles, and memories. The tears dry, the smiles fade, but the memories last forever." —Unknown
"Some memories are realities, and are better than anything that can ever happen to one again." —Willa Cather
"Faith keeps our ships moving, while empathy and the memories of our experiences lead to wisdom." —Suzy Kassem
"The real moment has disappeared but you will always have the memories to remind you." —Unknown
Top Ten Memories Sayings
Here you will find top ten memories sayings selected by our team.
"Memories the one thing that can never be taken away from us. Make lots of them!" —Catherine Pulsifer
"Memories warm you up from the inside. But they also tear you apart." —Haruki Murakami
"It's sad to know I'm done. But looking back, I've got a lot of great memories." —Bonnie Blair
"Your self is created by your memories, and your memories are created by your mental habits." —Rick Warren
"Some memories are realities, and are better than anything that can ever happen to one again." —Willa Cather
"Life is a book, one page a day but only memories are making chapters." —Davan Yahya Khalil
"Sometimes you will never know the value of a moment until it becomes a memory." —Dr. Seuss
"Memories are the treasures that we keep locked deep within the storehouse of our souls, to keep our hearts warm when we are lonely." —Becky Aligada
"When our memories outweigh our dreams, we have grown old." —Bill Clinton
"Death leaves a heartache no one can heal, love leaves a memory no one can steal." —Richard Puz