In this post, you will find amazing cat quotes and sayings.
Short Cats Quotes and Sayings
"One must love a cat on its own terms." —Paul Gray
"All cats love fish but fear to wet their paws." —Chinese Proverb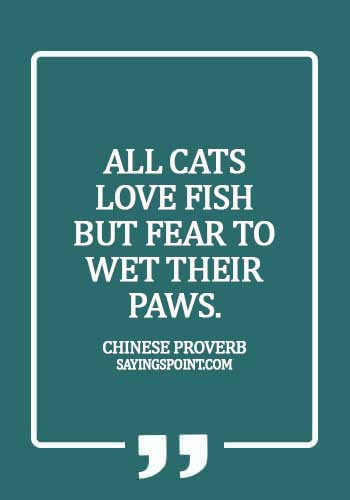 "I used to love dogs until I discovered cats." —Nafisa Joseph
"Cats will outsmart dogs every time." —John Grogan
"Like all pure creatures, cats are practical." —William S. Burroughs
"Time spent with cats is never wasted." —Sigmund Freud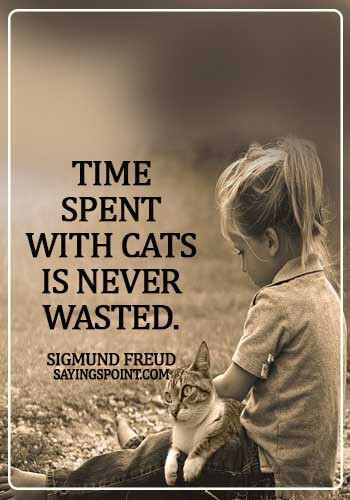 "A cat pours his body on the floor like water." —William Lyon Phelps
"As every cat owner knows, nobody owns a cat." —Ellen Perry Berkeley
"Cats are designated friends." —Norman Corwin
"A cat will be your friend, but never your slave." —Theophile Gautier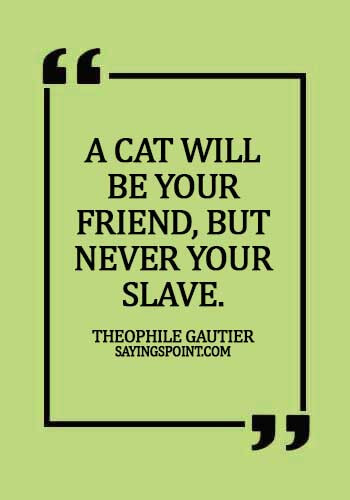 "If your cat falls out of a tree, go indoors to laugh." —Patricia Hitchcock
"Never try to out stubborn a cat." —Robert A. Heinlein
"As every cat owner knows, nobody owns a cat." —Ellen Perry Berkeley
"People that hate cats will come back as mice in their next life." —Faith Resnick
"A cat is only technically an animal, being divine." —Robert Lynd
"You cannot look at a sleeping cat and feel tense." —Jane Pauley
"The story of cats is a story of meat." —Elizabeth Marshall Thomas
"Cats choose us; we don't own them." —Kristin Cast
"Dogs own space and cats own time." —Nicola Griffith
"There is no snooze button on a cat who wants breakfast." —Unknown
"All cats like being the focus of attention." —Peter Gray
"I explained it loud and clear. What part of "meow" don't you understand?" —Lee Wardlaw
"The cat is mighty dignified until the dog comes by." —Southern Folk Saying
"Cats are connoisseurs of comfort." —James Herriot
"The trouble with a kitten is that eventually it becomes a cat." —Ogden Nash
"The cat does not offer services. The cat offers itself." —William S. Burroughs
"Keep an eye on the cat and another on the frying pan." —Proverb
"Cats have gnosis to a degree that is granted to few bishops." —Carl Van Vechten
Cats Quotes and Sayings
"A cat is the only domestic animal I know who toilet trains itself and does a damned impressive job of it." —Joseph Epstein
"If there's one thing I've learned in my life, it's that curiosity might kill cats, but it doesn't kill people." —Tracy Morgan
"A lie is like a cat: You need to stop it before it gets out the door or it's really hard to catch." —Charles M. Blow
"I am fond of pigs. Dogs look up to us. Cats look down on us. Pigs treat us as equals." —Winston S. Churchill
"There are few things in life more heartwarming than to be welcomed by a cat." —Tay Hohoff
"Any household with at least one feline member has no need for an alarm clock." —Louise A. Belcher
"Cats will amusingly tolerate humans only until someone comes up with a tin opener that can be operated with a paw." —Terry Pratchett
"In the beginning, God created man, but seeing him so feeble, He gave him the cat." —Warren Eckstein
"I have studied many philosophers and many cats. The wisdom of cats is infinitely superior." —Hippolyte Taine
"It doesn't matter if a cat is black or white, so long as it catches mice." —Deng Xiaoping
"I regard cats as one of the great joys in the world. I see them as a gift of highest order." —Trisha McCagh
"Women and cats will do as they please, and men and dogs should relax and get used to the idea." —Robert A. Heinlein
"The cat is the only animal without visible means of support who still manages to find a living in the city." —Carl van Vechten
"I've met many thinkers and many cats, but the wisdom of cats is infinitely superior." —Hippolyte Taine
"We need cats to need us. It unnerves us that they do not. However, if they do not need us, they nonetheless seem to love us." —Jeffrey Moussaieff Masson
"Cats know how to obtain food without labor, shelter without confinement, and love without penalties." —W.L George
"Cats seem to go on the principle that it never does any harm to ask for what you want." —Joseph Wood Krutch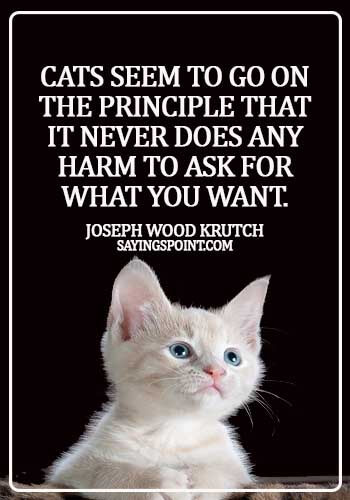 "If a cat spoke, it would say things like 'Hey, I don't see the problem here." —Roy Blount, Jr.
"The cat could very well be man's best friend but would never stoop to admitting it." —Doug Larson
"It is difficult to obtain the friendship of a cat. It is a philosophical animal… one that does not place its affections thoughtlessly." —Theophile Gautier
"I believe cats to be spirits come to earth. A cat, I am sure, could walk on a cloud without coming through." —Jules Verne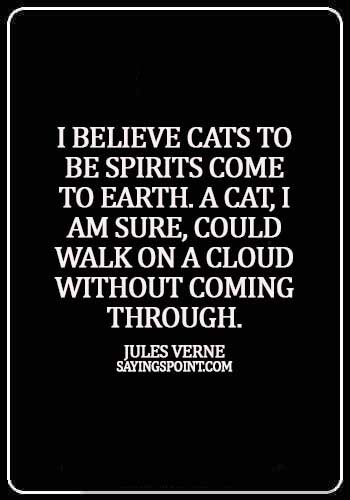 "One small cat changes coming home to an empty house to coming home." —Pam Brown
"My relationships with my cats has saved me from a deadly, pervasive ignorance." —William S. Burroughs
"Dogs have important jobs, like barking when the doorbell rings, but cats have no function in a house whatsoever." —W. Bruce Cameron
"No matter how much the cats fight, there always seem to be plenty of kittens." —Abraham Lincoln
"After all, a woman who doesn't love cats is never going to be make a man happy." —Orhan Pamuk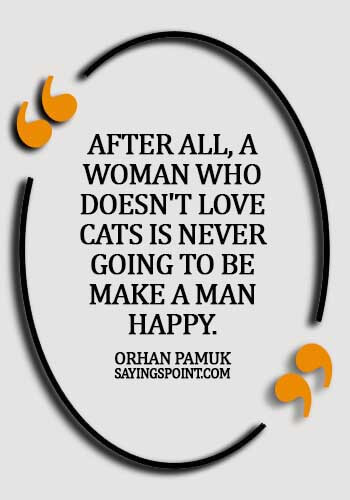 "Cats have an infallible understanding of total concentration — and get between you and it." —Unknown
" If you would know what a cat is thinking about, you must hold its paw in your hand for a long time." —Jules Champfleury
"This is a classic story of the friendship between humans and cats. Yes. I got in a lie right from the start!" —Hiro Mashima
"Cats are smarter than dogs. You can't get eight cats to pull a sled through snow." —Jeff Valdez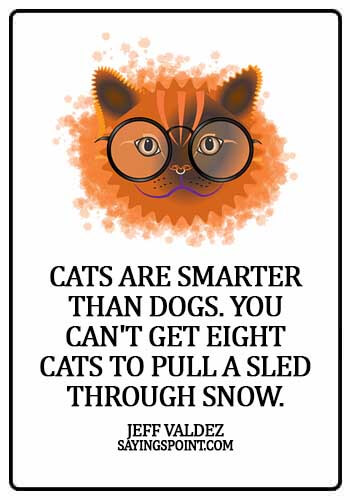 "If man could be crossed with the cat it would improve man, but deteriorate the cat." —Mark Twain
"Cats and dogs believe politicians are like cemetery caregivers — they are on top of everyone, but nobody listens." —Rita Mae Brown
"Cats are intended to teach us that not everything in nature has a function." —Garrison Keillor
"One reason that cats are happier than people is that they have no newspapers." —Gwendolyn Brooks
"If animals could speak, the dog would be a blundering outspoken fellow; but the cat would have the rare grace of never saying a word too much." —Mark Twain
Top Ten Cats Quotes and Sayings
Here you will find top ten cat quotes and sayings selected by our team
"Cats are smarter than dogs. You can't get eight cats to pull a sled through snow." —Jeff Valdez
"Time spent with cats is never wasted." —Sigmund Freud
"A lie is like a cat: You need to stop it before it gets out the door or it's really hard to catch." —Charles M. Blow
"Women and cats will do as they please, and men and dogs should relax and get used to the idea." —Robert A. Heinlein
"All cats love fish but fear to wet their paws." —Chinese Proverb
"A cat will be your friend, but never your slave." —Theophile Gautier
"Cats seem to go on the principle that it never does any harm to ask for what you want." —Joseph Wood Krutch
"I believe cats to be spirits come to earth. A cat, I am sure, could walk on a cloud without coming through." —Jules Verne
"I have studied many philosophers and many cats. The wisdom of cats is infinitely superior." —Hippolyte Taine
"After all, a woman who doesn't love cats is never going to be make a man happy." —Orhan Pamuk