In this post, you will find amazing California quotes and sayings.
California Short Quotes and Sayings
"Southern California is the land of crazy crimes." —Don Carpenter
"Life is the longest death in California." —Rufus Wainwright
"This is California. Blondes are like the state flower or something." —Ian Ziering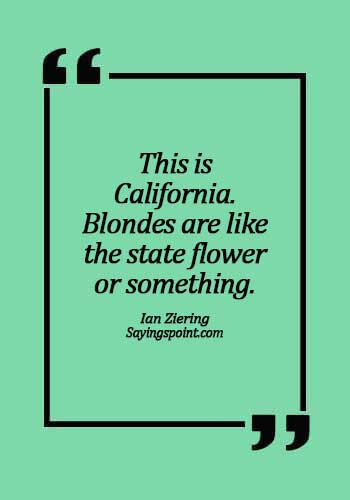 "California is full of Mexican culture and Mexican music." —Harry Dean
"They write songs about California girls for a reason." —Sarah Mlynowski
"Best way to live in California is to be from somewhere else." —Cormac Mccarthy
"California is where you get to start over." —Tracy Chevalier
"The only place I'll ever call home- my California." —Marilyn Monroe
"California, still a magical vanity fair." —Eileen Granfors
"You haven't lived until you've died in California." —Mort Sahl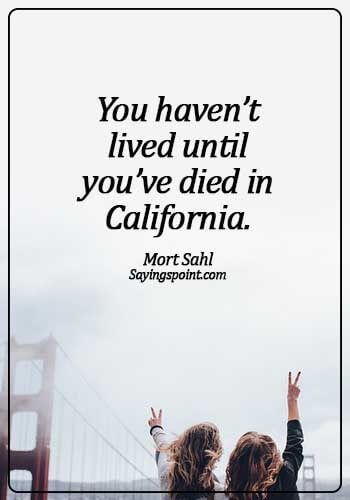 "I'm looking California and feeling Minnesota." —Chris Cornell
"California is an unbelievable state." —Drew Barrymore
"California is a fine place to live – if you happen to be an orange." —Fred Allen
"Everything is better in California." —Beth Anderson
"The value of an arts education is widely accepted, especially in California." —Unknown
"For me, California is all about rest, relaxation, space." —Karen O
"California is full of homesick people." —Judy Van Der Vee
"California, still a magical vanity fair." —Eileen Granfors
"I opened a restaurant that had nothing but California wines." —Paul Prudhomme
"When California was wild, it was the floweriest part of the continent." —John Muir
"California is always in my mind." —David Hockney
"California is the diamond on the diamond ring." —John Aidan
"Californians try everything once." —T. J. MacGregor
"You can't see California without Marlon Brando's eyes." —Corey Taylor
"California is always in my mind." —David Hockney
"The light was different here in California." —Heidi Freestone
"I'm a Texas girl, with a California soul." —Crystal Woods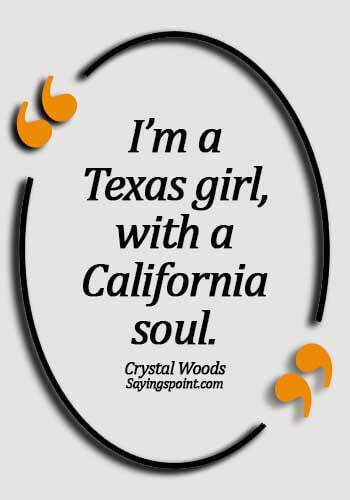 "The only grounds for divorce in California are marriage." —Cher
"I remain California-bound." —Ronald Reagan
"In Los Angeles everyone has perfect teeth. It's crocodile land." —Gwyneth Paltrow
California Quotes and Sayings
"Living in California, everyone learns to adapt their actor or actress within." —Courtney Carola
"Southern California, where the American Dream came too true." —Lawrence Ferlinghetti
"There is science, logic, reason; there is thought verified by experience. And then there is California." —Edward Abbey
"One day if I do go to heaven, I'll look around and say, 'It ain't bad, but it ain't San Francisco." —Herb Caen
"Thunderstorms were rare in California, but when they came they were, like most things in California, larger than life." —Helen McCloy
"California… produces the maximum of scenery and the minimum of weather." —Unknown
"We only have two kinds of weather in California, magnificent and unusual." —James M. Cain
"I grew up in Orange County, California, all over the beaches of San Clemente and that area." —Donavon Frankenreiter
"It is the land of perpetual pubescence, where cultural lag is mistaken for renaissance." —Ashley Montagu
"It's like the Lord lifted the country by the East Coast and everything loose rolled down to California." —Archie Bunker
"We also sleep in separate beds. Hers is in California and mine is in Texas." —Red Skelton
"California has all the beauties of youth as well as its idiocies and vices." —Gertrude Atherton
"California is a place where they shoot too many pictures and not enough actors." —Walter Winchell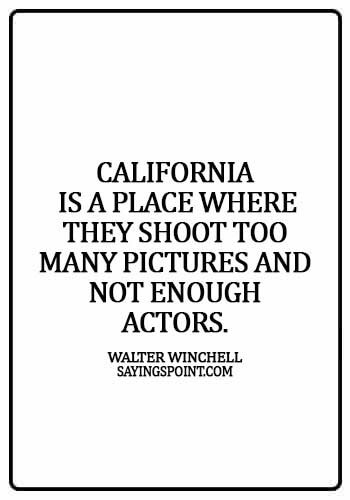 "I took the California Highway Patrol exam and didn't pass, so I tried to be a cop and failed." —John Cena
"California is beautiful to look at, but you can't be a part of it like you can in Michigan." —Jennifer Granholm
"I live on the beautiful Northern California coast. I have always loved hiking, whale watching and being outdoors." —Christine Feehan
"If you're in California and it's raining, stay home, because nobody can drive in the rain. It's like it's raining frogs. They're terrified." —Adam Ferrara
"California is the only state in the union where you can fall asleep under a rose bush in full bloom and freeze to death." —W.C. Fields
"If they can't do it in California, it can't be done anywhere." —Taylor Caldwell
"The value of an arts education is widely accepted, especially in California." —Gavin Newsom
"Everybody knows what California smog is – that's fog with the vitamins removed." —Bob Hope
"No matter where I was, my compass pointed west. I would always know what time it was in California." —Janet Fitch
"In California everyone goes to a therapist, is a therapist, or is a therapist going to a therapist." —Truman Capote
"California. The land of fruits and nuts. Where all the fruits are a little nutty and all the nuts are a little fruity." —Archie Bunker
"In California, they don't throw their garbage away – they make it into TV shows." —Woody Allen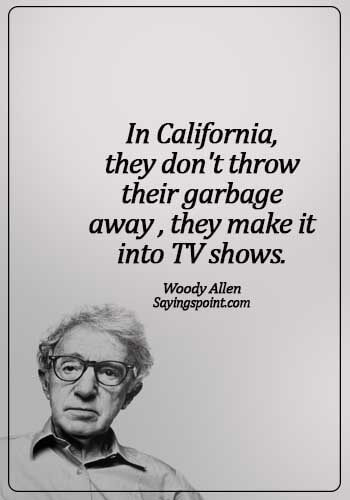 "Women are the engine driving the growth in California's economy. Women make California's economy unique." —Arnold Schwarzenegger
"I was not a Southern California girl. I hated having my photograph taken. I felt shy and embarrassed around famous people." —Allegra Huston
"I arrived in California with no job, no car, and no money, but, like millions of other girls, a dream." —Victoria Principal
Top Ten California Quotes and Sayings
Here you will find top ten California quotes and sayings selected by our team.
"California is a place where they shoot too many pictures and not enough actors." —Walter Winchell
"Californians try everything once." —T. J. MacGregor
"If they can't do it in California, it can't be done anywhere." —Taylor Caldwell
"You haven't lived until you've died in California." —Mort Sahl
"The only place I'll ever call home- my California." —Marilyn Monroe
"Thunderstorms were rare in California, but when they came they were, like most things in California, larger than life." —Helen McCloy
"No matter where I was, my compass pointed west. I would always know what time it was in California." —Janet Fitch
"In California, they don't throw their garbage away – they make it into TV shows." —Woody Allen
"This is California. Blondes are like the state flower or something." —Ian Ziering
"I'm a Texas girl, with a California soul." —Crystal Woods