In this post, you will find amazing grandpa sayings.
Short Grandpa Sayings
"Great fathers get promoted to grandfathers." —Unknown
"Grandpas are a wealth of information." —Bryna Nelson Paston
"Grandpas always have time for you when everyone else is too busy." —Unknown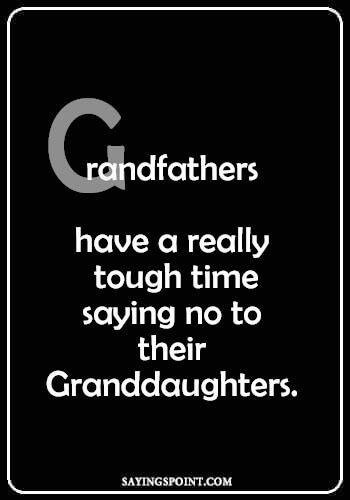 "Grandfathers have a really tough time saying no to their granddaughters." —Unknown
"Grandpa, You made my childhood unforgettable. I love you." —Unknown
"Perfect love sometimes does not come until the first grandchild." —Welsh Proverb
"A grandparent is old on the outside but young on the inside." —Unknown
"My grandpa taught me how to live off the land." —Hank Williams Jr
"Being a grandfather is one of the true joys of life; it is an awesome time." —Catherine Pulsifer
"Great dads get promoted to grandpa." —Unknown
"The best place to be when you're sad is Grandpa's lap." —Unknown
"Some of the world's best educators are grandparents." —Charles W. Shedd
"Grandpa says we've got everything to make us happy but happiness." —Ellen Glasgow
"A child's eyes light up when they see their Grandpa." —Catherine Pulsifer
"A great grandfather is an immobile source of disposable income." —Unknown
"Happiness is, a grandpa hug." —Unknown
"Grandfathers are just antique little boys." —Unknown
"Grandparents, like heroes, are as necessary to a child's growth as vitamins." —Joyce Allston
"Few things are more delightful than grandchildren fighting over your lap." —Doug Larson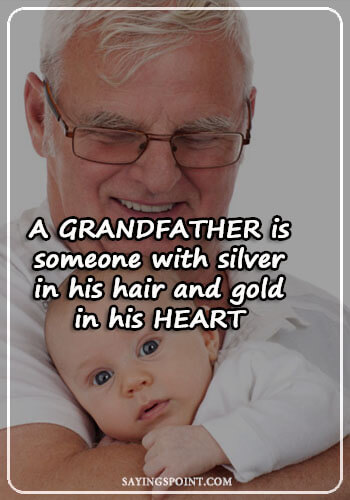 "A grandfather is someone with silver in his hair and gold in his heart." —Unknown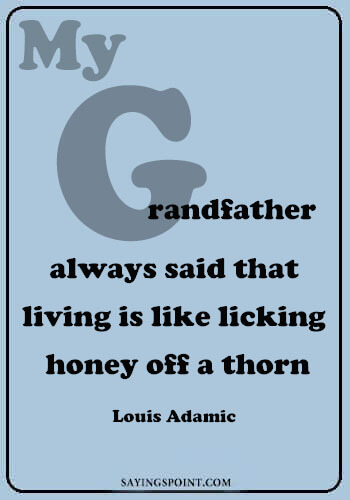 "My grandfather always said that living is like licking honey off a thorn." —Louis Adamic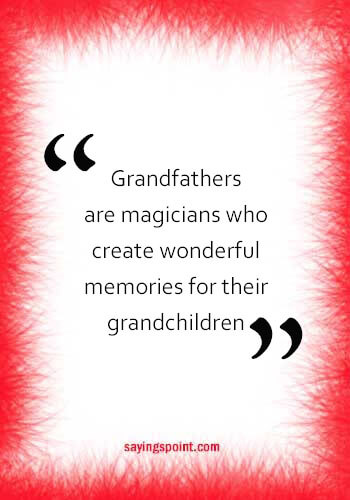 "Grandfathers are magicians who create wonderful memories for their grandchildren." —Unknown
"Grandparents make the world … a little softer, a little kinder, a little warmer." —Unknown
"Grandfathers are for loving and fixing things." —Unknown
"Grandpa, you are my hero better than superman." —Unknown
"Grandfathers are known to act silly, especially on their birthdays." —Unknown
"Grandmas and grandpas are grand-angels." —Terri Guillemets
Grandpa Sayings
"You have to do your own growing no matter how tall your grandfather was." —Abraham Lincoln
"My grandfather has a big influence on me; without him, I wouldn't be where I am now." —Angelique Kerber
"Every generation revolts against its fathers and makes friends with its grandfathers." —Lewis Mumford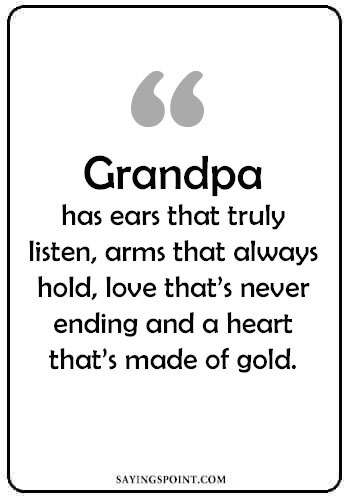 "Grandpa has ears that truly listen, arms that always hold, love that's never ending and a heart that's made of gold." —Unknown
"To a small child, the perfect granddad is unafraid of big dogs and fierce storms but absolutely terrified of the word 'boo'." —Robert Brault
"Grandparents are a delightful blend of laughter, caring deeds, wonderful stories, and love." —Unknown
"If I had known how wonderful it would be to have grandchildren, I'd have had them first." —Lois Wyse
"A baby has a way of making a man out of his father and a boy out of his grandfather." —Angie Papadakis
"Grandfather, Great Spirit, once more behold me on earth and lean to hear my feeble voice." —Black Elk
"My Granddad was very protective of his family, and always wanted the best for us." —Naomi Dowdy
"Everyone needs to have access both to grandparents and grandchildren in order to be a full human being." —Margaret Mead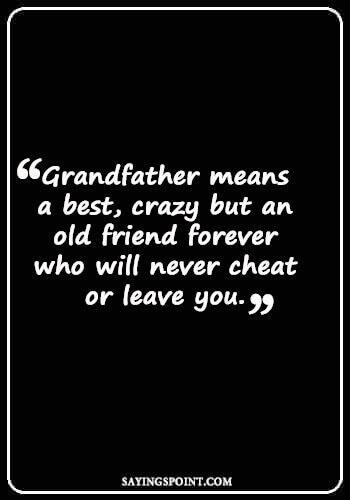 "Grandfather means a best, crazy but an old friend forever who will never cheat or leave you." —Unknown
"A grandfather finds both joy and peace in his heart each time a new grandchild is born." —Unknown
"If you're lucky enough to still have grandparents, visit them, cherish them and celebrate them while you can." —Regina Brett
"There are fathers who do not love their children; there is no grandfather who does not adore his grandson." —Victor Hugo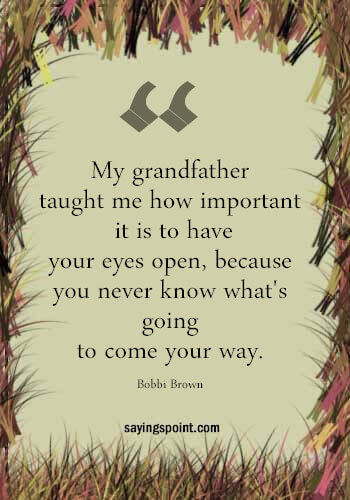 "My grandfather taught me how important it is to have your eyes open, because you never know what's going to come your way." —Bobbi Brown
"A grandfather makes us laugh, makes us feel safe, and always makes us feel loved." —Kate Summers
"My grandfather once told me that there are two kinds of people: those who work and those who take the credit. He told me to try to be in the first group; there was much less competition." —Indira Gandhi
"All grandfathers possess a limitless amount of interesting stories gathered from the past." —Unknown
"Grandpas have the patience and time to teach you how to sail a model boat or take you to a football match." —Unknown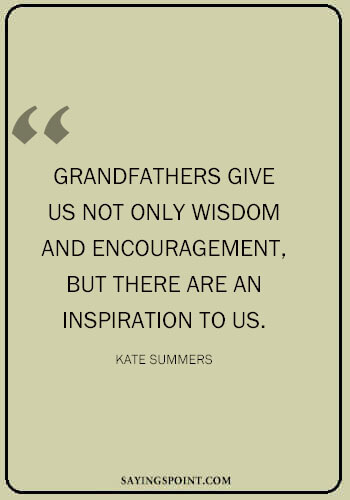 "Grandfathers give us not only wisdom and encouragement, but there are an inspiration to us." —Kate Summers
"I'm very proud of my gold pocket watch. My grandfather, on his deathbed, sold me this watch." —Woody Allen
"I was taught by my grandfather that anything that your mind can conceive, you can have. It's a reality." —Lenny Kravitz
"The simplest toy, one which even the youngest child can operate, is called a grandparent." —Sam Levenson
"Grandparents are there to help the child get into mischief they haven't thought of yet." —Gene Perret
"To be able to watch your children's children grow up is truly a blessing from above." —Byron Pulsifer
"Our grandfather always full of encouragement and optimism, with wise words for all of us kids." —Kate Summers
"The best baby-sitters, of course, are the baby's grandparents. You feel completely comfortable entrusting your baby to them for long "periods, which is why most grandparents flee to Florida." —Dave Barry
"At Christmas time we couldn't afford tinsel, so we'd wait till grandpa sneezed." —Rodney Dangerfield
Top Ten Grandpa Sayings
Here you will find top ten Grandpa Sayings selected by our team.
"To be able to watch your children's children grow up is truly a blessing from above." —Byron Pulsifer
"A grandparent is old on the outside but young on the inside." —Unknown
"Grandpas are a wealth of information." —Bryna Nelson Paston
"Grandfathers give us not only wisdom and encouragement, but there are an inspiration to us." —Kate Summers
"Grandfathers are for loving and fixing things." —Unknown
"Grandfathers are magicians who create wonderful memories for their grandchildren." —Unknown
"My grandfather taught me how important it is to have your eyes open, because you never know what's going to come your way." —Bobbi Brown
"Grandpa has ears that truly listen, arms that always hold, love that's never ending and a heart that's made of gold." —Unknown
"Grandfathers have a really tough time saying no to their granddaughters." —Unknown
"My grandfather always said that living is like licking honey off a thorn." —Louis Adamic