In this post, you will find amazing makeup quotes and sayings.
Short Makeup Quotes and Sayings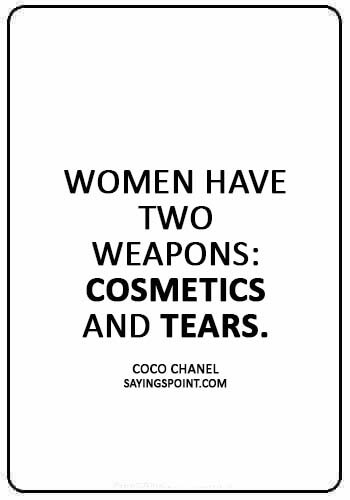 "Women have two weapons: Cosmetics and Tears." —Coco Chanel
"There are no rules when it comes to makeup!" —Kevyn Aucoin
"I feel more confident if my makeup looks good." —Ellie Goulding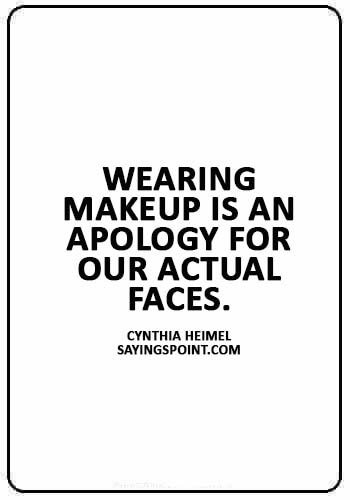 "Wearing makeup is an apology for our actual faces." —Cynthia Heimel
"Makeup can help you capture a moment." —Carine Roitfeld
"All the makeup in this world can never cover up an empty brain." —Edmond Mbiaka
"Your eye makeup says so much about you and your style." —Laura Mercier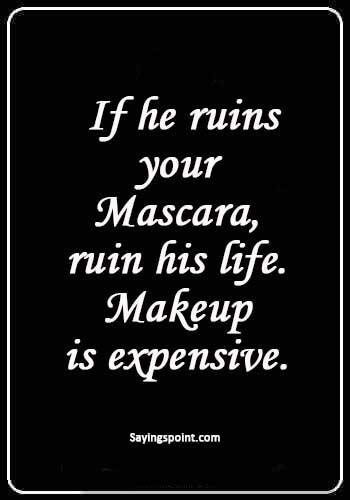 "If he ruins your mascara, ruin his life. Makeup is expensive." —Unknown
"I live for makeup and I like wine. These are my truths!" —Drew Barrymore
"Smile, is the best Makeup any girl can wear." —Marilyn Monroe
"The truth doesn't tolerate makeup." —Oliver Mally
"Makeup can make a woman look more beautiful at every age." —Francois Nars
"Every woman with her own makeup!" —Ljupka Cvetanova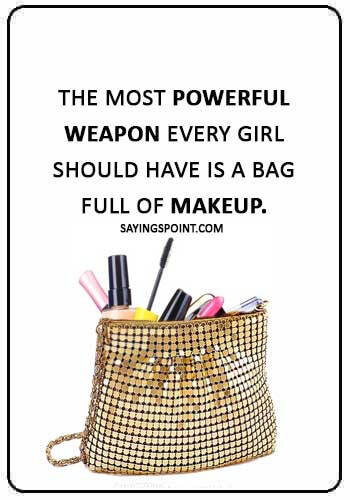 "The most powerful weapon every girl should have is a bag full of makeup." —Unknown
"I don't wear makeup when I'm home. I love taking a break from it." —Colbie Caillat
"To be honest, makeup is a big part of what I do for a living." —Jessica Capshaw
"Creativity is your best makeup skill, don't be afraid to experiment." —Pat McGrath
"To me, beauty and makeup and color is like the finishing touch on everything." —Marc Jacobs
"The differences between women are all cosmetic." —Ljupka Cvetanova
"There are no rules when it comes to makeup!" —Kevyn Aucoin
"Men are just jealous because they can't wear makeup." —Carolyn Murphy
"If I walk outside without lipstick, I feel naked." —Sofia Vergara
"I think less is more in terms of makeup in general." —Zoe Kravitz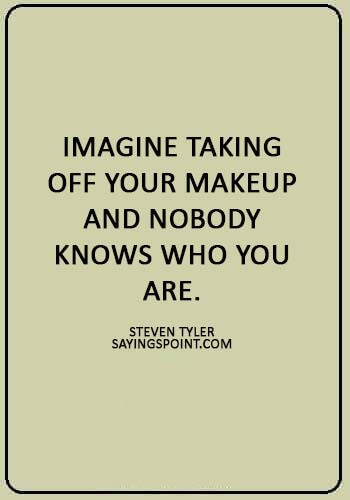 "Imagine taking off your makeup and nobody knows who you are." —Steven Tyler
"I love the confidence that makeup gives me." —Tyra Banks
"My lipstick belongs on your lips, and on your collar." —Anthony T.Hincks
"For makeup, I prefer to keep it simple for the daytime." —Chiara Ferragni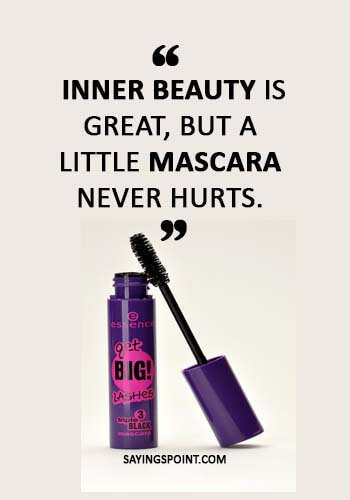 "Inner beauty is great, but a little mascara never hurts." —Unknown
"Cosmetics is the science of a woman's cosmos." —Karl Kraus
"Good skin is the best foundation for your makeup." —Holland Roden
"Some women are good-looking … until they change their hairstyle." —Mokokoma Mokhonoana
"If you saw me without makeup, you wouldn't recognize me." —Cyndi Lauper
Makeup Quotes and Sayings
Makeup is not a mask that covers up your beauty; it's a weapon that helps you express who you are from the inside." —Michelle Phan
The beauty of a woman is not in her facial makeup but in the kindness of her soul." —Debasish Mridha
Makeup is a way for a woman to look and feel like herself, only prettier and more confident." —Bobbi Brown
"May your foundation match your neck, concealer be crease less, & winged eyeliner be sharp enough to kill." —Unknown
We're just so lucky as women to be able to wear it "makeup". If you're having a bad day, you can change that." —Gwen Stefani
Beauty is power, and makeup is something that really enhances that; it's a woman's secret." —Charlotte Tilbury
It doesn't matter how shaky a woman's hand is. She can still apply makeup." —Helena Rubinstein
A woman who hides behind a mask of makeup is still going to have to take it off at some point… and deal with reality." —Francois Nars
Beneath the makeup and behind the smile I am just a girl who wishes for the world." —Marilyn Monroe
Make-up can only make you look pretty on the outside but it doesn't help if you're ugly on the inside. Unless you eat the make-up." —Audrey Hepburn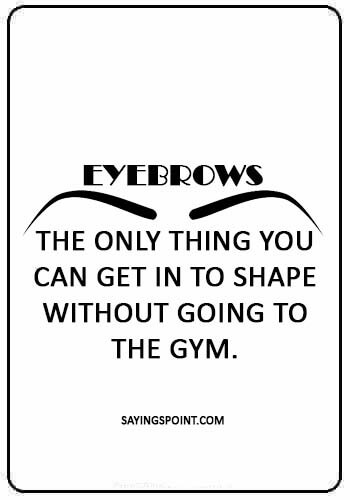 "Eyebrows: the only thing you can get in to shape without going to the gym." —Unknown
I like to make my husband like me more, and he likes it when I'm wearing makeup." —Gwen Stefani
I'm a big believer in that if you focus on good skin care, you really won't need a lot of makeup." —Demi Moore
All the makeup in the world won't make a difference without great skincare." —Khloe Kardashian
Beauty is not about make up it's about what it makes you to be from within." —Amit Abraham
Beauty, to me, is about being comfortable in your own skin. That, or a kick-ass red lipstick." —Gwyneth Paltrow
Beauty is how you feel inside, and it reflects in your eyes. It is not something physical." —Sophia Loren
Whether I'm wearing lots of makeup or no makeup, I'm always the same person inside." —Lady Gaga
The most beautiful makeup of a woman is passion. But cosmetics are easier to buy." —Yves Saint Laurent
The more make up a woman wears the more she's tryin to hide. Make up can hide a lot of evil." —Phil Robertson
That's one of the things I love about makeup. You can change your whole attitude by just doing your eyeliner or lipstick differently." —Beyonce
Personally, I don't ever want to depend on makeup to feel beautiful." —Lupita Nyong'o
Beauty is not about make up it's about what it makes you to be from within." —Amit Abraham
Personalized beauty is about each woman being able to create her own makeup routine that complements her coloring and style." —Bobbi Brown
If you're sad or heartbroken, make yourself up, dress up, add more lipstick and attack. Men hate women who weep." —Coco Chanel
My quick beauty tip is always have a tinted gloss of some kind to give you some color even if you have no makeup on." —Rachel Bilson
People can dress you the way they want, they can do your makeup the way they want, but they can never take away your voice." —Sasha Grey
Top Ten Makeup Quotes and Sayings
Here you will find top ten Makeup Quotes and Sayings selected by our team.
"Women have two weapons: Cosmetics and Tears." —Coco Chanel
"Makeup is not a mask that covers up your beauty; it's a weapon that helps you express who you are from the inside." —Michelle Phan
"The beauty of a woman is not in her facial makeup but in the kindness of her soul." —Debasish Mridha
"We're just so lucky as women to be able to wear it "makeup". If you're having a bad day, you can change that." —Gwen Stefani
"Make-up can only make you look pretty on the outside but it doesn't help if you're ugly on the inside. Unless you eat the make-up." —Audrey Hepburn
"A woman who hides behind a mask of makeup is still going to have to take it off at some point… and deal with reality." —Francois Nars
"Wearing makeup is an apology for our actual faces." —Cynthia Heimel
"If you're sad or heartbroken, make yourself up, dress up, add more lipstick and attack. Men hate women who weep." —Coco Chanel
"Beauty is power, and makeup is something that really enhances that; it's a woman's secret." —Charlotte Tilbury
"Makeup can help you capture a moment." —Carine Roitfeld