In this post, you will find amazing funny golf quotes and sayings.
Short Funny Golf Quotes and Sayings
"The only thing a golfer needs is more daylight." —Ben Hogan
"Golf is a good walk spoiled." —Mark Twain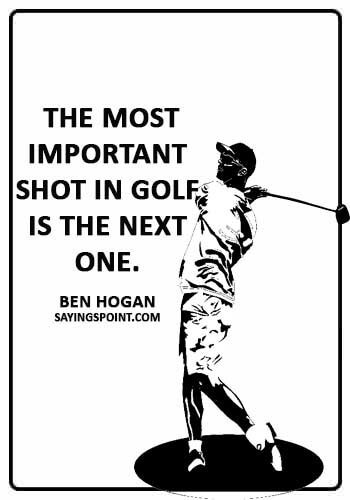 "The most important shot in golf is the next one." —Ben Hogan
"Most people play a fair game of golf, If you watch them." —Joey Adams
"May thy ball lie in green pastures, and not in still waters." —Ben Hogan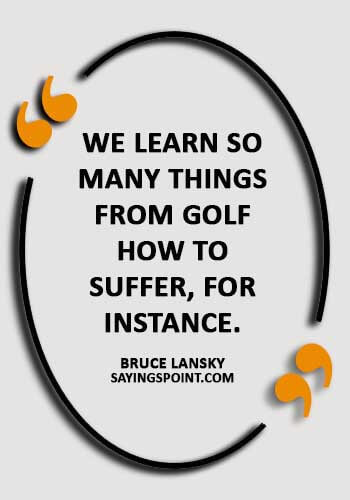 "We learn so many things from golf—how to suffer, for instance." —Bruce Lansky
"My golf score seems to improve considerably when I have the score card." —Unknown
"Never break your putter and your driver in the same round or you're dead." —Tommy Bolt
"No matter how bad you are playing, it is always possible to play worse." —Unknown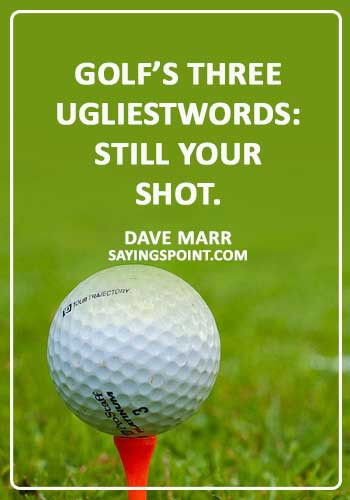 "Golf's three ugliest words: still your shot." —Dave Marr
"To find a man's true character, play golf with him." —P.G. Wodehouse
"Golf is the hardest game in the world to play, and the easiest to cheat at." —Dave Hill
"Golf has produced a lot of millionaires…most of them are former billionaires." —Unknown
"A golf match is a test of your skill against your opponent's luck." —Unknown
"Golf is like chasing a quinine pill around a cow pasture." —Winston Churchill 
"All is fair in love and golf." —American Proverb
"If there is any larceny in a man, golf will bring it out." —Paul Gallico
"I found Jesus on the golf course. Well at least I heard his name several times." —Unknown
"Ninety percent of putts that are short, don't go in." —Yogi Berra
"Golf is a game where the ball always lies poorly and the player always lies well." —Unknown
"Golf is a game in which you yell "for," shoot six, and write down five." —Paul Harvey
"The best wood in most amateurs' bags is the pencil." —Unknown
"Golf has probably kept more people sane than psychiatrists have." —Harvey Penick
"I regard golf as an expensive way of playing marbles." —G.K. Chesterton
"The only time my prayers are never answered is on the golf course." —Billy Graham
"Work is for people who don't know how to play golf." —Unknown
"Golf is a lot of walking, broken up by disappointment and bad arithmetic." —Unknown
"Golf is a day spent in a round of strenuous idleness." —William Wordsworth
"Golf, like measles, should be caught young." —P.G. Wodehouse
Funny Golf Quotes and Sayings
"If you think it's hard to meet new people, try picking up the wrong golf ball." —Jack Lemmon
"I don't like to watch golf on television because I can't stand people who whisper." —David Brenner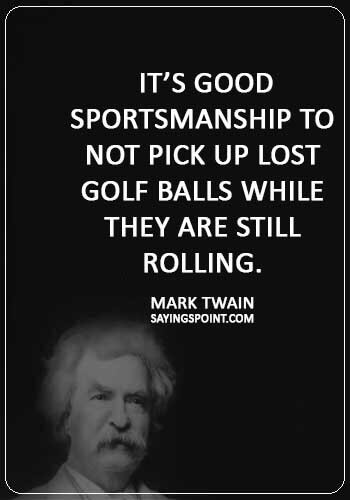 "It's good sportsmanship to not pick up lost golf balls while they are still rolling." —Mark Twain
"Hockey is a sport for white men. Basketball is a sport for black men. Golf is a sport for white men dressed like black pimps." —Tiger Woods
"The difference in golf and government is that in golf you can't improve your lie." —George Deukmejian
"A game in which you claim the privileges of age, and retain the playthings of childhood." —Unknown
"Missing a short putt does not mean you have to hit your next drive out of bounds." —Henry Cotton
"Some of us worship in churches, some in synagogues, some on golf courses." —Adlai Stevenson
"I started watching golf for the first time yesterday. I`m really worried about myself. I was actually enjoying it." —Ewan McGregor
"Golf and sex are about the only things you can enjoy without being good at." —Jimmy Demaret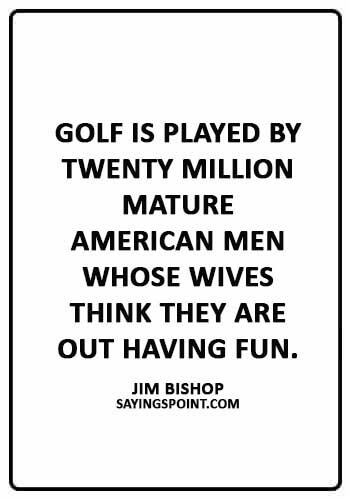 "Golf is played by twenty million mature American men whose wives think they are out having fun." —Jim Bishop
"Golf is a fascinating game. It has taken me nearly forty years to discover that I can't play it." —Ted Ray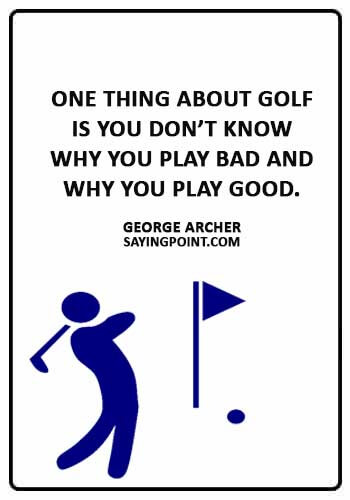 "One thing about golf is you don't know why you play bad and why you play good." —George Archer
"The less skilled the player, the more likely he is to share his ideas about the golf swing." —Unknown
"Golf is a game that is played on a five-inch course — the distance between your ears." —Bobby Jones
"You've just got one problem. You stand too close to the ball after you've hit it." —Sam Snead
"Many a golfer prefers a golf cart to a caddy because the cart cannot count, criticize or laugh." —Unknown
"One of the advantages bowling has over golf is that you seldom lose a bowling ball." —Don Carter
"Man blames fate for all other accidents, but feels personally responsible when he makes a hole-in-one." —Bishop Sheen
"Golf is a game where the ball always lies poorly and the player always lies well." —Unknown
"Go play golf. Go to the golf course. Hit the ball. Find the ball. Repeat until the ball is in the hole. Have fun. The end." —Chuck Hogan
"These greens are so fast I have to hold my putter over the ball and hit it with the shadow." —Sam Snead
"I had a wonderful experience on the golf course today. I had a hole in nothing. Missed the ball and sank the divot." —Don Adams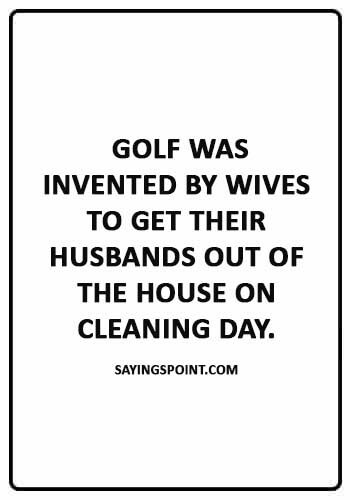 "Golf was invented by wives to get their husbands out of the house on cleaning day." —Unknown
"If you are caught on a golf course during a storm and are afraid of lightning, hold up a one iron. Not even God can hit a one iron." —Lee Trevino
"I did not want to turn to playing golf because golf is about as much exercise as shuffling cards." —Bill Cosby
Top Ten Funny Golf Quotes and Sayings
Here you will find top ten Funny Golf Quotes and Sayings selected by our team.
"We learn so many things from golf—how to suffer, for instance." —Bruce Lansky
"Golf is played by twenty million mature American men whose wives think they are out having fun." —Jim Bishop
"The difference in golf and government is that in golf you can't improve your lie." —George Deukmejian
"The most important shot in golf is the next one." —Ben Hogan
"Golf's three ugliest words: still your shot." —Dave Marr
"If you think it's hard to meet new people, try picking up the wrong golf ball." —Jack Lemmon
"It's good sportsmanship to not pick up lost golf balls while they are still rolling." —Mark Twain
"Golf is the hardest game in the world to play, and the easiest to cheat at." —Dave Hill
"Golf was invented by wives to get their husbands out of the house on cleaning day." —Unknown
"One thing about golf is you don't know why you play bad and why you play good." —George Archer