In this post, you will find amazing fame quotes and sayings.
Short Fame Quotes and Sayings
"Fame doesn't end loneliness." —Claire Danes
"Passion for fame: A passion which is the instinct of all great souls." —Edmund Burke
"Fame means millions of people have the wrong idea of who you are." —Erica Jong
"If fame comes after death, I'm in no hurry for it." —Unknown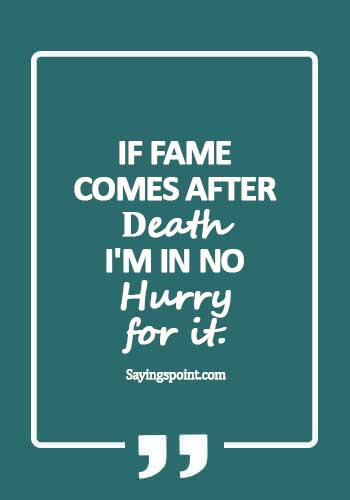 "Some people obtain fame, others deserve it." —Doris Lessing
"To want fame is to prefer dying scorned than forgotten." —Emil Cioran
"Fame is the thirst of youth." —Lord Byron
"Fame is morally neutral." —Edward R. Murrow
"Fame is the perfume of heroic deeds." —Socrates
"Fame comes and goes. Longevity is the thing to aim for." —Tony Bennett
"I think money, power, fame changes people a lot." —Peter Criss
"Heroes must see to their own fame. No one else will." —Gore Vidal
"Fame is nothing but an empty name." —Charles Churchill
"Fame means millions of people have the wrong idea of who you are." —Erica Jong
"Even the best things are not equal to their fame." —Henry David Thoreau
"A life without fame can be a good life, but fame without a life is no life at all." —Clive James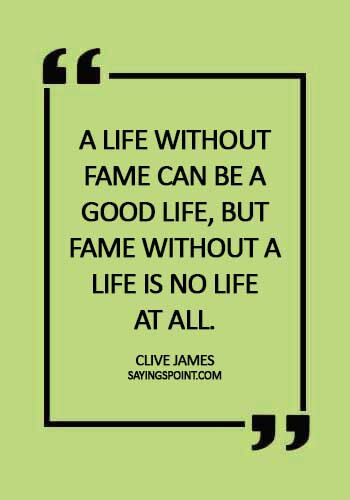 "Fame is a food that dead men eat." —Henry Austin Dobson
"He who pursues fame at the risk of losing his self is not a scholar." —Chuang-tzu
"What a heavy burden is a name that has become famous too soon." —Voltaire
"Fame is a jealous mistress and will brook no rival." —Thiruvalluvar
"You have only a short period of time in your life to make your mark, and I'm there now. " —Unknown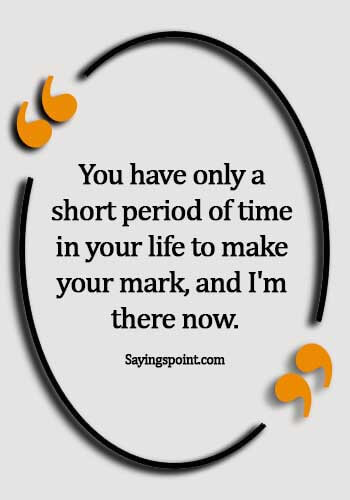 "The desire for fame tempts even noble minds." —St. Augustine
"Fame is a mind – a way of thinking about things. It's all in your mind." —Reba McEntire
"Fame and fortune are as hard to find as a lightning strike." —P. N. Elrod
"Being famous is wicked, but being normal is better." —Rupert Grint
"Rather than love, than money, than fame, give me truth." —Henry David Thoreau
"The highest form of vanity is love of fame." —George Santayana
Fame Quotes and Sayings
"Fame is a vapor; popularity an accident; riches take wings; the only earthly certainty is oblivion." —Horace Greeley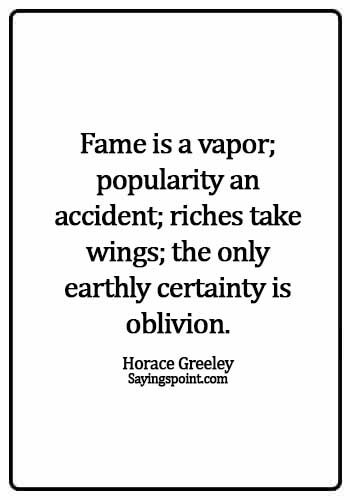 "Fame is an illusion. Things can be given to you quite easily, but they get ripped away so quickly as well." —Ashley Olsen
"Fame doesn't fulfill you. It warms you a bit, but that warmth is temporary." —Marilyn Monroe
"The woman who can create her own job is the woman who will win fame and fortune." —Amelia Earhart
"Fame is something that must be won. Honor is something that must not be lost." —Arthur Schopenhauer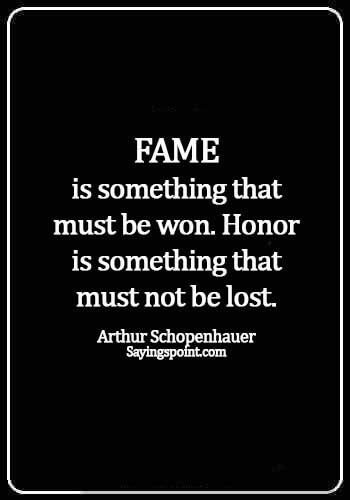 "If you come to fame not understanding who you are, it will define who you are." —Oprah Winfrey
"A person who's going to be famous usually drops a few clues by the time they're twenty-one." —Frank D. Gilroy
"With fame I become more and more stupid, which of course is a very common phenomenon." —Albert Einstein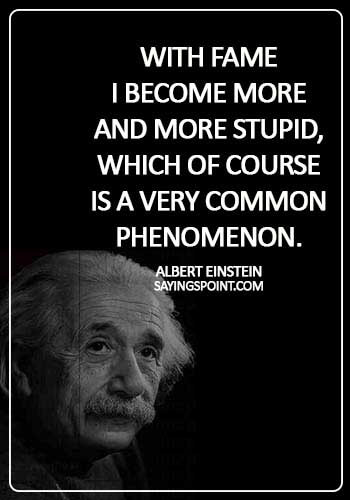 "The problem is, the more famous you get, the more people see you who didn't choose to." —Louis C.K
"I am not concerned that I am not known, I seek to be worthy to be known." —Confucius
"I do not like the man who squanders life for fame; give me the man who living makes a name." —Emily Dickinson
"Fame is something that is bestowed upon you because of success. Success is something you have to chase." —Noel Gallagher
"Talent is God given. Be humble. Fame is man-given. Be grateful. Conceit is self-given. Be careful." —John Wooden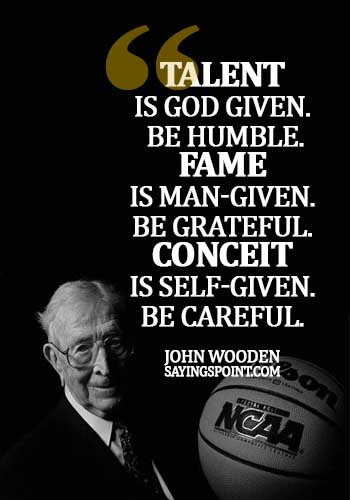 "Fame is not the glory! Virtue is the goal, and fame only a messenger, to bring more to the fold." —Vanna Bonta
"What's fame, after all? It can be what someone writes on your tombstone." —Peter Duncan
"There have been as great souls unknown to fame as any of the most famous." —Benjamin Franklin
"Fame will go by and, so long, I've had you, Fame. If it goes by, I've always known it was fickle." —Unknown
"Fame always brings loneliness. Success is as ice cold and lonely as the north pole." —Vicki Baum
"If cash comes with fame, come fame; if cash comes without fame, come cash." —Jack London
"Fame is like a river, that beareth up things light and swollen, and drowns things weighty and solid." —Francis Bacon
"Money and fame made me believe I was entitled. I was wrong and foolish." —Tiger Woods
"A celebrity is one who is known to many persons he is glad he doesn't know." —H. L. Mencken
"The charm of fame is so great that we like every object to which it is attached, even death." —Blaise Pascal
"If you're lucky enough to be famous, then it's great if you can use your fame and the power your fame gives you to draw attention to things that really matter." —Michael Schumacher
"If you chase fame, you make bad choices. Being famous isn't interesting." —Justin Theroux
"Fame and glory belong to those who are the first to achieve things, not those who think about it or do it after it's been done." —Unknown
"The fame of heroes owes little to the extent of their conquests and all to the success of the tributes paid to them." —Jean Genet
"If fame came near to you to get you, you must run away from it very fast! Because this is a matter of freedom and captivity!" —Mehmet Murat ildan
"Fame – a few words upon a tombstone, and the truth of those not to be depended on." —Christian Nestell Bovee
"The thought of money and fame and all that is nice to have. But it's not what's really important." —Doyle Brunson
Top Ten Fame Quotes and Sayings
Here you will find top ten fame quotes and sayings selected by our team.
"Fame is a vapor; popularity an accident; riches take wings; the only earthly certainty is oblivion." —Horace Greeley
"Even the best things are not equal to their fame." —Henry David Thoreau
"Fame is something that must be won. Honor is something that must not be lost." —Arthur Schopenhauer
"Talent is God given. Be humble. Fame is man-given. Be grateful. Conceit is self-given. Be careful." —John Wooden
"What's fame, after all? It can be what someone writes on your tombstone." —Peter Duncan
"With fame I become more and more stupid, which of course is a very common phenomenon." —Albert Einstein
"What a heavy burden is a name that has become famous too soon." —Voltaire
"I do not like the man who squanders life for fame; give me the man who living makes a name." —Emily Dickinson
"Money and fame made me believe I was entitled. I was wrong and foolish." —Tiger Woods
"A life without fame can be a good life, but fame without a life is no life at all." —Clive James