In this post, you will find amazing church quotes and sayings.
Short Church Quotes and Sayings
"The nearer the Church the further from God." —Lancelot Andrewes
"We sing in a church, why can we not dance there?" —George Bernard Shaw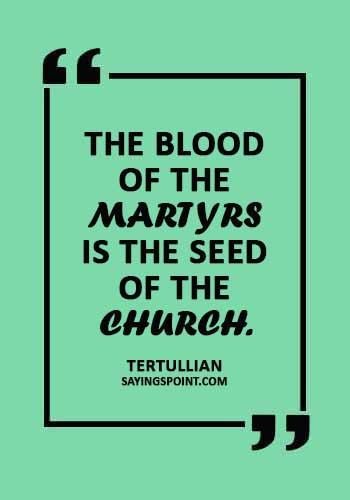 "The blood of the martyrs is the seed of the church." —Tertullian
"Christianity means a lot more than church membership." —Billy Sunday
"Though the church has many critics, it has no rivals." —Unknown
"The Church is a family expecting guests." —Andy Stanley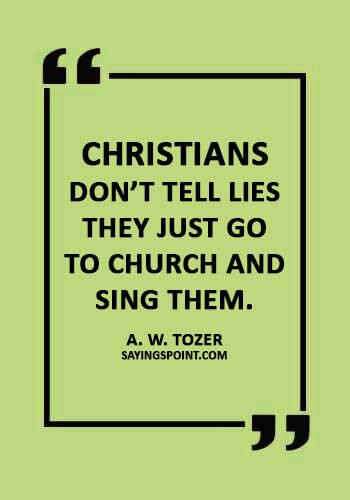 "Christians don't tell lies they just go to church and sing them." —A. W. Tozer
"A church debt is the devil's salary." —Henry Ward Beecher
"The highest honor in the church is not government but service." —Unknown
"The Church exists for nothing else but to draw men into Christ." —C. S. Lewis
"The church is not a political power; it's not a party, but it's a moral power." —Pope Benedict XVI
"The Church is the Church only when it exists for others." —Dietrich Bonhoeffer
"He who is near the Church is often far from God." —Unknown
"The Church is the one institution that exists for those outside it." —William Tyndale
"Divisions in the church always breed atheism in the world." —Thomas Manton
"My own mind is my own church." —Thomas Paine
"Jesus is the Head of the church. He expects His body to cooperate." —Jack Wellman
"In such a fearful world, we need a fearless church." —C. S. Lewis
"The moment a church becomes neat, it is no longer necessary." —Levi Lusko
"Depressions may bring people closer to the church but so do funerals." —Unknown
"Your body is the church where Nature asks to be reverenced." —Marquis De Sade
"It would be far better to be of no church than to be bitter of any." —William Penn
"Miracles are the swaddling clothes of infant churches." —Thomas Fuller
"The churches must learn humility as well as teach it." —George Bernard Shaw
"I think that church people are the most judgmental people I know." —Unknown
"Every believer is commanded to be plugged in to a local church." —David Jeremiah
Church Quotes and Sayings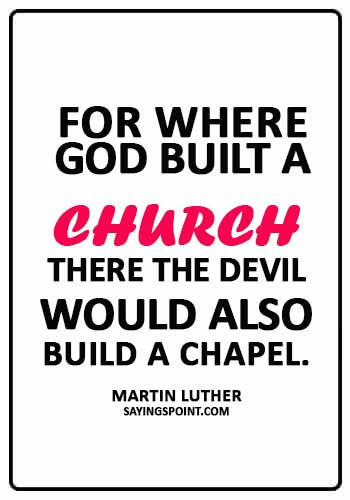 "For where God built a church, there the Devil would also build a chapel." —Martin Luther
"I believe there are too many practitioners in the church who are not believers." —C. S. Lewis
"The Church has always been willing to swap off treasures in heaven for cash down." —Robert G. Ingersoll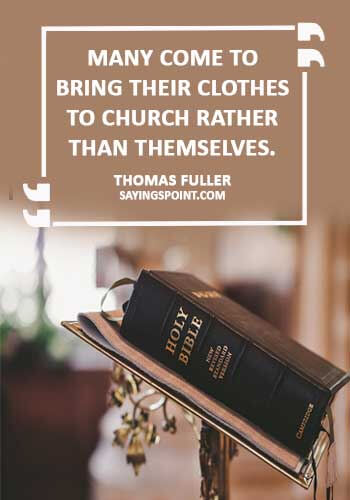 "Many come to bring their clothes to church rather than themselves." —Thomas Fuller
"Every day people are straying away from the church and going back to God." —Lenny Bruce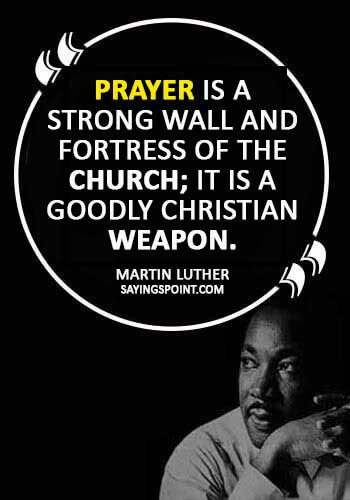 "Prayer is a strong wall and fortress of the church; it is a goodly Christian weapon." —Martin Luther
"Some go to church to see and be seen, Some go there to say they have been, Some go there to sleep and nod, But few go there to worship God." —Unknown
"I do not think the devil cares how many churches you build, if only you have lukewarm preachers and people in them." —Charles Spurgeon
"The perfect church service would be one we were almost unaware of. Our attention would have been on God." —C. S. Lewis
"Be united with other Christians. A wall with loose bricks is not good. The bricks must be cemented together." —Corrie Ten Boom
"As a church we must love Jesus, or else we have lost our reason for existence." —Charles Spurgeon
"Sailors ought never to go to church. They ought to go to hell, where it is much more comfortable." —H.G. Wells
"Although the church has been the most consistently hated group on earth, it will continue to expand until He takes it out of this world." —Unknown
"I like the silence of a church, before the service begins better than any preaching." —Ralph Waldo Emerson
"Churches become poor if they become rich and care not for the poor." —Lester Roloff
"Hide yourself in God, so when a man wants to find you he will have to go there first." —Shannon L. Alder
"Church attendance is as vital to a disciple as a transfusion of rich, healthy blood to a sick man." —Dwight L. Moody
"The mark of a great church is not its seating capacity, but its sending capacity." —Mike Stachura
"We've made the church so much like a country club that it's a surprise they let us keep our tax exempt status!" —Steven Furtick
"You can be committed to Church but not committed to Christ, but you cannot be committed to Christ and not committed to church." —Joel Osteen
"The first time I sang in the church choir; two hundred people changed their religion." —Fred Allen
"The church is not the way to heaven; the church is the sign that points to heaven." —Adrian Rogers
"The Church is looking for better methods; God is looking for better men." —E. M. Bounds
"My friends, it is one thing to go to church or chapel; it is quite another thing to go to God." —Charles Spurgeon
"Don't give your money to the church. They should be giving their money to you." —George Carlin
"Church is the only place where someone speaks to me and I do not have to answer back." —Charles de Gaulle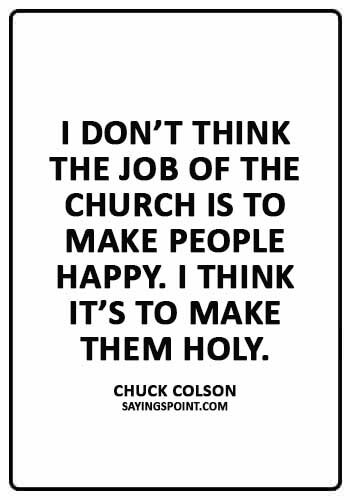 "I don't think the job of the church is to make people happy. I think it's to make them holy." —Chuck Colson
"There is nothing like the local church when the local church is working right." —Bill Hybels
"The day we find the perfect church, it becomes imperfect the moment we join it." —Charles Haddon Spurgeon
Top Ten Church Quotes and Sayings
Here you will find top ten church quotes and sayings selected by our team.
"The blood of the martyrs is the seed of the church." —Tertullian
"I don't think the job of the church is to make people happy. I think it's to make them holy." —Chuck Colson
"Prayer is a strong wall and fortress of the church; it is a goodly Christian weapon." —Martin Luther
"Hide yourself in God, so when a man wants to find you he will have to go there first." —Shannon L. Alder
"Many come to bring their clothes to church rather than themselves." —Thomas Fuller
"I do not think the devil cares how many churches you build, if only you have lukewarm preachers and people in them." —Charles Spurgeon
"The mark of a great church is not its seating capacity, but its sending capacity." —Mike Stachura
"The day we find the perfect church, it becomes imperfect the moment we join it." —Charles Haddon Spurgeon
"For where God built a church, there the Devil would also build a chapel." —Martin Luther
"Christians don't tell lies they just go to church and sing them." —A. W. Tozer