In this post, you will find amazing snow quotes and sayings.
Short Snow Quotes and Sayings
"The snow in winter, the flowers in spring. There is no deeper reality." —Marty Rubin
"Every mile is two in winter." —George Herbert
"When snow falls, nature listens." —Antoinette van Kleef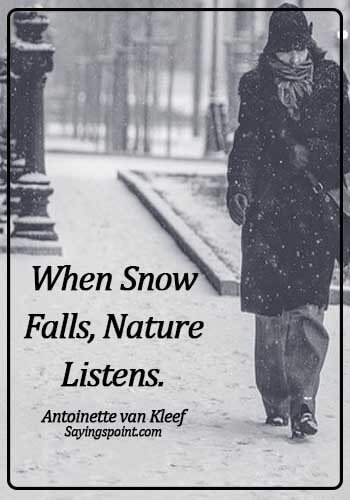 "Kindness is like snow, it beautifies everything it covers." —Unknown
"We build statues out of snow, and weep to see them melt." —Walter Scott
"With luck, it might even snow for us." —Haruki Murakami
"I used to be Snow White, but I drifted." —Mae West
"A year of snow, a year of plenty." —French proverb
"Be melting snow, Wash yourself of yourself." —Rumi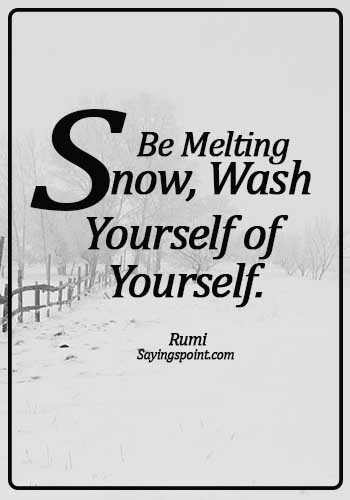 "Is there anything whiter than winter snow?" —Laiah Gifty Akita
"Snowflakes are kisses from heaven." —Unknown
"The larger a man's roof, the more snow it collects." —Proverb
"Let it snow! Let it snow! Let it snow!" —Unknown
"Women differ like snowflakes." —Lara Biyuts
"Be like snow – cold, but beautiful." —Lana Del Rey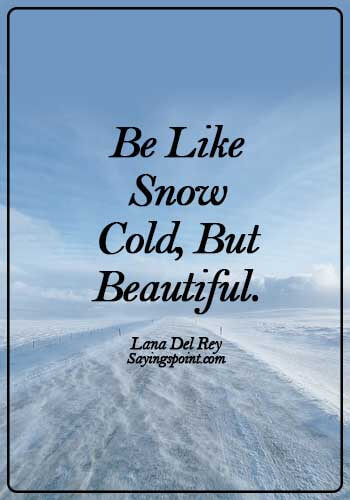 "There's snowman shrapnel flying everywhere!" —Unknown
"Nothing burns like the cold." —George R.R. Martin
"Life is just a snow ball, which melts abruptly." —Unknown
"The very fact of snow is such an amazement." —Roger Ebert
"Snow can sometimes fall from a cloudless sky." —Emma Richler
"The snow is sparkling like a million little suns." —Lama Willa Miller
"Bad weather always looks worse through a window." —Unknown
"The snow doesn't give a soft white damn whom it touches." —E.E. Cummings
Snow Quotes and Sayings
"Advice is like snow – the softer it falls, the longer it dwells upon, and the deeper it sinks into the mind." —Samuel Taylor Coleridge
"There's just something beautiful about walking in snow that nobody else has walked on. It makes you believe you're special." —Carol Rifka Brunt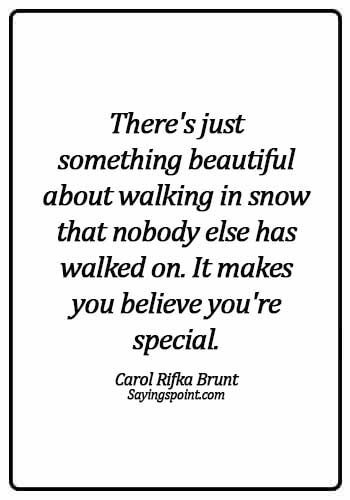 "Getting only an inch of snow is like winning a nickel in a poker game." —George Moon
"Nature has no mercy at all. Nature say, 'I'm going to snow. If you have on a bikini and no snowshoes, that's tough. I am going to snow anyway." —Maya Angelou
"Suppose we did our work like the snow, quietly, quietly,leaving nothing out." —Wendell Berry
"A snowball in the face is surely the perfect beginning to a lasting friendship." —Markus Zusak
"January brings the snow, makes our feet and fingers glow." —Sara Coleridge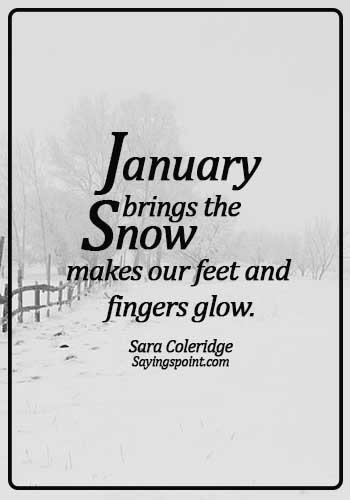 "Snow makes a soft bed, but no man wakes from it. That was the wisdom of the North." —Mark Lawrence
"In the depth of winter, I finally learned that there was in me an invincible summer." —Albert Camus
"The snow is so beautiful, so magical. It's like a thousand unicorns…exploded." —Unknown
"When it snows, you have two choices: shovel or make snow angels." —Unknown
"When you live in Texas, every single time you see snow it's magical." —Pamela Ribon
"Snow provokes responses that reach right back to childhood." —Andy Goldsworthy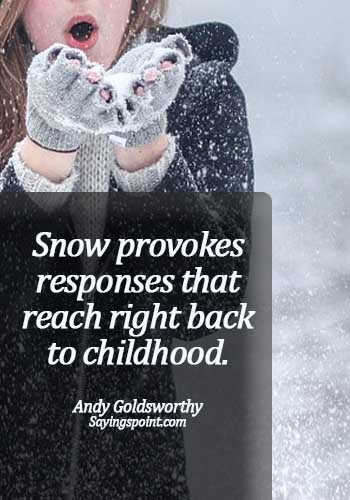 "Snowing is an attempt of God to make the dirty world look clean." —Mehmet Murat ildan
"The trouble with the last snowfall of the season is that you can't be sure." —Douge Larson
"A snowflake is one of God's most fragile creations, but look what they can do when they stick together!" —Anon
"A snow day literally and figuratively falls from the sky, unbidden, and seems like a thing of wonder." —Susan Orlean
"A lot of people like snow. I find it to be an unnecessary freezing of water." —Carl Reiner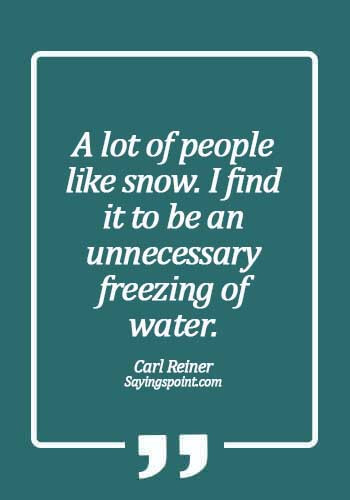 "If snow melts down to water, does it still remember being snow?" —Jennifer McMahon
"Snow makes cities innocent again, reveals the frailty of the human gesture against the void." —Glen Duncan
"A snow day is only bad news if you forgot to run to the liquor store." —Unknown
"I love snow, snow, and all the forms of radiant frost." —Percy Bysshe Shelley
"Snow falling soundlessly in the middle of the night will always fill my heart with sweet clarity." —Novala Takemoto
"Corruption is like a ball of snow, once it's set a rolling it must increase." —Charles Caleb Colton
"Nothing is as sensual as the first kiss of snow in the winter." —Anthony T.Hincks
"Life is like a blanket of snow. Be careful how you step on it. Every step will show!" —Unknown
"A cold wind was blowing from the north, and it made the trees rustle like living things." —George R.R. Martin
"Well, I know now. I know a little more how much a simple thing like a snowfall can mean to a person." —Sylvia Plath
"It snowed and snowed, the whole world over, Snow swept the world from end to end. A candle burned on the table; A candle burned." —Boris Pasternak
Top Ten Snow Quotes and Sayings
Here you will find top ten snow quotes and sayings selected by our team.
"Be like snow – cold, but beautiful." —Lana Del Rey
"Snow provokes responses that reach right back to childhood." —Andy Goldsworthy
"Suppose we did our work like the snow, quietly, quietly,leaving nothing out." —Wendell Berry
"When snow falls, nature listens." —Antoinette van Kleef
"We build statues out of snow, and weep to see them melt." —Walter Scott
"A lot of people like snow. I find it to be an unnecessary freezing of water." —Carl Reiner
"Nature has no mercy at all. Nature say, 'I'm going to snow. If you have on a bikini and no snowshoes, that's tough. I am going to snow anyway." —Maya Angelou
"January brings the snow, makes our feet and fingers glow." —Sara Coleridge
"Advice is like snow – the softer it falls, the longer it dwells upon, and the deeper it sinks into the mind." —Samuel Taylor Coleridge
"There's just something beautiful about walking in snow that nobody else has walked on. It makes you believe you're special." —Carol Rifka Brunt