In this post, you will find amazing adventure quotes and sayings.
Short Adventure Quotes and Sayings
"Adventure is worthwhile." —Aesop
"Life is either a great adventure or nothing." —Helen Keller
"Travel far enough, you meet yourself." —David Mitchell
"Jobs fill your pockets, but adventures fill your soul." —Jaime Lyn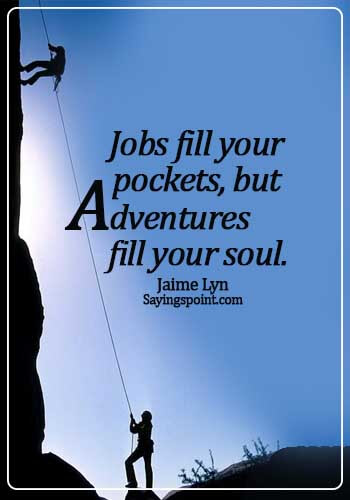 "There is no certainty; there is only adventure." —Roberto Assagioli
"Adventure must start with running away from home." —William Bolitho
"I have but one life to give to adventure." —Unknown
"A journey is best measured in friends, rather than miles." —Tim Cahill
"Travelers are dreamers, who make their desires for adventure a reality." —Unknown
"He who does not travel does not know the value of men." —Moorish proverb
"Life was meant for good friends and great adventures." —Unknown
"The biggest adventure you can take is to live the life of your dreams." —Oprah Winfrey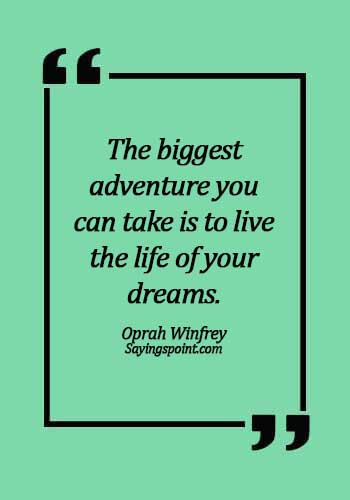 "Adventure is not outside man; it is within." —George Eliot
"Adventure is in the eye of the beholder." —Annie Andre
"Adventures are to the adventurous." —Benjamin Disraeli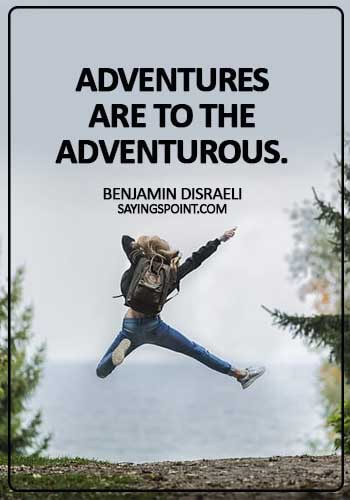 "If things seem under control, you are just not going fast enough." —Mario Andretti
"How beautiful it is to get up and go out and do something." —Kurt Vonnegut
"A ship in a harbor is safe, but it not what ships are built for." —John A. Shedd
"You must go on adventures to find out where you truly belong." —Sue Fitzmaurice
"I decided that adventure was the best way to learn about writing." —Lloyd Alexander
"Knowledge is an unending adventure at the edge of uncertainty." —Jacob Bronowski
"Life was meant for big adventures and good friends." —Unknown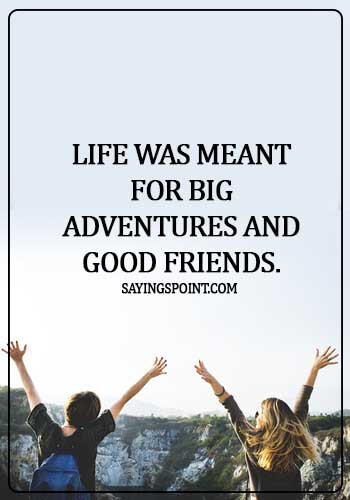 "I decided that adventure was the best way to learn." —Lloyd Alexander
"One way to get the most out of life is to look upon it as an adventure." —William Feather
"War is not an adventure. It is a disease. It is like typhus." —Antoine de Saint-Exupery
"As soon as I saw you, I knew an adventure was about to happen." —Winnie the Pooh
"Adventure is the child of courage." —Jonathan Lockwood Huie
"A work of art is above all an adventure of the mind." —Eugene Ionesco
Adventure Quotes and Sayings
"Adventure isn't hanging on a rope off the side of a mountain. Adventure is an attitude that we must apply to the day to day obstacles in life." —John Amatt
"Always there has been an adventure just around the corner–and the world is still full of corners." —Roy Chapman Andrews
"Never say 'no' to adventures. Always say 'yes', otherwise you'll lead a very dull life." —Ian Fleming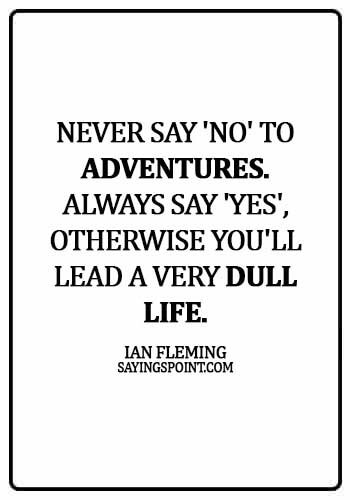 "Everything a human being wants can be divided into four components: love, adventure, power and fame." —Matthew Heywood
"Do not go where the path may lead, go instead where there is no path and leave a trail." —Ralph Waldo Emerson
"It is only in adventure that some people succeed in knowing themselves – in finding themselves." —Andre Gide
"An adventure is only an inconvenience rightly considered. An inconvenience is only an adventure wrongly considered." —G. K. Chesterton
"Don't die without embracing the daring adventure your life was meant to be." —Steve Pavlina
"If adventure does not wait on the doorstep, climb out through the window." —Loesje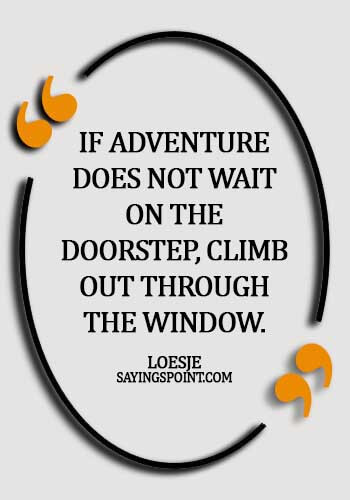 "Every man can transform the world from one of monotony and drabness to one of excitement and adventure." —Irving Wallace
"We live in a wonderful world that is full of beauty, charm and adventure. There is no end to the adventures we can have if only we seek them with our eyes open." —Jawaharial Nehru
"A life without adventure is likely to be unsatisfying, but a life in which adventure is allowed to take whatever form it will is sure to be short." —English Proverb
"I am not afraid of storms for I am learning how to sail my ship." —Louisa May Alcott
"Remember that happiness is a way of travel – not a destination." —Roy M. Goodman
"Fill your life with adventures, not things. Have stories to tell not stuff to show." —Unknown
"Two roads diverged in a wood, and I – I took the one less traveled by." —Robert Frost
"Do not lose hold of your dreams or aspirations. For if you do, you may still exist but you have ceased to live." —Henry David Thoreau
"All journeys have secret destinations of which the traveler is unaware." —Martin Buber
"A mind that is stretched by a new experience can never go back to its old dimensions." —Oliver Wendell Holmes, Jr.
"Travel makes one modest. You see what a tiny place you occupy in the world." —Gustav Flaubert
"Then one day, when you least expect it, the great adventure finds you." —Ewan Mcgregor
"I believe that all of us have the capacity for one adventure inside us, but great adventure is facing responsibility day after day." —William Gordon
"Adventures don't come calling like unexpected cousins calling from out of town. You have to go looking for them." —Unknown
"Man cannot discover new oceans unless he has the courage to lose sight of the shore." —Andre Gide
"Instead of trying to make your life perfect, give yourself the freedom to make it an adventure, and go ever upward." —Drew Houston
"If happiness is the goal – and it should be, then adventures should be top priority." —Richard Branson
"The man who goes alone can start today, but he who travels with another must wait till that other is ready." —Henry David Thoreau
"It is only in adventure that some people succeed in knowing themselves in finding themselves." —Andre Gide
"Be careful going in search of adventure – it's ridiculously easy to find." —William Least Heat-Moon
Top Ten Adventure Quotes and Sayings
Here you will find top ten adventure quotes and  sayings selected by our team.
"Adventures are to the adventurous." —Benjamin Disraeli
"Jobs fill your pockets, but adventures fill your soul." —Jaime Lyn
"The biggest adventure you can take is to live the life of your dreams." —Oprah Winfrey
"Knowledge is an unending adventure at the edge of uncertainty." —Jacob Bronowski
"Never say 'no' to adventures. Always say 'yes', otherwise you'll lead a very dull life." —Ian Fleming
"I am not afraid of storms for I am learning how to sail my ship." —Louisa May Alcott
"A life without adventure is likely to be unsatisfying, but a life in which adventure is allowed to take whatever form it will is sure to be short." —English Proverb
"Man cannot discover new oceans unless he has the courage to lose sight of the shore." —Andre Gide
"Adventure isn't hanging on a rope off the side of a mountain. Adventure is an attitude that we must apply to the day to day obstacles in life." —John Amatt
"If adventure does not wait on the doorstep, climb out through the window." —Loesje