In this post, you will find amazing diamond sayings.
Short Diamond Quotes and Sayings
"A diamond, is a woman's last resort to love." —Anthony Liccione
"No pressure, no diamonds." —Thomas Carlyle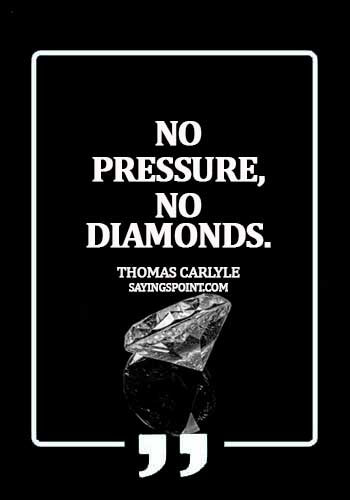 "Some people value sentiments over diamonds." —Cassandra Clare
"This diamond has so many carats it's almost a turnip." —Richard Burton
"A girl never cares who casts the first stone at her — as long as it's a diamond." —Evan Esar
"A diamond is just a piece of charcoal that handled stress exceptionally well." —Unknown
"Be like a diamond precious and rare not like a stone found everywhere." —Unknown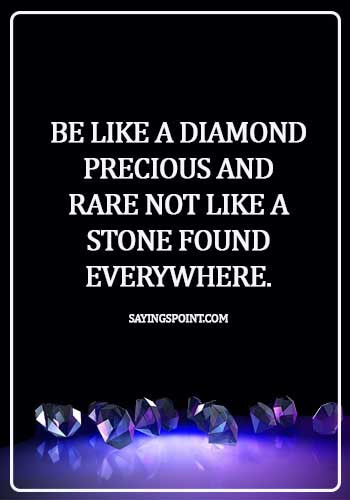 "Perhaps time's definition of coal is the diamond." —Khalil Gibran
"I do not want horses or diamonds – I am happy in possessing you." —Clara Schumann
"Diamonds never leave you… men do!" —Shirley Bassey
"Adversity is the diamond dust Heaven polishes its jewels with." —Thomas Carlyle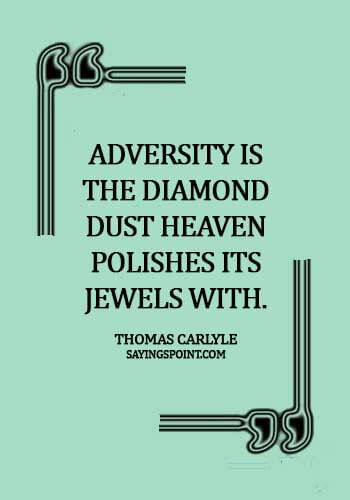 "It is better to have old second-hand diamonds than none at all." —Mark Twain
"Whoever said that diamonds are a girl's best friend never had a dog." —Unknown
"When you hold me, I'm alive. We're like diamonds in the sky." —Rihanna
"The heart of woman is like a diamond, who need a good skilled hunter." —Eyden I
"I'd rather have roses on my table than diamonds on my neck." —Emma Goldman
"Each of us is like a diamond, and each of us has the potential to be brilliant." —Simon T Bailey
"He sparked on his body that reflect like mini mirrors of diamond." —Stephenie Meyer
"Invest in the human soul. Who knows, it might be a diamond in the rough." —Mary McLeod Bethune
"You're a diamond, dear. They can't break you." —Unknown
"I never hated a man enough to give him his diamonds back." —Zsa Zsa Gabor
"Diamonds are forever, my youth is not." —Jill St. John
"It's hard to be a diamond in a rhinestone world." —Unknown
"Life keeps throwing me stones. And I keep finding the diamonds." —Ana Claudia Antunes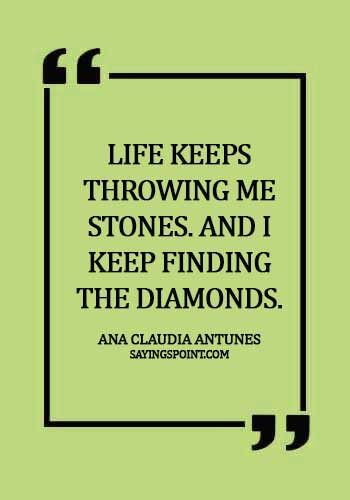 "Jewelry takes people's minds off your wrinkles!" —Onja Henie
"A tooth is much more to be prized than a diamond." —Miguel de Cervantes Saavedra
"I was never the little girl who dreampt about some rich guy buying her jewelry." —Ellen Barkin
"Through darkness diamonds spread their richest light." —John Webster
"Big girls need big diamonds." —Elizabeth Taylor
"Don't lose a diamond while chasing glitter honey." —Dinah
"Many individuals have, like uncut diamonds, shining qualities beneath a rough exterior." —Juvenal
"Treason is like diamonds; there is nothing to be made by the small trader." —Unknown
Diamond Quotes and Sayings
"You wander from room to room hunting for a diamond necklace that is already around your neck." —Rumi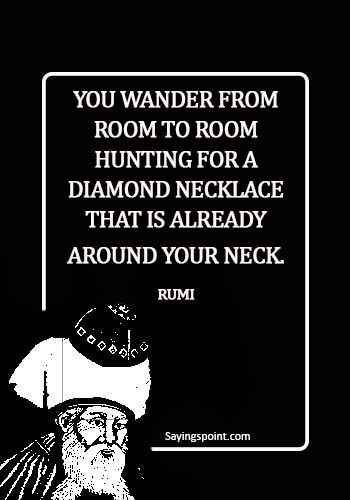 "Remember diamonds are created under pressure so hold on; it will be your time to shine soon." —Sope Agbelusi
"My teachers treated me as a diamond in the rough, someone who needed smoothing." —Mother Jones
"True friends are like diamonds – bright, beautiful, valuable, and always in style." —Nicole Richie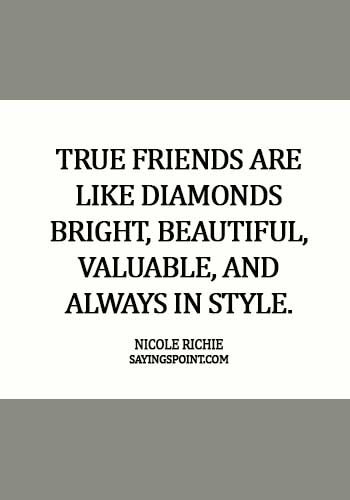 "No gold-digging for me; I take diamonds! We may be off the gold standard someday." —Mae West
"The soul is placed in the body like a rough diamond, and must be polished, or the luster of it will never appear." —Daniel Defoe
"I have learned that not diamonds but divorce lawyers are a girl's best friend." —Zsa Zsa Gabor
"Whether we fall by ambition, blood, or lust, like diamonds we are cut with our own dust." —John Webster
"When we long for life without difficulties, remind us that oaks grow strong in contrary winds and diamonds are made under pressure." —Peter Marshall
"Let us not be too particular; it is better to have old secondhand diamonds than none at all." —Mark Twain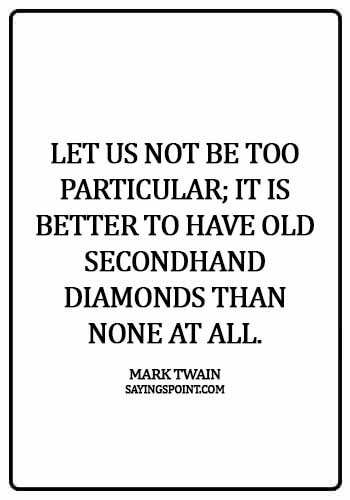 "The rarest things in the world, next to a spirit of discernment, are diamonds and pearls." —Jean de la Bruyere
"A fine quotation is a diamond on the finger of a witty person, but a pebble in the hands of a fool." —Unknown
"A diamond, incarcerated in its subterraneous prison, rough and unpolished, differs not from a common stone." —Charles Caleb Colton
"Diamonds have an image of purity and light. They are given as a pledge of love and worn as a symbol of commitment." —Peter Singer
"It is no more easy to make a good picture than it is to find a diamond or a pearl. It means trouble and you risk your life for it." —Vincent Van Gogh
"There are two kinds of diamonds in this world: The diamond itself and the eyes full of love!" —Mehmet Murat ildan
"Every diamond has the ability to shine when there is someone to recognize its good facets and inhibit its flaws." —Wes Fesler
"There are three things extremely hard: steel, a diamond, and to know one's self." —Benjamin Franklin
"If wisdom and diamonds grew on the same tree we could soon tell how much men loved wisdom." —Lemuel K. Washburn
"I'm Jewish. I don't work out. If God had wanted us to bend over, He would have put diamonds on the floor." —Joan Rivers
"Angels are like diamonds. They can't be made. You have to find them. Each one is unique." —Jaclyn Smith
"Got no diamond, got no pearl, still I think I'm a lucky girl, I got the sun in the morning and the moon at night." —Arving Berlin
"Better to be a strong man with a weak point, than to be a weak man without a strong point. A diamond with a flaw is more valuable that a brick without a flaw." —William J. H. Boetcker
Top Ten Diamond Quotes and Sayings
Here you will find top ten Diamond Quotes and Sayings selected by our team.
"Let us not be too particular; it is better to have old secondhand diamonds than none at all." —Mark Twain
"If wisdom and diamonds grew on the same tree we could soon tell how much men loved wisdom." —Lemuel K. Washburn
"The soul is placed in the body like a rough diamond, and must be polished, or the luster of it will never appear." —Daniel Defoe
"No pressure, no diamonds." —Thomas Carlyle
"Life keeps throwing me stones. And I keep finding the diamonds." —Ana Claudia Antunes
"True friends are like diamonds – bright, beautiful, valuable, and always in style." —Nicole Richie
"The rarest things in the world, next to a spirit of discernment, are diamonds and pearls." —Jean de la Bruyere
"You wander from room to room hunting for a diamond necklace that is already around your neck." —Rumi
"Angels are like diamonds. They can't be made. You have to find them. Each one is unique." —Jaclyn Smith
"Adversity is the diamond dust Heaven polishes its jewels with." —Thomas Carlyle