In this post, you will find amazing greed quotes and sayings.
Short Greed Quotes and Sayings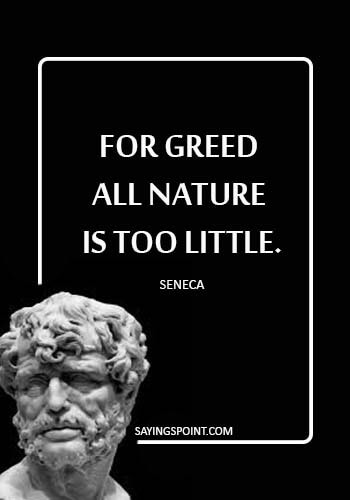 "For greed all nature is too little." —Seneca
"It is not the man who has little, but he who desires more, that is poor." —Seneca
"Man can satisfy his needs but not his greed." —Rahul Jaiswal
"What good is honour when greed eats away at its foundations?" —Alexandra Bracken
"Hell has three gates: lust, anger, and greed." —Bhagavad Gita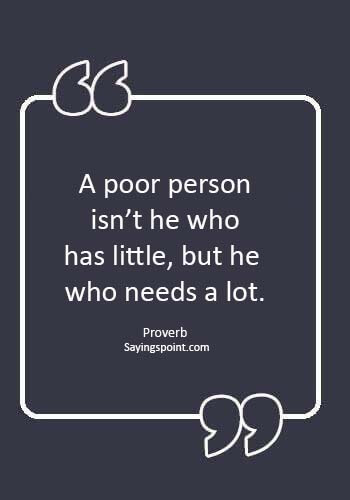 "A poor person isn't he who has little, but he who needs a lot." —Proverb
"Big mouthfuls often choke." —Italian proverb
"Greed is merely a species of nearsightedness." —Henry Ford
"Greed is the inventor of injustice as well as the current enforcer." —Julian Casablancas
"We're all born brave, trusting and greedy, and most of us remain greedy." —Mignon McLaughlin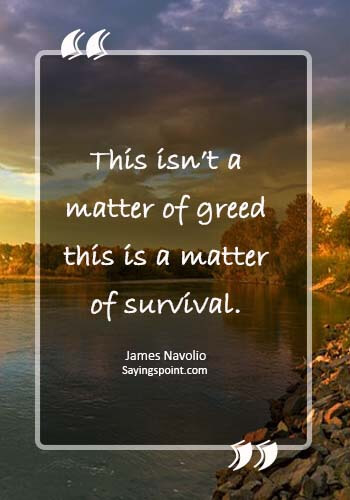 "This isn't a matter of greed — this is a matter of survival." —James Navolio
"A house built on greed cannot long endure." —Edward Abbey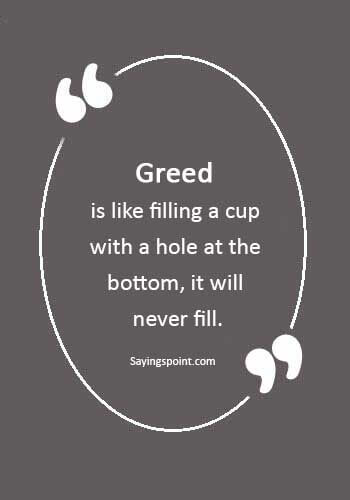 "Greed is like filling a cup with a hole at the bottom, it will never fill." —Unknown
"Many have too much, but none enough." —Proverb
"If your desires be endless, your cares and fears will be so too." —Thomas Fuller
"Avarice has ruined more souls than extravagance." —Charles Caleb Colton
"Greed bows to me. It is my servant and my lever." —Leigh BArdugo 
"Greed is not a financial issue. It's a heart issue." —Andy Stanley
"Those who are greedy of praise prove that they are poor in merit." —Plutarch
"Is society a victim of it's own greed?" —Anthony T.Hincks
"I'm fat because I'm greedy, and if my mind is fat it's because I'm curious." —Stephen Fry
"Greedy eaters dig their graves with their teeth." —Proverb
"Greed, like the love of comfort, is a kind of fear." —Cyril Connolly
"A wise man should have money in his head, but not in his heart." —Jonathan Swift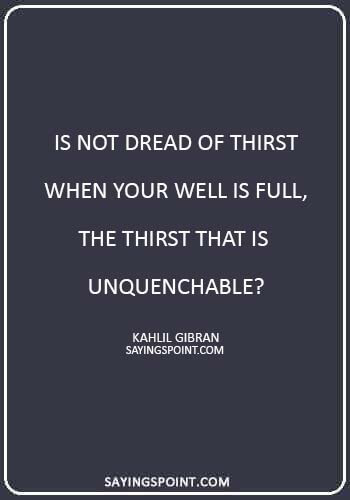 "Is not dread of thirst when your well is full, the thirst that is unquenchable?" —Kahlil Gibran
"A man can be cured of his lust, but a fool can never be cured of his greed." —Unknown
"In the race of men is much greed and envy; but of truth, little." —Lloyd Alexander
"The avarice person is ever in want; let your desired aim have a fixed limit." —Horace
"He who is greedy is always in want." —Horace
"Fraud is the daughter of greed." —Jonathan Gash
"The only things in this world which are never satisfied are woman and greed." —Rahul Jaiswal
"Greed breeds envy which in turn breeds destruction." —Unknown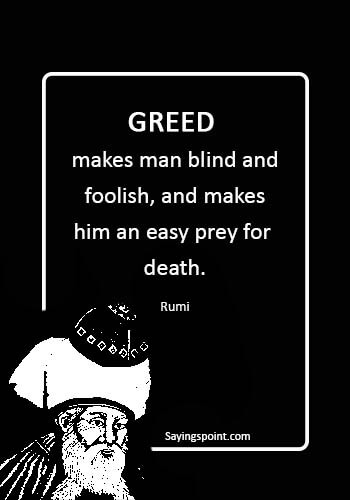 "Greed makes man blind and foolish, and makes him an easy prey for death." —Rumi    
"You show me a capitalist, and I'll show you a bloodsucker." —Malcolm X
Greed Quotes and Sayings
"Greed is a fat demon with a small mouth and whatever you feed it is never enough." —Janwillem Van De Wetering
"There is no calamity greater than lavish desires There is no greater guilt than discontentment And there is no greater disaster than greed." —Lao-tzu
"Leadership is a privilege to better the lives of others. It is not an opportunity to satisfy personal greed." —Mwai Kibaki
"With greed you can buy anything.With love you can have everything." —Anthony T.Hincks
"Jealousy is the cousin of greed. We seem to focus on what we want and lose sight of what we really need." —Unknown
"Men hate the individual whom they call avaricious only because nothing can be gained from him." —Voltaire
"There is a sufficiency in the world for man's need but not for man's greed." —Mahatma Gandhi
"From the first day to this, sheer greed was the driving spirit of civilization." —Friedrich Engels
"The difference between greed and ambition is a greedy person desires things he isn't prepared to work for." —Habeeb Akande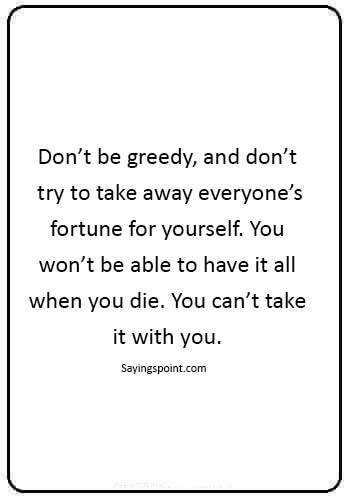 "Don't be greedy, and don't try to take away everyone's fortune for yourself. You won't be able to have it all when you die. You can't take it with you." —Unknown
"He who distinguishes the true savor of his food can never be a glutton; he who does not cannot be otherwise." —Henry David Thoreau
"Man is the only animal whose desires increase as they are fed; the only animal that is never satisfied." —Henry George
"Greed has driven the world crazy. And I think I'm lucky that I have a place over here that I can call home." —Nina Simone
"Greed is a bottomless pit which exhausts the person in an endless effort to satisfy the need without ever reaching satisfaction." —Erich Fromm
"The vision of a champion is bent over, drenched in sweat, at the point of exhaustion, when nobody else is looking." —Mia Hamm
"I have news for the forces of greed and the defenders of the status quo; your time has come and gone. It's time for change in America." —Bill Clinton
"Greed may not be good, but it's not so bad either. You humans believe that greed is just for money and power, but everyone wants something they don't have." —Unknown
"Greed is a way of avoiding making choices: if I have everything I don't have to choose what I want. And choosing what I want means giving up some pleasures for other pleasures." —Adam Phillips
Top Ten Greed Quotes and Sayings
Here you will find top ten Greed Quotes and Sayings selected by our team.
"Greed is like filling a cup with a hole at the bottom, it will never fill." —Unknown
"For greed all nature is too little." —Seneca
"Jealousy is the cousin of greed. We seem to focus on what we want and lose sight of what we really need." —Unknown
"Is not dread of thirst when your well is full, the thirst that is unquenchable?" —Kahlil Gibran
"Don't be greedy, and don't try to take away everyone's fortune for yourself. You won't be able to have it all when you die. You can't take it with you." —Unknown
"A poor person isn't he who has little, but he who needs a lot." —Proverb
"Men hate the individual whom they call avaricious only because nothing can be gained from him." —Voltaire
"There is a sufficiency in the world for man's need but not for man's greed." —Mahatma Gandhi
"This isn't a matter of greed — this is a matter of survival." —James Navolio
"Greed makes man blind and foolish, and makes him an easy prey for death." —Rumi