In this post, you will find amazing environment quotes and sayings.
Short Environment Quotes and Sayings
"A healthy environment makes a healthy man." —Unknown
"We won't have a society if we destroy the environment." —Margaret Mead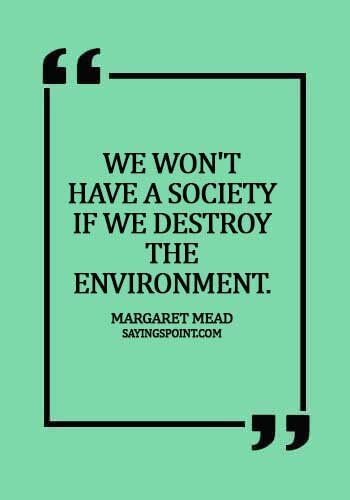 "I can find God in nature, in animals, in birds and the environment." —Pat Buckley
"The economy is a wholly owned subsidiary of the environment, not the reverse." —Herman E. Daly
"We don't inherit the earth from our ancestors, we borrow it from our children." —Unknown
"If you poison the environment, the environment will poison you." —Tony Follari
"Man is still the greatest miracle and the greatest problem on this earth." —David Sarnoff
"Everyone become a creation of their environment." —Steven Redhead
"Sometimes a creative environment affects what happens within it." —Peter Gabriel
"It is our duty to save environment's beauty." —Unknown
"We're all products of our environment. The key is not to fall." —Lamar Odom
"When the soil disappears, the soul disappears." —Terri Guillemets
"Man is the only animal that fouls its own nest." —Unknown
"We are the environment." —Charles Panati
"The environment is everything that isn't me." —Albert Einstein
"The education of women is the best way to save the environment." —E. O. Wilson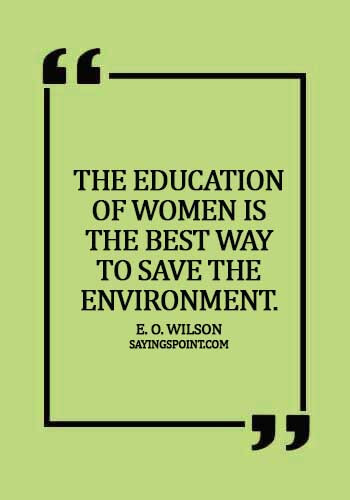 "We never know the worth of water till the well is dry." —Thomas Fuller
"The human race will be the cancer of the planet." —Julian Huxley
"Conservation of energy also protects our environment." —Lamar S. Smith
"Be careful the environment you choose for it will shape you." —Unknown
Environment Quotes and Sayings
"Environment is no one's property to destroy; it's everyone's responsibility to protect." —Mohith Agadi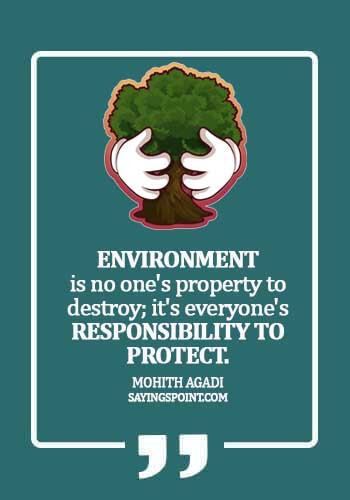 "It is horrifying that we have to fight our own government to save the environment." —Ansel Adams
"Be nice to the environment. Be nice to animals. Be nice to people. If you do that, you will leave a mark on the world." —Enock Maregesi
"Reduce Energy Consumption by buying efficient equipment and turning it *off* when it's not in use. This can save you money while you're helping the environment." —Donna Schwartz Mills
"The environment and the economy are really both two sides of the same coin if we cannot sustain the environment we cannot sustain ourselves." —Wangari Maathai
"We have modified our environment so radically that we must now modify ourselves to exist in this new environment." —Norbert Wiener
"The environment is where we all meet; where all have a mutual interest; it is the one thing all of us share." —Lady Bird Johnson
"The Truly Healthy environment is not merely safe but stimulating." —William H. Stewart
"When environment changes, there must be a corresponding change in life." —Charles Lindbergh
"Birds are indicators of the environment. If they are in trouble, we know we'll soon be in trouble." —Roger Tory Peterson
"The more we exploit nature, The more our options are reduced, until we have only one: to fight for survival." —Morris K. Udall
"A nation that destroys its soils destroys itself. Forests are the lungs of our land, purifying the air and giving fresh strength to our people." —Franklin D. Roosevelt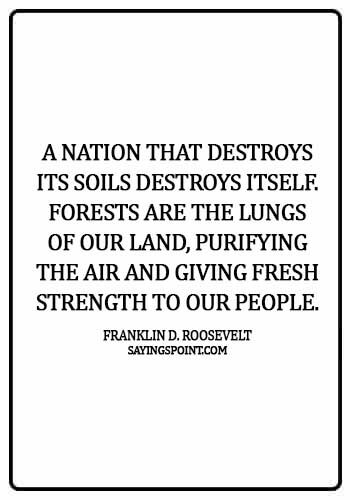 "Where the quality of life goes down for the environment, the quality of life goes down for humans." —George Holland
"People blame their environment. There is only one person to blame — and only one — themselves." —Robert Collier
"We don't have to sacrifice a strong economy for a healthy environment." —Dennis Weaver
"We must be certain that the repair to the environment is sufficient to allow wild species to recover and survive." —Unknown
"Earth is our mother. In spite of our desire to harm our mother, she will always love us forever." —Unknown
"Sooner or later, wittingly or unwittingly, we must pay for every intrusion on the natural environment." —Barry Commoner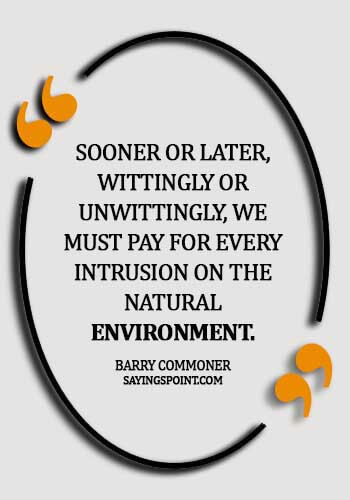 "It's when the forest dies that the habitat of animals comes closer to man." —Anthony T. Hincks
"Man must cease attributing his problems to his environment, and learn again to exercise his will – his personal responsibility in the realm of faith and morals." —Albert Schweitzer
"When a flower doesn't bloom you fix the environment in which it grows, not the flower." —Unknown
"Butterflies may be better indicators of the health of our environment than birds." —Roger Tory Peterson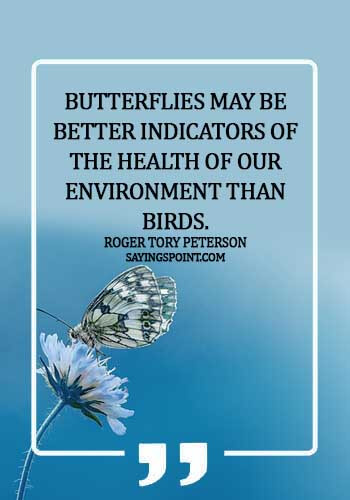 "Environmental extremists..wouldn't let you build a house unless it looked like a bird's nest." —Ronald Reagan
"A person is either the effect of his environment or is able to have an effect upon his environment." —L. Ron Hubbard
"Our environment, the world in which we live and work, is a mirror of our attitudes and expectations." —Earl Nightingale
"When the last tree is cut and the last fish killed, the last river poisoned, then you will see that you can't eat money." —John May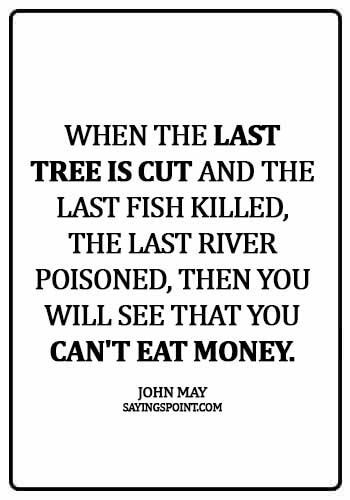 "One tree makes a million match sticks but only one match is needed to burn a million trees." —Unknown
"There's so much pollution in the air now that if it weren't for our lungs there'd be no place to put it all." —Robert Orben
"It isn't pollution that's harming the environment. It's the impurities in our air and water that are doing it." —Dan Quayle
Top Ten Environment Quotes and Sayings
Here you will find top ten environment quotes and sayings selected by our team.
"Environment is no one's property to destroy; it's everyone's responsibility to protect." —Mohith Agadi
"The education of women is the best way to save the environment." —E. O. Wilson
"A nation that destroys its soils destroys itself. Forests are the lungs of our land, purifying the air and giving fresh strength to our people." —Franklin D. Roosevelt
"The environment and the economy are really both two sides of the same coin if we cannot sustain the environment we cannot sustain ourselves." —Wangari Maathai
"When environment changes, there must be a corresponding change in life." —Charles Lindberg
Birds are indicators of the environment. If they are in trouble, we know we'll soon be in trouble." —Roger Tory Peterson
"Sooner or later, wittingly or unwittingly, we must pay for every intrusion on the natural environment." —Barry Commoner
"Butterflies may be better indicators of the health of our environment than birds." —Roger Tory Peterson
"When the last tree is cut and the last fish killed, the last river poisoned, then you will see that you can't eat money." —John May
"We won't have a society if we destroy the environment." —Margaret Mead