In this post, you will find amazing birds quotes and sayings.
Short Birds Quotes and Sayings
"No one is free, even the birds are chained to the sky." —Bob Dylan
"The early bird catches the worm." —William Camden
"Birds will always sing a song for those that they love." —Anthony T.Hincks
"The bird is powered by its own life and by its motivation." —A. P. J. Abdul Kalam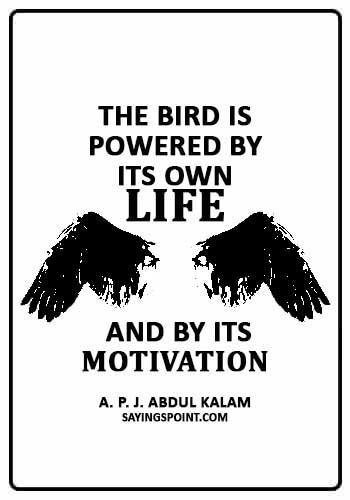 "A heart without dreams is like a bird without feathers." —Suzy Kassem
"The soul has illusions as the bird has wings: it is supported by them." —Victor Hugo
"Birds born in cages think that flying is an illness." —Alejandro Jodorowsky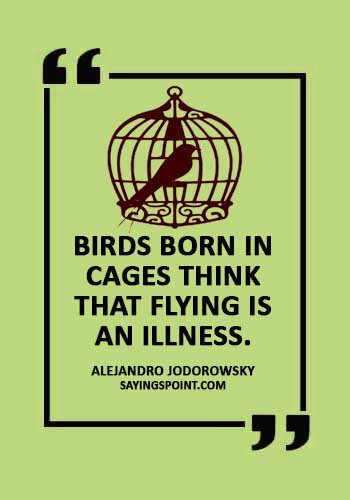 "Faith is the bird that feels the light when the dawn is still dark." —Rabindranath Tagore
"God loved the birds and invented trees. Man loved the birds and invented cages." —Jacques Deval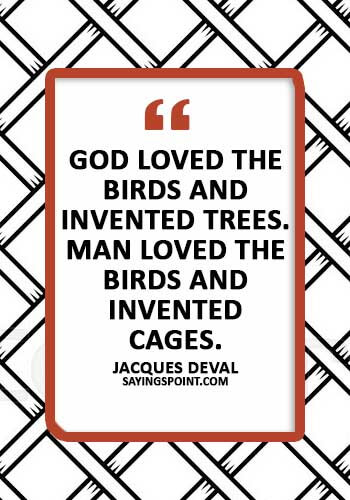 "Love is a bird… she needs to fly." —Madonna Ciccone
"In order to see birds it is necessary to become a part of the silence." —Robert Lynd
"No bird soars too high if he soars with his own wings." —William Blake
"Dear God make me a bird, so I can fly far far far away from here." —Unknown
"Birds are the eyes of Heaven." —Suzy Kassem
"A forest bird never wants a cage." —Henrik Ibsen
"Just remember it's the birds that's supposed to suffer, not the hunter." —George W. Bush
"Birds are not free since Men have invented cages." —Mehmet Murat ildan
"Birds of a feather flock together and crap on your car." —Unknown
"The bird a nest, the spider a web, man friendship." —William Blake
"If you listen to birds, every day will have a song in it." —Kyo Maclear
"God gives every bird its food, but He does not throw it into its nest." —Josiah Gilbert Holland
"It is not only fine feathers that make fine birds." —Aesop
"If I had to choose, I would rather have birds than airplanes." —Charles Lindbergh
Birds Quotes and ayings
"Birds look at us, and they're glad that we can't fly.We look at them, and we wish that we could." —Anthony T. Hincks
"It's impossible to explain creativity. It's like asking a bird, 'How do you fly?' You just do." —Eric Jerome Dickey
"Birds are indicators of the environment. If they are in trouble, we know we'll soon be in trouble." —Roger Tory Peterson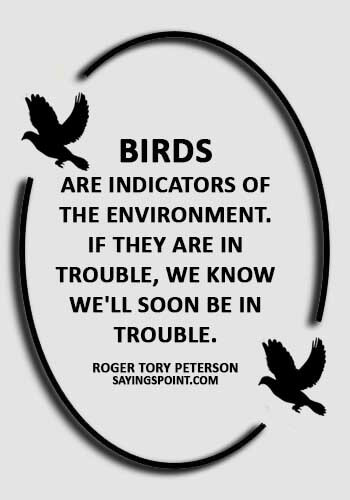 "It's just a job. Grass grows, birds fly, waves pound the sand. I beat people up." —Muhammad Ali
"I once asked a bird, how is it that you fly in this gravity of darkness? She responded, 'love lifts me.'" —Hafez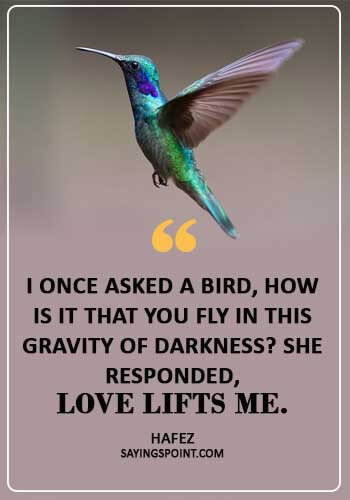 "Live life like a bird with freedom in the open skies and with no barriers to hold you back." —Hermann J Steinherr
"People live like birds in the woods: When the time comes, each must take flight." —Chinese Proverb
"Just as the bird needs wings to fly, a leader needs useful information to flow. Leaders learn." —Israelmore Ayivor
"A bird cannot fly with one wing only. Human space flight cannot develop any further without the active participation of women." —Valentina Tereshkova
"It is a matter of shame that in the morning the birds should be awake earlier than you." —Hazrat Abu Bakr Sadique
"Hold fast to dreams, for if dreams die, life is a broken-winged bird that cannot fly." —Langston Hughes
"A bird sitting on a tree is never afraid of the branch breaking because her trust is not on the branch but on it's own wings." —Always believe in yourself." —Unknown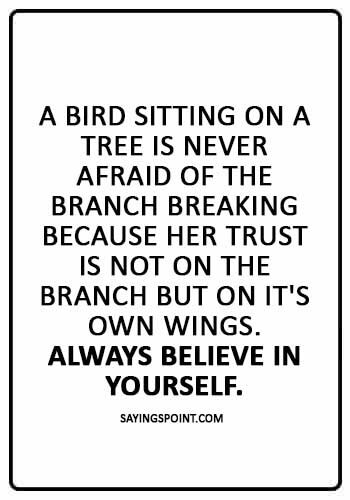 "You cannot prevent the birds of sorrow from flying over your head, but you can prevent them from building nests in your hair." —Chinese Proverb
"The reason birds can fly and we can't is simply because they have perfect faith, for to have faith is to have wings." —J.M. Barrie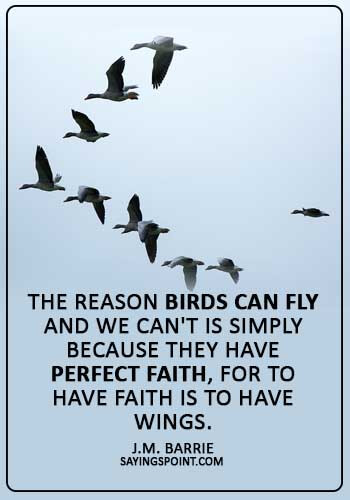 "In a street without any trees, birds represent the trees in the name of nature!" —Mehmet Murat ildan
"Man can now fly in the air like a bird, swim under the ocean like a fish, he can burrow into the ground like a mole. Now if only he could walk the earth like a man, this would be paradise." —Tommy Douglas
"Birds teach us something very important: To whatever height you rise, you will finally come down to the ground!" —Mehmet Murat ildan
"You can either be the bird who's too afraid to fly or the one who's too busy flying to feel scared." —Unknown
"Everyone likes birds. What wild creature is more accessible to our eyes and ears, as close to us and everyone in the world, as universal as a bird." —David Attenborough
"The bird dares to break the shell, then the shell breaks open and the bird can fly openly. This is the simplest principle of success. You dream, you dare and and you fly." —Israelmore Ayivor
"Put a bird cage near the window so that the bird can see the sky? It's much better to look than not to, even if it hurts." —Klaus Kinski
"Be grateful for luck. Pay the thunder no mind – listen to the birds. And don't hate nobody." —Eubie Blake
"A bird does not sing because it has an answer.  It sings because it has a song." —Chinese Proverb
"I value my garden more for being full of blackbirds than of cherries, and very frankly give them fruit for their songs." —Joseph Addison
"In winter, you fed the birds; and in summer, do the same thing! In winter, you gave them bread; and in summer, give them water!" —Mehmet Murat ildan
"Sometimes the early bird gets the worm, but sometimes the early bird gets frozen to death." —Myron Scholes
"Birds sing after a storm; why shouldn't people feel as free to delight in whatever remains to them?" —Rose F. Kennedy
Top Ten Birds Quotes and Sayings
Here you will find top ten Birds Quotes and  Sayings selected by our team.
"I once asked a bird, how is it that you fly in this gravity of darkness? She responded, 'love lifts me.'" —Hafez
"The reason birds can fly and we can't is simply because they have perfect faith, for to have faith is to have wings." —J.M. Barrie
"A bird sitting on a tree is never afraid of the branch breaking because her trust is not on the branch but on it's own wings. Always believe in yourself." —Unknown
"The bird is powered by its own life and by its motivation." —A. P. J. Abdul Kalam
"It's just a job. Grass grows, birds fly, waves pound the sand. I beat people up." —Muhammad Ali
"Birds born in cages think that flying is an illness." —Alejandro Jodorowsky
"Birds are indicators of the environment. If they are in trouble, we know we'll soon be in trouble." —Roger Tory Peterson
"God loved the birds and invented trees. Man loved the birds and invented cages." —Jacques Deval
"Birds look at us, and they're glad that we can't fly.We look at them, and we wish that we could." —Anthony T. Hincks
"It's impossible to explain creativity. It's like asking a bird, 'How do you fly?' You just do." —Eric Jerome Dickey