In this post, you will find amazing nervous quotes and sayings.
Short Nervous Quotes and Sayings
"A nervous silence loosens tongues." —Jacqueline Carey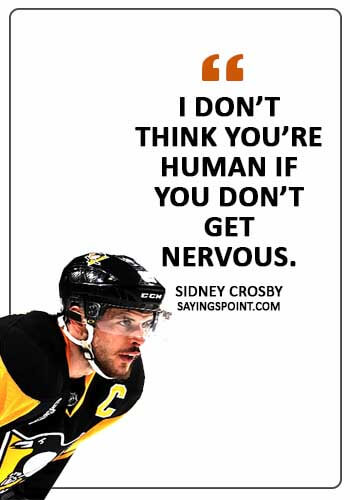 "I don't think you're human if you don't get nervous." —Sidney Crosby
"When you feel nervous, recall your pride." —Toba Beta
"Talking's just a nervous habit." —Martha Grimes
"I was so nervous…I just had to go shopping." —Usher
"If you're not nervous then you're not paying attention." —Miles Davis
"The sad truth is that excellence makes people nervous." —Shana Alexander
"I get irritated, nervous, very tense or stressed, but never bored." —Catherine Deneuve
"I think any man would be nervous if his liberty is at stake." —Wesley Snipes
"Make me nervous, I want to be shy and lose my mind because of you." —Unknown
"If you're not nervous, it means you don't care." —Tiger Woods
"Being nervous is a waste of time." —Lindsey Wixson
"If you go to a game nervous, you make a mistake." —Miguel Cabrera
"I know what it's like to be pregnant and nervous and poor." —Loretta Lynn
"The worst of all diseases is a nervous ability." —Unknown
"Tense and nervous are not the words, though they are the words." —Unknown
"The sad truth is that excellence makes people nervous." —Shana Alexander
"You can't control things by being nervous." —Tina Fey
"I wasn't nervous. Maybe I was a little bit concerned, but that's not the same thing." —Unknown
"I love to be nervous before a scene." —Kim Basinger
Nervous Quotes and Sayings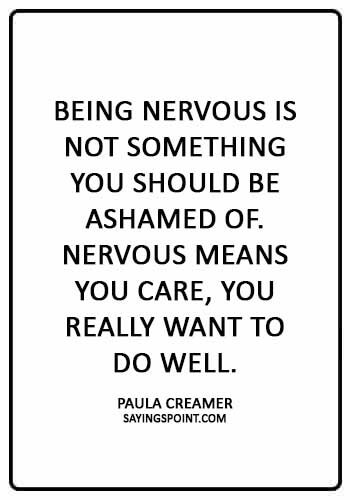 "Being nervous is not something you should be ashamed of. Nervous means you care, you really want to do well." —Paula Creamer
"When people are nervous, some people move around. Some people scratch their leg." —Beau Mirchoff
"A well adjusted person is one who makes the same mistake twice without getting nervous." —Alexander Hamilton
"When there's people on the other side of the room trying to wipe out your life and things are stacked against you, you can get nervous." —Jello Biafra
"One of the symptoms of an approaching nervous breakdown is the belief that one's work is terribly important." —Bertrand Russell
"My worst date would be with someone nervous who has nothing to say. I like people who inspire me." —Tamara Mellon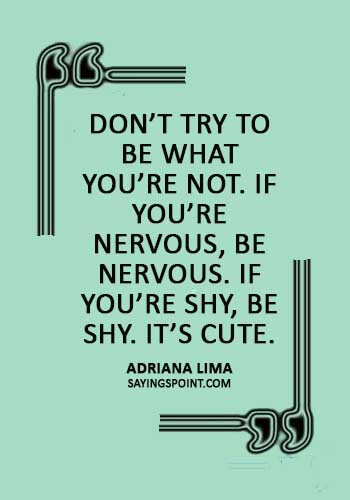 "Don't try to be what you're not. If you're nervous, be nervous. If you're shy, be shy. It's cute." —Adriana Lima
"I like to smile. I smile even when I'm nervous since it calms me down and shows my friendliness." —Yani Tseng
"The great thing, then, in all education, is to make our nervous system our ally instead of our enemy." —William James
"There is nothing more nervous than a million dollars – it moves very fast, and it doesn't speak any language." —Jean Chrétien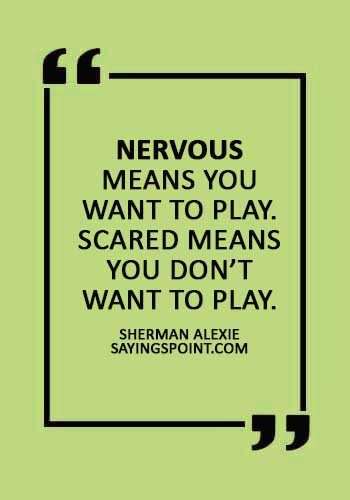 "Nervous means you want to play. Scared means you don't want to play." —Sherman Alexie
"Being nervous isn't bad. It just means something important is happening." —Michael Jordan
"Sometimes when I'm nervous, that's when the most interesting things happen." —Chelsea Peretti
"You're making me nervous by being so weird. But your weirdness is what I like about you." —Jaclyn Moriarty
"Be not nervous. In a very little while you will either be a member or you will not be." —R. A. Lafferty
"Nervousness doesn't make you a coward but makes you wise and conscious as you go forward." —Unknown
"Nervousness always provokes mistakes, and mistakes lead to easy convictions." —S.R. Ford
"Look, every guy is nervous when they talk to girls, but I find that little bit of nervousness to be kind of fun." —James Maslow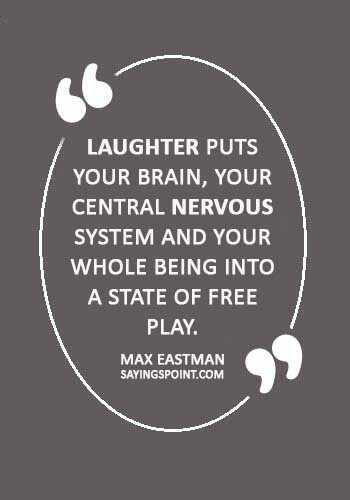 "Laughter puts your brain, your central nervous system and your whole being into a state of free play." —Max Eastman
"I've always been full of nervous energy, but I'm not really as happy as I seem." —Unknown
Don't Be Nervous Quotes and Sayings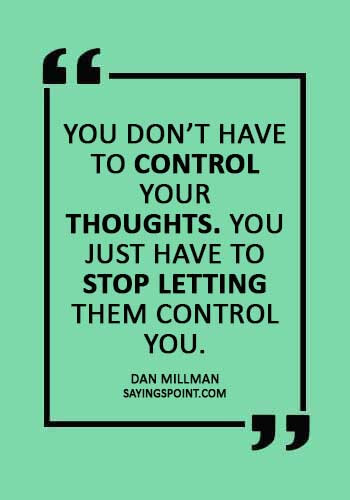 "You don't have to control your thoughts. You just have to stop letting them control you." —Dan Millman
"The only way to build confidence is through experience." —Unknown
"Do not take life too seriously. You will never get out of it alive." —Elbert Hubbard
"I used to get nervous so I took up Yoga to help me calm down." —Jim Sullivan
"Smile, breathe, and go slowly." —Thich Nhat Hanh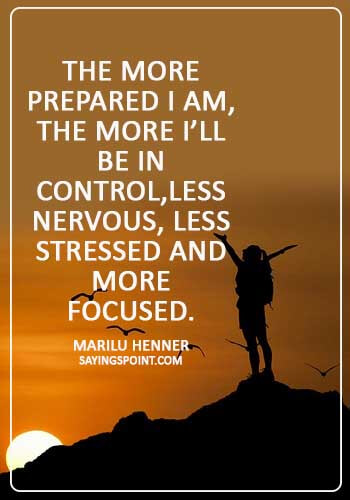 "The more prepared I am, the more I'll be in control,less nervous, less stressed and more focused." —Marilu Henner
"Nothing can bring you peace but yourself." —Ralph Waldo Emerson
"Always remember that you are absolutely unique. Just like everyone else." —Margaret Mead
Top Ten Nervous Quotes and Sayings
Here you will find top ten nervous quotes and sayings selected by our team.
"Being nervous is not something you should be ashamed of. Nervous means you care, you really want to do well." —Paula Creamer
"Tense and nervous are not the words, though they are the words." —Unknown
"I like to smile. I smile even when I'm nervous since it calms me down and shows my friendliness." —Yani Tseng
"A well adjusted person is one who makes the same mistake twice without getting nervous." —Alexander Hamilton
"You don't have to control your thoughts. You just have to stop letting them control you." —Dan Millman
"The more prepared I am, the more I'll be in control,less nervous, less stressed and more focused." —Marilu Henner
"Nervous means you want to play. Scared means you don't want to play." —Sherman Alexie
"Don't try to be what you're not. If you're nervous, be nervous. If you're shy, be shy. It's cute." —Adriana Lima
"I don't think you're human if you don't get nervous." —Sidney Crosby
"Laughter puts your brain, your central nervous system and your whole being into a state of free play." —Max Eastman