In this post, you will find amazing old friends quotes and sayings.
Short Old Friends Quotes and Sayings
"The best mirror is an old friend." —George Herbert
"To be with old friends is very warming and comforting." —Ian Ziering
"Old friends are the best friends!" —John Selden
"No one leaves an old friend unless they are ashamed." —Julian Casablancas
"Old wine and friends improve with age." —Unknown
"One old friend is better than two new ones." —Yiddish Proverb
"There's not a word yet for old friends who've just met." —Jim Henson
"A faithful friend is the medicine of life." —Unknown
"Seeing an old friend is like meeting them for the first time." —Unknown
"With clothes the new are the best, with friends the old are the best." —Unknown
"Making new friends shouldn't mean losing old ones." —Unknown
"We grow too old to lose old friends." —Beth Kephart
"You can'tmake old friends. You either have them or you don't." —Unknown
"It takes a long time to grow an old friend." —John Leonard
"Ah, how good it feels! The hand of an old friend." —Henry Wadsworth Longfellow
"One loyal friend is worth ten thousand relatives." —Unknown
"Finding an old friend is like finding a lost treasure." —Anthony Douglas Williams
"Your heart and my heart are very, very old friends." —Unknown
"A friend is one who knows us, but loves us anyway." —Fr. Jerome Cummings
Old Friends Quotes and Sayings
"When we forget old friends, it is a sign we have forgotten ourselves." —William Hazlitt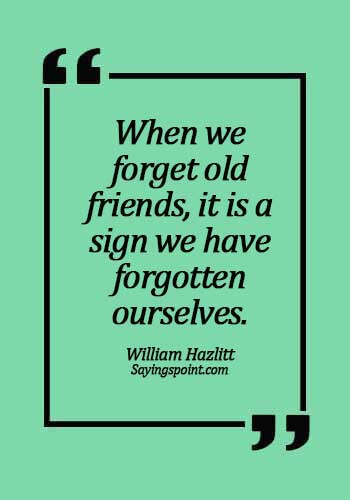 "Class reunions are ways of finding old friends and almost wishing that you hadn't." —Harriet Brook
"Old friends become bitter enemies on a sudden for toys and small offenses." —Robert Burton
"A friend is someone who is there for you when he'd rather be anywhere else." —Len Wein
"Old friends die on you, and they're irreplaceable. You become dependent." —Lionel Blue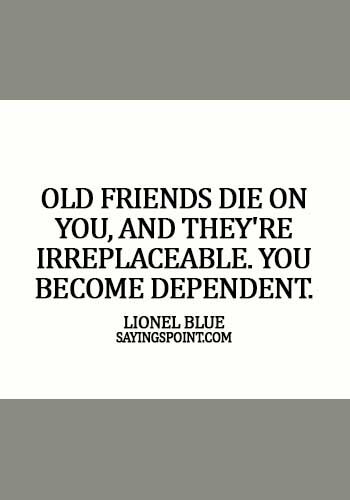 "Some possessions are like old friends, and you never want to abandon an old friend." —Nina Campbell
"Happiness is being with an old friend after a long time and feeling like nothing has changed." —Unknown
"Talking to an old friend makes you realize how much your life has changed." —Unknown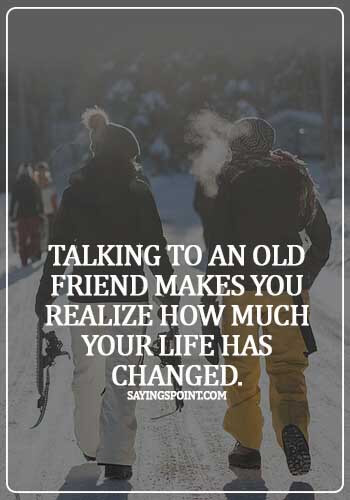 "I have no talent for making new friends, but oh such genius for fidelity to old ones." —Daphne du Maurier
"An old friend never can be found, and nature has provided that he cannot easily be lost." —Samuel Johnson
"It is one of the blessings of old friends that you can afford to be stupid with them." —Ralph Waldo Emerson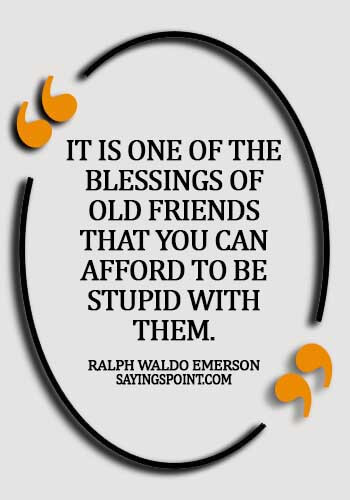 "Remember that the most valuable antiques are dear old friends." —H. Jackson Brown, Jr.
"There is nothing like puking with somebody to make you into old friends." —Sylvia Plath
"When old friends get together, everything else fades to insignificance." —Robert Lynn Aspri
"Old wood best to burn, old wine to drink, old friends to trust, and old authors to read." —Athenaeus
"It's an insane world but in it there is one sanity, the loyalty of old friends." —Stephen Boyd
"Condiments are like old friends – highly thought of, but often taken for granted." —Marilyn Kaytor
"Old friends pass away, new friends appear. It is just like the days. An old day passes, a new day arrives. The important thing is to make it meaningful: a meaningful friend – or a meaningful day." —Dalai Lama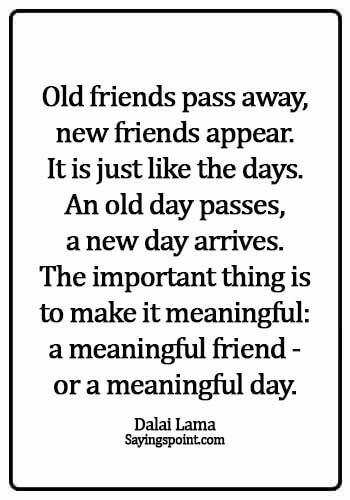 "Beautiful memories are like old friends. They may not always be on your mind, but they are forever in your heart." —Susan Gale
"It's the worst part of seeing old friends: when your rose-colored memories become undone by reality." —Brad Meltzer
"Lay this unto your breast: Old friends, like old swords, still are trusted best." —John Webster
"Yes'm, old friends is always best, 'less you can catch a new one that's fit to make an old one out of." —Sarah Orne Jewett
"Old Friends are like gold. New Friends are like diamonds. If you get diamonds don't forget gold, because only gold can hold a diamond." —Unknown
"In a better world we will find our young years and our old friends." —Jean Antoine Petit-Senn
"We need old friends to help us grow old and new friends to help us stay young." —Letty Cottin Pogrebin
Top Ten Old Friends Quotes and Sayings
Here you will find top ten old friends quotes and sayings selected by our team.
"The best mirror is an old friend." —George Herbert
"Old friends die on you, and they're irreplaceable. You become dependent." —Lionel Blue
"It is one of the blessings of old friends that you can afford to be stupid with them." —Ralph Waldo Emerson
"Talking to an old friend makes you realize how much your life has changed." —Unknown
"Old friends pass away, new friends appear. It is just like the days. An old day passes, a new day arrives. The important thing is to make it meaningful: a meaningful friend – or a meaningful day." —Dalai Lama
"It's an insane world but in it there is one sanity, the loyalty of old friends." —Stephen Boyd
"Making new friends shouldn't mean losing old ones." —Unknown
"In a better world we will find our young years and our old friends." —Jean Antoine Petit-Senn
"We need old friends to help us grow old and new friends to help us stay young." —Letty Cottin Pogrebin
"When we forget old friends, it is a sign we have forgotten ourselves." —William Hazlitt