Water is the tasteless, odorless and nearly colorless chemical substance. Water is one of the most important substance on the earth. Water is also one of the classical element in ancient Greek philosophy (earth, water, wind, fire and soul). All plants and animals must have water for survive. If there was no water there would be no life on earth. Apart from drinking to survive water has many uses such as for cooking, bathing, washing and for recreation (swimming pool). Up to 60% of human adult body is water. Water that is safe for drinking is called potable water. Sources of water include surface water, rivers, lakes, springs, bores and wells. Unfortunately water crisis is becoming one of the biggest issues globally. It already affects the every continent and around 2.8 billion people around the world at least one month out of every year. For the sake of our future generations we have to save water.
Here you will find decent water quotes and sayings. Which will motivate you to save water.
Short Water Sayings
Water Sayings
Top Ten Water Sayings
Short Water Sayings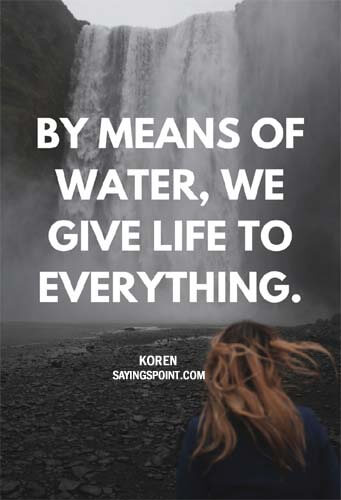 "By means of water, we give life to everything." —Koran
"If there is magic on this planet, it is contained in water." —Loren Eiseley
"Pure water is the world's first and foremost medicine." —Slovakian proverb
"Human nature is like water. It takes the shape of its container." —Wallace Stevens
"Whatever may be the occupation Water preservation is our obligation." —Unknown
"It is wise to bring some water when one goes out to look for water." —Arab Proverb
"Water is the only drink for a wise man." —Henry David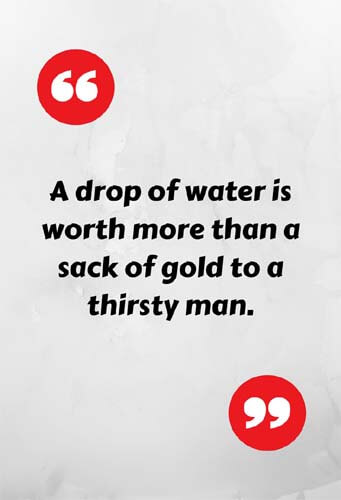 "A drop of water is worth more than a sack of gold to a thirsty man." —Unknown
"Water should not be judged by its history, but by its quality." —Dr Lucas Van Vuuren
"Only a fool tests the depth of the water with both feet." —African Proverb
"Wondering if you are Love is like the ocean wondering if it is water." —Unknown
"Our bodies are molded rivers." —Novalis
"Don't empty the water jar until the rain falls." —Philippine proverb
"My fake plants died because I did not pretend to water them." —Mitch Hedberg
"Life in us is like the water in a river." —Henry David Thoreau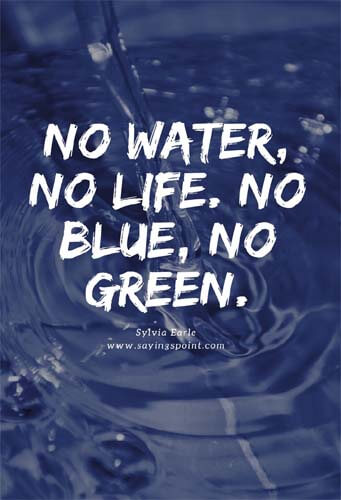 "No water, no life. No blue, no green." —Sylvia Earle
"You'll never miss the water 'til the well runs dry." —Alabamian W.C. Handy
"Some people feel the rain. Others just get wet." —Bob Marley
"All the water that will ever be is, right now." —National Geographic
"When snow falls, nature listens." —Antoinette van Kleeff
"Filthy water cannot be washed." —African Proverb
"We forget that the water cycle and the life cycle are one." —Jacques Cousteau
"Water is the driving force of all nature." —Leonardo da Vinci
"Water in the boat is the ruin of the boat, but water under the boat is its support." —Rumi
"Every drop in the ocean counts." —Yoko Ono
"A river is more than an amenity, it is a treasure." —Oliver Wendell Holmes
"I spin on the circle of wave upon wave of the sea." —Pablo Neruda
"A little water is a sea to an ant." —Afghan Proverb
"We never know the worth of water till the well is dry." —Thomas Fuller
"When the water starts boiling it is foolish to turn off the heat." —Nelson Mandela
"The frog does not drink up the pond in which he lives." —Proverb
"Whiskey is for drinking; water is for fighting over." —Mark Twain
"He that has satisfied his thirst turns his back on the well." —Baltasar Gracian
Water Sayings
"When the water is calm, take as much distance as possible with your boat." —Mehmet Murat ildan
"Women are like teabags. We don't know our true strength until we are in hot water." —Eleanor Roosevelt
"You can't cross the sea merely by standing and staring at the water." —Rabindranath Tagore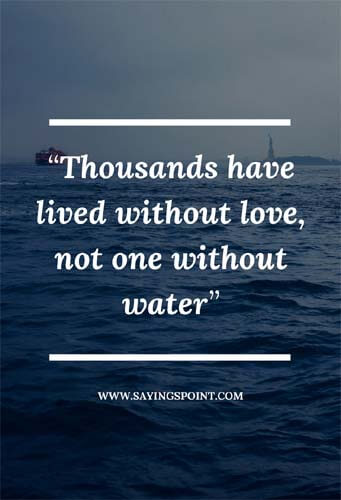 "Thousands have lived without love, not one without water." —W.H. Auden
"All water has a perfect memory and is forever trying to get back to where it was." —Toni Morrison
"A river cuts through rock not because of its power but because of its persistence." —Jim Watkins
"There are only three things women needs in life: food, water, and compliments." —Chris Rock
"It is life, I think, to watch the water. A man can learn so many things." —Nicholas Sparks
"To put your hands in a river is to feel the chords that bind the earth together." —Barry Lopez
"Who hears the rippling of rivers will not utterly despair of anything." —Henry David Thoreau
"You don't drown by falling in the water; you drown by staying there." —Edwin Louis Cole
"River is time in water; as it came, still so it flows, yet never is the same." —Barten Holyday
"The people are like water and the ruler a boat. Water can support a boat or overturn it." —William Shakespeare
"Rain is grace; rain is the sky condescending to the earth; without rain, there would be no life." —John Updike
"What makes the desert beautiful is that somewhere it hides a well." —Antoine de Saint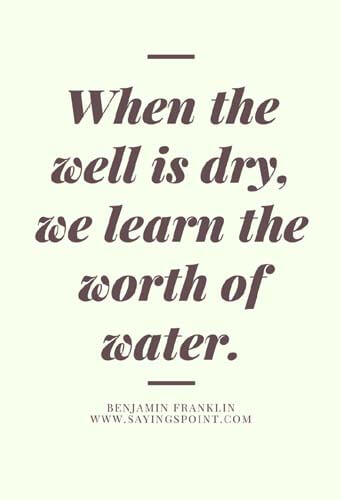 "When the well is dry, we learn the worth of water." —Benjamin Franklin
"Be transparent like glass, be flexible like water, and be attractive like a magnet." —Debasish Mridha
"No man ever steps in the same river twice, for it's not the same river and he's not the same man." —Heraclitus
"Water is life's mater and matrix, mother and medium. There is no life without water." —Albert Szent
"The water which rises in the mountain is the blood which keeps the mountain in life." —Leonardo da Vinci
"Water its living strength first shows, when obstacles its course oppose." —Johan Wolfgang
Top Ten Water Sayings
You will find here top ten water sayings selected by our team.
 "When the water is calm, take as much distance as possible with your boat." —Mehmet Murat ildan
"By means of water, we give life to everything." —Koran
"Thousands have lived without love, not one without water." —W.H. Auden
"When the well is dry, we learn the worth of water." —Benjamin Franklin
"You'll never miss the water 'til the well runs dry." —Alabamian W.C. Handy
"A river cuts through rock not because of its power but because of its persistence." —Jim Watkins
"A drop of water is worth more than a sack of gold to a thirsty man." —Unknown
"Pure water is the world's first and foremost medicine." —Slovakian proverb
"Don't empty the water jar until the rain falls." —Philippine proverb
"When the water starts boiling it is foolish to turn off the heat." —Nelson Mandela