In this post, you will find amazing Las Vegas sayings.
Short Las Vegas Sayings
"In Las Vegas, nothing ends very well." —Walter Wykes
"A little bit of this town goes a very long way." —Hunter S. Thompson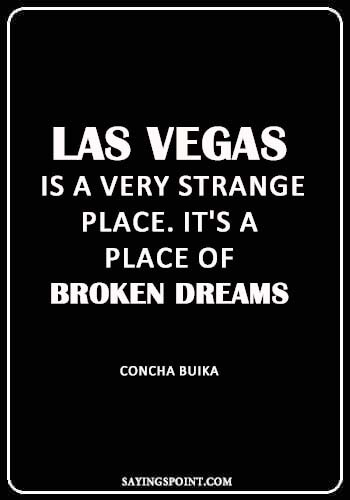 "Las Vegas is a very strange place. It's a place of broken dreams." —Concha Buika
"For a loser, Vegas is the meanest town on earth." —Hunter S. Thompson
"Every time I go to Vegas, I seem to incur some kind of fine." —Artie Lange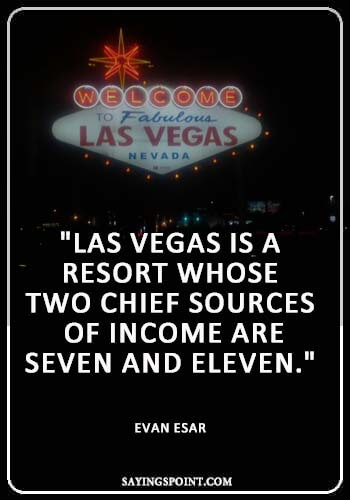 "Las Vegas is a resort whose two chief sources of income are seven and eleven." —Evan Esar
"Las Vegas: It was not cafe society, it was Nescafe society." —Noel Coward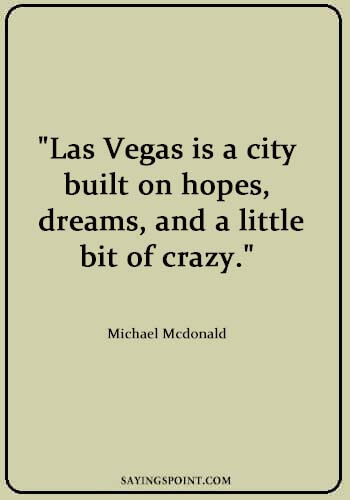 "Las Vegas is a city built on hopes, dreams, and a little bit of crazy." —Michael Mcdonald
"Hatred is not what Las Vegas is about." —Oscar Goodman
"Las Vegas — America's favorite desert mirage." —Terri Guillemets
"There's just no quiet in Vegas." —Barry Manilow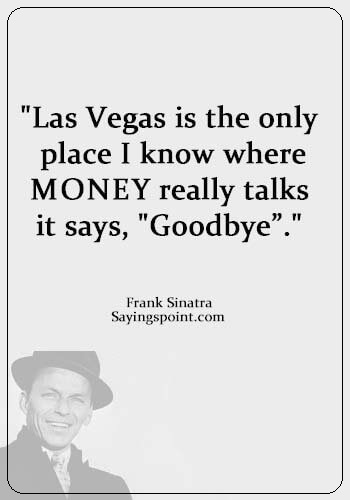 "Las Vegas is the only place I know where money really talks–it says, "Goodbye"." —Frank Sinatra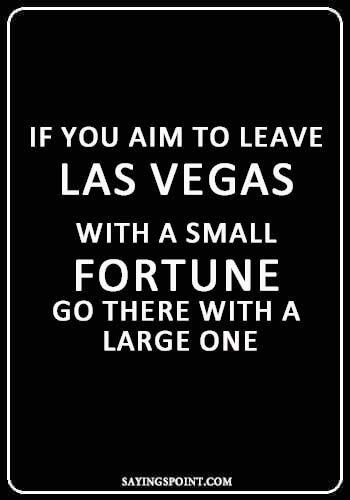 "If you aim to leave Las Vegas with a small fortune, go there with a large one." —Unknown
"I shouldn't be near Vegas and have money in my pocket." —Adam Sandler
"The people who say New York never sleeps must have never visited Las Vegas." —Michelle Madow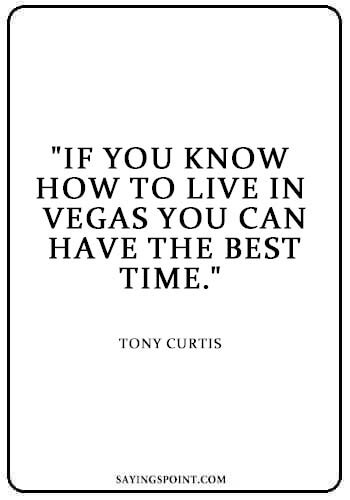 "If you know how to live in Vegas you can have the best time." —Tony Curtis
"Vegas is everything that's right with America." —Drew Carey
"Las Vegas without Wayne Newton is like Disneyland without Mickey Mouse." —Merv Griffin
"Good girls go to Heaven. Bad girls go to Vegas." —Unknown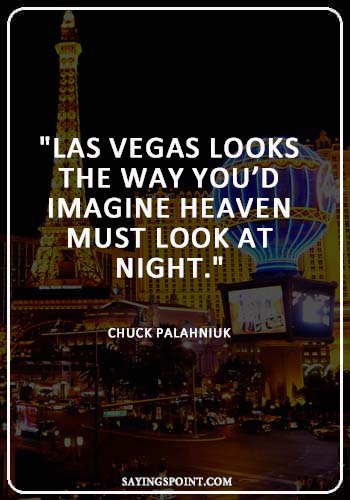 "Las Vegas looks the way you'd imagine heaven must look at night." —Chuck Palahniuk
"Capitalism is a warrior culture, a hierarchical mode, and Las Vegas is its epitome." —Hal Rothman
"Las Vegas, the most expensive toilet in the world that still can't flush." —Brin-Jonathan Butler
"Vegas is a celebration." —Jose Andres
"It's hard to imagine a bigger desert oasis than Las Vegas." —Unknown
"Vegas means comedy, tragedy, happiness and sadness all at the same time." —Artie Lange
"Bangkok, like Las Vegas, sounds like a place where you make bad decisions." —Todd Phillips
"Las Vegas is a feast or famine kind of city." —Unknown
Las Vegas Sayings
"No one thinks Las Vegas is real; it is illusion, but visitors willingly suspend disbelief and pretend." —Hal Rothman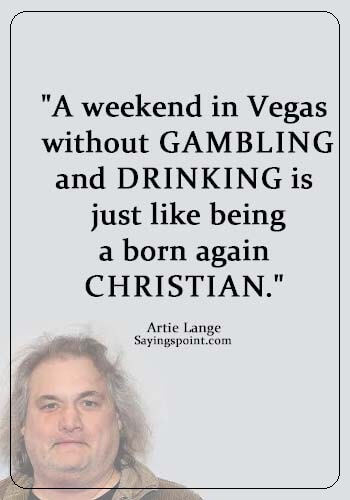 "A weekend in Vegas without gambling and drinking is just like being a born-again Christian." —Artie Lange
"Las Vegas is the suicide capital of America … and not everyone who comes here leaves here. Sometimes, what happens in Vegas truly stays in Vegas." —Paul W. Papa
"While I was busy hating Vegas, and hiding from Vegas, a funny thing happened. I grew to love Vegas." —J. R. Moehringer
"Las Vegas is the only town in the world whose skyline is made up neither of buildings, like New York, nor of trees, like Wilbraham, Massachusetts, but signs." —Tom Wolfe
"Vegas is everything that's right with America. You can do whatever you want, 24 hours a day. They've effectively legalized everything there." —Drew Carey
"Seriously, why tour the world when all you have to do is visit Las Vegas and see all the highlights in one location?" —Jeff Maguire
"I love Vegas. God knows that I know how to find my way around the buffets in Las Vegas." —Mick Majerus
"Las Vegas is like that, a place that resonates in such a way that wouldn't now if the place is real." —Ian  Astbury
"The only difference between Las Vegas and Washington, D.C. is that at least Vegas has the decency to admit the town is full of hookers and crooks." —Glenn Beck
"What happens in Vegas stays in Vegas … but that doesn't matter when you live there." —Michelle Madow
"Las Vegas: all the amenities of modern society in a habitat unfit to grow a tomato." —Jason Love
"Retirement is like a long vacation in Las Vegas. The goal is to enjoy it the fullest, but not so fully that you run out of money." —Jonathan Clements
"In Vegas, the veneer of glamor was bright but thin. You didn't have to look that hard to see the darker realities that lurked beneath the surface." —Rob Thomas
"I've been in Vegas. That's where you get into the money thing. Boy, you get greedy in Vegas, you know. That's the only place that you can bet $25, get it up to $500 and refuse to quit." —Louie Anderson
"It is not economic development; it's about taking money out of the consumer economy and shipping it off to Las Vegas." —John Warren
Top Ten Las Vegas Sayings
Here you will find top ten Las Vegas Sayings selected by our team.
"If you know how to live in Vegas you can have the best time." —Tony Curtis
"Las Vegas looks the way you'd imagine heaven must look at night." —Chuck Palahniuk
"Las Vegas is a resort whose two chief sources of income are seven and eleven." —Evan Esar
"If you aim to leave Las Vegas with a small fortune, go there with a large one." —Unknown
"Las Vegas is a very strange place. It's a place of broken dreams." —Concha Buika
"No one thinks Las Vegas is real; it is illusion, but visitors willingly suspend disbelief and pretend." —Hal Rothman
"A weekend in Vegas without gambling and drinking is just like being a born-again Christian." —Artie Lange
"Las Vegas is the only town in the world whose skyline is made up neither of buildings, like New York, nor of trees, like Wilbraham, Massachusetts, but signs." —Tom Wolfe
"Las Vegas is the only place I know where money really talks–it says, "Goodbye"." —Frank Sinatra
"Las Vegas is a city built on hopes, dreams, and a little bit of crazy." —Michael Mcdonald