In this post, you will find amazing bodybuilding Quotes and Sayings.
Short Bodybuilding Sayings
"The best activities for your health are pumping and humping." —Arnold Schwarzenegger
"A champion is someone who gets up when they can't." —Jack Dempsey
"Anyone under 200 pounds is a woman." —Matt Rhodes
"The hardest things in life are done the least and provide the most." —Greg Plitt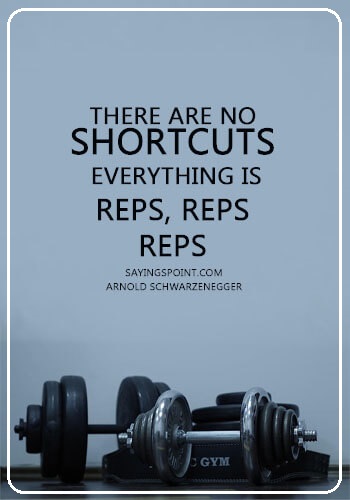 "There are no shortcuts. Everything is reps, reps, reps." —Arnold Schwarzenegger
"Remember this: your body is your slave; it works for you." —Jack Lalanne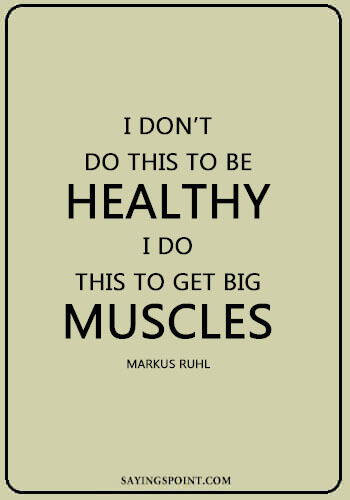 "I don't do this to be healthy, I do this to get big muscles." —Markus Ruhl
"I don't diet and exercise. I eat and train." —J.R. Rim
"I don't eat for taste, I eat for function." —Jay Cutler
"To be successful in bodybuilding you have to be a good observer." —Frank Zane
"A lifetime of training for just ten seconds." —Jesse Owens
"Biceps are like ornaments on a Christmas tree." —Ed Coan
"I'm the strongest bodybuilding who ever lived, I think." —Franco Columbu
"Bodybuilding is not only a sport but first an art." —Serge Nubret
"The pain of discipline is nothing like the pain of disappointment." —Justin Langer
"If you train hard, you'll not only be hard, you'll be hard to beat." —Herschel Walker
"The body is not a reliable friend." —Bangambiki Habyarimana
"When it comes down to it, it really is the little things that count most." —Robert Cheeke
Bodybuilding  Sayings
"Bodybuilders with goals succeed because they know where they're going." —Felicity Luckey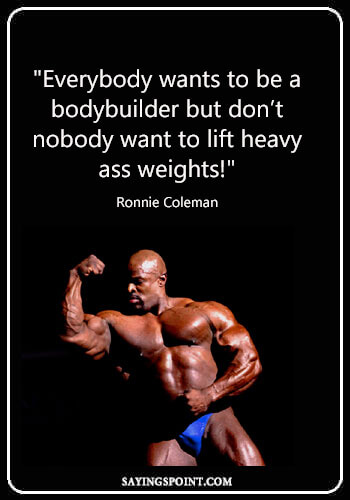 "Everybody wants to be a bodybuilder but don't nobody want to lift heavy ass weights!" —Ronnie Coleman
"Strength does not come from winning. Your struggles develop your strengths." —Arnold Schwarzenegger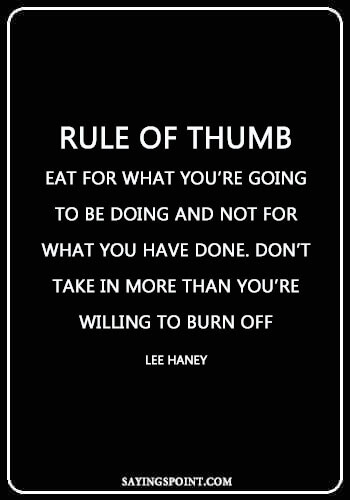 "Rule of thumb: Eat for what you're going to be doing and not for what you have done. Don't take in more than you're willing to burn off." —Lee Haney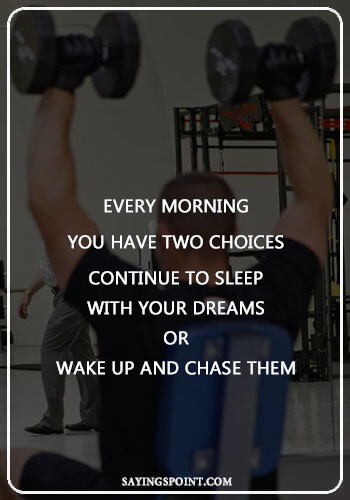 "Every morning you have two choices. Continue to sleep with your dreams or wake up and chase them." —Unknown
"I do the same exercises I did 50 years ago and they still work. I eat the same food I ate 50 years ago and it still works." —Arnold Schwarzenegger
"In training, you listen to your body. In competition, you tell your body to shut up." —Rich Froning
"It took me 20 years of hard training to get the physique I have today. What you need is what I had – belief in yourself!" —Branch Warren
"I don't believe in bodybuilders using steroids. If a man doesn't have enough male hormones in his system to create, a nice hard, muscular body, he should take up ping pong." —Steve Reeves
"If you want something you've never had, you must be willing to do something you've never done." —Thomas Jefferson
'Do you 'work out' or do you train? There is a difference both in your mindset and the results you get." —Ben Pakulski
"Hard work and training. There's no secret formula. I lift heavy, work hard and aim to be the best." —Ronnie Coleman
"Discipline is the bridge between your bodybuilding goals and bodybuilding success." —Felicity Luckey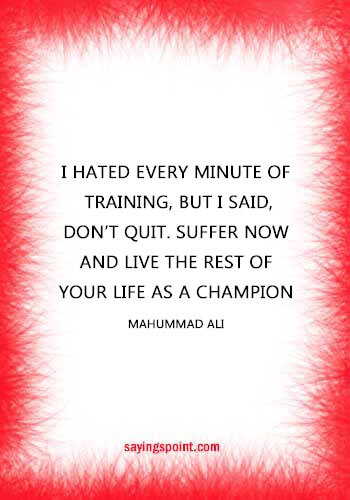 "I hated every minute of training, but I said, don't quit. Suffer now and live the rest of your life as a champion." —Mahummad Ali
"The single biggest mistake that most beginners make is putting 100% of their effort into the positive (concentric) part of the rep, while paying no attention to the negative (eccentric) segment." —Dorian Yates
"I believe that when the body is strong, the mind thinks strong thoughts." —Henry Rollins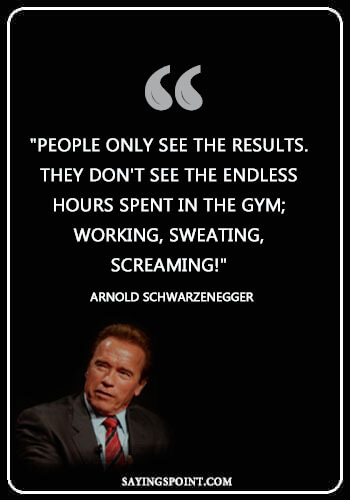 "People Only See The Results. They don't see the endless hours spent in the gym; working, sweating, screaming!" —Arnold Schwarzenegger
"Here is a key to long term lifting success. Do what you can, when you can, but never quit." —Steve Shaw
"Don't be scared to lift heavy! You won't get huge and bulky, you'll get amazing." —Jessie Hilgenberg
"Sell yourself short on nutrition and you're selling yourself short on maximizing your physique development." —Ernie Taylor
"If you don't follow a good nutritional plan, you're bodybuilding with one arm behind your back." —Shawn Ray
"Bodybuilding is about making oneself seem larger than life. It's about creating the illusion of perfection." —Mariah Nelson
Top Ten Bodybuilding Sayings
Here you will find top ten bodybuilding sayings selected by our team.
"Bodybuilders with goals succeed because they know where they're going." —Felicity Luckey
"Everybody wants to be a bodybuilder but don't nobody want to lift heavy ass weights!" —Ronnie Coleman
"There are no shortcuts. Everything is reps, reps, reps." —Arnold Schwarzenegger
"Sell yourself short on nutrition and you're selling yourself short on maximizing your physique development." —Ernie Taylor
"Strength does not come from winning. Your struggles develop your strengths." —Arnold Schwarzenegger
"Rule of thumb: Eat for what you're going to be doing and not for what you have done. Don't take in more than you're willing to burn off." —Lee Haney
"Every morning you have two choices. Continue to sleep with your dreams or wake up and chase them." —Unknown
"I don't do this to be healthy, I do this to get big muscles." —Markus Ruhl
"I hated every minute of training, but I said, don't quit. Suffer now and live the rest of your life as a champion." —Mahummad Ali
"People Only See The Results. They don't see the endless hours spent in the gym; working, sweating, screaming!" —Arnold Schwarzenegger