In this post, you will find amazing quit smoking quotes and sayings.
Short Quit Smoking Quotes and Sayings
"The best way to quit is to never start." —Unknown
"The best way to stop smoking is to just stop ? no ifs, ands or butts." —Edith Zittler
"The best way to stop smoking is to carry wet matches." —Unknown
"Thousands of people stop smoking a day – by dying from it." —Unknown
"Believe you can and you're halfway there." —Theodore Roosevelt
"Your life is in your hands, to make of it what you choose." —Unknown
"Burn calories, not cigarettes." —Unknown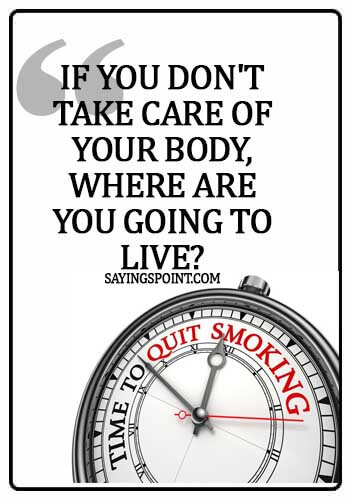 "If you don't take care of your body, where are you going to live?" —Unknown
"I would quit smoking, but nobody likes a quitter." —Unknown
"I'll stop smoking only if dogs stop eating bones." —Dersahat
"You are greater than your addiction." —Nasia Davos
"Is the value of your life really as cheap as a quick nicotine fix?" —Unknown
"It is easier to prevent bad habits than to break them." —Benjamin Franklin
"Whenever I think to quit smoking, I need a cigarette to think." —Unknown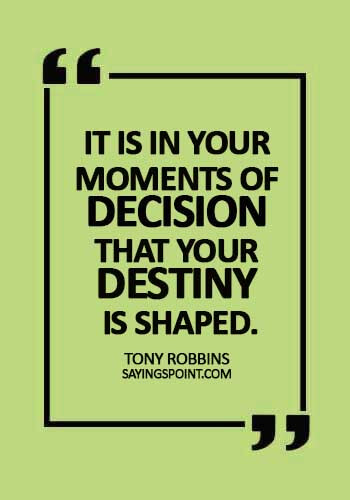 "It is in your moments of decision that your destiny is shaped." —Tony Robbins
"A journey of a thousand miles must begin with a single step." —Lao-Tzu
"With self-discipline most anything is possible." —Theodore Roosevelt
Quit Smoking Quotes and Sayings
"If we lose the battle against tobacco, we will lose the war against cancer." —Unknown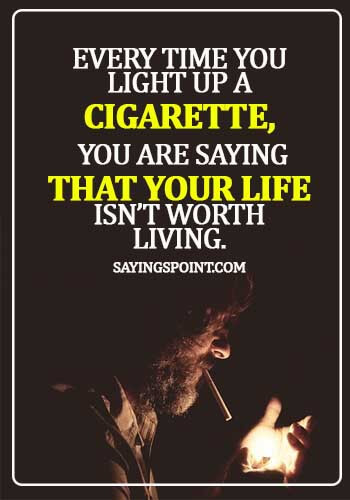 "Every time you light up a cigarette, you are saying that your life isn't worth living." —Unknown
"When you can stop, you don't want to, and when you want to stop, you can't." —Unknown
"Smoking says a lot about your personality. It shows that you don't care about your own health, your loved ones and how you influence your children." —Unknown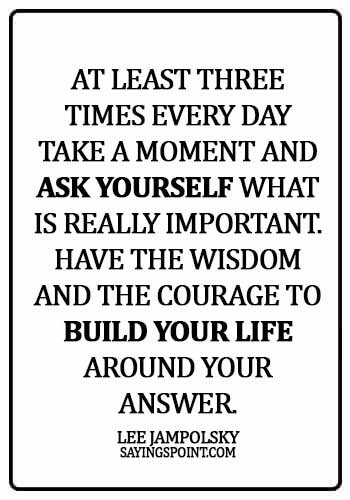 "At least three times every day take a moment and ask yourself what is really important. Have the wisdom and the courage to build your life around your answer." —Lee Jampolsky
"I count him braver who overcomes his desires than him who conquers his enemies; for the hardest victory is over self." —Aristotle
"The unfortunate thing about this world is that good habits are so much easier to give up than bad ones." —W.Somerset Maugham
"You're always better off if you quit smoking; it's never too late." —Loni Anderson
"A burnt cigarette ash said… A burnt … ash said,Today its me, because of you ! but Tomorrow its you, because of me!! . Quit smoking before smoking quits you." —Unknown
"To quit smoking, you must first want to quit, but then you must also do the quitting." —Johann Wolfgang von Goethe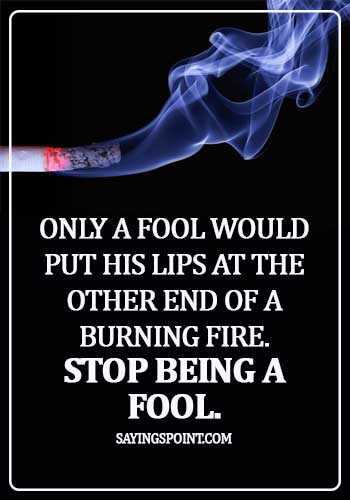 "Only a fool would put his lips at the other end of a burning fire. Stop being a fool." —Unknown
"Looking for motivation to quit smoking? Just look into the eyes of your loved ones and ask yourself if they deserve to die because of your second hand smoke." —Unknown
"The greatest discovery of my generation is that a human being can alter his life by altering his attitudes of mind." —William James
"Smoking is hateful to the nose, harmful to the brain, and dangerous to the lungs." —King James I
"I tried to stop smoking cigarettes by telling myself I just didn't want to smoke, but I didn't believe myself." —Barbara Kelly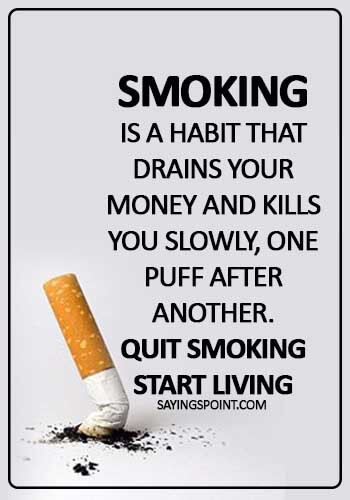 "Smoking is a habit that drains your money and kills you slowly, one puff after another. Quit smoking, start living." —Unknown
"Disadvantages of smoking are many but those of quitting are none. Advantages of smoking are none but those of quitting are many." —Unknown
"Gift your lungs oxygen not tar. Gift your body exercise not bad health. Gift your lips kisses not cigarette butts. Gift yourself a life not death." —Unknown
"Quitting cigarettes might be the hardest thing to do in life, but at least you will have one." —Unknown
"If knowing about the dangers of smoking were enough, almost no one would smoke." —Gudjon Bergmann
"Your craving to smoke is "temporary" but the damage to your lungs is "permanent". Which suffering will you chose?" —Unknown
"What you are is what you have been, and what you will be is what you do now." —Buddha
"Well, I quit smoking three weeks ago and I had a hard day today not smoking." —Eric Roberts
Top Ten Quit Smoking Quotes and Sayings
Here you will find top ten quit smoking quotes and sayings selected by our team.
"Your craving to smoke is "temporary" but the damage to your lungs is "permanent". Which suffering will you chose?" —Unknown
"It is in your moments of decision that your destiny is shaped." —Tony Robbins
"Your life is in your hands, to make of it what you choose." —Unknown
"Smoking is a habit that drains your money and kills you slowly, one puff after another. Quit smoking, start living." —Unknown
"Looking for motivation to quit smoking? Just look into the eyes of your loved ones and ask yourself if they deserve to die because of your second hand smoke." —Unknown
"I count him braver who overcomes his desires than him who conquers his enemies; for the hardest victory is over self." —Aristotle
"If you don't take care of your body, where are you going to live?" —Unknown
"At least three times every day take a moment and ask yourself what is really important. Have the wisdom and the courage to build your life around your answer." —Lee Jampolsky
"Only a fool would put his lips at the other end of a burning fire. Stop being a fool." —Unknown
"Every time you light up a cigarette, you are saying that your life isn't worth living." —Unknown