In this post, you will find driving Quotes and Sayings.
Short Driving Sayings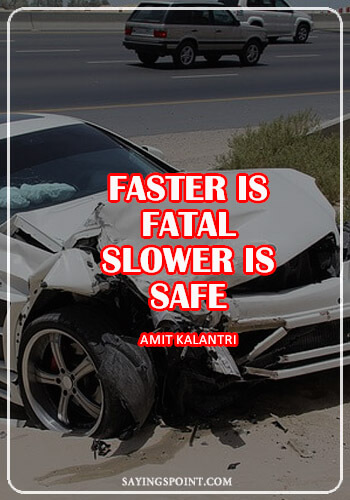 "Faster is fatal, slower is safe." —Amit Kalantri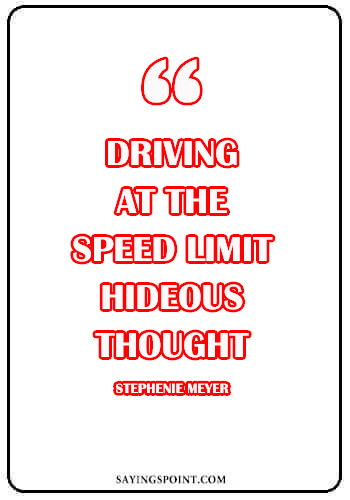 "Driving at the speed limit–hideous thought." —Stephenie Meyer
"You never really learn to swear until you learn to drive." —Unknown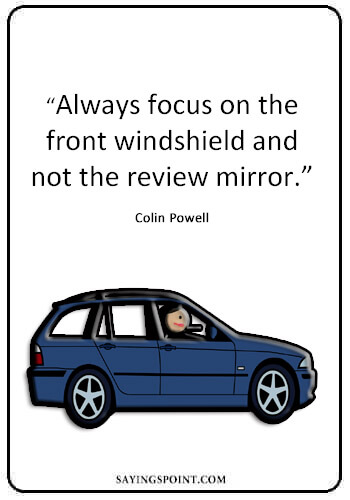 "Always focus on the front windshield and not the review mirror." —Colin Powell
"Driving at night is about communicating with lights." —Lukhman Pambra
"Until you've learned to drive, you've never really learned how to swear." —Robert Paul
"Love may be the best driving wheel, but anger is a pretty good second." —Steven Tyler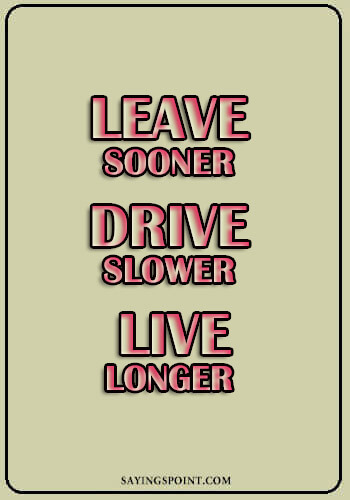 "Leave sooner, drive slower, live longer." —Unknown
"The driver that you have to sell on safety shouldn't be driving." —Kyle Petty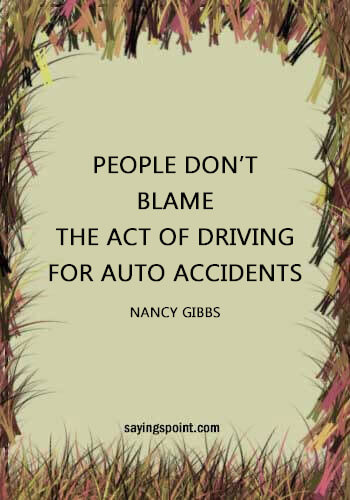 "People don't blame the act of driving for auto accidents." —Nancy Gibbs
"Take it easy driving– the life you save may be mine." —James Dean
"If everything comes your way, you are in the wrong lane." —Unknown
"Straight roads are for fast cars, turns are for fast drivers." —Colin McRae
"The best car safety device is a rear-view mirror with a cop in it." —Dudley Moore
"Hug your kids at home, but belt them in the car." —Unknown
"Driving in your world seems a bit dangerous." —Missy Lyons
"Just because you're sober, don't think you're a good driver, Cookie." —John Irving
"Driving like a man is one of her few foibles." —Elizabeth Wein
"A tree never hits an automobile except in self defense." —Woody Allen
"I quit driving, I'm not retired." —Richard Petty
"A city that outdistances man's walking powers is a trap for man." —Arnold Toynbee
Driving Sayings
"Driving with a blood alcohol level of 0.08 and above is illegal in every state." —Chuck Taylor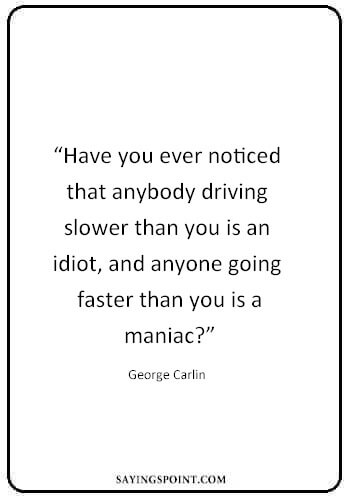 "Have you ever noticed that anybody driving slower than you is an idiot, and anyone going faster than you is a maniac?" —George Carlin
"Take care of your car in the garage, and the car will take care of you on the road." —Amit Kalantri
"A driver reaches a destination by driving on that road, not by laying back to enjoy the view." —Nabil N. Jamal
"If you are driving at the speed of light and you turn on your headlights, what happens?" —Unknown
"In driving, one assumes the danger of destroying life, beginning with one's own." —Richard T. Kelly
"If a neighbor is killed in a car accident, do you sell your car and stop driving?" —Mario Andretti
"Everything you need to get that relaxed driving that brings consistency only comes with practice." —John Surtees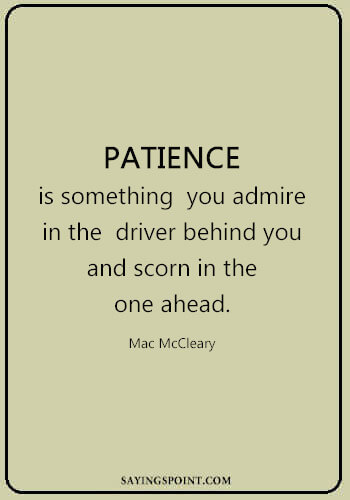 "Patience is something you admire in the driver behind you and scorn in the one ahead." —Mac McCleary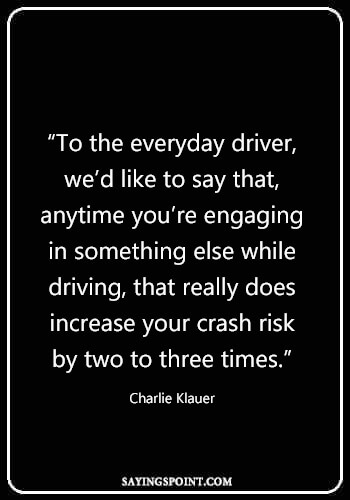 "To the everyday driver, we'd like to say that, anytime you're engaging in something else while driving, that really does increase your crash risk by two to three times." —Charlie Klauer
"Any man who can drive safely while kissing a pretty girl is simply not giving the kiss the attention it deserves." —Albert Einstein
"A driver reaches a destination by driving on that road, not by laying back to enjoy the view." —Nabil N. Jamal
"There's something infinitely fascinating or fatal about a woman behind the wheel." —Ahmed Mostafa
"Driving is a spectacular form of amnesia. Everything is to be discovered, everything to be obliterated." —Jean Baudrillard
"Reckless driving is operating a vehicle in a speed or manner likely to endanger other drivers." —Dave Jones
"Back seat only works if you have a great driver!!! Either hire the right one or take charge and drive!" —Harrish Sairaman
"Driving fast on the track does not scare me. What scares me is when I drive on the highway I get passed by some idiot who thinks he is Fangio." —Juan Manuel Fangio
Top Ten Driving Sayings
Here you will find top ten driving sayings selected by our team.
"Faster is fatal, slower is safe." —Amit Kalantri
"Driving at the speed limit–hideous thought." —Stephenie Meyer
"Leave sooner, drive slower, live longer." —Unknown
"Have you ever noticed that anybody driving slower than you is an idiot, and anyone going faster than you is a maniac?" —George Carlin
"Always focus on the front windshield and not the review mirror." —Colin Powell
"Back seat only works if you have a great driver!!! Either hire the right one or take charge and drive!" —Harrish Sairaman
"Straight roads are for fast cars, turns are for fast drivers." —Colin McRae
"Patience is something you admire in the driver behind you and scorn in the one ahead." —Mac McCleary
"To the everyday driver, we'd like to say that, anytime you're engaging in something else while driving, that really does increase your crash risk by two to three times." —Charlie Klauer
"People don't blame the act of driving for auto accidents." —Nancy Gibbs