In this post, you will find amazing Monkey quotes and sayings.
Short Monkey Quotes and Sayings
"By trying often the monkey learns to jump from the tree." —African Proverb
"Even monkeys fall from trees." —Chris Bradford
"I am too much alien and not enough monkey to fit in here." —Melissa St. Hilaire
"When you're dealing with monkeys, you've got to expect some wrenches." —Alvah Bessie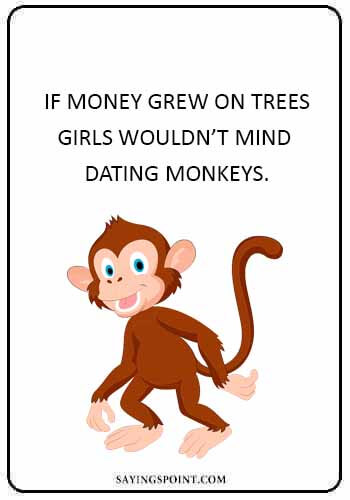 "If money grew on trees…Girls wouldn't mind dating monkeys." —Unknown
"I learned the way a monkey learns by watching its parents." —Prince Charles
"I find it easier to claim that I am friends with a monkey rather than with a man." —Shahla Khan
"Monkey see. Monkey do." —Unknown
"The surest way to make a monkey of a man is to quote him." —Robert Benchley
"Guns don't kill people, people kill people, and monkeys do too." —Eddie Izzard
"The higher a monkey climbs, the more you see of its behind." —Joseph Stillwell
"The president is here, strong and firm as a monkey's tail." —Jean Claude Duvalier
"You never monkey with the truth." —Ben Bradlee
"Like in the zoo, you will always find lots of monkeys but very few lions." —Nabil N. Jamal
"An old monkey never makes a pretty face." —Francois Rabelais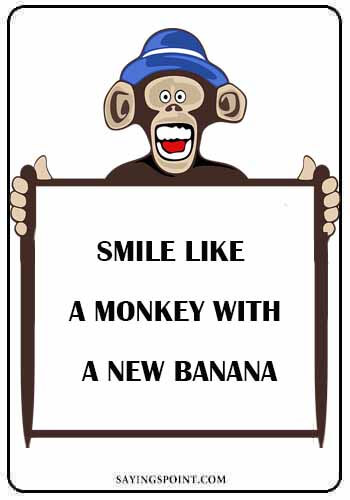 "Smile like a monkey with a new banana." —Unknown
"The monkey is an organized sarcasm upon the human race." —Henry Ward Beecher
"Cats and monkeys; monkeys and cats; all human life is there." —Henry James
"Culture is roughly anything we do and the monkeys don't." —Lord Raglan
Monkey Quotes and Sayings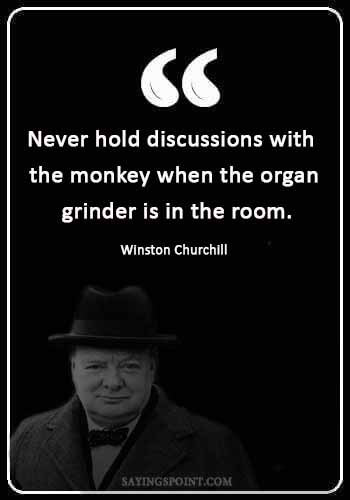 "Never hold discussions with the monkey when the organ grinder is in the room." —Winston Churchill
"Instead of saying, "not my problem." polish people say, "not my circus, not my monkey"." —Unknown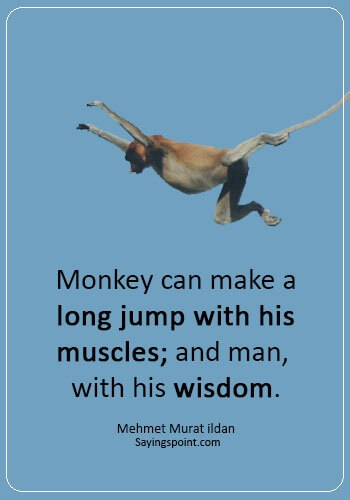 "Monkey can make a long jump with his muscles; and man, with his wisdom." —Mehmet Murat ildan
"The responses of the baby monkey are very similar to those of a human baby." —Harry Harlow
"People go to the zoo and they like the lion because it's scary. And the bear because it's intense, but the monkey makes people laugh." —Lorne Michaels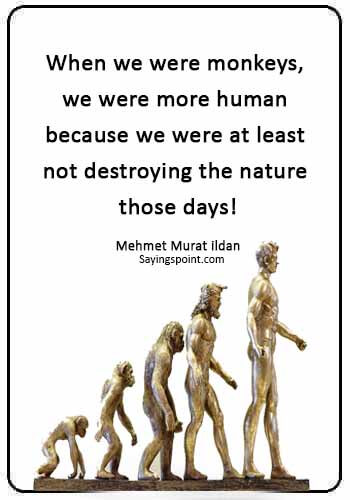 "When we were monkeys, we were more human because we were at least not destroying the nature those days!" —Mehmet Murat ildan
"In a world gone mad, we will not spank the monkey, but the monkey will spank us." —Unknown
"Don't think of yourself as an ugly person, think of yourself as a beautiful monkey." —Unknown
"If you look at the monkeys, you can learn many things about the men; if you look at the men, you can learn many things about the madness!" —Mehmet Murat ildan
"Just cause you got the monkey off your back doesn't mean the circus has left town." —George Carlin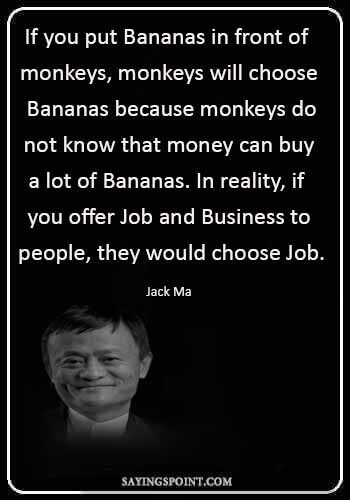 "If you put Bananas in front of monkeys, monkeys will choose Bananas because monkeys do not know that money can buy a lot of Bananas. In reality, if you offer Job and Business to people, they would choose Job." —Jack Ma
"Sometimes I wish I was a Monkey so I could throw bananas at people and it would be legal." —Unknown
"Monkeys are superior to men in this: when a monkey looks into a mirror, he sees a monkey." —Malcolm De Chazal
"You can't teach a monkey to speak and you can't teach an Arab to be democratic." —Moshe Feiglin
"A monkey glances up and sees a banana, and that's as far as he looks. A visionary looks up and sees the moon." —Eoin Colfer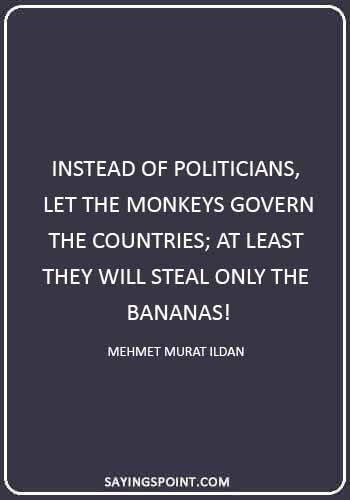 "Instead of politicians, let the monkeys govern the countries; at least they will steal only the bananas!" —Mehmet Murat ildan
"Getting over a painful experience is much like crossing monkey bars. You have to let go at some point in order to move forward." —C. S. Lewis
Top Ten Monkey Quotes and Sayings
Here you will find top ten Monkey Quotes and Sayings selected by our team.
"Never hold discussions with the monkey when the organ grinder is in the room." —Winston Churchill
"When we were monkeys, we were more human because we were at least not destroying the nature those days!" —Mehmet Murat ildan
"Smile like a monkey with a new banana." —Unknown
"Instead of politicians, let the monkeys govern the countries; at least they will steal only the bananas!" —Mehmet Murat ildan
"The higher a monkey climbs, the more you see of its behind." —Joseph Stillwell
"If money grew on trees…Girls wouldn't mind dating monkeys." —Unknown
"Don't think of yourself as an ugly person, think of yourself as a beautiful monkey." —Unknown
"If you put Bananas in front of monkeys, monkeys will choose Bananas because monkeys do not know that money can buy a lot of Bananas. In reality, if you offer Job and Business to people, they would choose Job." —Jack Ma
"If you look at the monkeys, you can learn many things about the men; if you look at the men, you can learn many things about the madness!" —Mehmet Murat ildan
"Monkey can make a long jump with his muscles; and man, with his wisdom." —Mehmet Murat ildan