Fear is a great hurdle in our success.We should be fearless if we want to achieve something in our life.Fear always create a barrier in our success.Here you will find inspirational fearless quotes and sayings.These quotes and sayings and quotes will help you to overcome on fear.
Short Fearless Quotes and Sayings
"Your only limit is you. Be brave and fearless." —Unknown
"Fate loves the fearless." —James Russell Lowell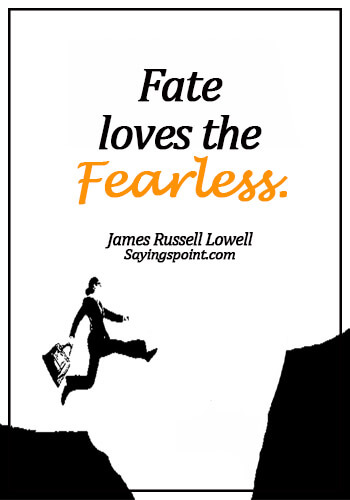 "Once you become fearless life become limitless." —Unknown
"Appear on your fear, It will disappear." —Unknown
"Be truthful, gentle, and fearless." —Mahatma Gandhi
"People think I'm fearless. But I'm human." —Megyn Kelly
"Fear Less. Dominate More." —Unknwon
"Be Truthful, Gentle and Fearless." —Mahatma Gandhi
"Fear doesn't stop death. Its stop life." —Unknown
"Never let your fear decide your fate." —Unknown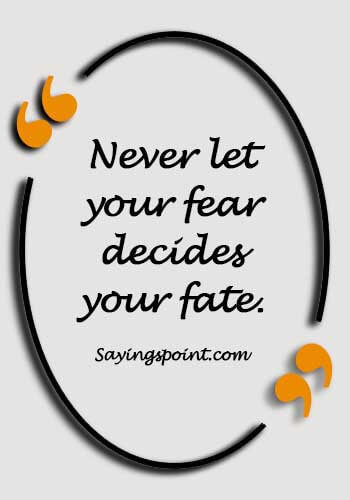 "Beneath every excuse lies a fear. Practice being fearless." —Robin Sharma
"Without God I am hopeless, with God I am fearless." —Unknown
"I think fearless is having fears but jumping anyway." —Taylor Swift
"Fear is the worst kind of grave, because it buries one alive." —Beth Fantaskey
"Life shrinks or expands in proportion to one's courage." —Anais Nin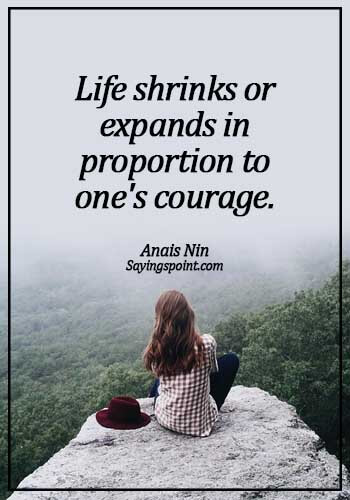 "The best way to be successful is to be fearless." —Janelle Osido
"Fear can only be mastered outside of your comfort zone." —Matshona Dhliwayo
"When you explore your fears then you set yourself free." —Stephen Richards
"Everyone deserves a second chance to be loved: fearlessly." —H. L. Balcomb
"To conquer fear is the best way to gain your self-confidence." —Roy Bennett
"Be fearless in the pursuit of what sets your soul on fire." —Unknown
"Talk less. Do more. Fear less. Achieve more." —Matshona Dhliwayo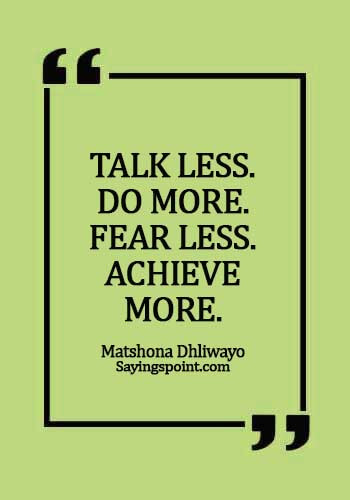 "I am beneath no one, I am fearless, and I am immune to criticism." —Unknown
Fearless Quotes and Sayings
"The man was either foolish or fearless. Assuming there was a difference." —Jack Mcdevitt
"The eagle has no fear of adversity. We need to be like the eagle and have a fearless spirit of a conqueror." —Joyce Meyer
"You have two choices, to conquer your fear or to let your fear conquer you." —Roy T. Bennett
"Fear defeats more people than any other one thing in the world." —Ralph Waldo Emerson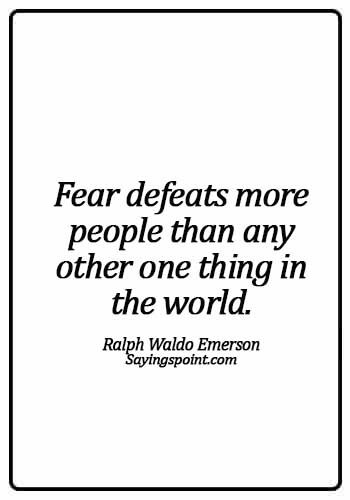 "If you want something you never had, you have to do something you've never done." —Thomas Jefferson
"Don't be pushed around by the fears in your mind. Be led by the dreams in your heart." —Roy T. Bennett
"One who is not afraid to die lives, and one who is afraid to live dies." —Matshona Dhliwayo
"To learn something new, you need to try new things and not be afraid to be wrong." —Roy T. Bennett
"Beware, for I am fearless and therefore powerful." —Marry Wollstonecraft Shelley
"Be fearless when it comes to life, and careless when it comes to what people say and think about you." —Unknown
"Being fearless isn't being 100% not fearful, it's being terrified but you jump anyway." —Unknown
"Becoming fearless isn't the point. That's impossible. It's learning how to control your fear, and how to be free from it." —Veronica Roth
"When you're fearless, you take more risks because you're less conscious of failure or what can go wrong." —Brett Ratner
"Face your fears and doubts, and new worlds will open to you." —Robert Kiyosaki
"Expose yourself to your deepest fear; after that, fear has no power." —Jim Morrison
"Only the really young are fearless, have the optimism, the romanticism to take unimaginable risks." —Olivia Wilde
"Courage is resistance to fear, mastery of fear, not absence of fear." —Mark Twain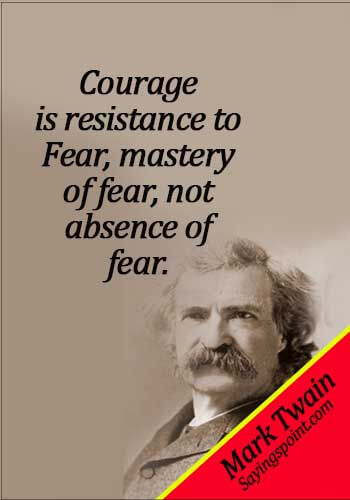 "Too many of us, are not living our dreams because we are living our fears." —Les Brown
"Stop being afraid of what could go wrong, and focus on what could go right." —Unknown
"Fearless people are always ready to die for a cause. Make sure you're fighting for a good cause." —Terry Mark
"Let us not pray to be sheltered from dangers but to be fearless when facing them." —Rabindranath Tagore
"I think that it's fearless to fall for your best friend, even though he's in love with someone else." —Taylor Swift
 Top Ten Fearless Quotes and Sayings
You will find here top ten fearless quotes and sayings selected by our team.
"Courage is resistance to fear, mastery of fear, not absence of fear." —Mark Twain
"Fear defeats more people than any other one thing in the world." —Ralph Waldo Emerson
"Talk less. Do more. Fear less. Achieve more." —Matshona Dhliwayo
"Don't be pushed around by the fears in your mind. Be led by the dreams in your heart." —Roy T. Bennett
"Your only limit is you. Be brave and fearless." —Unknown
"Fate loves the fearless." —James Russell Lowell
"When you're fearless, you take more risks because you're less conscious of failure or what can go wrong." —Brett Ratner
"Never let your fear decide your fate." —Unknown
"Life shrinks or expands in proportion to one's courage." —Anais Nin
"Without God I am hopeless, with God I am fearless." —Unknown