In this post, you will find amazing gangster quotes and sayings.
Short Gangster Quotes and Sayings
"I'm a gangster, and gangsters don't ask questions." —Lil Wayne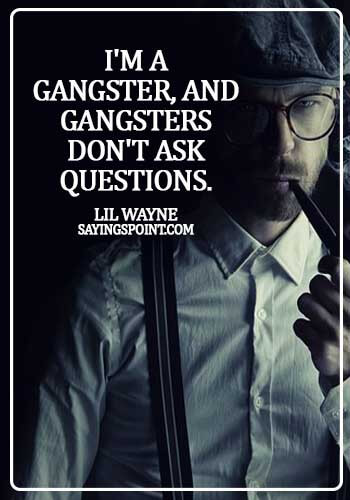 "To me, being a gangster was better than being president of the united states." —Unknown
"I am going to make him an offer he cant refuse." —Unknown
"I went through my darkest times alone so I'm sorry if i act like i don't need anyone." —Unknown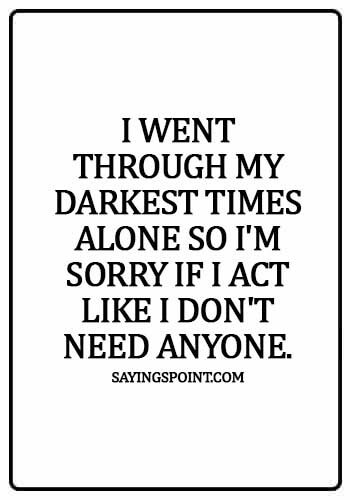 "Americans accept that gangsters are running the government." —Tim Robbins
"You are either at the table or on the menu." —Unknown
Some people are not your friends; they're just scared to be your enemy." —Unknown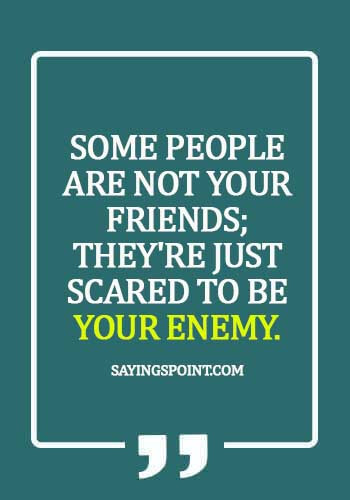 "Some call me a gangster of love." —Steve Miller
"I rule with my head." —Bernardo Provenzano
"Every human being has a bit of gangster in him." —Binyavanga Wainaina
"I didn't choose the thug life, the thug life chose me." —Unknown
"I never lie because I don't fear anyone. You only lie when you're afraid." —John Gotti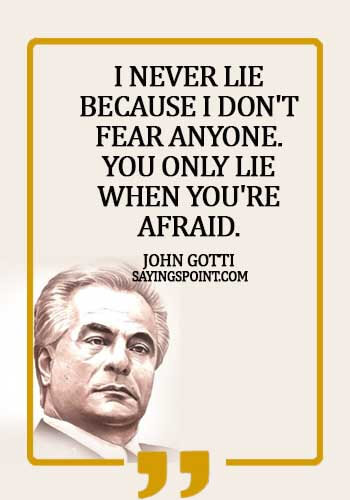 "Power wears out those who don't have it." —Giulio Andreotti
"Some of your worst gangsters are guys who were very low-key." —Mickey Rourke
"Find me on the corner disobeying the law." —Unknown
"Any distraction tends to get in the way of being an effective gangster." —Terence Winter
"I have learned more in the streets than in any classroom." —Unknown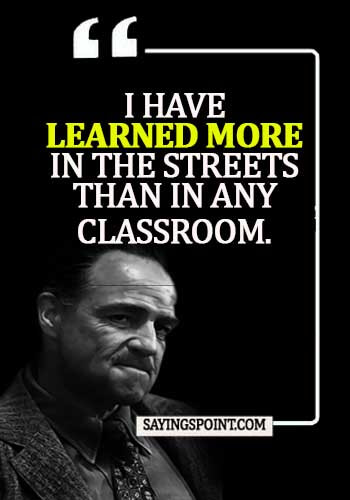 "It's better to live one day as a lion than a hundred years as a lamb." —Unknown
"When I say I'm going gangster, I'm working really hard at something." —Lisa Lampanelli
"As far back I can remember I always wanted to be a gangster." —Unknown
"My Biggest Problem? I notice everything." —Unknown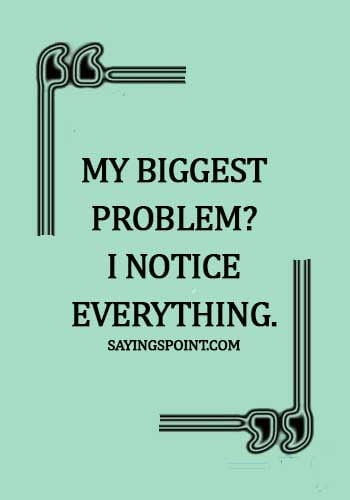 "First you get the sugar, then you get the power, then you get the women." —Matt Groening
"There's no such thing as good money or bad money.There's just money." —Unknown
"A real gangster fights for his community and his people." —Unknown
Gangster Quotes and Sayings
"There are three ways of doing things around here: the right way, the wrong way, and the way that I do it." —Robert De Niro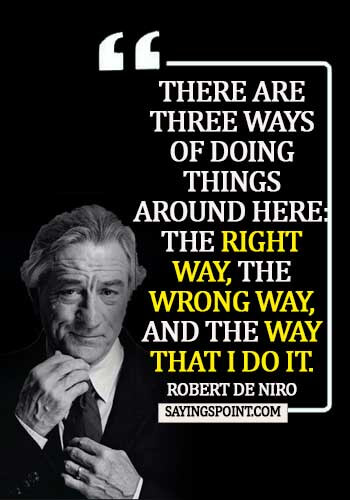 "I'm currently making changes in my life. If you don't hear from me, you're one of them." —Unknown
"The great nations have always acted like gangsters, and the small nations like prostitutes." —Stanley Kubrick
"It is the rule of law alone which hinders the rulers from turning themselves into the worst gangsters." —Ludwig von Mises
"We did not get any money from the early records. It was all taken by crooked managers. It is just a gangster's paradise." —Robert Wyatt
"No gangster is ever happy when he's at peace. The main reason he's in the business is to eliminate his enemies." —Unknown
"I think we have always had a fascination for gangs and gangsters, and I think we always will." —Ross Kemp
"When you understand the mechanincs of stress and master the techniques to manipulate someone's fears and dreams, you will be powerful." —Gregory Hartley
"I asked god for a bike, but I  know god doesn't work that way. So I stole a bike and asked for forgiveness." —Al Pacino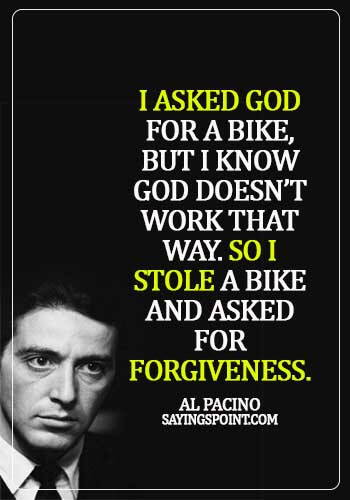 "Attitude is attitude, whether you're a West Coast gangster or East Coast gangster, you know?" —Paul Walker
Top Ten Gangster Quotes and Sayings
Here you will find top ten Gangster Quotes and Sayings selected by our team.
"I'm a gangster, and gangsters don't ask questions." —Lil Wayne
"I'm currently making changes in my life. If you don't hear from me, you're one of them." —Unknown
"I never lie because I don't fear anyone. You only lie when you're afraid." —John Gotti         
"When you understand the mechanincs of stress and master the techniques to manipulate someone's fears and dreams, you will be powerful." —Gregory Hartley
"There are three ways of doing things around here: the right way, the wrong way, and the way that I do it." —Robert De Niro
"Any distraction tends to get in the way of being an effective gangster." —Terence Winter
"To me, being a gangster was better than being president of the united states." —Unknown
"The great nations have always acted like gangsters, and the small nations like prostitutes." —Stanley Kubrick
"I asked god for a bike, but I  know god doesn't work that way. So I stole a bike and asked for forgiveness." —Al Pacino
"It is the rule of law alone which hinders the rulers from turning themselves into the worst gangsters." —Ludwig von Mises