In this post, you will find amazing arrow quotes and sayings.
Short Arrow Quotes and Sayings
"Fate's arrow, when expected, travels slow." —Dante Alighieri
"Time flies like an arrow – but fruit flies like a banana." —Terry Wogan
"The heart is an arrow. It demands aim to land true." —Leigh Bardugo
"One arrow does not bring down two birds." —Proverb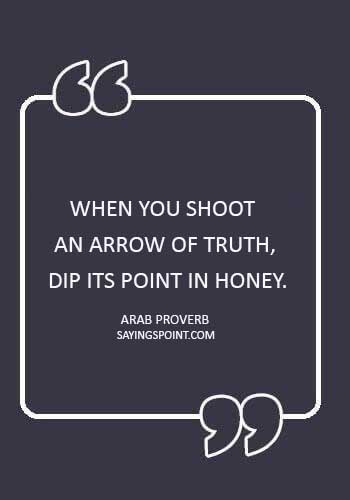 "When you shoot an arrow of truth, dip its point in honey." —Arab Proverb
"Happiness is a bull's-eye, awaiting arrows of pain." —Ellen Hopkins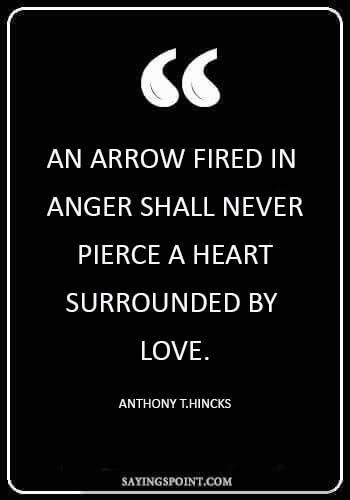 "An arrow fired in anger shall never pierce a heart surrounded by love." —Anthony T.Hincks
"Truth is an arrow and the gate is narrow that it passes through." —Bob Dylan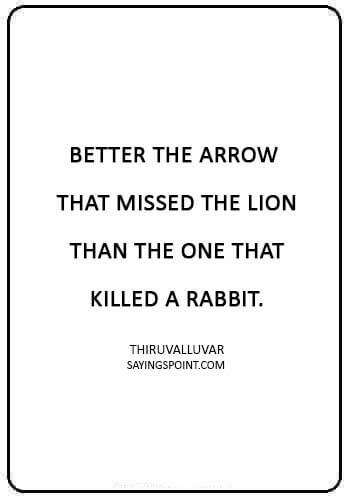 "Better the arrow that missed the lion than the one that killed a rabbit." —Thiruvalluvar
"The most dangerous arrow, is that which hits the heart without a drop of blood." —Unknown
"Do not throw the arrow which will return against you." —Proverb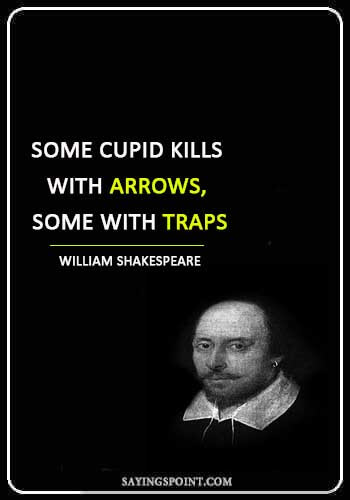 "Some Cupid kills with arrows, some with traps." —William Shakespeare
"Forget the last arrow,only the next one count." —Unknown
"Truth is as straight as an arrow, while a lie swivels like a snake." —Suzy Kassem
"The arrow will not always find the mark intended." —Horace
"Truth is the best arrow and courage finest bow." —Unknown
Arrow Quotes and Sayings
"I have been practicing archery for a long time; a bow and arrow helps me to unwind." —Paulo Coelho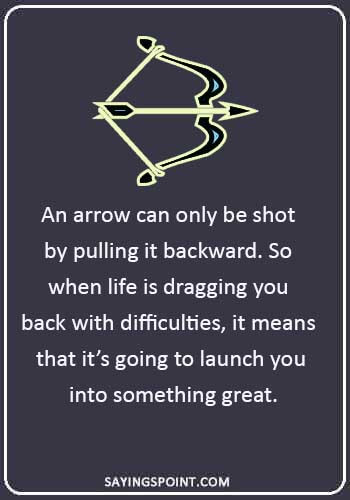 "An arrow can only be shot by pulling it backward. So when life is dragging you back with difficulties, it means that it's going to launch you into something great." —Unknown
"An arrow is never afraid of shooting from the bow; but it is afraid of not reaching the target!" —Mehmet Murat ildan
"Four things do not come back: the spoken word, the sped arrow, the past life, and the neglected opportunity." —Unknown
"You have to relax when you're shooting an arrow. You can't be tense. And that just helps, in your day-to-day life." —Stephen Amell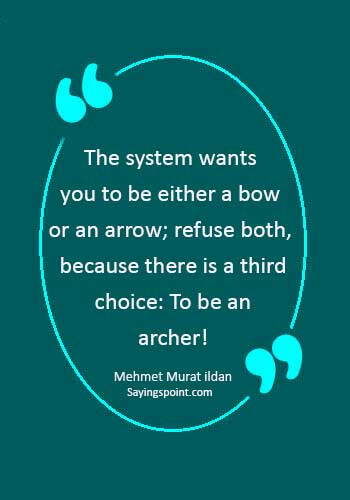 "The system wants you to be either a bow or an arrow; refuse both, because there is a third choice: To be an archer!" —Mehmet Murat ildan
"What a man is is an arrow into the future, and what a woman is is the place the arrow shoots off from." —Sylvia Plath
"The arrow of time obscures memory of both past and future circumstance with innumerable fallacies, the least trivial of which is perception." —Ashim Shanker
"As the eagle was killed by the arrow winged with his own feather, so the hand of the world is wounded by its own skill." —Helen Keller
"Only love is like an arrow to your heart; the more you try to take it out, the more pain and blood you get." —Unknown
"Whatever you focus on, you become. That is the key line, you know. Meditation is the bow and concentration is the arrow." —Frekderic Lenz
"Life continuously shoots arrows at you; to survive, be flexible and be on the move because rigid and fixed targets are the easiest targets!" —Mehmet Murat ildan
"When your bow is broken and your last arrow spent, then shoot, shoot with your whole heart." —Roger Zelaznys
"I'm actually a pretty decent human being, and when I'm home I'm straight as an arrow." —Unknown
"The man who has been wounded by a chance arrow must not shoot at sight the first man he happens to meet." —Edward Jenks
Top Ten Arrow Quotes and Sayings
Here you will find top ten Arrow Quotes and Sayings selected by our team.
"Better the arrow that missed the lion than the one that killed a rabbit." —Thiruvalluvar
"The system wants you to be either a bow or an arrow; refuse both, because there is a third choice: To be an archer!" —Mehmet Murat ildan
"I have been practicing archery for a long time; a bow and arrow helps me to unwind." —Paulo Coelho
"The heart is an arrow. It demands aim to land true." —Leigh Bardugo
"An arrow can only be shot by pulling it backward. So when life is dragging you back with difficulties, it means that it's going to launch you into something great." —Unknown
"As the eagle was killed by the arrow winged with his own feather, so the hand of the world is wounded by its own skill." —Helen Keller
"When you shoot an arrow of truth, dip its point in honey." —Arab Proverb
"An arrow fired in anger shall never pierce a heart surrounded by love." —Anthony T.Hincks
"Some Cupid kills with arrows, some with traps." —William Shakespeare
"Fate's arrow, when expected, travels slow." —Dante Alighieri