In this post, you will find amazing owl quotes and sayings.
Short Owl Quotes and Sayings
"Being human is exhausting .So be an owl." —Unknown
"Some men pray only when the world is dark, as owls hoot at night." —Austin O'Malley
"When the owl sings, the night is silent." —Charles de Leusse
"Do you think I was born in a wood to be afraid of an owl?" —Jonathan Swift
"No owl is afraid of the night, no snake of the swamp and no traitor of the treason." —Unknown
"The crow wished everything was black, the owl, that every thing was white." —William Blake
"An owl is the wisest of all birds because the more it sees the the less it talks." —Christie Watson
"The owls are not what they seem." —Alexis Novak
"I'm a night owl." —Alanna Ubach
"The owls are gathering; find out why soon." —J. K. Rowling
"I've seen the elephant, heard the owl and flown the screaming eagle." —Bob Lemon
"Sometimes an owl is just an owl." —Mark Frost
"The wailing owl Screams solitary to the mournful moon." —David Mallett
"Owl hasn't exactly got Brain, but he Knows Things." —A. A. Milne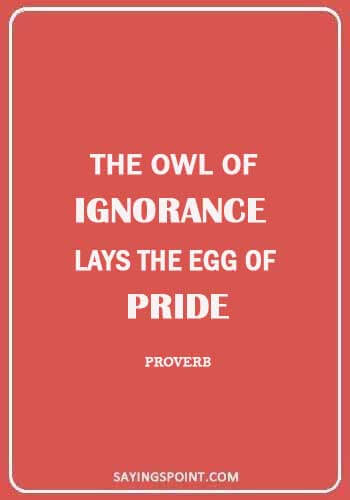 "The owl of ignorance lays the egg of pride." —Proverb
"I'm a night owl for sure. I was born at 1 A.M., and that's the excuse I use." —Karla Souza
"I am both a night owl and an early bird. So I am wise and I have worms." —Michael Scott
Owl Quotes and Sayings
"I'm a bit of a night owl because that's when I feel the most creative and alive." —Christina Aguilera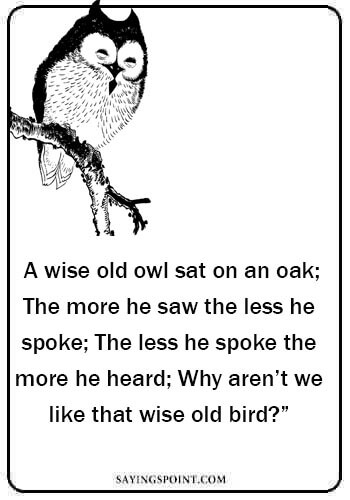 "A wise old owl sat on an oak; The more he saw the less he spoke; The less he spoke the more he heard; Why aren't we like that wise old bird?" —Unknown
"I had a dream we purchased an owl that sat there in silence and never did scowl." —Unknown
"Wisdom of Owl Is akin to Sages, books and knowledge reduce the brawl and add to ages." —Unknown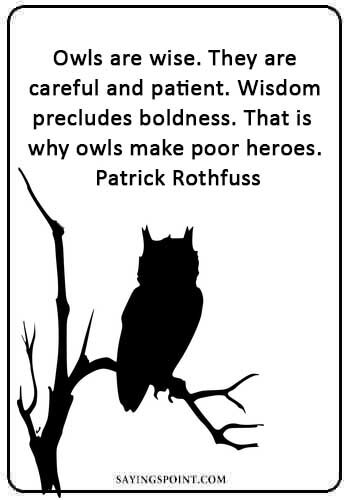 "Owls are wise. They are careful and patient. Wisdom precludes boldness. That is why owls make poor heroes." —Patrick Rothfuss
"Owls are known as lonely birds; but it is not known that they have the forest as their best friend!" —Mehmet Murat Ildan
"The large white owl that with eye is blind, that hath sate for years in the old tree hollow, is carried away in a gust of wind." —Elizabeth Barret
"A falcon, tow'ring in her pride of place, Was by a mousing owl hawk'd at and kill'd." —William Shakespeare
"First, it was not a strip bar, it was an erotic club. And second, what can I say? I'm a night owl." —Marion Barry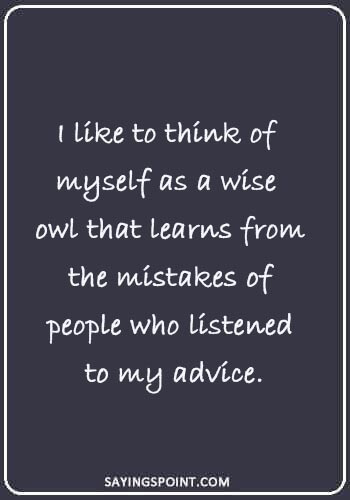 "I like to think of myself as a wise owl that learns from the mistakes of people who listened to my advice." —Unknown
"Only the worm of conscience consorts with the owl. Sinners and evil spirits shun the light." —Friedrich Schiller
"Owl looked at him, and wondered whether to push him off the tree; but, feeling that he could always do it afterwards, he tried once more to find out what they were talking about." —A.A Milne
Top Ten Owl Quotes and Sayings
Here you will find top ten Owl Quotes and Sayings selected by our team.
"A falcon, tow'ring in her pride of place, Was by a mousing owl hawk'd at and kill'd." —William Shakespeare
"Some men pray only when the world is dark, as owls hoot at night." —Austin O'Malley
"A wise old owl sat on an oak; The more he saw the less he spoke; The less he spoke the more he heard; Why aren't we like that wise old bird?" —Unknown
"I like to think of myself as a wise owl that learns from the mistakes of people who listened to my advice." —Unknown
"An owl is the wisest of all birds because the more it sees the the less it talks." —Christie Watson
"Being human is exhausting .So be an owl." —Unknown
"The wailing owl Screams solitary to the mournful moon." —David Mallett
"The crow wished everything was black, the owl, that every thing was white." —William Blake
"The owl of ignorance lays the egg of pride." —Proverb
"Owls are wise. They are careful and patient. Wisdom precludes boldness. That is why owls make poor heroes." —Patrick Rothfuss