In this post, you will find amazing weed Quotes and Sayings.
Short Weed Quotes and Sayings
"A friend with weed is a friend indeed." —Pops O'Donnell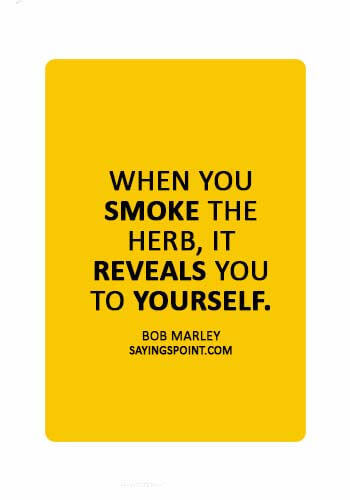 "When you smoke the herb, it reveals you to yourself." —Bob Marley
"If you grew up in the '60s or '70s and didn't do drugs, I don't trust you." —Danny Danko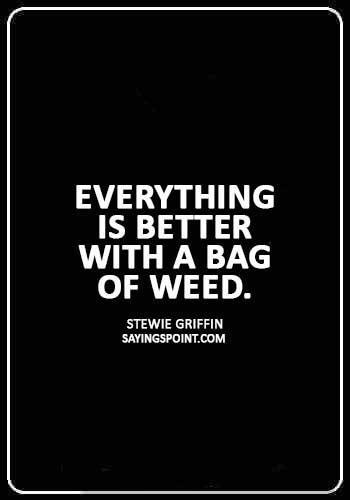 "Everything is better with a bag of weed." —Stewie Griffin  
"Herb is the healing of a nation, alcohol is the destruction." —Bob Marley
"I don't consider weed to be any worse than having a beer." —James Franco
"It makes me feel the way I need to feel." —Snoop Dogg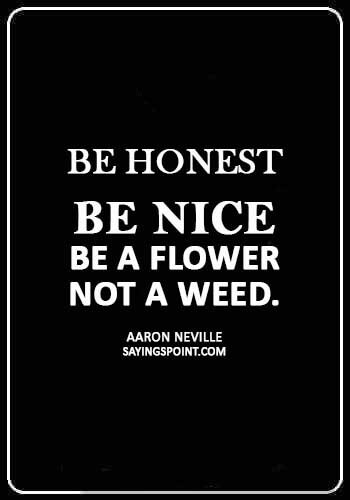 "Be honest, be nice, be a flower not a weed." —Aaron Neville
"Cannabis is just way too healthy for a sick health care system." —Sebastian Marincolo
"Struggle is the enemy, but weed is the remedy." —Kid Cudi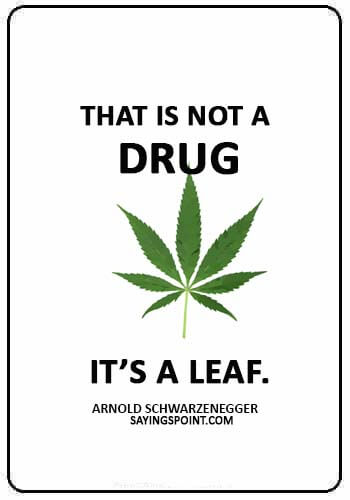 "That is not a drug, it's a leaf." —Arnold Schwarzenegger
"Casual drug users should be taken out and shot." —Darrell Gates
"A weed is but an unloved flower." —Ella Wheeler Wilcox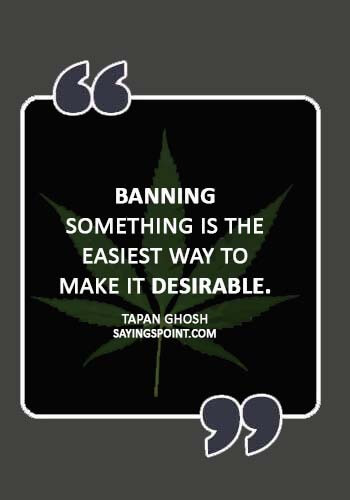 "Banning something is the easiest way to make it desirable." —Tapan Ghosh
"I have used cannabis all over the world." —Rick Steves
"I got high, and forgot I wasn't supposed to get high." —Ricky Williams
Weed Quotes and Sayings
"The biggest killer on the planet is stress and I still think the best medicine is and always has been cannabis." —Willie Nelson
"If you substitute marijuana for tobacco and alcohol, you'll add eight to 24 years to your life." —Jack Herer
"To inspire himself, he lit up a marijuana cigarette, excellent Land-O-Smiles brand." —Philip K. Dick
"Why is marijuana against the law—It grows naturally upon our planet. Doesn't the idea of making nature against the law seem to you a bit…unnatural?" —Bill Hicks
"The only dead bodies from marijuana are in the prisons and at the hands of the police." —Jack Herer
"There was no time to weigh chances. There was no such thing as chances anyway, in the distorted perspective of the weed fumes." —Cornell Woolrich
"I have found in my study of these patients that cannabis is really a safe, effective and non-toxic alternative to many standard medications." —Philip Denney
"I didn't want to tell the tree or weed what it was. I wanted it to tell me something and through me express its meaning in nature." —Wynn Bullock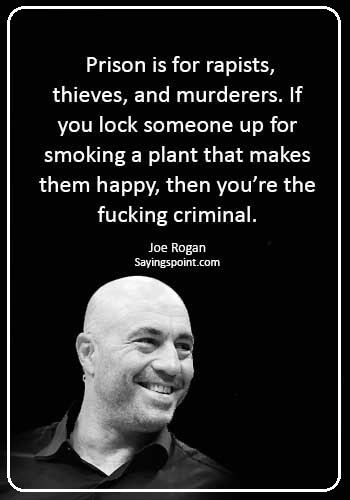 "Prison is for rapists, thieves, and murderers. If you lock someone up for smoking a plant that makes them happy, then you're the fucking criminal." —Joe Rogan
"Rusty thinks I should smoke marijuana, and I did for a while, but it only makes me giggle." —Truman Capote             
"If people let government decide which foods they eat and medicines they take, their bodies will soon be in as sorry a state as are the souls of those who live under tyranny." —Thomas Jefferson
"In our culture, the Native Americans, when two strangers come together. You know what we do in our culture? We smoke the peace pipe." —Tatanka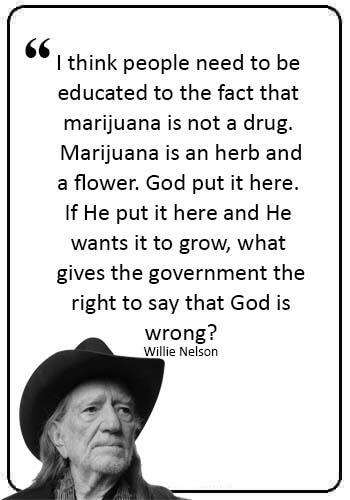 "I think people need to be educated to the fact that marijuana is not a drug. Marijuana is an herb and a flower. God put it here. If He put it here and He wants it to grow, what gives the government the right to say that God is wrong?" —Willie Nelson
Top Ten Weed Quotes and Sayings
Here you will find top ten weed quotes and sayings selected by our team.
"Everything is better with a bag of weed." —Stewie Griffin
"Be honest, be nice, be a flower not a weed." —Aaron Neville
"The only dead bodies from marijuana are in the prisons and at the hands of the police." —Jack Herer
"Prison is for rapists, thieves, and murderers. If you lock someone up for smoking a plant that makes them happy, then you're the fucking criminal." —Joe Rogan
"I don't consider weed to be any worse than having a beer." —James Franco
"That is not a drug, it's a leaf." —Arnold Schwarzenegger
"If people let government decide which foods they eat and medicines they take, their bodies will soon be in as sorry a state as are the souls of those who live under tyranny." —Thomas Jefferson
"Banning something is the easiest way to make it desirable." —Tapan Ghosh
"When you smoke the herb, it reveals you to yourself." —Bob Marley
I think people need to be educated to the fact that marijuana is not a drug. Marijuana is an herb and a flower. God put it here. If He put it here and He wants it to grow, what gives the government the right to say that God is wrong?" —Willie Nelson