In this post, you will find amazing dentist sayings.
Short Dentist Sayings
"A good dentist never gets on your nerves." —Unknown
"My dentist's business card says, "Teeth are the windows to the soul." —Jimmy Fallon
"No one can take our smiles away when dental decay is kept miles away." —Ninad Moon
"I was never afraid of anything in the world except the dentist." —Taylor Caldwell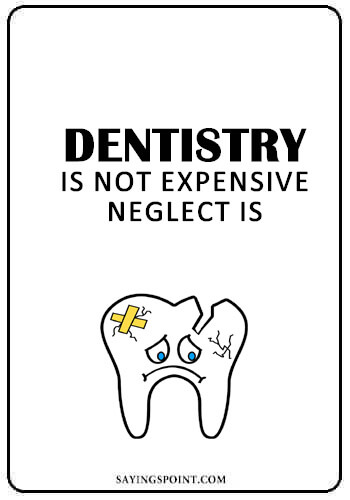 "Dentistry is not expensive, neglect is." —Unknown
"Brush your teeth everyday, To keep dentist away." —Unknown
"Dentist making the world better place,one smile at a time." —Unknown
"The only people who need degrees are dentists and brain surgeons." —David Hockney
"If you enjoy shaming people, I suggest dentistry as a profession." —Unknown
"If a patient cannot clean his teeth, no dentist can clean them for him." —Martin H. Fischer
"Be your own dentist!" —Rube Goldberg
"Never open your mouth,unless you're in the dentist chair." —Sammy Gravano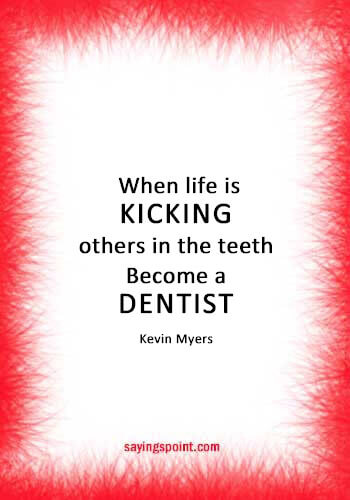 "When life is kicking others in the teeth, Become a dentist." —Kevin Myers
"A dentist is only half the doctor he claims to be." —Joshua Ferriss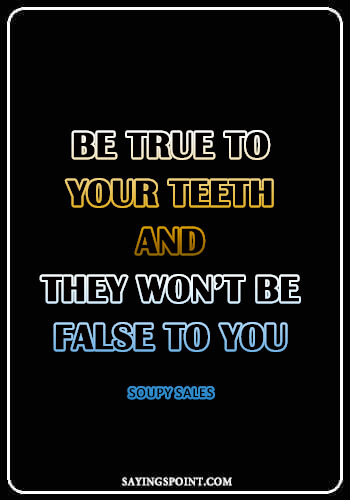 "Be true to your teeth and they won't be false to you." —Soupy Sales
"Dental hygienists are boss of the floss." —Unknown
Dentist Sayings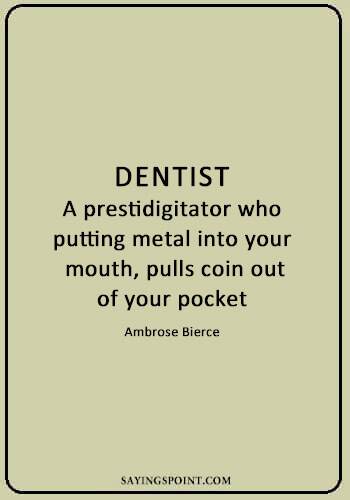 "Dentist: a prestidigitator who, putting metal into your mouth, pulls coin out of your pocket." —Ambrose Bierce
"I told my dentist my teeth are going yellow. He told me to wear a brown tie." —Rodney Dangerfield
"Happiness is your dentist telling you it won't hurt and then having him catch his hand in the drill." —Johnny Carson
"I told my dentist I want a tooth to match the others. He gave my one with four cavities." —Rodney Dangerfield
"A dentist at work in his vocation always looks down in the mouth." —George D. Prentice
"Dentists are medical professionals who help you put your money where your mouth is." —Unknown
"If suffering brought wisdom, the dentist's office would be full of luminous ideas." —Mason Cooley
"An aching tooth is better out than in. To lose a rotting member is a gain." —Richard Baxter
"Whether you have teeth or not, smile! Because our world always needs a smile!" —Mehmet Murat ildan
Top Five Dentist Sayings
Here you will find top five dentist sayings selected by our team.
"Dentist: a prestidigitator who, putting metal into your mouth, pulls coin out of your pocket." —Ambrose Bierce
"I told my dentist my teeth are going yellow. he told me to wear a brown tie." —Rodney Dangerfield
"A dentist is only half the doctor he claims to be." —Joshua Ferris
"If suffering brought wisdom, the dentist's office would be full of luminous ideas." —Mason Cooley
"When life is kicking others in the teeth, Become a dentist." —Kevin Myers