In this post, you will find amazing Florida Quotes and Sayings.
Short Florida Quotes and Sayings
"August in Florida is God's way of reminding us who's in charge." —Blaize Clement
"This is Florida, where they're cool about putting people to death." —Patricia Engel
"Florida is a very healing place." —Burt Reynolds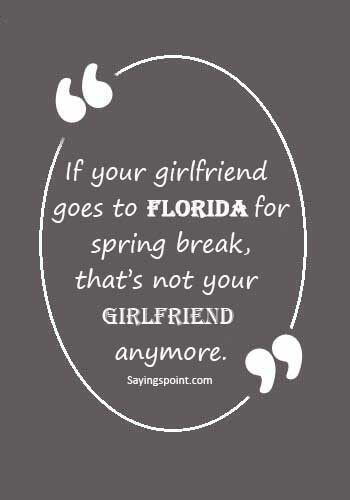 "If your girlfriend goes to Florida for spring break, that's not your girlfriend anymore." —Unknown
"One thing I will never do as long as I'm at Georgia is lose to Florida." —Herschel Walker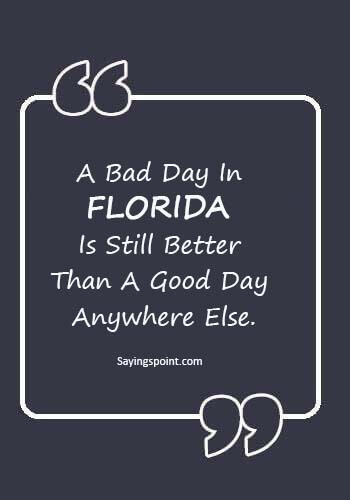 "A Bad Day In Florida Is Still Better Than A Good Day Anywhere Else." —Unknown
"Florida means land of flowers, not land of ugly." —Bill Jonson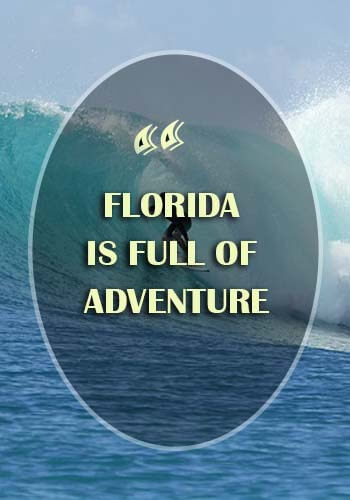 "Florida is full of adventure." —Unknown
"Florida was the low point.The entire state, yep. I'm not sure I'd go back." —David Cross
"Every child in South Florida can dance. And every child there is amazing." —Abby Lee Miller
Florida Quotes and Sayings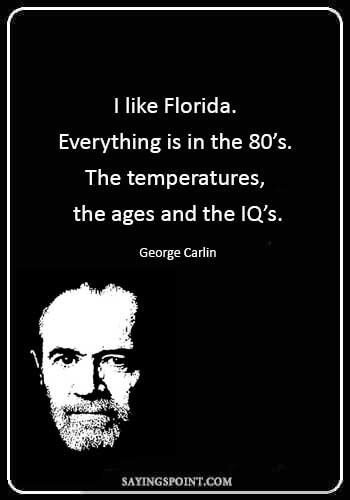 "I like Florida. Everything is in the 80's. The temperatures, the ages and the IQ's." —George Carlin
"My love for you is like a Florida sunset. Orange, coral, pink, and lavender, it exists to warm your heart through the inevitable darkness." —Jarod Kintz
"No matter where you put me, I don't care if it is North Carolina, Florida, California, New York City; I'm going to be who I am." —Chris Paul
"I am absolutely convinced that Florida will become the most exciting place in the world to live and work." —Rick Scott
"Florida has tons of entertainment opportunities because Walt Disney World and Universal Studios are there." —Kevin Richardson
"There are so many colorful characters in Florida. There's a lot of money, development – not all of it good and corruption." —John Grisham
"I love Florida. I love the beach. I love the sound of the crashing surfers against the rocks." —Emo Philips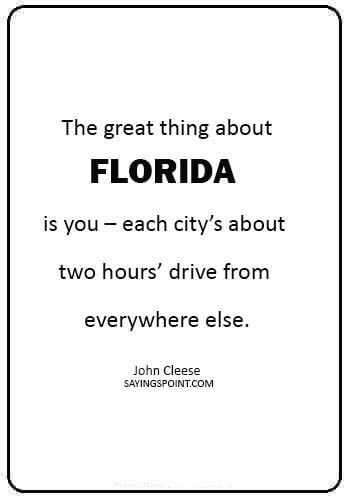 "The great thing about Florida is you – each city's about two hours' drive from everywhere else." —John Cleese
"If you can afford a vacation home in Florida, you should be able to pay the taxes." —Ken Wilkinson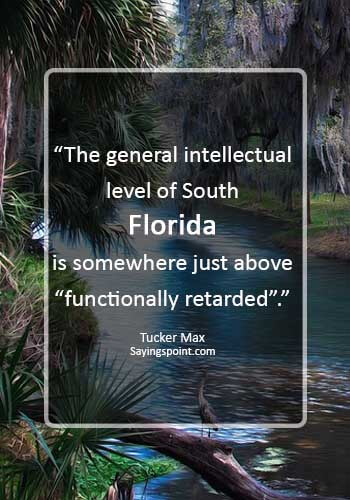 "The general intellectual level of South Florida is somewhere just above "functionally retarded"." —Tucker Max
"I live in Florida, and when people ask how close to the beach I am, I say, 'Twelve minutes or twelve hours. Depends on which beach you want to go to." —Jarod Kintz
"According to the State of Florida, the person with the gun has the right to defend him or herself." —Bill Cosby
Top Five Florida Quotes and Sayings
Here you will find top Five Florida quotes and sayings selected by our team.
"The general intellectual level of South Florida is somewhere just above "functionally retarded"." —Tucker Max
"If your girlfriend goes to Florida for spring break, that's not your girlfriend anymore." —Unknown
"I like Florida. Everything is in the 80's. The temperatures, the ages and the IQ's." —George Carlin
"My love for you is like a Florida sunset. Orange, coral, pink, and lavender, it exists to warm your heart through the inevitable darkness." —Jarod Kintz
"The great thing about Florida is you – each city's about two hours' drive from everywhere else." —John Cleese