In this post, you will find amazing alcohol sayings.
Short Alcohol Sayings
"I am more afraid of alcohol than of all the bullets of the enemy." —Stonewall Jackson
"I have taken more out of alcohol than alcohol has taken out of me." —Winston Churchill
"A drunk man never tells a lie." —Unknown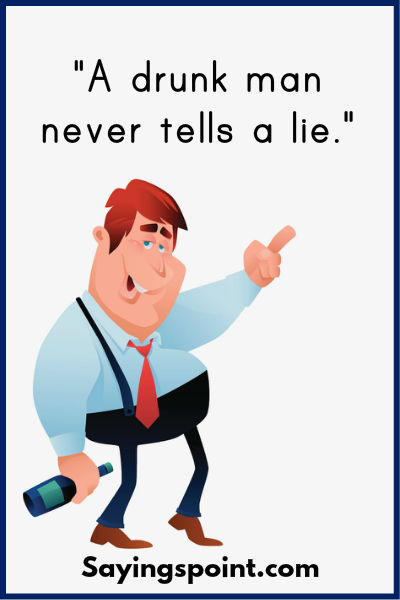 "Always remember that I have taken more out of alcohol than alcohol has taken out of me."
"An alcoholic is someone you don't like who drinks as much as you do."
"Don't drink and drive, you might hit a bump and spill your drink."
"You're not drunk if you can lie on the floor without holding on."
"Stay busy, get plenty of exercises, and don't drink too much. Then again, don't drink too little."
"Time is never wasted when you're wasted all the time."
"One reason I don't drink is that I want to know when I am having a good time."
"A meal without wine is like a day without sunshine, except that on a day without sunshine you can still get drunk."
"I stopped drinking, but only when I sleep."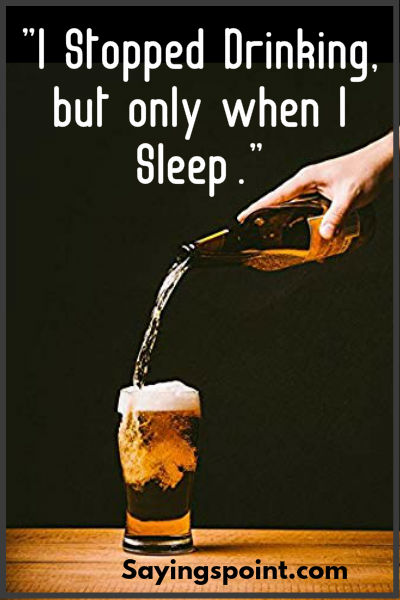 "This is one of the disadvantages of wine: it makes a man mistake words for thought."
"Cigarettes and coffee: an alcoholic's best friend !!!!"
"When I read about the evils of drinking, I gave up reading."
"I hate to advocate drugs, alcohol, violence, or insanity to anyone, but they always worked for me."
"The consumption of alcohol may cause pregnancy."
"Cocaine is gods way of telling you that you make too much money."
"I like whiskey. I always did, and that is why I never drink it."
"A man who exposes himself when he is intoxicated has not the art of getting drunk."
"Reality is a crutch for people who can't handle drugs."
"There is a devil in every berry of the grape."
"A bartender is just a pharmacist with a limited inventory."
"I drink to forget I drink."
"I would take a bomb, but I can't stand the noise."
"Better belly burst than good liquor be lost."
"Prohibition may be a disputed theory, but none can say that it doesn't hold water."
"The first glass is for myself, the second for my friends, the third for good humor, and the forth for my enemies."
"Alcohol is necessary for a man so that he can have a good opinion of himself, undisturbed be the facts."
"Once, during Prohibition, I was forced to live for days on nothing but food and water."
"The whole world is about three drinks behind."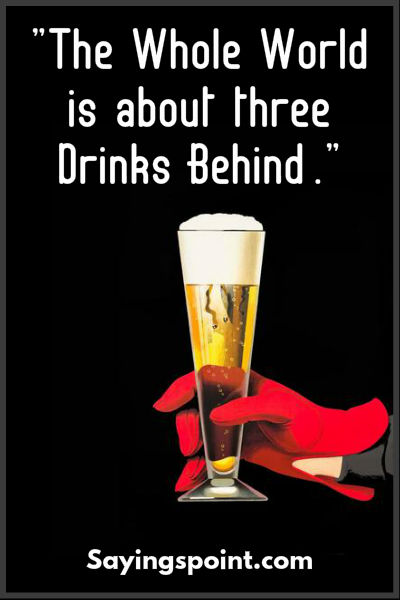 "I love cooking with wine. Sometimes I even put it in the food."
"I would not put a thief in my mouth to steal my brains." —William Shakespeare
"Alcohol gives you infinite patience for stupidity." —Sammy Davis, Jr.
"Alcohol aint the answer but it makes you forget the question!" —Unknown
"Beauty is in the eye of the beer holder." —Kinky Friedman
"The only honest people in the world are small children and drunk people." —Unknown
"When I drink, I think; and when I think, I drink." —Francois Rabelais
"This alcohol could never change the truth." —Unknown
"I don't know of any issues associated with alcohol before the flight." —Ellen Ochoa
"Lips that touch liquor touch other lips quicker." —Unknown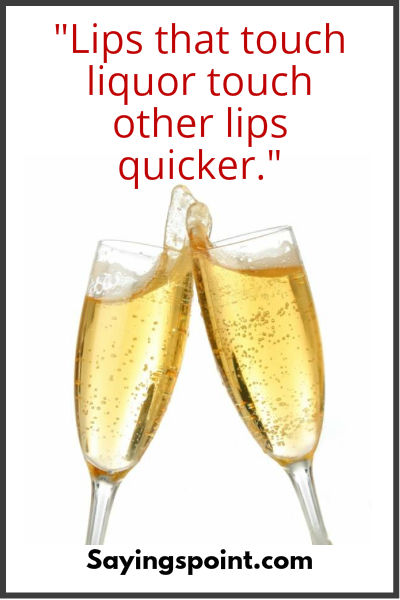 "All is fair in love and beer." —Kurt Pardis
"May what goes down not come back up again." —Unknown
"Alcohol kills slowly. Good, I'm in no hurry." —Coluche
"Drunkenness is temporary suicide." —Bertrand Russell
"It's easy to be drunk when it's hard to be sober." —Unknown
"Reality is an illusion created by a lack of alcohol." —N.F. Simpson
"A drunk man's words are a sober man's thoughts." —Unknown
"A man's true character comes out when he's drunk." —Charlie Chaplin
"I cook with wine, Sometimes I even add it to the food." —W.C Fields
"I drink to make other people more interesting." —Ernest Hemingway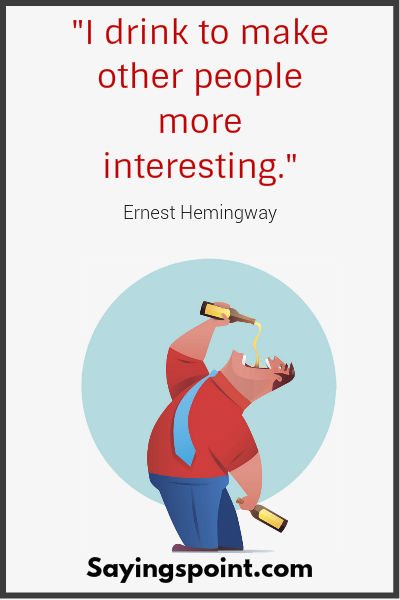 "Drunkenness is nothing but voluntary madness." —Lucius Annaeus Seneca
"Good friends make the world go round, but good beer makes the room go round." —Unknown
"They speak of my drinking, but never think of my thirst." —Scottish Proverb
"It's true, alcohol kills people. But how many are born because of it?" —Unknown
Top Ten Alcohol Sayings
You will find here top ten alcohol sayings selected by our team.
"I would not put a thief in my mouth to steal my brains." —William Shakespeare
"Ignorance is a lot like alcohol: the more you have of it, the less you are able to see its effect on you." —Jay M. Bylsma
"Alcohol may be man's worst enemy, but the bible says love your enemy." —Frank Sinatra
"Alcoholism is a thief of health, mental sanity and human dignity." —Dr T.P.Chia
"I have made an important discovery… that alcohol, taken in sufficient quantities, produces all the effects of intoxication." —Oscar Wilde
"The first thing in the human personality that dissolves in alcohol is dignity." —Unknown
"I drink alcohol to drown my problems…Unfortunately problems are damn good swimmer." —Unknown
"A man's true character comes out when he's drunk." —Charlie Chaplin
"Reality is an illusion created by a lack of alcohol." —N.F. Simpson
"Do not fall in love with me, for I am falser than vows made by wine." —William Shakespeare
Alcohol Sayings
"Ignorance is a lot like alcohol: the more you have of it, the less you are able to see its effect on you." —Jay M. Bylsma
"It's a great advantage not to drink among hard drinking people." —F. Scott Fitzgerald
"Alcoholism is a thief of health, mental sanity, and human dignity." —Dr. T.P.Chia
"An intelligent man is sometimes forced to be drunk to spend time with his fools." —Ernest Hemingway
"Alcohol, taken in sufficient quantities, may produce all the effects of drunkenness." —Oscar Wilde
"An alcoholic is someone you don't like who drinks as much as you do." —Dylan Thomas
"After the first glass, you see things as you wish they were. After the second, you see things as they are not. Finally, you see things as they really are, and that is the most horrible thing in the world." —Oscar Wilde
"Alcohol is necessary for a man so that he can have a good opinion of himself, undisturbed be the facts." —Finley Peter Dunne
"Alcohol may be man's worst enemy, but the bible says love your enemy." —Frank Sinatra
"There is no bad whiskey. There are only some whiskeys that aren't as good as others." —Raymond Chandler
"Alcoholism and drug addiction are killers of mental and physical health. Alcoholic and drug addicts are killing themselves slowly." —Dr. T.P.Chia
"I drink too much. The last time I gave a urine sample it had an olive in it." —Rodney Dangerfield
"There are two kinds of people I don't trust: people who don't drink and people who collect stickers." —Chelsea Handler
"I drink alcohol to drown my problems…Unfortunately, problems are a damn good swimmer." —Unknown
"Let us have wine and women, mirth and laughter. Sermons and soda water the day after." —Lord Byron
"Alcohol is like love: the first kiss is magic, the second is intimate, the third is routine. After that, you just take the girl's clothes off." —Raymond Chandler
"The first thing in the human personality that dissolves in alcohol is dignity." —Unknown
"To alcohol! The cause of… and solution to… all of life's problems." —Matt Groening
"Alcohol doesn't solve any problems, but then again, neither does milk." —Unknown
"Alcohol is a way of life, alcohol is my way of life, and I aim to keep it." —Homer Simpson
"I envy people who drink—at least they know what to blame everything on." —Oscar Levant
"Adulthood has shown me that you really don't need fun to have alcohol." —Unknown
"Do not fall in love with me, for I am falser than vows made by wine." —William Shakespeare
"Alcohol is the anesthesia by which we endure the operation of life." —George Bernard Shaw
"Drink because you are happy, but never because you are miserable." —G.K. Chesterton
"People say I have an alcohol problem, and I say if there is still alcohol there is no problem." —Unknown
"I have made an important discovery… that alcohol, taken in sufficient quantities, produces all the effects of intoxication." —Oscar Wilde
"The best thing is the combined effect of nicotine with alcohol, greater than the sum of the two parts." —Sebastian Faulks
"When you stop drinking, you have to deal with this marvelous personality that started you drinking in the first place." —Jimmy Breslin
"99% of all problems can be solved by money – and for the other 1% there's alcohol." —Quentin R. Bufogle
"Firs,t you take a drink, then the drink takes a drink, then the drink takes you." —Francis Scott Key Fitzgerald
"Alcoholism is a disease that creates temporary madness and insanity. Drug addiction is a disease that destroys health and humanity." —Dr T.P.Chia
"In wine there is wisdom, in beer there is freedom, in the water there is bacteria." —Benjamin Franklin
"Avoid using cigarettes, alcohol, and drugs as alternatives to being an interesting person." —Marilyn vos Savant
"A man who drinks too much on occasion is still the same man as he was sober. An alcoholic, a real alcoholic, is not the same man at all. You can't predict anything about him for sure except that he will be someone you never met before." — RAYMOND CHANDLER
"The idea that somehow, someday he will control and enjoy his drinking is the great obsession of every abnormal drinker. The persistence of this illusion is astonishing. Many pursue it into the gates of insanity or death." — ALCOHOLICS ANONYMOUS
"The first step toward recovery from alcoholism is the recognition that a problem exists. Once the problem drinker breaks through denial and admits to having a problem, a range of treatment options become available." — JEFFREY S. NEVID
"When you go out with a drunk, you'll notice how a drunk fills your glass so he can empty his own. As long as you're drinking, drinking is okay. Two's company. Drinking is fun. If there's a bottle, even if your glass isn't empty, he'll pour a little in your glass before he fills his own." — CHUCK PALAHNIUK
Funny Alcohol Sayings
"When I read about the evils of drinking, I gave up reading."
— Henny Youngman
"Beer makes you feel the way you ought to feel without beer."
— Henry Lawson
"I drink to make other people interesting."
— George Jean Nathan
"An intelligent man is sometimes forced to be drunk to spend time with his fools."
— Ernest Hemingway
"Dear Alcohol, we had a deal, you were going to make me funnier, sexier, more intelligent and a better dancer. I saw the video, we need to talk."
— Anonymous
"I'm not as think as you drunk I am."
— Unknown
"I used to think drinking was bad for me… So I gave up thinking."
— Anonymous
"A woman drove me to drink and I didn't even have the decency to thank her."
— W.C. Fields
"I would date you, but my heart already belongs to Jack Daniels."
— Anonymous
"Beauty is in the eye of the beer holder."
— Kinky Friedman
"Sometimes I drink water to surprise my liver."
— Anonymous
"24 hours in a day, 24 beers in a case. Coincidence?"
— Stephen Wright
"You look like I need another drink."
— Anonymous
"I spent a lot of my money on booze, birds, and fast cars. The rest I just squandered."
— George Best
"I distrust camels and anyone else who can go a week without a drink."
— Joe E. Lewis
"The problem with some people is that when they aren't drunk, they're sober."
— William Butler Yeats
"Alcohol removes inhibitions – like that scared little mouse who got drunk and shook his whiskers and shouted: "Now bring on that damn cat!"
— Eleanor Early
"I feel sorry for people who don't drink. They wake up in the morning and that's the best they're going to feel all day."
— Dean Martin
"I only take a drink on two occasions – when I'm thirsty and when I'm not."
— Brendan Behan
"I have made an important discovery… that alcohol, taken in sufficient quantities, produces all the effects of intoxication."
— Oscar Wilde