In this post, you will find amazing life lessons quotes and sayings.
Short Life Lessons Quotes and Sayings
"Short cuts make long delays." —J.R.R. Tolkien
"Curiosity is the lust of the mind." —Thomas Hobbes
"Build what you want to see in the world." —Jack Dorsey
"Life is all about you versus your fears." —Unknown
"It's the will not the skill." —Unknown
"Live, love, and let be." —Unknown
"Never trust your tongue when your heart is bitter." —Unknown
"We are who we choose to be." —Green Goblin
"Never be defined by your past. It was just a lesson, not a life sentence." —Unknown
"Make improvements, not excuses. Seek respect, not attention." —Roy T. Bennett
"In three words I can sum up everything I've learned about life: it goes on." —Robert Frost
"Living your life is a task so difficult, it has never been attempted before." —Unknown
"The only real mistake is the one from which we learn nothing." —John Powell
"Some of life's best lessons are learned at the worst times." —Unknown
"Judge your success by what you had to give up to get it." —H. Jackson Brown, Jr.
"Never sacrifice these three things: your family, your heart, or your dignity." —Unknown
"The greater your storm the brighter your rainbow." —Unknown
"Your time is limited, so don't waste it living someone else's life." —Steve Jobs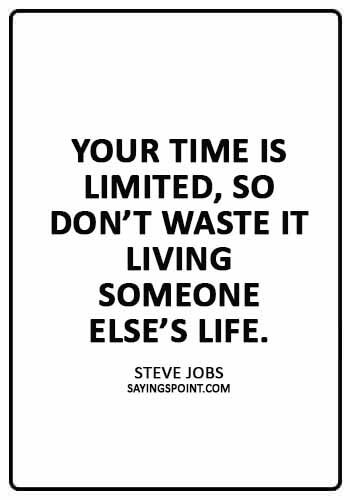 "How many lessons there are and how little they are taken." —Ali ibn Abi Talib
"The only real mistake is the one from which we learn nothing." —John Powell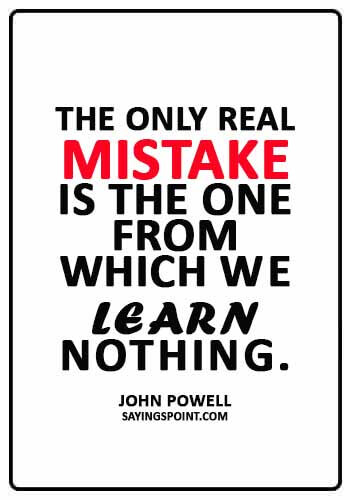 "Life is 10 percent what you make it, and 90 percent how you take it." —Irving Berlin
"The past has no power over the present moment." —Eckhart Tolle
"Life is a succession of lessons which must be lived to be understood." —Helen Keller
"To be successful, you must act big, think big and talk big." —Aristotle Onassis
"Life is what happens while you're busy making other plans." —Jon Lennon
"We meet people for a reason. Either they're a blessing or a lesson." —Unknown
"Whoever is trying to bring you down is already below you." —Unknown
"A comfort zone is a wonderful place, but nothing ever grows there." —Unknown
"Your life does not get better by chance. It gets better by change." —Unknown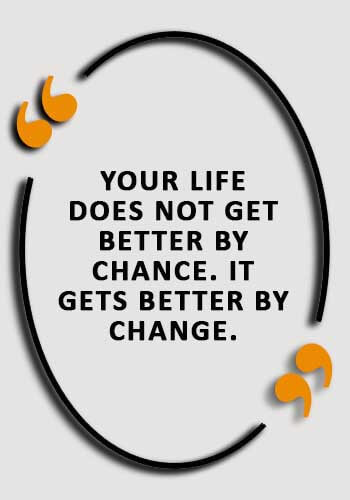 "Nothing can disturb your peace of mind unless you allow it to." —Roy T. Bennett
"Don't cry because it's over, smile because it happened." —Dr. Seuss
"It is not in the stars to hold our destiny but in ourselves." —Unknown
"It's not the load that weighs you down, it's how you carry it." —C.S. Lewis
"In the book of life, the answers aren't in the back." —Charlie Brown
"Mistakes are part of the dues one pays for a full life." —Sophia Loren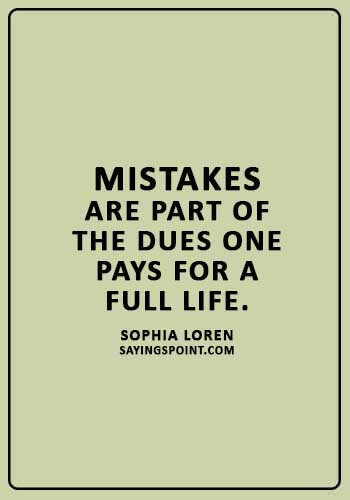 "There are no mistakes or failures, only lessons." —Denis Waitley
"You gotta stop watering dead plants." —Unknown
"The only mistake in life is the lesson not learned." —Albert Einstein
"Pursue what catches your heart, not what catches your eyes." —Roy T. Bennett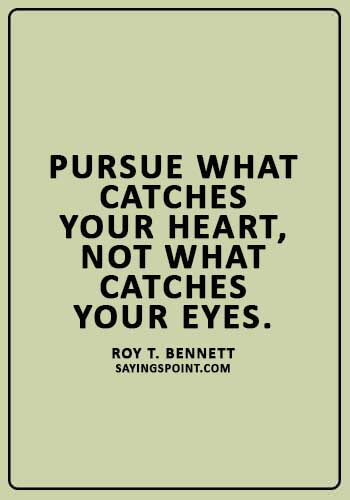 "Only the dead have seen the end of war." —Plato
"Surround yourself with people who get it." —Unknown
"If you fail to prepare, you're prepared to fail." —Mark Spitz Tap
"Be like a tree and let the dead leaves drop." —Rumi
"Seek to be worth knowing rather than well known." —Unknown
"Good is not enough. You've got to be great." —Simon Cowell
"Don't just be good to others. Be good to yourself too." —Unknown
"Live less out of habit and more out of intent." —Unknown
"Where there is life, there is hope." —Alyson Noel
"Remember that failure is an event, not a person." —Zig Ziglar
"There is no wealth but life." —John Ruskin
"Humble yourself or life will do it for you." —Unknown
Life Lessons Quotes and Sayings
"But one of the big lessons I have learned from my journey is you can't please everyone, so don't try." —Chris Colfer
"Close some doors today. Not because of pride, incapacity or arrogance, but simply because they lead you nowhere." —Paulo Coelho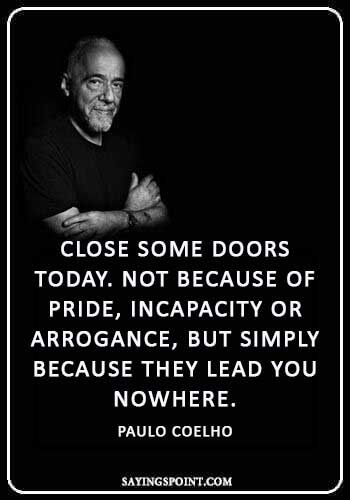 "Be a lamp, or a lifeboat, or a ladder. Help someone's soul heal. Walk out of your house like a shepherd." —Rumi
"No matter how much suffering you went through, you never wanted to let go of those memories." —Haruki Murakami
"One of the best lessons you can learn in life is to master how to remain calm." —Unknown
"One of the secrets of a long and fruitful life is to forgive everybody everything every night before you go to bed." —Bernard Baruch
"Life is like a camera: focus on what's important, capture the good times, and develop from the negatives." —Unknown
"Don't waste another moment crying over what went wrong! If it wasn't a blessing – it was a lesson." —Paula White
"I can accept failure, everyone fails at something. But I cannot accept not trying." —Michael Jordan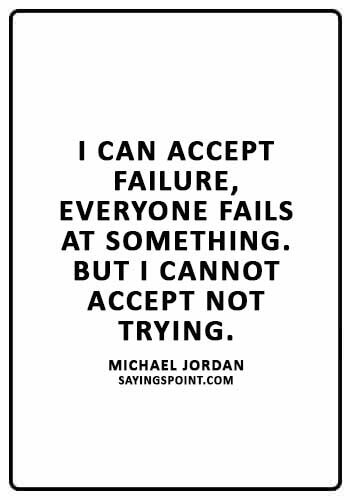 "When someone shows you who they are, believe them the first time." —Maya Angelou
"The secret of a good life is to have the right loyalties and hold them in the right scale of values." —Norman Thomas
"One day your life will flash before your eyes. Make sure its worth watching." —Unknown
"Learn from yesterday, live for today, hope for tomorrow. The important thing is not to stop questioning." —Albert Einstein
"Mistakes are a part of being human. Appreciate your mistakes for what they are: precious life lessons that can only be learned the hard way." —Al Franken
"Don't be pushed around by the fears in your mind. Be led by the dreams in your heart." —Roy T. Bennett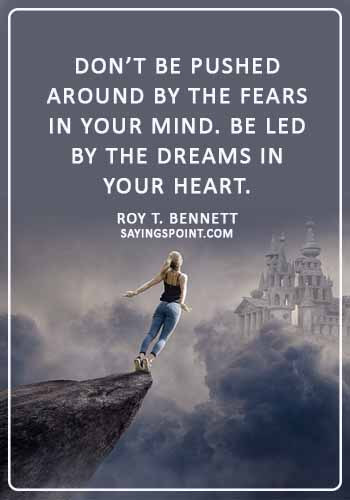 "Life is inherently risky. There is only one big risk you should avoid at all costs, and that is the risk of doing nothing." —Denis Waitley
"What most people need to learn in life is how to love people and use things instead of using people and loving things." —Unknown
"Blessed is he who expects nothing, for he shall never be disappointed." —Alexander Pope
"Show respect even to people who don't deserve it; not as a reflection of their character, but as a reflection of yours." —Unknown
"A tough lesson in life that one has to learn is that not everybody wishes you well." —Dan Rather
"Good judgment comes from experience, and experience comes from bad judgment." —Rita Mae Brown
"Take responsibility of your own happiness, never put it in other people's hands." —Roy T. Bennett
"Things turn out best for those who make the best of the way things turn out." —Jack Buck
"Sometimes in life, Your situation will keep repeating itself until you learn your lesson." —Unknown
"Protect your spirit from contamination; limit your time with negative people." —Thema Davis
"Courage is feeling fear, not getting rid of fear, and taking action in the face of fear." —Roy T. Bennett
"In every success story, you will find someone who has made a courageous decision." —Peter F. Drucker
"Everything in life teaches you a lesson, you just have to be willing to learn." —Unknown
"Guard well your thoughts when alone and your words when accompanied." —Roy T. Bennett
"Take chances, make mistakes. That's how you grow. Pain nourishes your courage. You have to fail in order to practice being brave." —Mary Tyler Moore
"Experience is a hard teacher because she gives the test first, the lesson afterwards." —Vernon Saunders Law
"You can't live your life for other people. You've got to do what's right for you, even if it hurts some people you love." —Unknown
"I've learned,That being kind is more important than being right." —H. Jackson Brown Jr.
"Life is available only in the present. That is why we should walk in such a way that every step can bring us to the here and the now." —Thich Nhat Hanh
"And in the end, it's not the years in your life that count. It's the life in your years." —Abraham Lincoln
"Sometimes painful things can teach us lessons that we didn't think we needed to know." —Unknown
"One of my biggest lessons in life is, we heal at the speed of our forgiveness." —Romany Malco
"What to do with a mistake – recognize it, admit it, learn from it, forget it." —Dean Smith
"Life is a succession of lessons which must be lived to be understood." —Ralph Waldo Emerson
"Life is not a problem to be solved, but a reality to be experienced." —Soren Kierkegaard
"You see a person's true colors when you are no longer beneficial to their life." —Unknown
"You can't go back and change the beginning, but you can start where you are and change the ending." —C. S. Lewis
"You get different life lessons from the different people that you encounter in this life we are in." —Unknown
"Life is not about waiting for the storms to pass…it's about learning how to dance in the rain!" —Unknown
Funny Life Lessons Quotes and Sayings
"The hardest thing to learn in life is which bridge to cross and which bridge to burn." —David Russell
"Life always offers you a second chance. It's called tomorrow." —Unknown
"My theory is that the hardest work anyone does in life is to appear normal." —Unknown
"Quality is never an accident." —Willa A. Foster
"Knowledge is knowing a tomato is a fruit; Wisdom is not putting it in a fruit salad." —Brian Gerald O'Driscoll
"Be careful about reading health books. You may die of a misprint." —Mark Twain
"If all else fails, immortality can always be assured by spectacular error." —John Kenneth Galbraith
"I didn't fall, I'm just spending some quality time with the floor." —Unknown
"Fighting for peace is like screwing for virginity." —George Carlin
"Common sense is not so common." —Voltaire
Top Ten Life Lessons Quotes and Sayings
Here you will find top ten life lessons quotes and sayings selected by our team.
"Your time is limited, so don't waste it living someone else's life." —Steve Jobs
"The only real mistake is the one from which we learn nothing." —John Powell
"Don't be pushed around by the fears in your mind. Be led by the dreams in your heart." —Roy T. Bennett
"Close some doors today. Not because of pride, incapacity or arrogance, but simply because they lead you nowhere." —Paulo Coelho
"Your life does not get better by chance. It gets better by change." —Unknown
"Everything in life teaches you a lesson, you just have to be willing to learn." —Unknown
"The hardest thing to learn in life is which bridge to cross and which bridge to burn." —David Russell
"Mistakes are part of the dues one pays for a full life." —Sophia Loren
"Pursue what catches your heart, not what catches your eyes." —Roy T. Bennett
"I can accept failure, everyone fails at something. But I cannot accept not trying." —Michael Jordan