In this post, you will find amazing regret quotes and sayings.
Short Regret Quotes and Sayings
"Choose with no regret." —Unknown
"You will never regret doing the right thing." —Unknown
"Risk everything, fear nothing, have no regrets." —Unknown
"The price of fear is often regret for what could have been." —Brian Cagneey
"Forget regret, or life is yours to miss." —Jonathan Larson
"Regretting the past is like chasing after the wind." —Unknown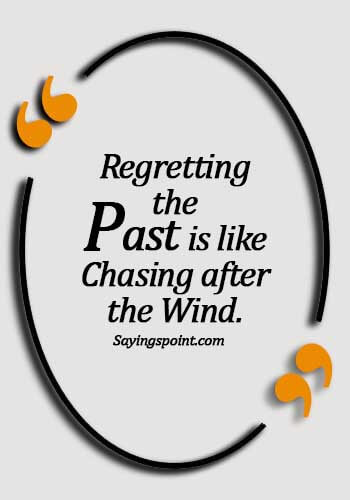 "To forgive and forget is better than to live with regret." —Unknown
"The unfaithful woman has remorse, the faithful one has regret." —Unknown
"Regret for wasted time is more wasted time." —Mason Cooley
"Love lives in sealed bottles of regret." —Sean O'Faolain
"Bad men are full of repentance." —Aristotle
"Regrets for past actions should chasten our future life." —James Ellis
"The regret of my life is that I have not said 'I love you' often enough." —Yoko Ono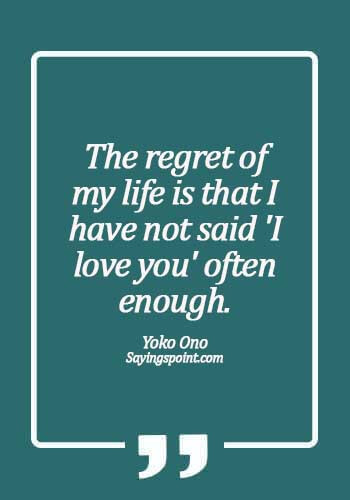 "The only regret I will have in dying is, if it is not for love." —Gabriel Garcia Marquez
"If I'm sincere today, what does it matter if I regret it tomorrow?" —José Saramago
"The price of discipline is always less than the pain of regret." —Unknown
"Heart knows no sorrow like the sorrow of regretting." —Unknown
"He who believes his wife too much will regret it in the end." —Unknown
"Never regret something that once made you smile." —Unknown
"I may regret the way we ended, but I will never regret what we had." —Unknown
"I wish life had a rewind button." —Unknown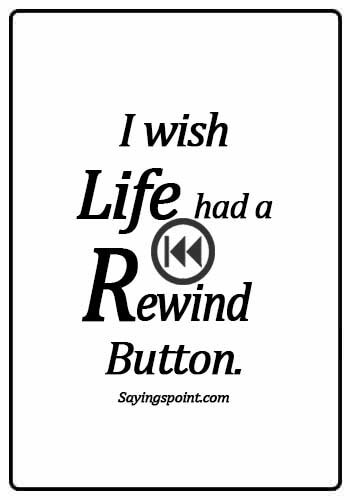 "Forgive but don't forget. Live with no regrets." —Unknown
"Regrets always come later." —Unknown
"Regrets are the natural property of grey hairs." —Charles Dickens
"Let the dead Past bury its dead!" —Henry Wadsworth Longfellow
"Every man is guilty of all the good he didn't do." —Voltaire
"The most painful thing to experience is not defeat but regret." —Leo Buscaglia
"Live with no excuses and travel with no regrets." —Unknown
"Regrets are nothing but wasted thoughts." —Unknown
"Better a little caution than a great regret." —Unknown
"There are no regrets in life, just lessons." —Jennifer Aniston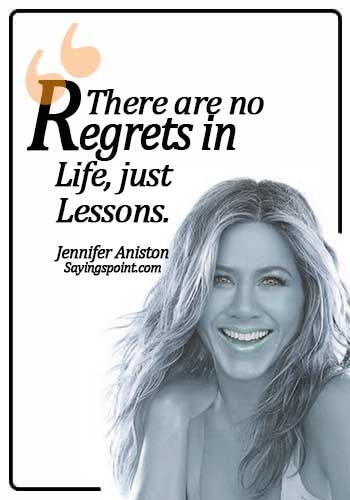 "It's not what your are, it's what you don't become that hurts." —Oscar Levant
"I regret the day I let you go." —Unknown
"My only regret is not having more regrets." —Unknown
"If only. Those must be the two saddest words in the world." —Mercedes Lackey
"I do not plan in any way to whitewash my sin." —Jimmy  Swaggart 
"Make good choices today so you don't have regrets tomorrow." —Unknown
"In looking back, I see nothing to regret and little to correct." —Unknown
"A few moments of misplaced values can mean a lifetime of regret." —Unknown
"Any regrets are to be called a lesson learned." —Unknown
"Don't throw out the baby with the bath-water." —Unknown
"A thousand regrets do not cancel one debt." —Unknown
"Maybe all one can do is hope to end up with the right regrets." —Arthur Miller
"It is in the nature of things that joy arises in a person free from remorse." —Buddha
"My one regret in life is that I'm not someone else." —Woody Allen
"A man is not old until regrets take the place of dreams." —John Barrymore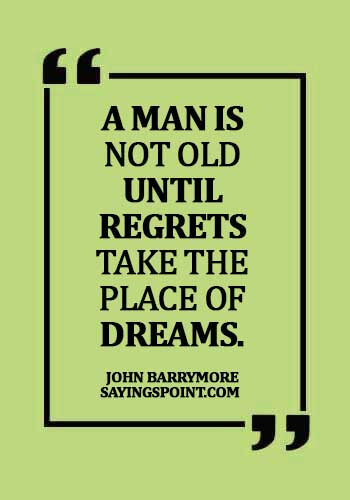 "I regret everything." —Unknown
"Regret only brings pain." —Unknown
"Regret is a spiritual scar." —Unknown
"I already gave my best. I have no regrets at all." —William Hung
"Regret … when it comes to you, I have oceans of it." —Khaled Hosseini
"A ton of regret never makes an ounce of difference." —Grenville Kleiser
"Wise decision makes no place for regrets." —Unknown
"Remorse is the poison of life." —Charlotte Bronte
"I only regret that I have but one life to lose for my country." —Nathan Hale
"Everybody regrets not what he leaves but what he does not find." —Unknown
"Today's doubts are sure to become tomorrow's regrets." —Unknown
"The day you stop regretting is the day you stop learning." —Unknown
"A man starts growing old when his wishes turn into regrets." —Unknown
"A hundred years of regret pay not a farthing of debt." —Unknown
"Fear is temporary, regret is forever." —Unknown
"The discontented believe that their regrets are about the past." —Mason Cooley
"Nobody who ever gave his best regretted it." —George Halas
Regret Quotes and Sayings
"Thinking before acting is wisdom but acting before thinking is regret." —Unknown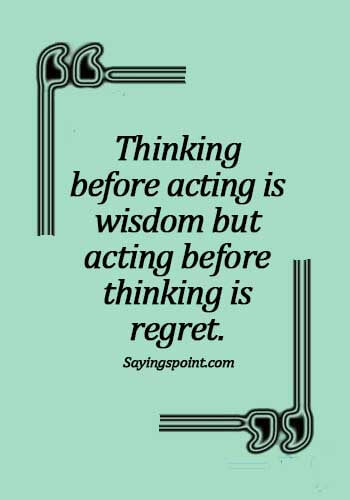 "If you are patient in one moment of anger, you will escape a hundred days of sorrow." —Unknown
"Never look back and regret, look back and smile at what you have learned." —Michelle C. Ustaszeski
"The worst thing you can do is to try to cling to something that's gone, or to recreate it." —Johnette Napolitano
"Of all the words of mice and men, the saddest are, "It might have been." —Kurt Vonnegut .Jr
"The regrets most people have in their old age are for the things they never did." —N.C. Harley
"Twenty years from now, you will be more disappointed by the things that you didn't do than by the ones you did do." —Mark Twain
"The person whose doors I enter with most pleasure, and quit with most regret, never did me the smallest favor." —William Hazlitt
"Don't waste your time in anger, regrets, worries, and grudges. Life is too short to be unhappy." —Roy T.Bennett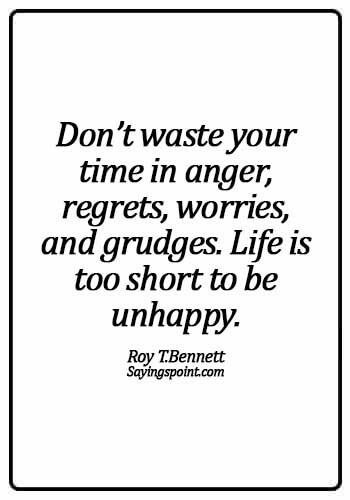 "The mistakes I've made are dead to me. But I can't take back the things I never did." —Jonathan Safran Foer
"People seldom do what they believe in. They do what is convenient, then repent." —Bob Dylan
"Regret for the things we did can be tempered by time; it is regret for the things we did not do that is inconsolable." —Sydney J. Harris
"A life totally committed to God has nothing to fear, nothing to lose, nothing to regret." —Pandita Ramabai
"Let's not burden our remembrance with a heaviness that's gone." —William Shakespeare
"Regret of neglected opportunity is the worst hell that a living soul can inhabit." —Rafael Sabatini
"No trouble ever got fixed late at night," he said. "Midnight is for regrets." —Holly Black
"Regrets are the tears of choices not made and of good deeds left undone." —Jonathan Lockwood Huie
"Forget regret, or life is yours to miss. No other path, no other way, no day but today." —Jonathan Larson
"One step in the wrong direction will cause you a thousand years of regret." —Unknown
"Of all the mistakes I've made, my only regret is not making them sooner." —Unknown
"They say you should not suffer through the past. You should be able to wear it like a loose garment, take it off and let it drop." —Eva Jessye
"Speak when you're angry, and you'll make the best speech you'll ever regret." —Lawrence J. Peters
"I want to live my life so that my nights are not full of regrets." —David Herbert Lawrence
"Nobody gets to live life backward. Look ahead, that is where your future lies." —Ann Landers
"The worst regret we can have in life is not for the wrong things we did, but for the right things we could have done but never did." —Unknown
"Never regret anything because at one time it was exactly what you wanted." —Unknown
"No amount of guilt can change the past and no amount of worrying can change the future." —Umar ibn Al-Khattab
"If you're going to do something tonight that you'll be sorry for tomorrow morning, sleep late." —Henny Youngman
"When a person regrets endlessly, he gets to pay more for what he regrets." —Unknown
"I don't regret the things I've done, I regret the things I didn't do when I had the chance." —Unknown
"It is human nature to want to go back and fix things or change things that we regret." —John Gray
"Regret is a universal emotion. We all make wrong or foolish choices or something or someone does something hurtful to us, and we regret it." —Dave Ferguson
"You won't regret the men you never killed, but you will regret the women you passed up." —Bernard Cornwell
Top Ten Regret Quotes and Sayings
You will find here top ten regret quotes and sayings selected by our team.
"A man is not old until regrets take the place of dreams." —John Barrymore
"Regretting the past is like chasing after the wind." —Unknown
"A few moments of misplaced values can mean a lifetime of regret." —Unknown
"Thinking before acting is wisdom but acting before thinking is regret." —Unknown
"Never look back and regret, look back and smile at what you have learned." —Michelle C. Ustaszeski
"The regret of my life is that I have not said 'I love you' often enough." —Yoko Ono
"Don't waste your time in anger, regrets, worries, and grudges. Life is too short to be unhappy." —Roy T.Bennett
"There are no regrets in life, just lessons." —Jennifer Aniston
"No amount of guilt can change the past and no amount of worrying can change the future." —Umar ibn Al-Khattab
"I wish life had a rewind button." —Unknown